Phillips is licensed under the Montana Industrial Hemp Pilot Program.
The Helena Valley Irrigation District denied Phillips access to irrigation water from Canyon Ferry Reservoir in 2017, as the U.S. Bureau of Reclamation prohibits the use of federally controlled water to irrigate controlled substances such as hemp and marijuana. She said she lost her entire crop last year because she could not access the water she needed to irrigate it. 
However, Phillips was granted an exemption to the federal rules earlier this year. The decision was based on the 2014 Farm Bill, which outlined an exemption stating that institutions of higher learning or state agriculture departments may grow or cultivate hemp for research purposes. Phillips' work with Montana Tech in Butte made her crop qualify for this exemption.
Phillips planted this year's crop in early June, although it was still later in the year than she had hoped. She planted around 30 acres of hemp and managed to yield about 20 acres of that crop.
In early October, Phillips began the process of harvesting and processing her hemp. But her own crops aren't the only ones she is processing. When The Independent Record visited Phillips earlier this week, she was decorticating hemp grown by Montana State University to undergo trials.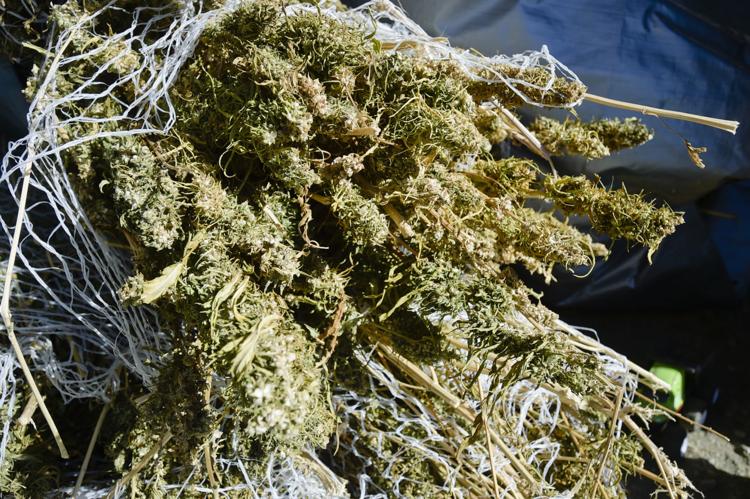 Decorticating is one of the early steps in hemp harvesting. It usually comes just after removing the flowers and other plant materials from the crop. Decorticating is the process of removing the bark or husk from a plant. In the case of hemp, decorticating separates the fiber and the hurd, which both have separate but useful applications.
Phillips said her decorticating machine is one of few in the United States. Hemp isn't a federally legal crop due to its kinship to marijuana, despite not sharing its cousin's psychoactive properties. Thus, the machinery used to harvest hemp isn't readily available in these early stages of the crop's cultivation.
Phillips ordered her decorticator from China. All of the instructions on the piece of heavy machinery was presented in Written Chinese characters. Phillips joked that she is still learning new things about the machine.
Phillips referred to this as her "research and development" run with hemp farming. She said she still has a lot to learn, but that she loves what she is doing and is enjoying success. Outside of the legal issues prior to planting her crop and the occasional gopher acting as a crop pest, Phillips believes the run went as well as she could have hoped.
Phillips even said she was glad about the legal troubles she had to face. 
"It helps set a precedent for the future," said Phillips. "This whole thing got way bigger than I could have imagined."
Practical applications
Phillips hasn't had to handle the hurdles alone. Fellow hemp enthusiast Kirby Hancock, of Bozeman, came to help Phillips with the harvesting and decorticating. The two met at an event for those interested in the cultivation of hemp. Hancock's interest is primarily in the practical applications the plant has in construction.
"As a building material, hemp can generally replace most parts of a wall including insulation and drywall," said Hancock. "With more research and development, hemp can probably do even more as construction material."
As a building material, hemp is often praised for its resilience to mold, insects and fire.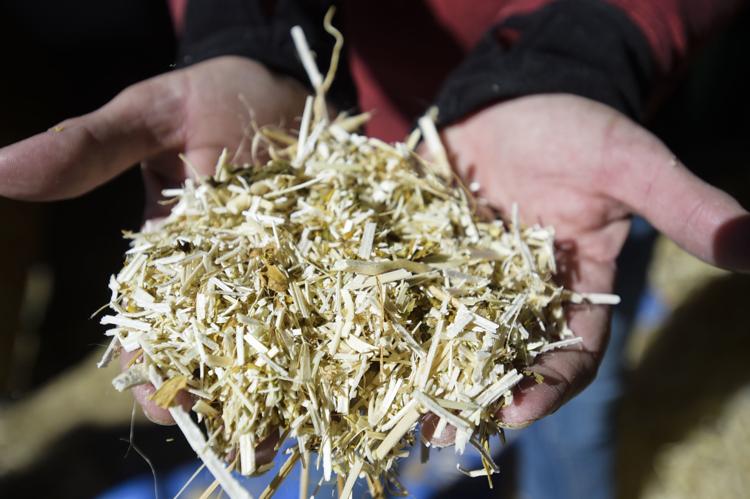 Hemp has dozens of practical applications. The fiber is most commonly seen in the form of textile, rope and fiberglass. The hurd can be used for hempcrete biocomposite building material, hemp oil, chemical spill cleanup and animal bedding as a hay-like replacement. Other common uses for hemp include making clothing and paper materials.
Phillips' hemp will have several different uses in the future. She has been in contact with several artisan crafters in Montana who are interested in the material.
One example Phillips gave was a rope-maker based out of Missoula.
"I gave him some sample material and he made a beautiful rope out of it," said Phillips. "He told me he never thought that he would handle hemp grown on United States soil in his lifetime."
Other small crafters have reached out to Phillips, including a purse-maker, with an interest in purchasing her "grown in the USA" hemp. She has been in contact with paper and clothing companies, both of whom Phillips said reacted with enthusiasm at the possibility of having U.S.-grown hemp in the future.
U.S.-grown hemp has been very difficult to obtain in the past due to the federal restrictions on the crop. The best label U.S. manufacturers could hope for was "hemp grown in North America," which generally meant the hemp was imported from Canada. The U.S. imports a lot of hemp from Canada, France and China. France is the world's leading producer of hemp, with China coming in as a close second.
Some of Phillips' hemp will go to Montana Tech, where it will be strength tested against other natural fibers, including bamboo. The remainder will be bailed and sold as demand dictates.
Phillips said she is very glad to be working with local crafters and universities because they help provide feedback for her crop.
"These people have had their hands on hemp from all over the world," Phillips said. "So they can see how mine stacks up and then give me tips on what I need to work on for future improvement."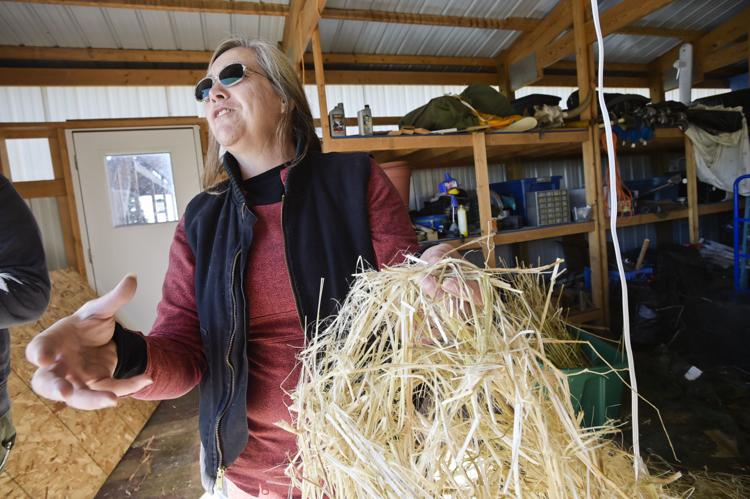 Phillips' first hemp crop will not be her last. She has big plans now that she has more experience. Her plan for next year is to work with farmers to find space to grow around 100 acres of hemp. Triple the yield means triple the work, but Phillips is ready for more production.
An acre of hemp can yield raw materials valued around $1,000. Once the raw materials are refined, the value can increase exponentially. This is especially true of hemp seeds, which can be refined into hemp oil. However, seeds are heavily regulated due to the legal status of the crop.
Phillips named her agricultural operation: Plan-it Hemp. She has set up a website and can be reached at Kim@plan-ithemp.com.
An uncertain future
Phillips has big plans and an optimistic outlook for the future. However, it remains uncertain, and Phillips shares the same fears many farmers across America have regarding Congress' failure to pass a 2018 Farm Bill by the Sept. 30 deadline.
The 2014 Farm Bill, the same one used to exempt Phillips' use of federal water, expired on Sept. 30. This was the deadline for both the House and Senate to reconcile and submit a 2018 Farm Bill. 
The Senate passed its Farm Bill 86-11 in June 2018. Included in that bill was a provision to federally decriminalize hemp. This provision was championed by Republican Senate Majority Leader Mitch McConnell of Kentucky. McConnell has long been an advocate for hemp, largely because his home state of Kentucky has the potential to lead the United States in hemp production. The University of Kentucky has also spent large amounts of resources on hemp research, becoming one of the nation's most well-known study groups.
McConnell has long called for the decriminalization of hemp and has backed measures to legalize the crop since 2013. Currently, hemp still sits at the top of the Drug Enforcement Administration's list of Schedule 1 narcotics, alongside its cousin marijuana. 
McConnell's push to legalize hemp shares widespread bipartisan support. Only a few senators remain adamantly opposed to the idea of legalized hemp.
However, the Senate alone cannot pass a Farm Bill. Both the Senate and House must draft their individual versions of the bill. The two then get together and reconcile a version to go to the president's desk for signing. Currently, the 2018 Farm Bill is hung up with disagreements between the two entities.These disagreements include but are not limited to SNAP benefits and conservation programs. The House has been vocal in blaming the Senate for the bill not passing by deadline.
Little has been said about a hemp provision being included in the bill. The final bill may or may not have a measure decriminalizing hemp. Some believe it will not be included, but Phillips and others are optimistic that hemp's time has finally come.
Hemp has strong proponents in this fight. McConnell will likely push to have this provision included in the bill, and he is well-known for engineering legislation in Washington.
However, with the House on break, it is unlikely that any 2018 Farm Bill will pass prior to the midterm election in November. This leaves many farmers in limbo. 
Hemp farmers have a lot more riding on this Farm Bill than farmers of more common agricultural crops. The possible legalization and mass production of the crop they cultivate hangs in the balance.
In the meantime, Phillips has a long way to go before she is finished with her first hemp crop. She will keep busy refining raw materials into usable product as she decorticates more and more hemp. 
Get local news delivered to your inbox!
Subscribe to our Daily Headlines newsletter.