The launch of the Sputnik satellite by the Soviet Union on Oct. 4, 1957, shocked Americans and triggered a debate over the "missile gap," a perceived Soviet superiority.
One month later, the Soviets launched Sputnik 2 with dog Laika aboard.
Shortly after, a special committee reported to President Dwight Eisenhower that the US was falling far behind the Soviets in missile capabilities. Soviet leader Nikita Khrushchev chimed in claiming that the Soviet Union had missile superiority and challenging America to a missile "shooting match" to prove his assertion.
Eisenhower knew there was no missile gap—U-2 photography proved it. Yet, that secret imagery could not be released to the American public. Later, Khrushchev's son Sergei admitted, "We threatened with missiles we didn't have."
Yet the missile gap became an issue in the 1960 presidential campaign between Sen. John F. Kennedy and Vice President Richard M. Nixon, with Kennedy arguing that the United States was far behind.
When the Kennedy administration took power, Secretary of Defense Robert McNamara painfully admitted the myth of the missile gap — the US, in fact, had a substantial lead — and the solid-fuel Minuteman was just over the horizon.
By the fall of 1960, development of the Minuteman missile was well underway. The Air Force Ballistic Missile Committee approved Malmstrom Air Force Base to host the first Minuteman I missile program.
Air Force base in Great Falls saved from 'dead file'
At the time, Montanans reflected back to Christmas two decades earlier. A little Christmas magic never hurts, and magic is what the delegation from Great Falls needed just after Christmas 1941, as they arrived in wartime Washington, D.C.
After a decade of hard work by the chamber of commerce and favorable army surveys, Great Falls expected selection for a coveted army air base in the rapid buildup following Pearl Harbor. Yet the delegation, led by Mayor Ed Shields, touched down in D.C. to receive crushing news that the Great Fall base had been buried in the army's "dead file"—a morgue for plans.
Undaunted, Shields sought a touch of magic. Gen. Henry Harley "Hap" Arnold, chief of Army Air Forces, granted an interview and listened intently to their appeal and in their presence, ordered his staff to reconsider the proposed base, raising it from the grave.
Wartime secrecy prevailed, until at last, word came, a major air base would be built at Great Falls. If Great Falls Air Base of World War II had not come, would the Minuteman missiles of the Cold War now be on the horizon?
Col. Harry Goldsworthy and his Air Force team were given the near-impossible task of building Minuteman missile sites up and running in roughly two years' time. Few thought they could succeed.
Murray M. Moler, a reporter with United Press International, visited Malmstrom AFB and filed this report under the dramatic headline that appeared Sept. 22, 1960, in the Great Falls Tribune
'Minuteman Is Greatest Project In Magnitude Ever in Montana'
"The Minuteman missile program is the (darnedest) thing to hit Montana since they found copper in Butte Hill. Or maybe even in all the history of the Treasure State.
The impact, figuratively, of the program on the state will be tremendous, economically, socially and physically.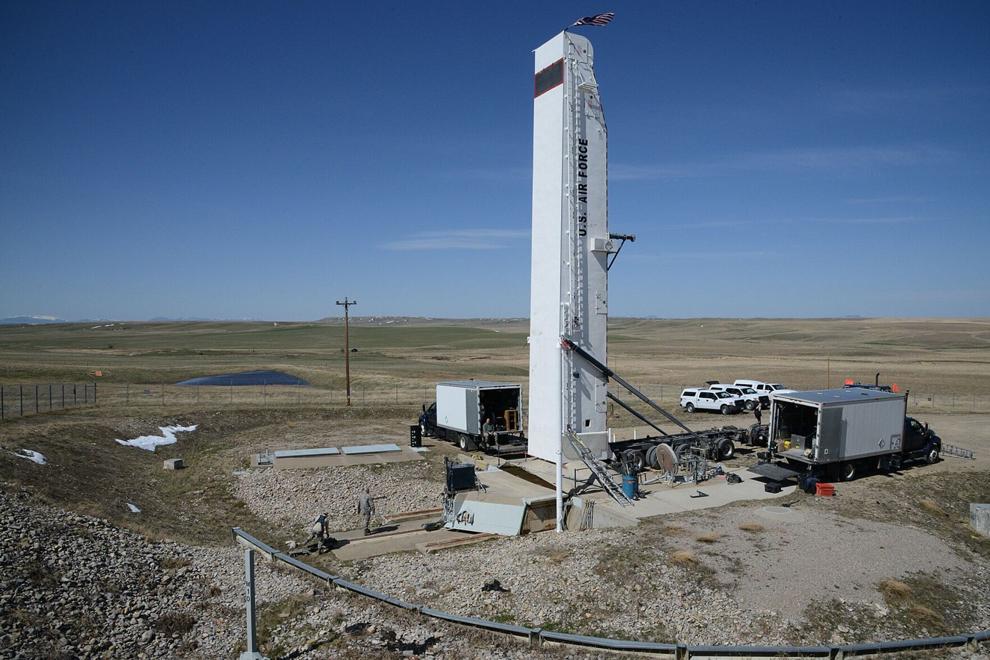 It will be almost as great as the impact the slender, nuclear-headed weapons actually could have on an enemy land, should they ever be fired in anger.
The task: To carve out, reinforce and arm 150 underground silos, holding one Minuteman each; then connect them with 15 launch control centers which in turn, will be wired in Strategic Air Command's 22nd air division headquarters here and SAC's world control center at Omaha, Neb.
The timetable. Two "flights," 10 missiles each, to be operational—ready to go—by mid-1962; all 150 cocked and aimed in their pits by around June 1, 1963. . .
Contracts, estimated at around $50 million, for the bulk of the actual site preparation and building will be let in late November. Then the dirt will start to fly, regardless of the weather. In Montana's rugged winters, that's something.
When work starts, so will the side effects.
Engineers have estimated construction contractors will being at least 3,600 skilled and semi-skilled workmen into the state. Boeing Airplane Co., already holder of the $247 million basic research and development contract on the missile will employ at least 1,000 in putting the "birds" in their holes and testing them.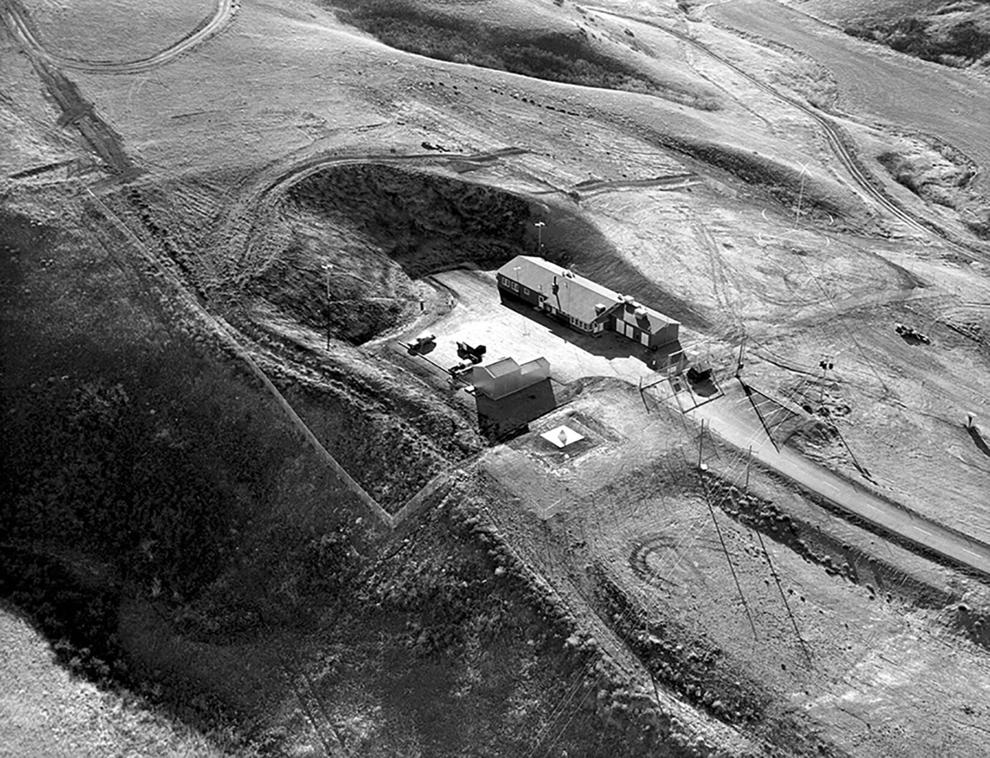 . . . To farmers selling their land to Uncle Sam for the sites, construction will mean considerable dislocation, but when the work is done, they'll have better roads, 120 miles of improvements are already scheduled in Cascade County alone, that are useable the year-round.
When the Minutemen are in place and the reinforced concrete lids to the silos drawn into place, there will be little activity—occasional inspections and, once in a while, replacement of the missile with a fresh "bird."
Each of the three operational squadrons will have about 500 men, about 100 assigned to each of the 15 flights. All will be based in Great Falls and commute to the sites for shifts.
The total result is that Air Force expenditures, $79 million for construction alone in Montana this year plus other millions for salaries, goods and services will continue to be a big factor in the state's economy for a long time.
The Cuban Missile Crisis: 'How close Montana lives to the firing line'
Fortunately, exceptional leadership and hard work kept the "near-impossible task" on track because a dramatic world event would severely test U.S. national security in October 1962.
The Cuban Missile Crisis brought the United States and the Soviet Union closer to a nuclear exchange than any other event throughout the Cold War. From Oct. 16-Nov. 20, the world teetered on the brink of a catastrophic very Hot War —u ntil leadership and luck prevailed.
As the Crisis unfolded, President Kennedy delivered a dramatic "red-line" speech, and Montana's military immediately responded with an unprecedented state of activity.
Bringing the first Minuteman ICBM on-line
Historian Troy Hallsell of the 341st Strategic Missile Wing (SMW) described the environment at Malmstrom AFB with everyone working "at a frenetic pace":
Typically, 16-hour days were normal, weekends included. The payoff was the Missile Squadrons and Wing reaching operational readiness well ahead of schedule."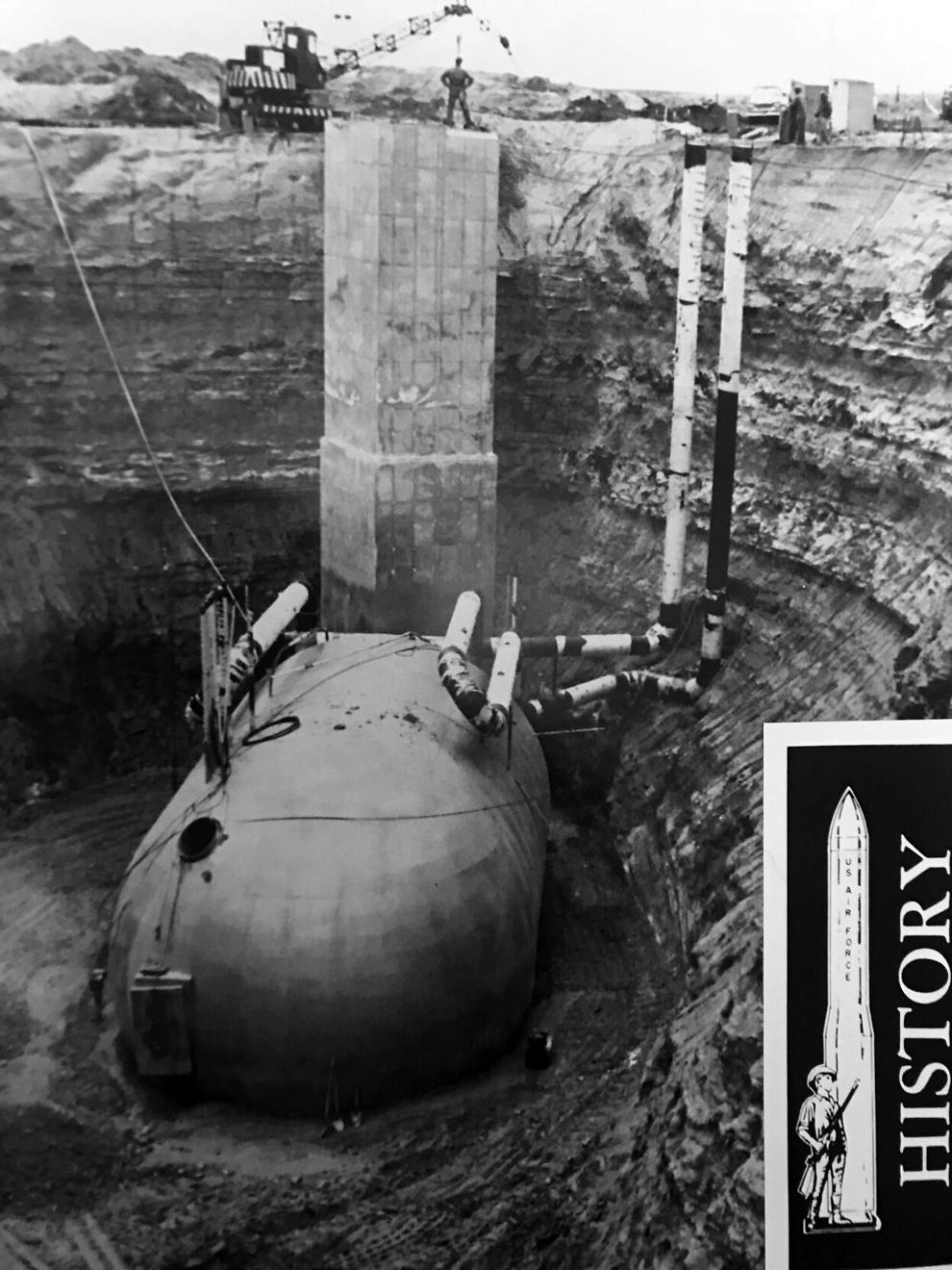 The unfolding events even took the (ICBM missile) construction crews by surprise. Quality Assurance contractor Jack Gannon heard about the crisis while driving to Lewistown from Eddies Corner.
Upon arrival he told his co-workers they "Better get them wrapped up, we're going to be using them in about 20 minutes." The speed at which the Cuban Missile Crisis occurred made everyone associated with the ICBMs in Montana work to get them operational as soon as possible.
... Following President Kennedy's address, SAC Commander-in-Chief Gen Thomas Power instructed Col. Burton C. Andrus Jr., the 341 SMW commander, to determine if the wing could posture all 10 Minuteman ICBMs in its Alpha flight and find a way to launch them.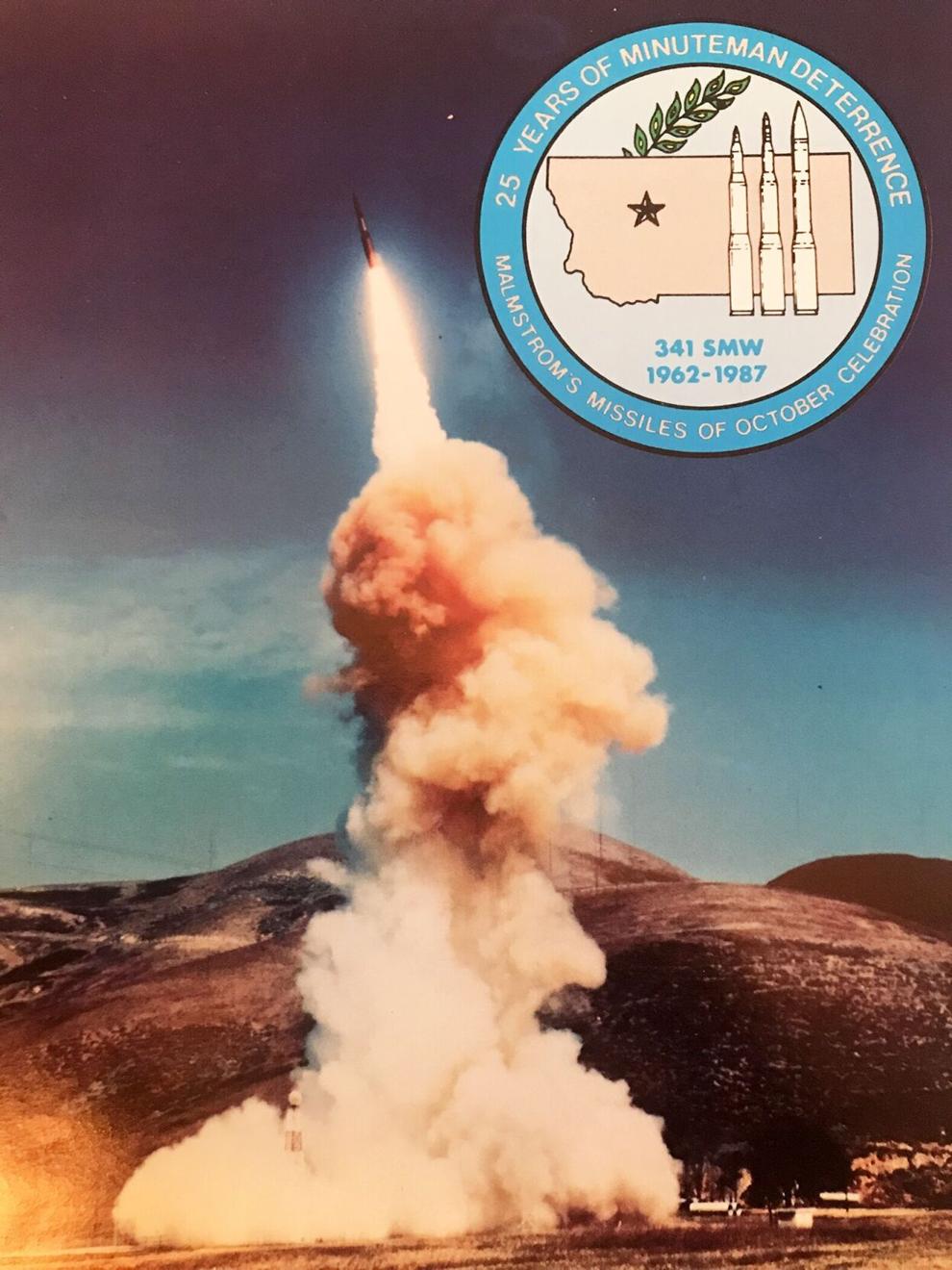 Engineers designed the weapon system to require launch commands from two different Launch Control Centers — the problem was that 341 SMW only had one constructed. In order to bypass the weapon system's safety procedures, Andrus had to "kluge the system." His Airmen did so by introducing "the critical part of a second launch control unit into the circuitry in Alpha's Launch Control Center so that a double crew could turn four keys simultaneously and thus launch the birds."
SAC's first Minuteman went on alert at 3:07 p.m. on Oct. 27, 1962. Andrus reported to SAC that its new weapon system had entered the war plan. Five days later all of Alpha Flight was on alert.
The gravity of bringing the first flight of Minuteman ICBMs on alert was not lost on Andrus. Reflecting on the Cuban Missile Crisis, he said "If we seemed nervous it was only because we were — being not only 99% sure that you can't have an inadvertent launch is not good enough when you are looking at the possibility of starting WW III."
'How close Montana lives to the firing line'
One year later in September 1963, just weeks before his assassination, President Kennedy visited Great Falls to pay tribute to his "ace in the hole" Minuteman ICBMs ranging in every direction around the stadium where he spoke these words: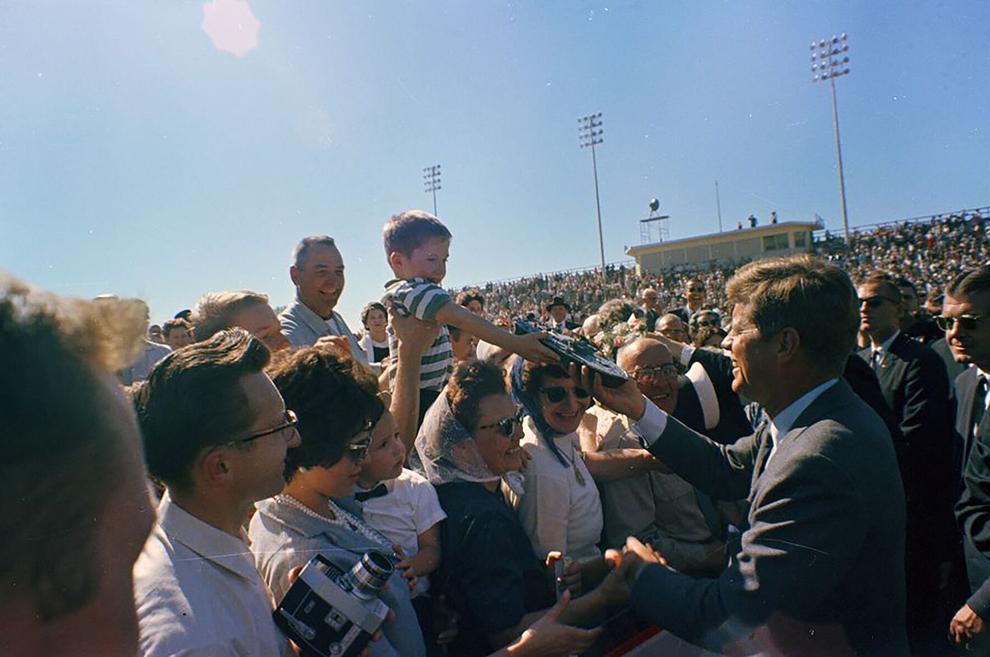 "Montana is a long way from Washington, and it is a long way from the Soviet Union ... But this particular State, because it has, among other reasons, concentrated within its borders some of the most powerful nuclear missile systems in the world, must be conscious of every danger and must be conscious of how close Montana lives to the firing line which divides the Communist world. We are many thousands of miles from the Soviet Union, but this state, in a very real sense, is only 30 minutes away."
Today, 60 years later, Minuteman III, about to be modernized to the Sentinel missile system, continues to anchor U.S. national defense — our mighty "ace in the hole" lives on close to the firing line.
Adapted from Ken Robison's "Cold War Montana." Robison, of Great Falls, is a historian, author and trustee of the Montana Historical Society.