At least 18 U.S. presidents have visited Montana while in office, some making mere whistle-stop speeches, while others explored Montana's beauty.
These visits date back to at least 1883, when Chester A. Arthur arrived in Montana on horseback. The last sitting president to visit the state was Barack Obama, who arrived by Air Force One in 2009. 
In honor of Presidents Day, which originally marked George Washington's birthday and then morphed to take in Abraham Lincoln's, it's a good excuse to travel through Montana history for highlights of the parade of presidents who've stopped in Big Sky Country.
Two of the more colorful stories about presidential visits have a Helena connection.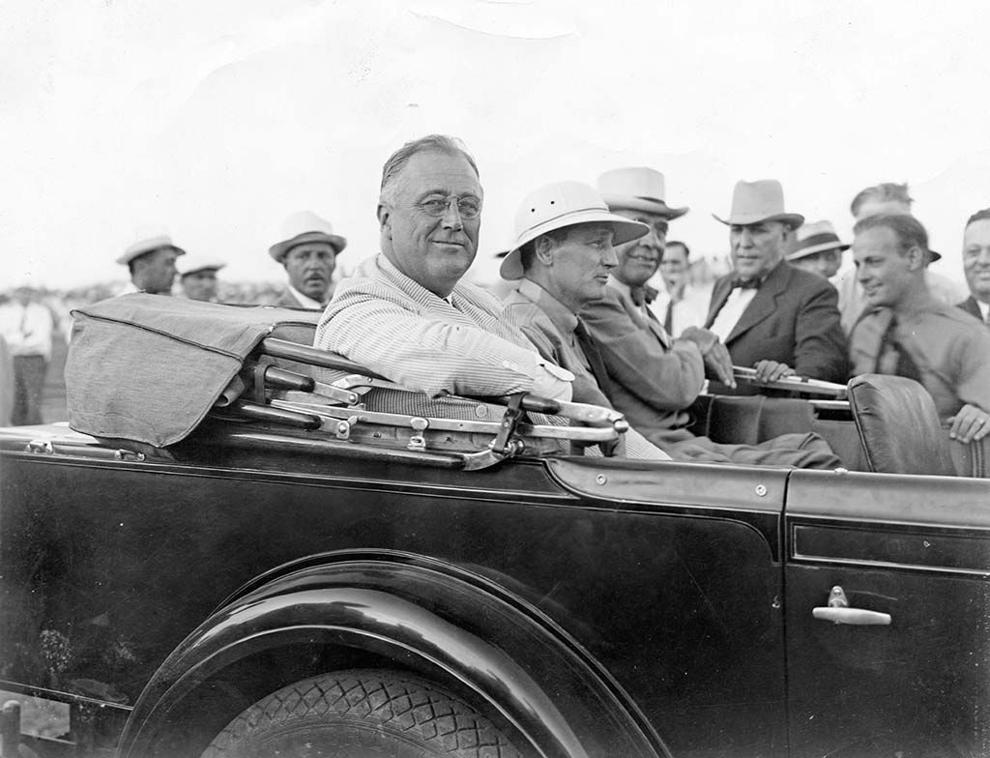 Taft goes missing
President William Howard Taft, who visited Helena in 1909, went missing from his scheduled parade route to the consternation of some Secret Service agents.
This led to a number of colorful tales about where he might have strayed.
Historian Dave Walter wrote in an article, "Lost in Helena," published in "More From the Quarries of Last Chance Gulch," that recounts varying theories for why and where Taft disappeared -- ranging from him visiting old friends, to sitting in a saloon on South Main, to "'sampling' the bawdy offerings of Clore Street."
The tale holds just enough truth to keep the yarn alive, wrote Walter.
On his Sept. 27 visit, Taft stopped in Helena as part of an almost 14,000-mile, 57-day railroad tour of the United States.
He packed the Montana State Fairgrounds, which were located in Helena at the time, with a crowd estimated at 10,000.
Following a 12-minute speech, he was whisked away in a motorcade of 11 vehicles. As the cars headed down Lawrence Street toward the federal building, Taft's car disappeared and headed up North Benton Avenue.
The President, thanks to enterprising Sen. Thomas Carter, met Catholic Bishop John Patrick Carroll on the building site of what is now Carroll College, and helped to lay the cornerstone for St. Charles Hall.
Meanwhile, "the short diversion most aggravated the puzzled ... security agents sitting in their Pathfinder in front of the federal building, and hundreds of squirming school children assembled by their teachers at the site."
The tale of "lost in Helena" apparently was developed by some "chagrined security agents" who were trying to explain to "a boisterous crowd ... that the President was right behind them," wrote Walter.
Colorful, poignant memories of JFK
Another colorful tale is about President John F. Kennedy's visits, first as a candidate and then as president.
Kennedy had campaigned in Helena in 1960 prior to his election and clearly remembered a drive with flamboyant Helena promoter Walter Marshall.
Marshall had arranged the campaign visit that included a speech at the Marlow Theatre and a dinner at the Civic Center.
Apparently, Kennedy asked Marshall for a ride to the airport and wound up sharing Marshall's ramshackle station wagon with the family's three big dogs, who were in the backseat.
All the way to the airport, the dogs were licking the back of Kennedy's neck. Although Kennedy loved animals, he was apparently not a fan of these particular dogs.
After Kennedy's election, Marshall again arranged some of the logistics for a 1963 visit.
When Kennedy arrived in Montana, he spied Marshall and reportedly said, "I am glad to see you, Walter. But I hope you left those blankety-blank dogs at home."
A 2013 Missoulian article by Vince Devlin recounts Kennedy's Sept. 26, 1963, visit to Great Falls, which drew a crowd of 20,000 to 25,000 at Memorial Stadium, according to Secret Service estimates.
One moving account Devlin found was that of two teenagers -- Kathy Dufresne and her friend Carley Zimmer -- who were so thrilled with Kennedy's visit they took the day off from school and then rushed back to Highwood High School that night to add a story to their school newspaper.
Devlin's article described Kennedy wading into the crowd to shake hands with pioneers from Helena and Fort Benton, who were 95 and 97 years old.
He also stopped by the home of Sen. Mike Mansfield's elderly parents.
Kennedy's visit was just a few short months before his assassination.
For that reason, in particular, it seems seared in the memories of many people, wrote Devlin.
"I kept the copy of what Carley and I wrote," Dufresne told Devlin, "because we had so much hope and excitement for the future under the direction of John Kennedy."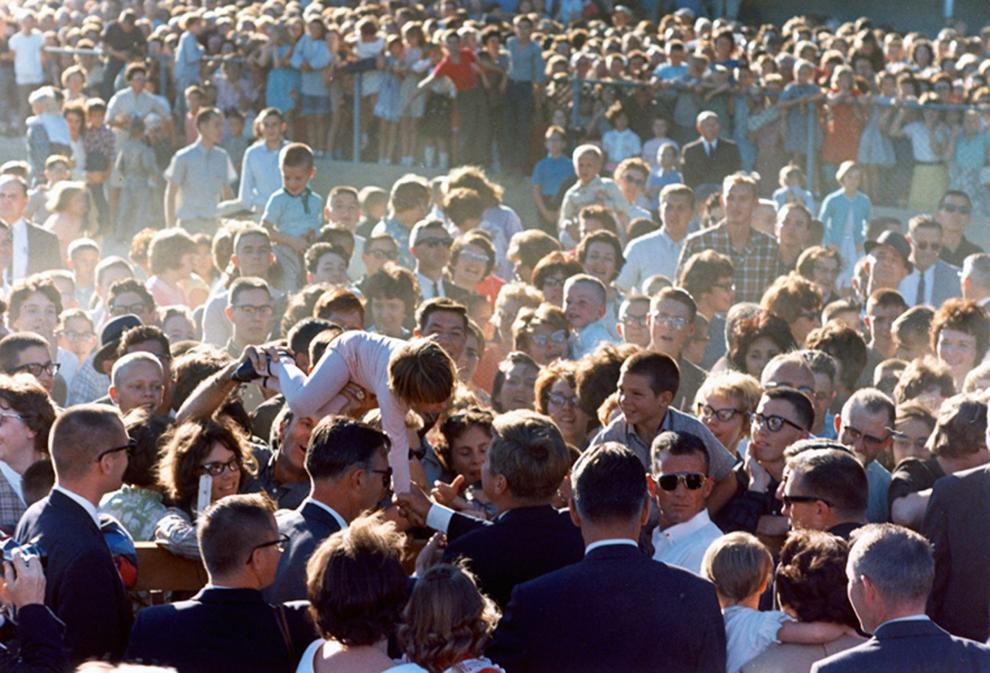 The Billings Gazette also wrote a 2013 news story of Kennedy's Sept. 25, 1963, visit, which was part of the same trip.
The Billings mayor of the time, Willard Fraser, was miffed at the Kennedy motorcade route from the airport and that the president was spending the night in Jackson Hole, Wyoming, rather than Billings, wrote Lorna Thackeray.
Fraser relented and joined Sens. Mike Mansfield and Lee Metcalf and Gov. Tim Babcock on stage and apparently was as excited as everyone else.
Kennedy spoke at 4 p.m., and the Secret Service estimated the crowd at 17,000, even though he was a Democrat and this was "a Republican stronghold."
"He praised the Senate for approving a limited nuclear test ban treaty, then talked about natural resource conservation," wrote Missoulian reporter Jim Ludwick in a 1989 wrap-up article about presidential visits to Montana.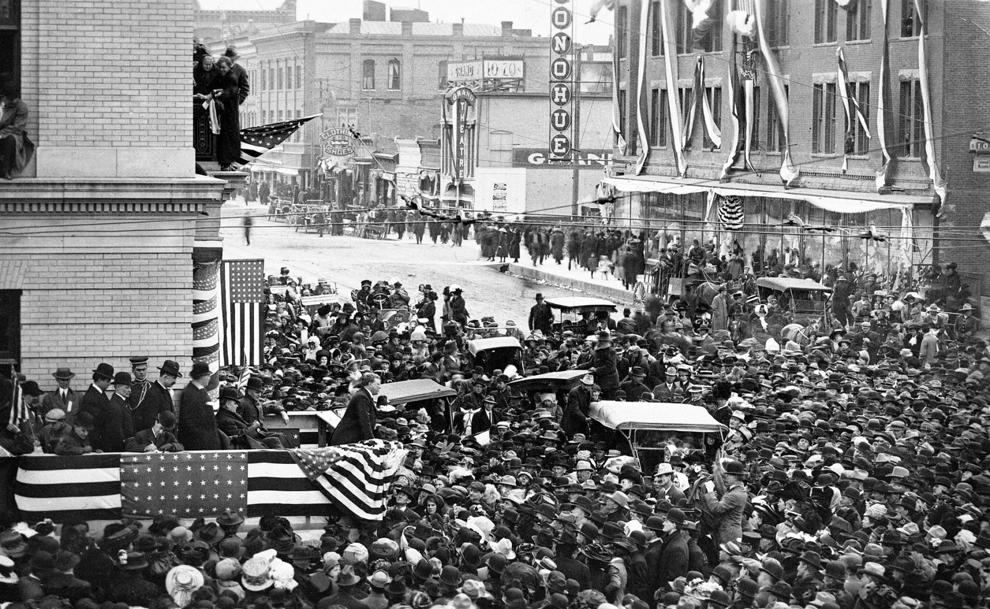 Guess who came to visit
When President Chester A. Arthur rode into Montana in 1883 on a horse named Cinnabar, Montana was still a territory, and Arthur was on a trip leaving Yellowstone National Park.
In the 134 years since, there followed some memorable and some momentary visits to Montana by a parade of presidents.
Many of these were captured by Ludwick in his article:
President Theodore Roosevelt visited Montana in 1903, making speeches in Butte and apparently also stops in Helena. He was on a nine-week trip that included a camping vacation in Yellowstone. In Butte, he drew such a large crowd that the mayor was going to raise the blinds of the banquet room so the crowd outside could watch Roosevelt dine. Roosevelt objected to the honor. He also visited Missoula in 1911.
President Warren G. Harding visited Montana as part of a transcontinental railroad trip that ended in his death in 1923 in San Francisco from undetermined causes. He spoke in Helena and Butte, where he took a tour of a mine and handed out medals to Boy Scouts for "heroic service when their summer camp was struck by lightning." He then headed by train to Yellowstone.
President Franklin Roosevelt came to Montana in 1934 and 1937 and delivered a radio address after touring Glacier National Park. In it he told the country that his administration would fight "to save our resources of agriculture and industry against the selfishness of individuals." During both visits he toured the Fort Peck Dam area.
"President Harry Truman made a "whistle-stop tour" of Montana" in 1952 and urged the public to vote for Mike Mansfield, who was in the House of Representatives and running for a Senate seat. He also visited in 1948 and 1950.
President Dwight Eisenhower visited Missoula in September 1954 to dedicate the Forest Service smokejumper headquarters. He was willing to accept a smokejumper helmet and some shirts once he was reassured he wouldn't have to jump.
President Lyndon Johnson "wowed" a Butte audience in 1964 and drew a crowd of approximately 35,000 who watched his motorcade travel from the airport. He talked of the Cuban missile crisis and said, "I never knew when I left my wife and children in the morning whether I would see them again that night. But the nation's voters and I knew that President Kennedy was a man who when he mashed that button you would know there was nothing left to do."
President Richard Nixon made a speech in Kalispell in 1971 on his way to a meeting with Japanese Emperor Hirohito. He told the crowd the Vietnam War was ending "and of a goal: 'Something we haven't had this whole century -- a whole generation of peace.'"
President Gerald Ford visited Libby in 1975 to help dedicate the Libby Dam. Speaking to a crowd of 3,000 to 5,000, he called for "more homegrown energy." "We cannot look elsewhere for a solution. … We cannot pretend the energy problem does not exist. ... We have delayed far too long. Our vulnerability increases daily."
President Ronald Reagan visited Billings on Aug. 11, 1982, and packed MetraPark with an estimated 10,000. He rode into the park atop a Wells Fargo stagecoach. In his speech, he praised Montana: "You still admire independence, resourcefulness and determination. You have a legacy of those ideals and you have a history so colorful, even your sunsets can't match it."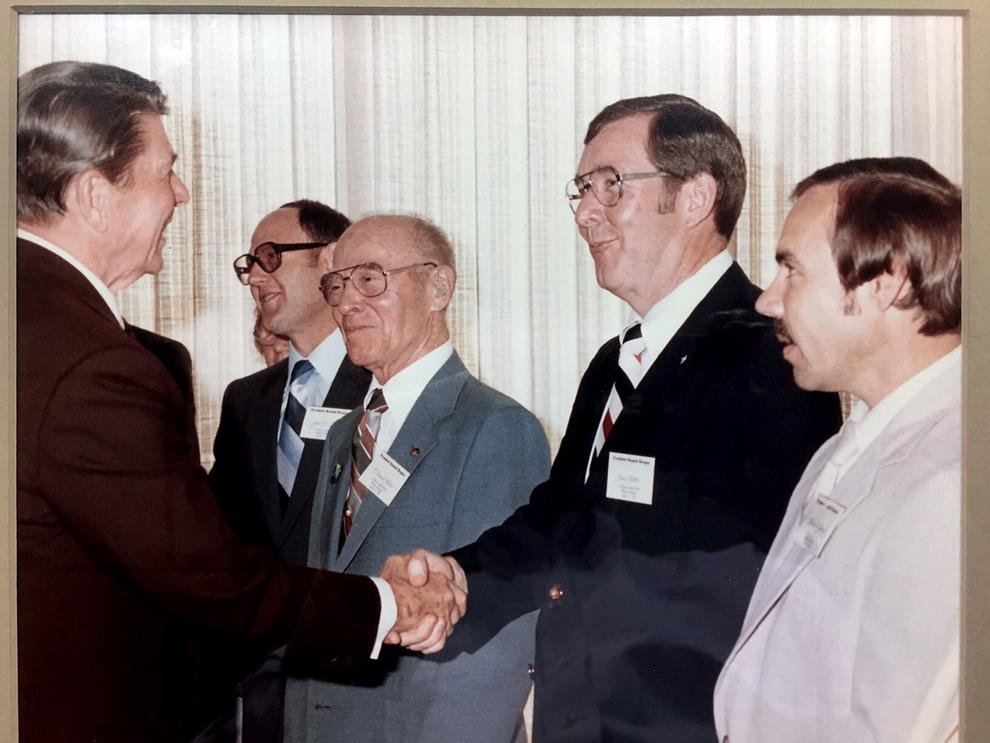 In September 1989, President George H.W. Bush drew a crowd unofficially estimated at 10,000 in Helena. He visited Billings in 1990 and apparently in October 1992 on a bid for re-election, when he spoke to a large crowd in Pioneer Park.
President Bill Clinton spoke fondly of his visits to Montana in his book, "My Life."
He wrote of Hillary, Chelsea and him spending "a few happy days in Montana, thanks largely to Governor Ted Schwinden."
After spending the night (possibly in Helena), they got up at dawn for a helicopter trip up the Missouri River and watched as wildlife woke for the day.
Then they took a four-wheel-drive vehicle equipped with rail connectors along the Burlington Northern rail line for a couple hundred miles "that included a dramatic crossing of a 300-foot-deep gorge" and traveling in a rented car along Going to the Sun Road, where they saw marmots scrambling along the snow line. They also stayed at Kootenai Lodge on Swan Lake.
"After all my travels, I think western Montana is one of the most beautiful places I've ever seen," Clinton wrote.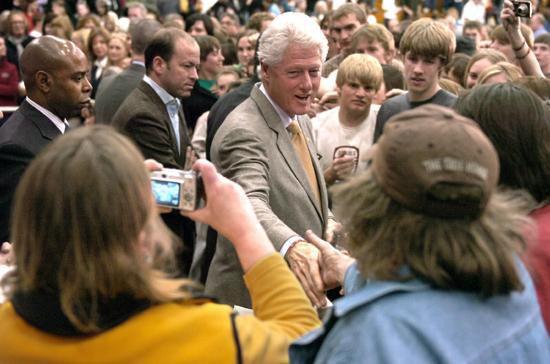 Newly elected President George W. Bush drew a capacity crowd of 10,000 to Rimrock Auto Arena in 2001, according to the Billings Gazette.
And in 2005, he visited Great Falls, pushing the "notion of privatizing the Social Security system, a proposal that went nowhere," according to a Great Falls Tribune column by Richard Ecke.
And closing out the presidential Montana parade was President Barack Obama, who arrived at Gallatin Field Airport in Belgrade (now called the Bozeman Yellowstone International Airport) in August 2009, to hold a town hall meeting on health care reform.
President
Location visited
Date of visit
Chester A. Arthur
Yellowstone National Park
September 1, 1883
Theodore Roosevelt
Butte, Helena, Gardiner
Missoula, Helena
Billings
May 27, 1903
April 11-12, 1911
October 5, 1918
William H. Taft
Butte, Anaconda, Helena
September 27, 1909
Woodrow Wilson
Billings, Livingston, Helena
September 11, 1919
Warren G. Harding
Dillon, Butte, Helena, Livingston, Gardiner
June 28-July 2, 1923
Calvin Coolidge
Livingston, Billings, Yellowstone National Park
August 1927
Franklin D. Roosevelt
Glacier National Park
Hi-Line (west to east)
August 5-6, 1934
October 3, 1937
Harry S. Truman
Butte
Butte, Havre, Great Falls
Kalispell (Hungry Horse Dam)
June 8, 1948
May 12, 1950
October 1, 1952
Dwight D. Eisenhower
Missoula
September 22, 1954
John F. Kennedy
Billings, Great Falls
September 25-26, 1963
Lyndon B. Johnson
Great Falls
Butte
September 16, 1964
October 12, 1964
Richard M. Nixon
Kalispell, Libby
September 25, 1971
Gerald Ford
Libby
August 24, 1975
Ronald Reagan
Billings
Great Falls
August 11, 1982
October 28, 1982
George H.W. Bush
Helena
Billings
September 18, 1989
July 19-20, 1990
Bill Clinton
Billings
June 1, 1995
George W. Bush
Great Falls
Billings
February 3, 2005
November 2, 2006
Barack Obama
Belgrade
August 14, 2009
Donald Trump
Great Falls
July 5, 2018
Donald Trump
Billings
September 6, 2018
Photos: US Presidents in Montana
Chester A. Arthur in Yellowstone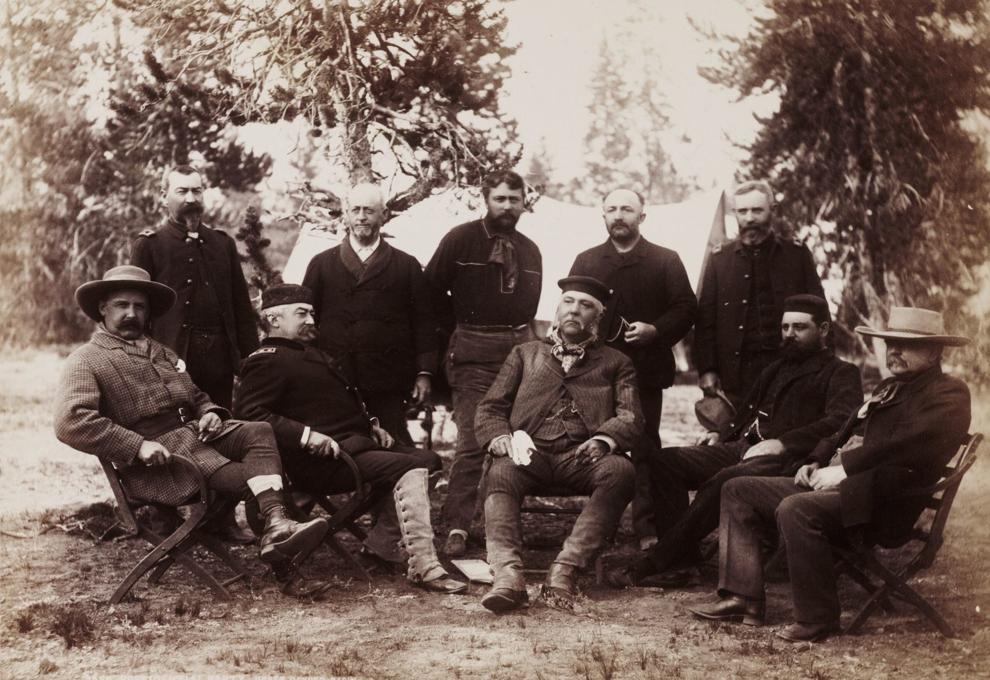 Theodore Roosevelt at Yellowstone National Park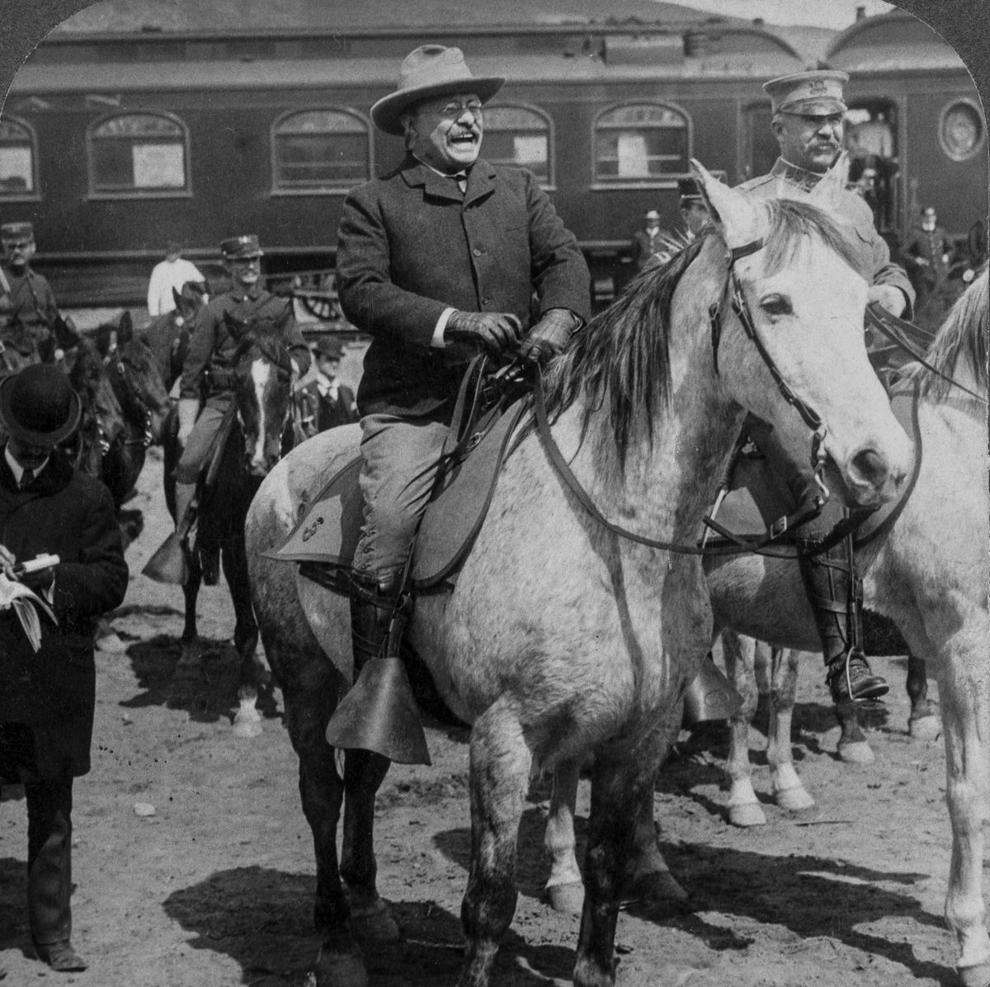 Taft in Butte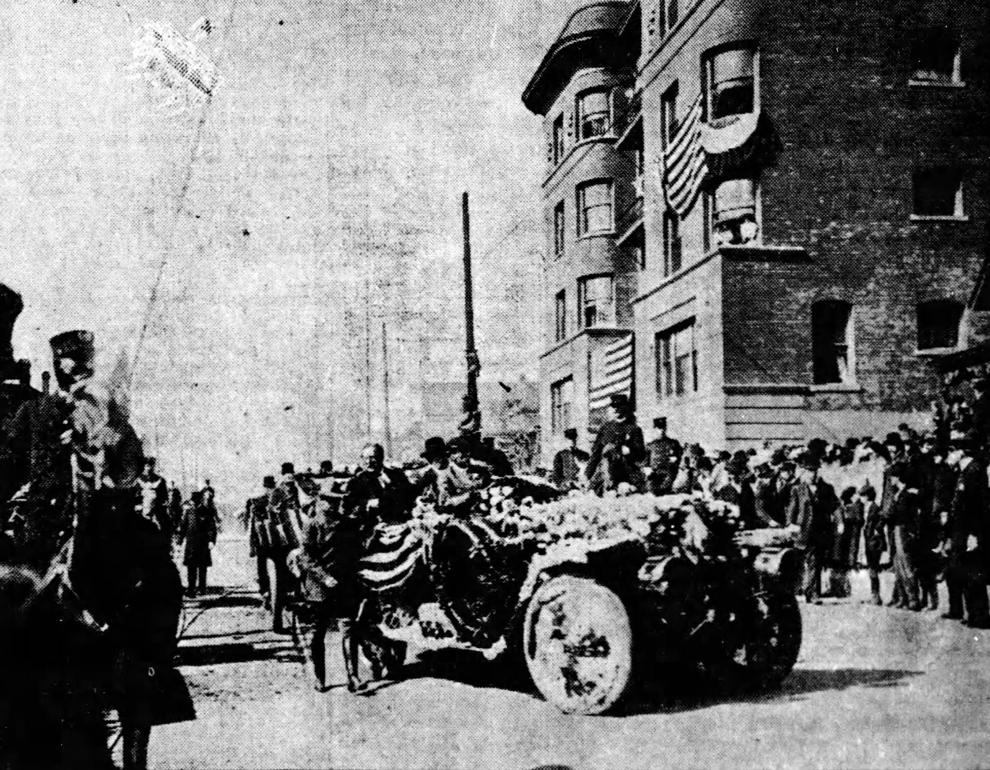 Taft in Butte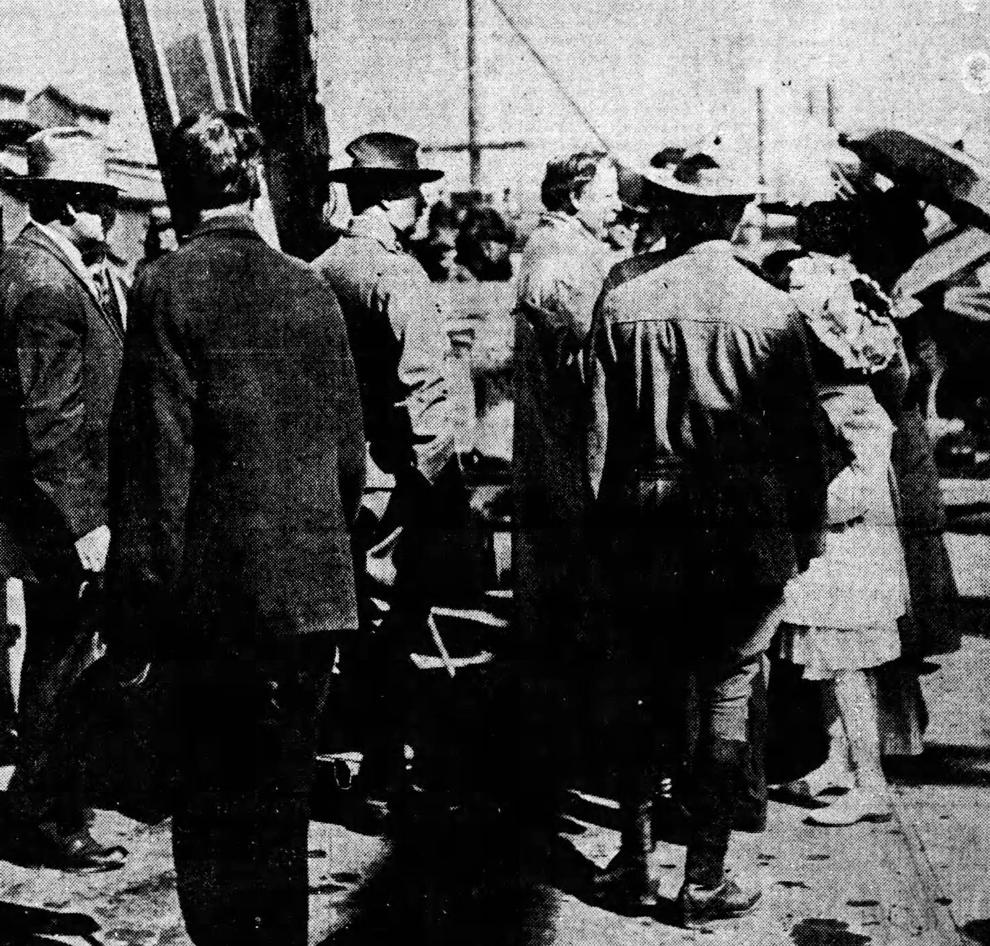 Theodore Roosevelt in Missoula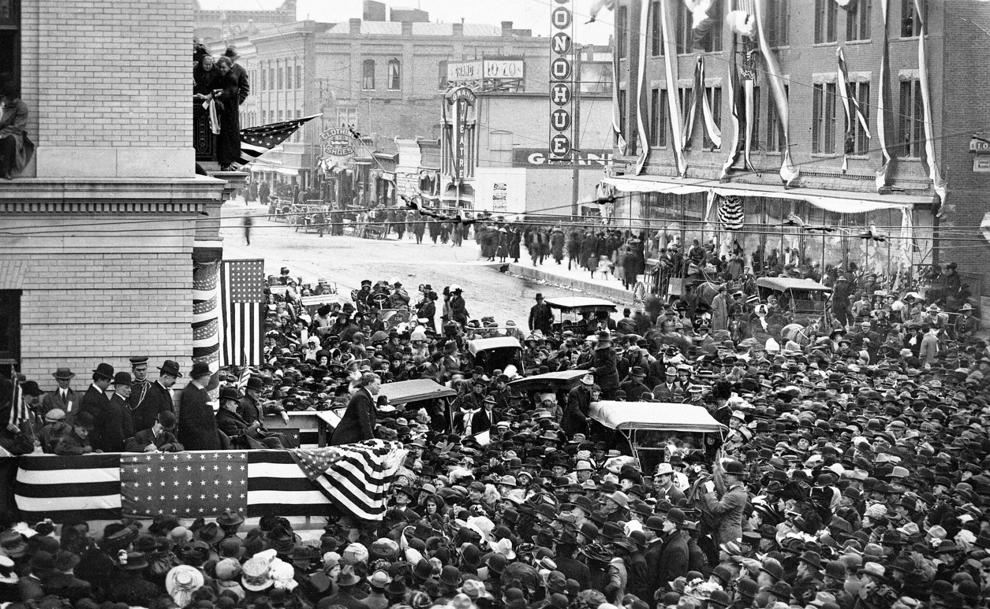 Harding visits Butte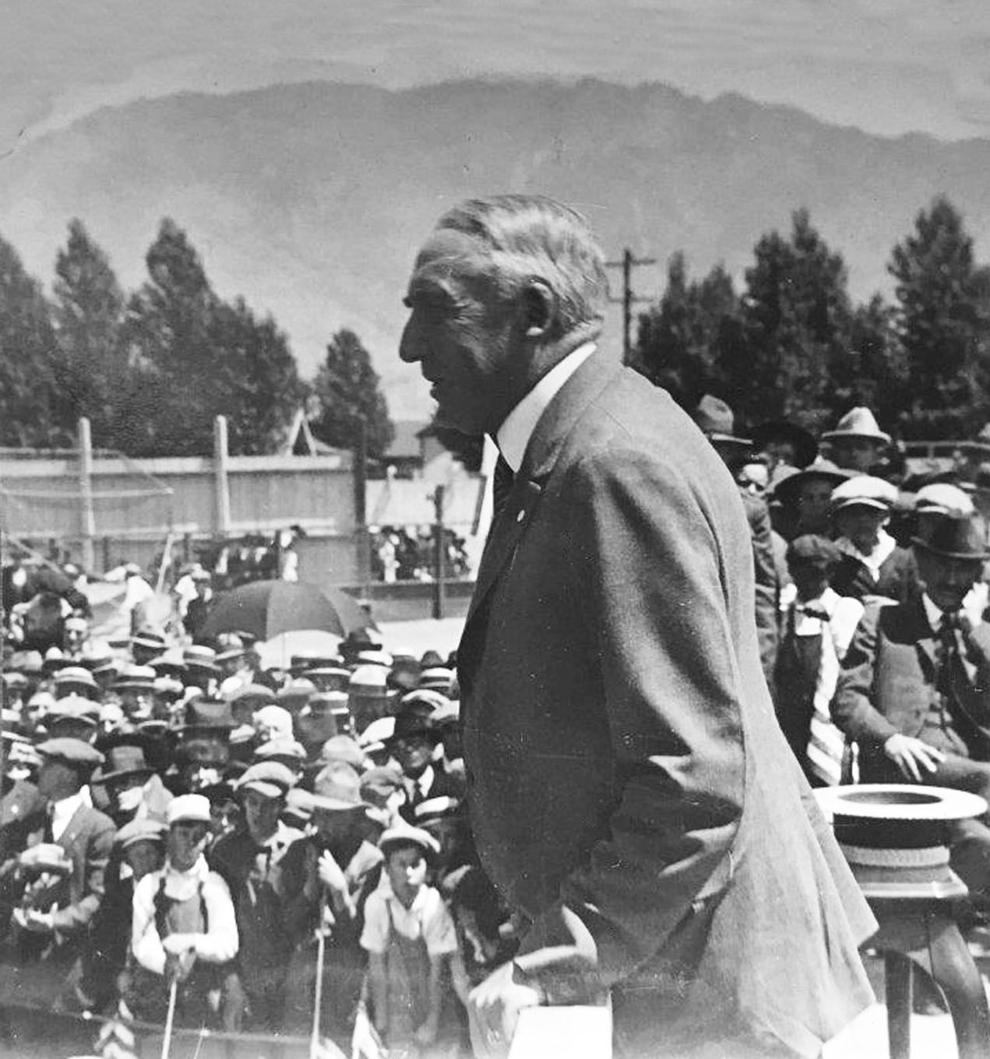 Warren G. Harding in Butte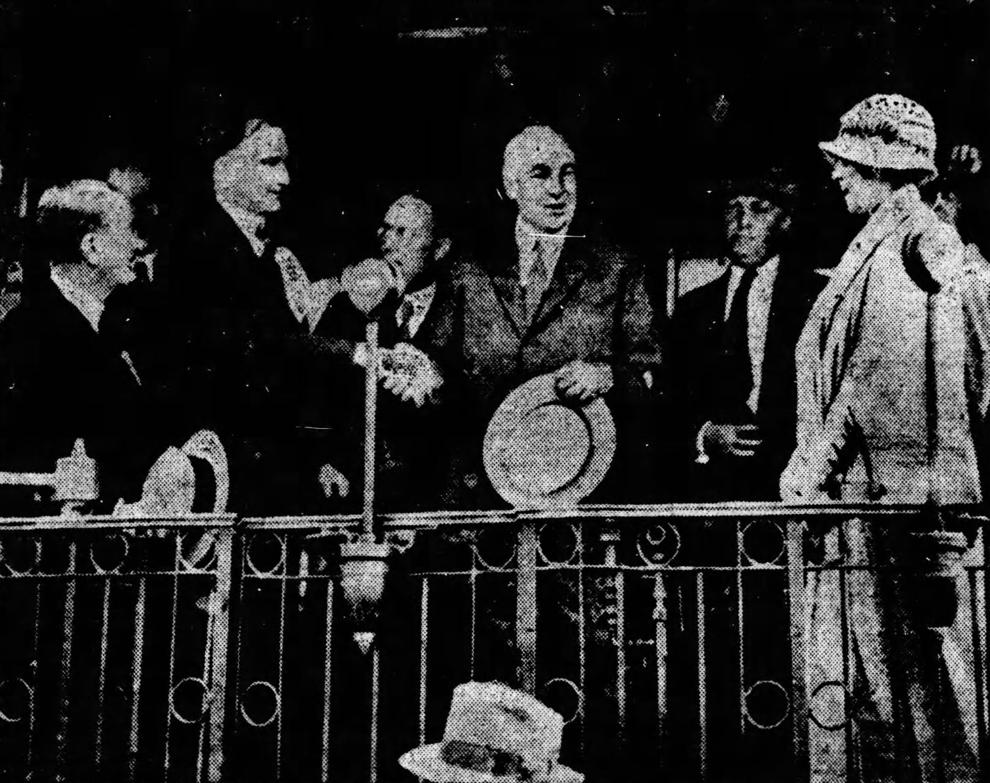 Franklin Delano Roosevelt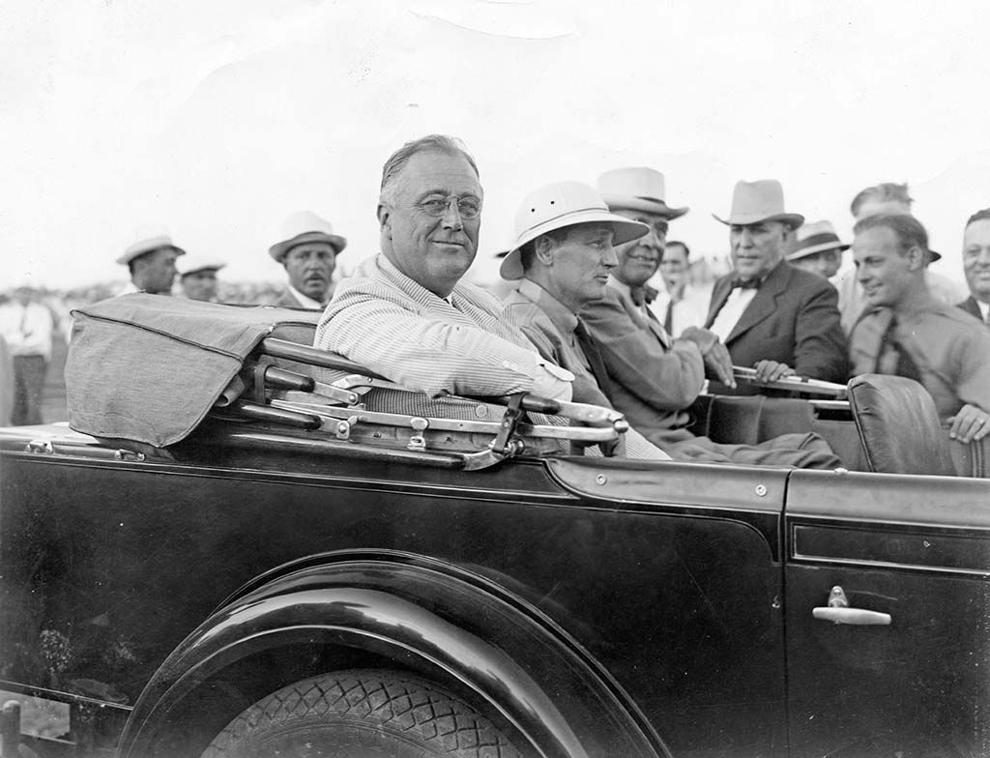 Truman in Butte
Truman in Butte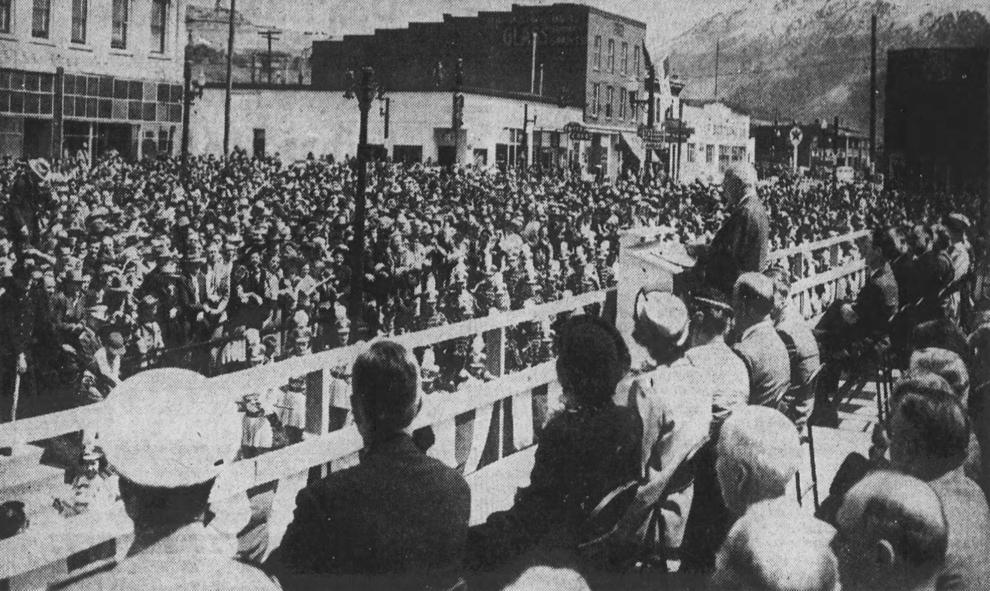 Truman in Kalispell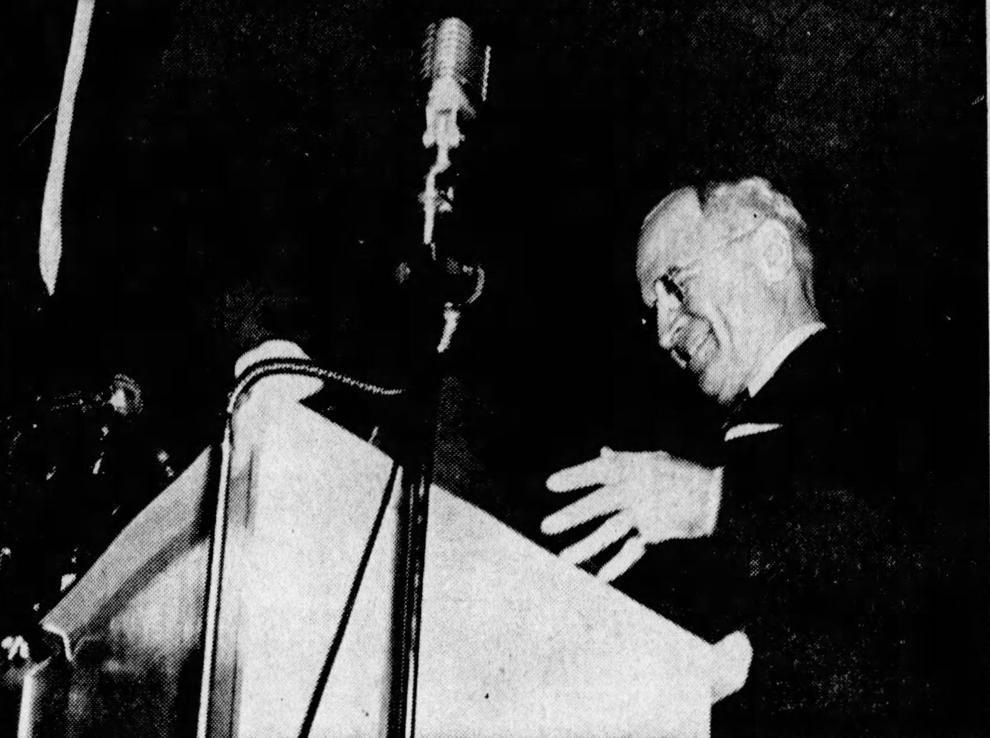 Eisenhower in Missoula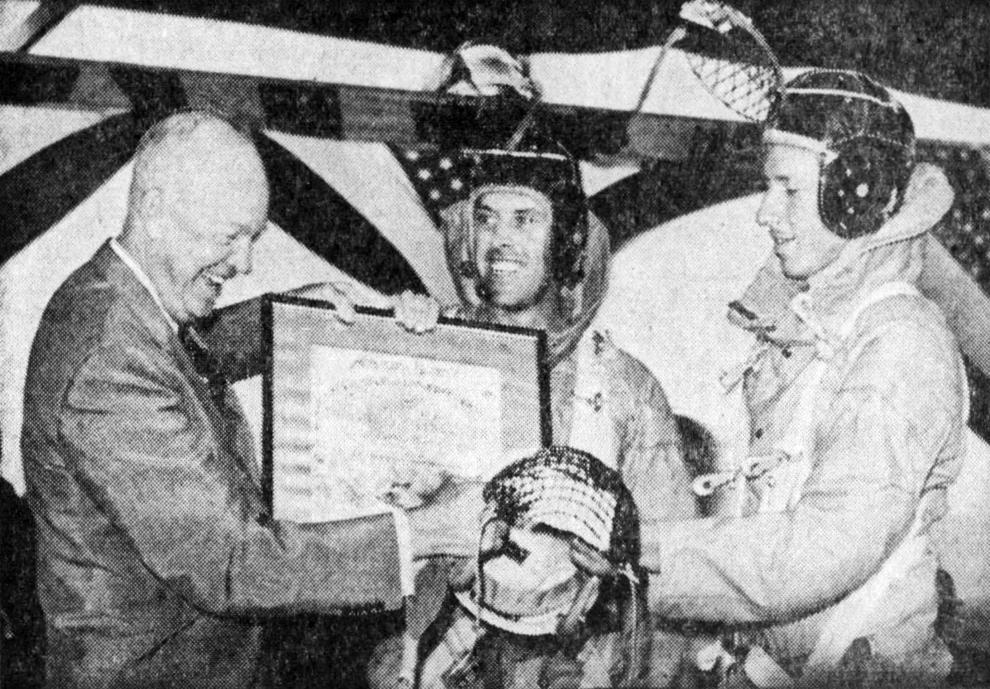 Kennedy in Great Falls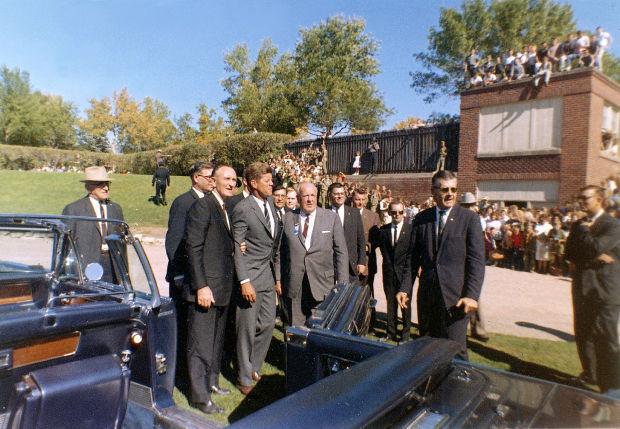 Kennedy in Great Falls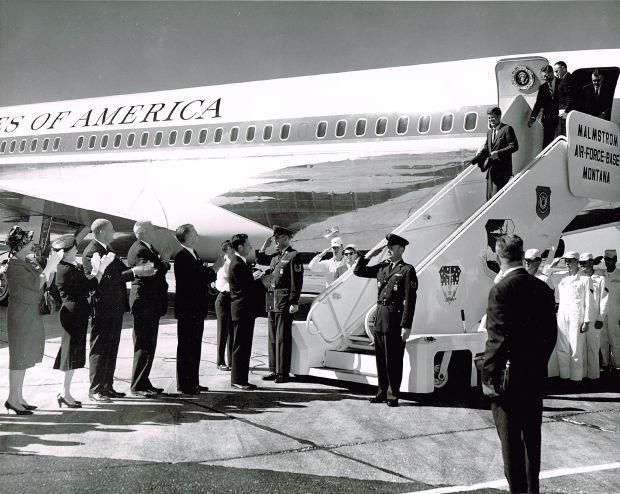 Kennedy in Great Falls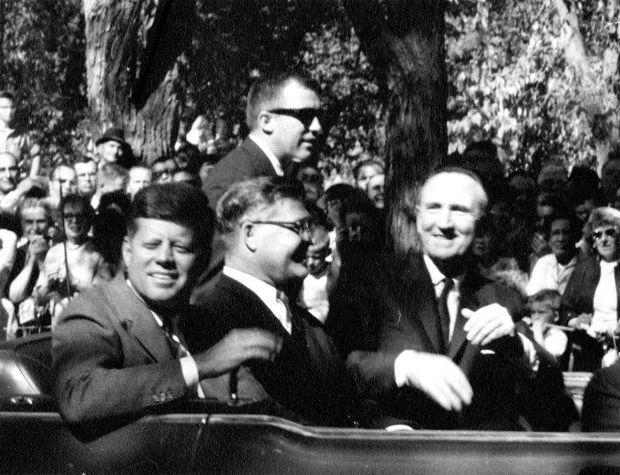 JFK in Billings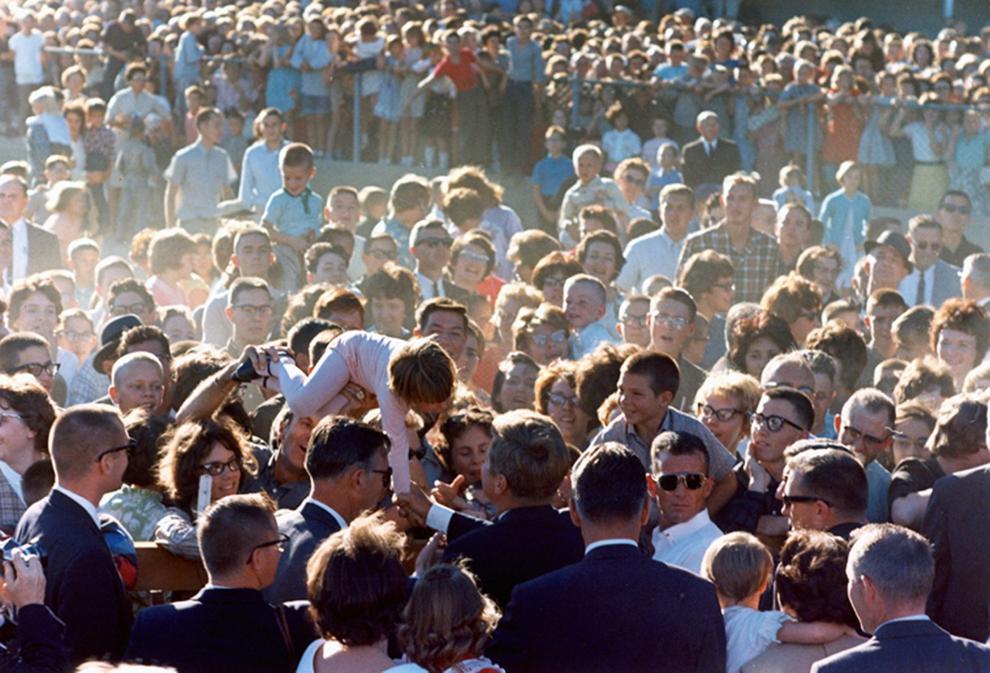 Johnson in Great Falls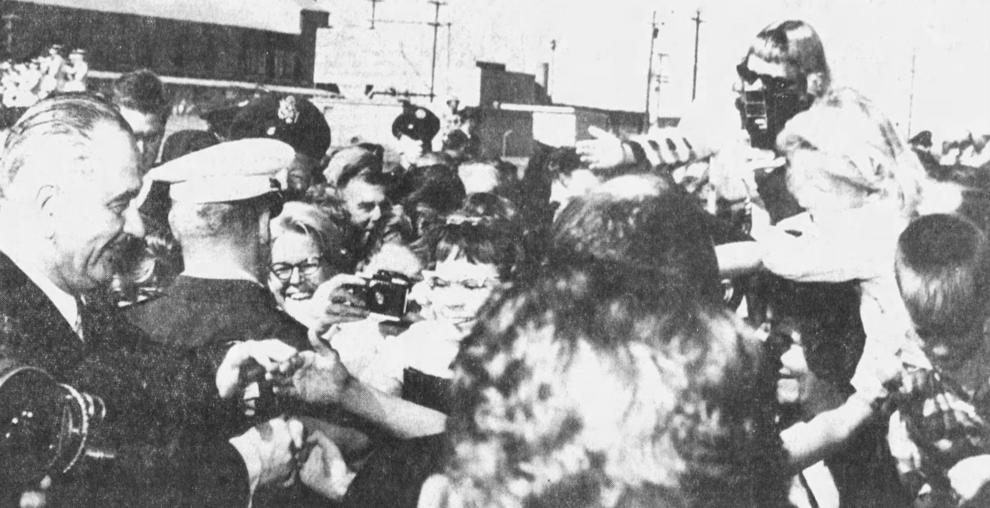 LBJ in Butte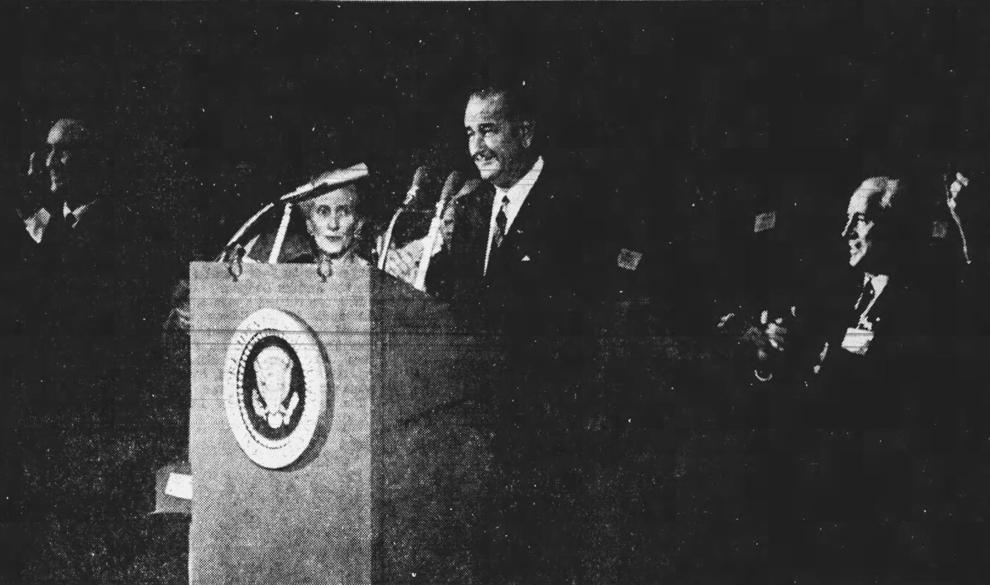 LBJ in Butte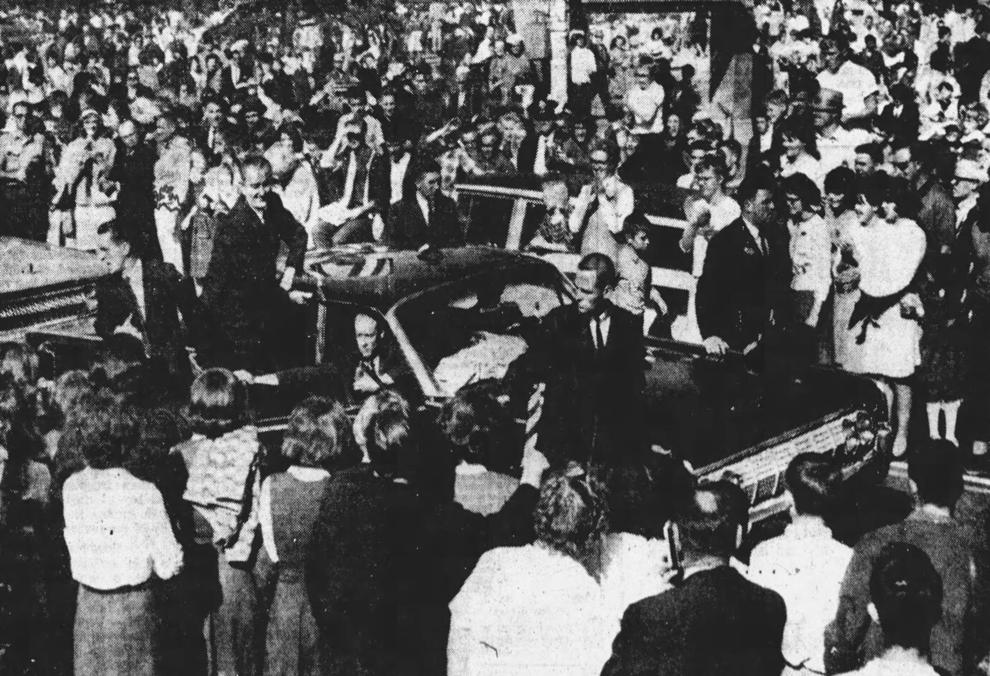 Vice President Richard Nixon in Billings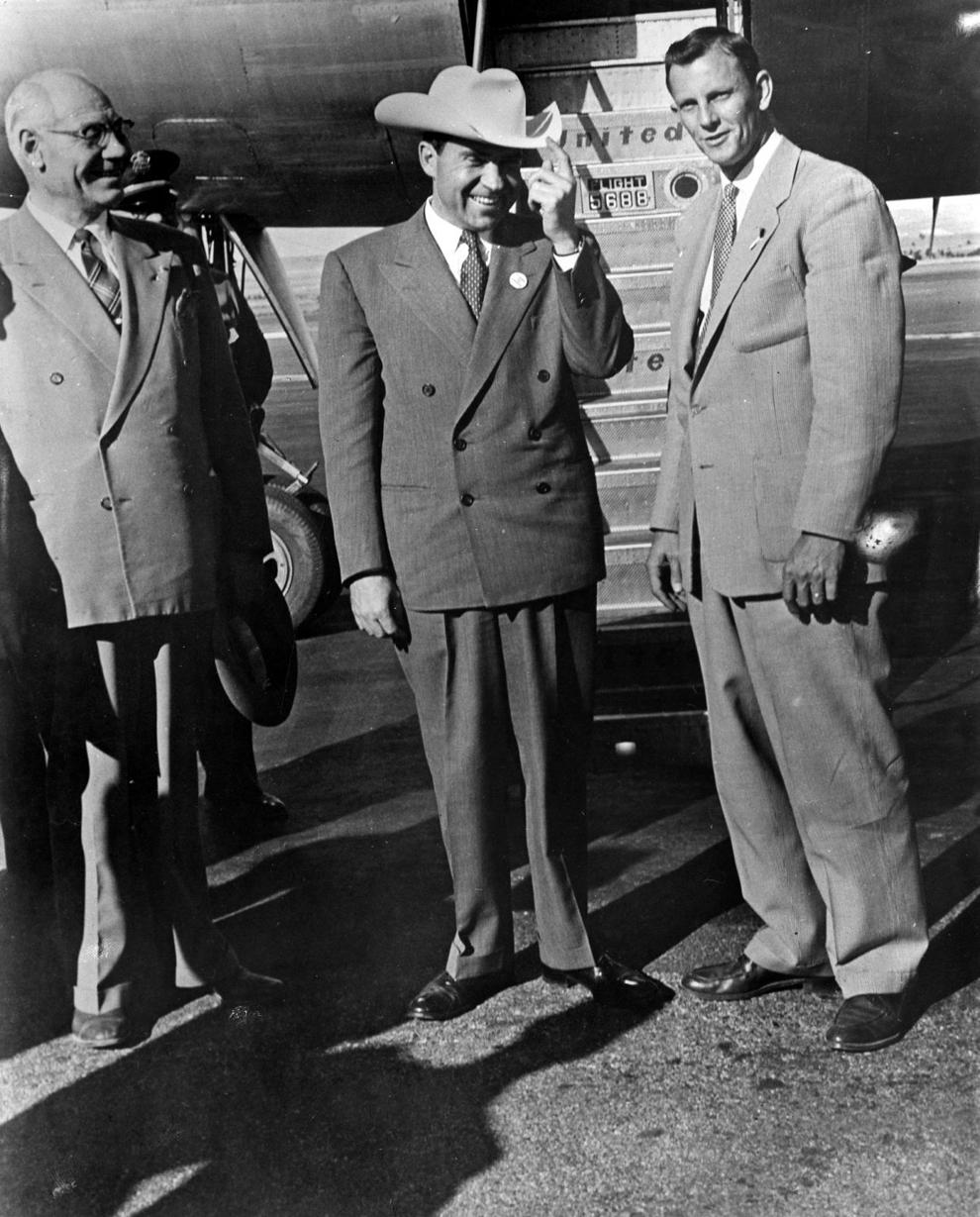 Richard Nixon in Libby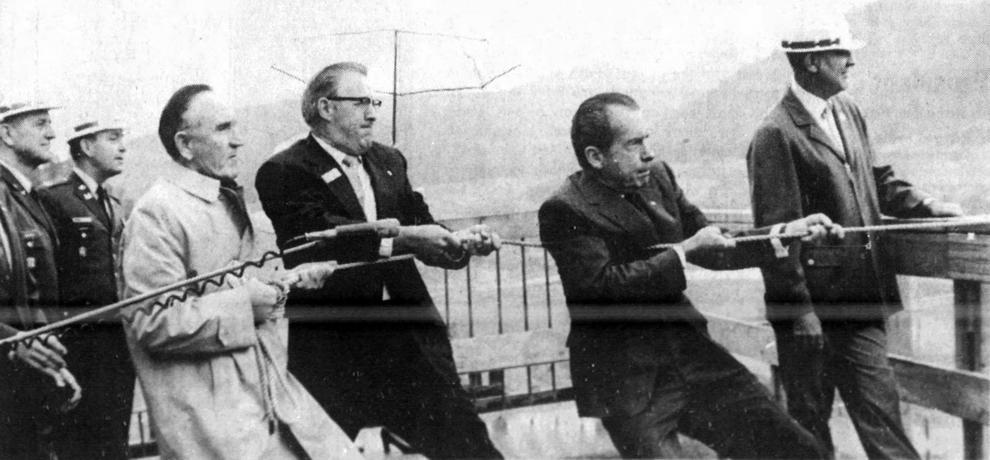 Gerald Ford, Libby Dam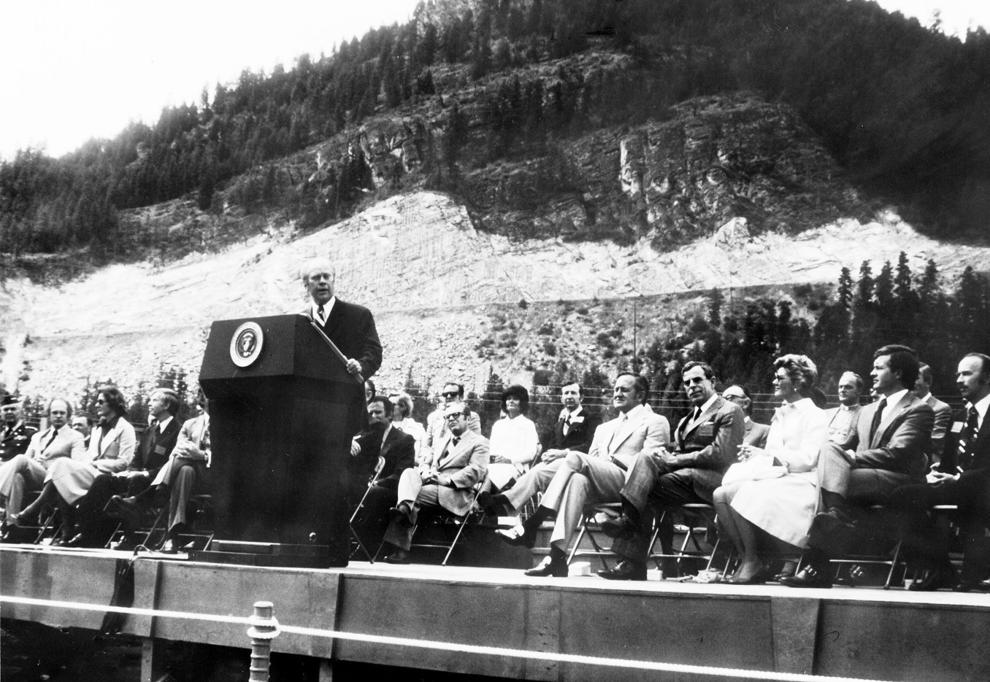 Russ Ritter with Reagan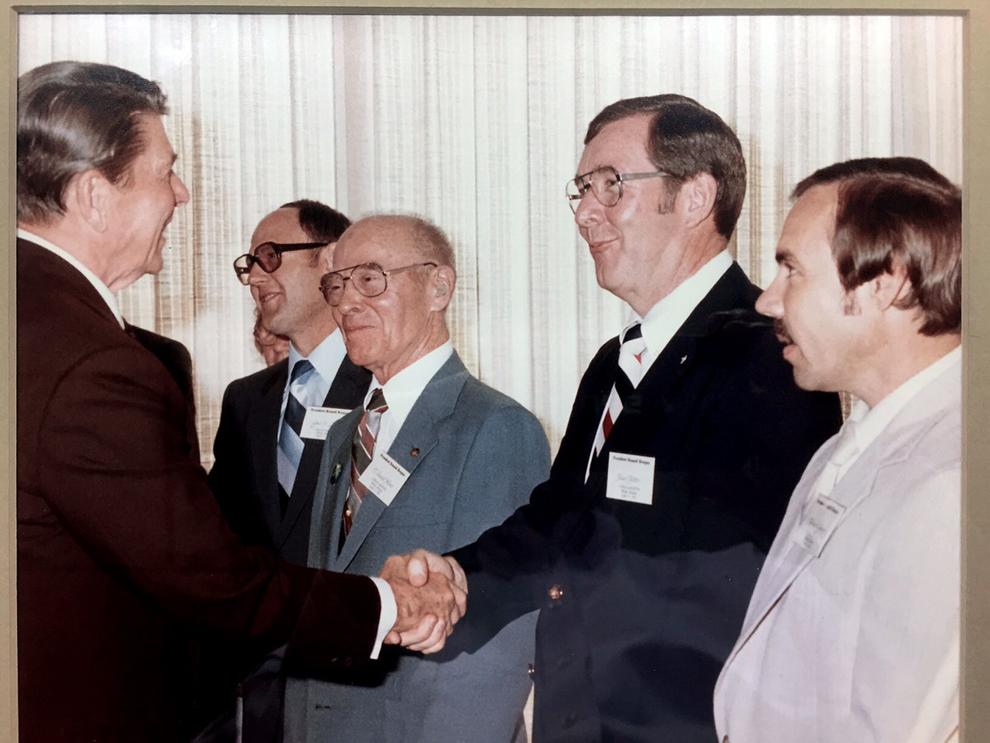 Reagan in Billings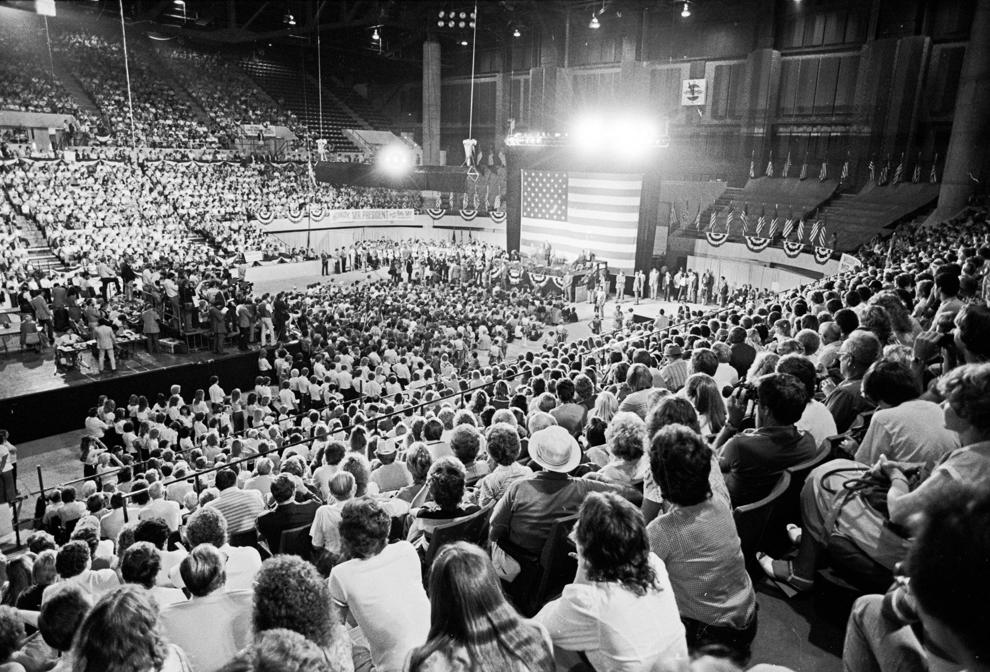 Reagan in Billings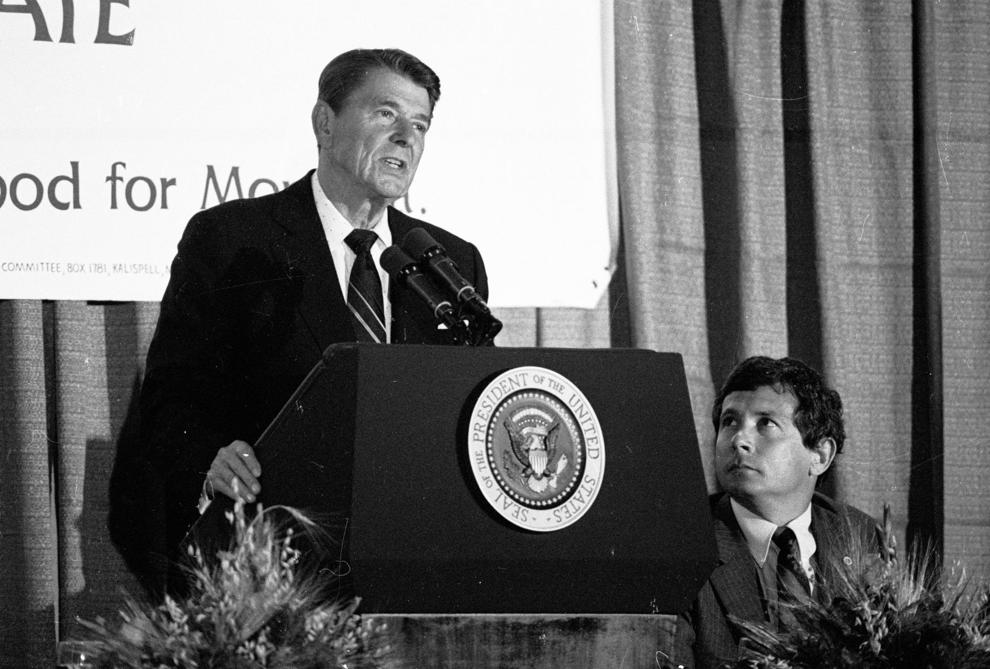 George H.W. Bush arrives in Billings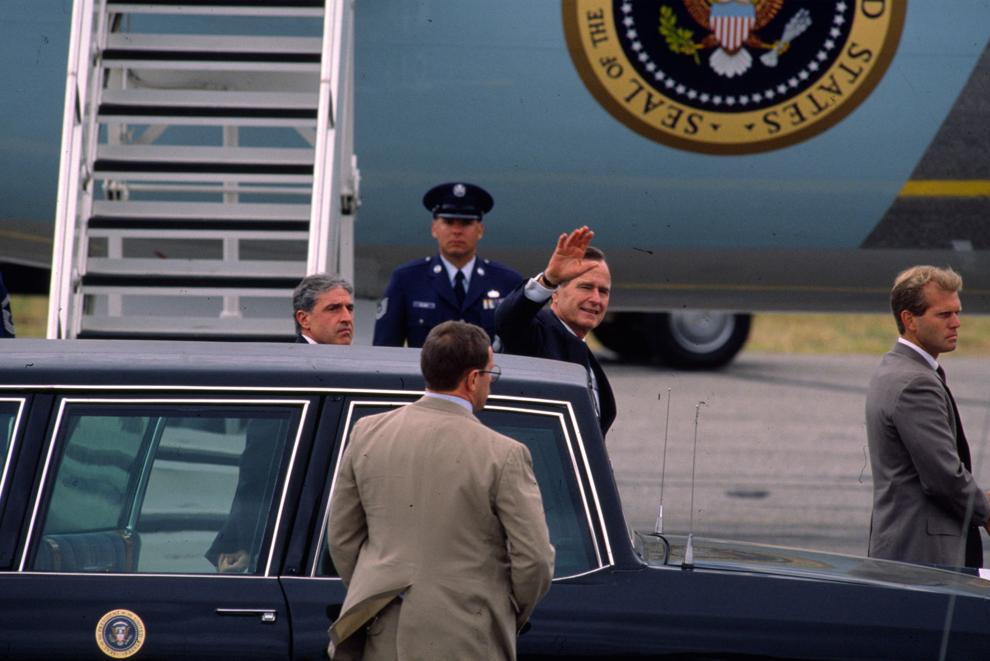 Burns with Bush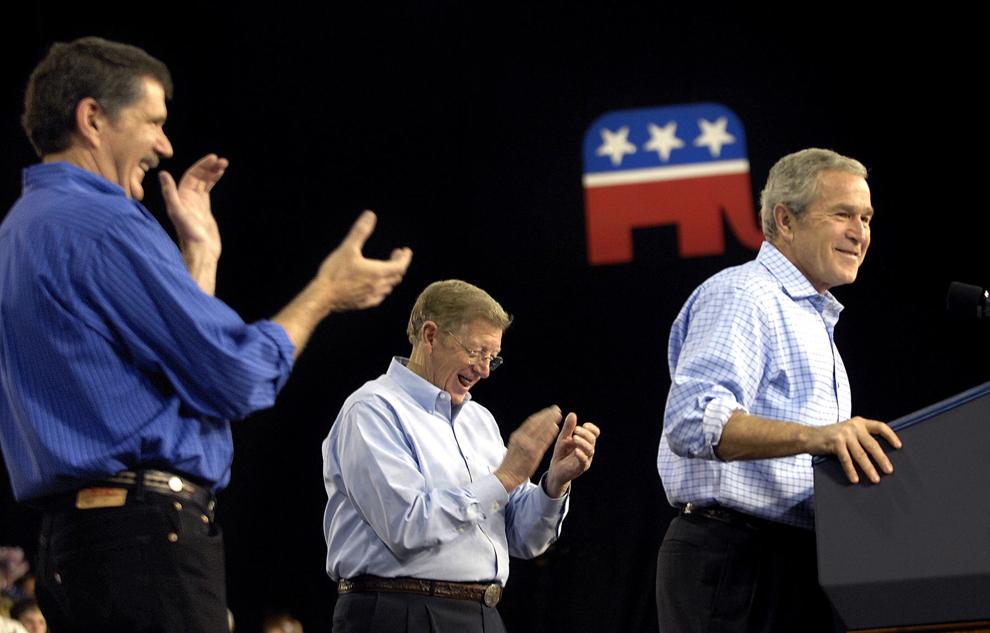 Conrad Burns and Bush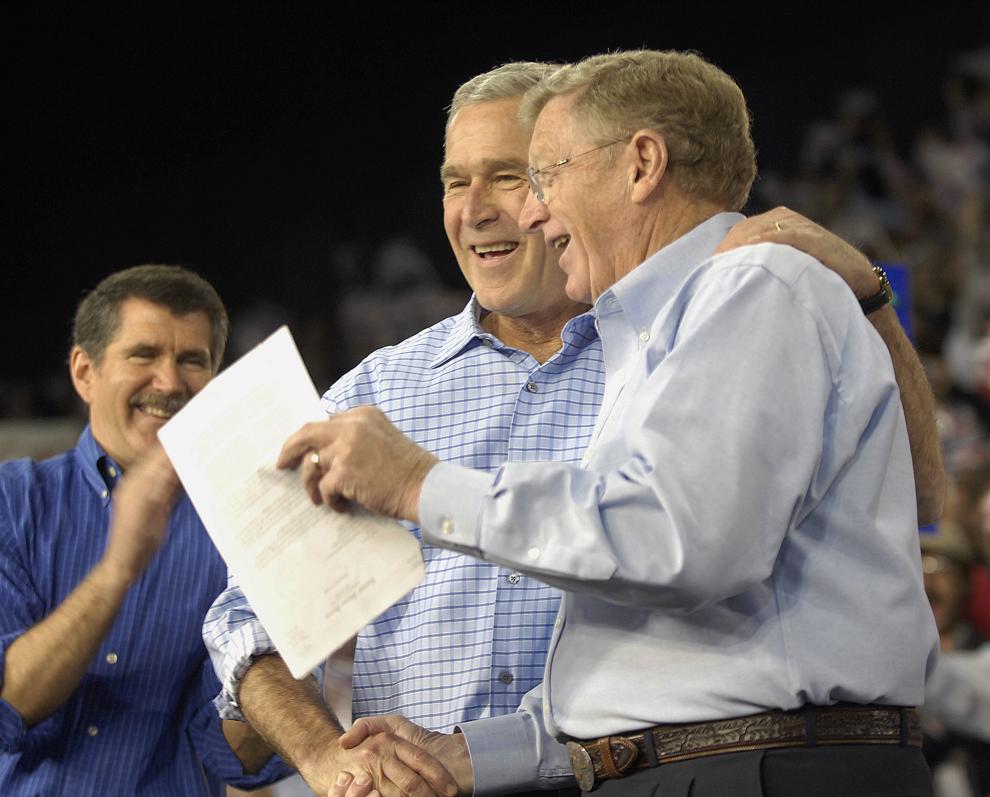 Clinton in Billings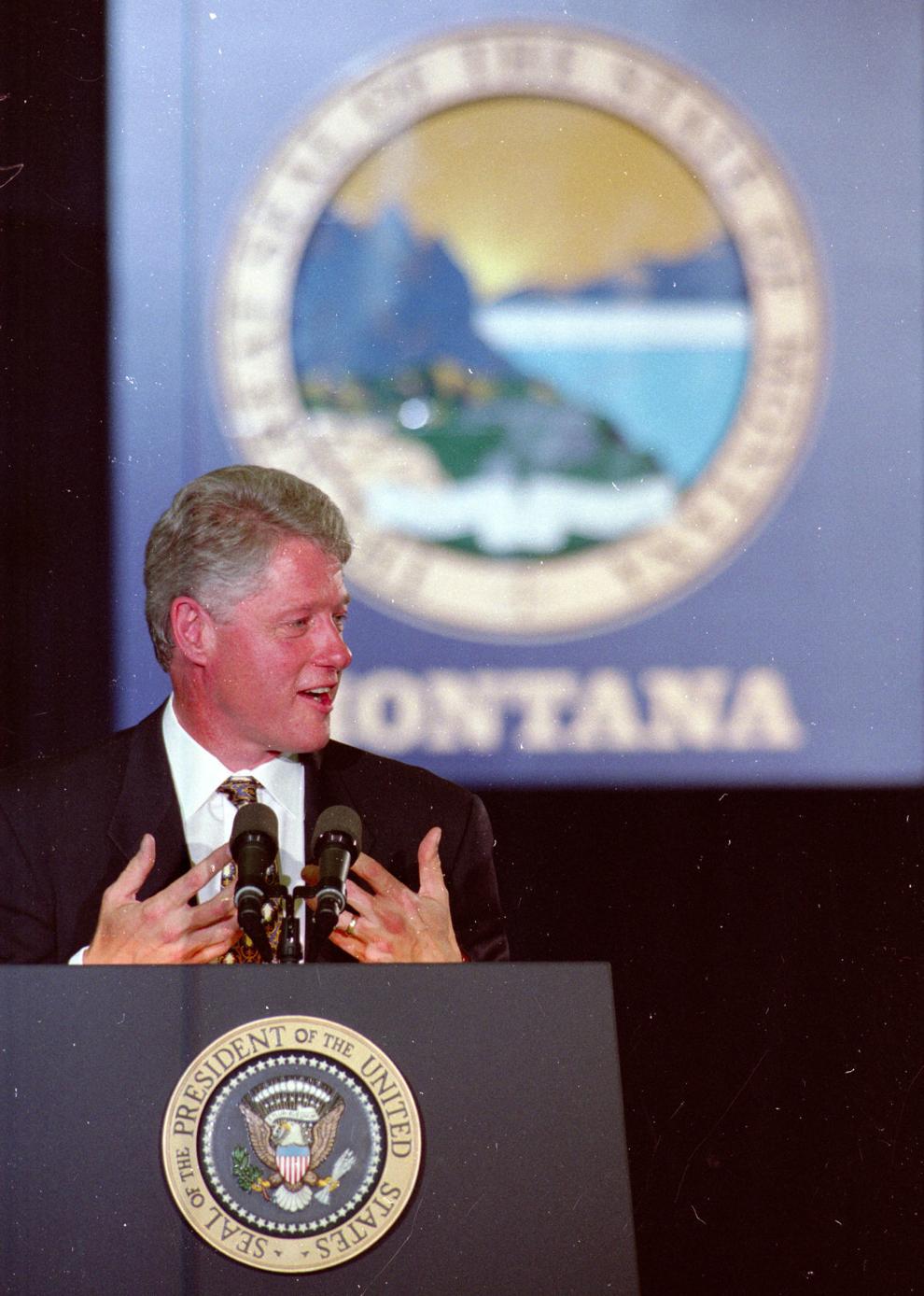 Bill Clinton in Helena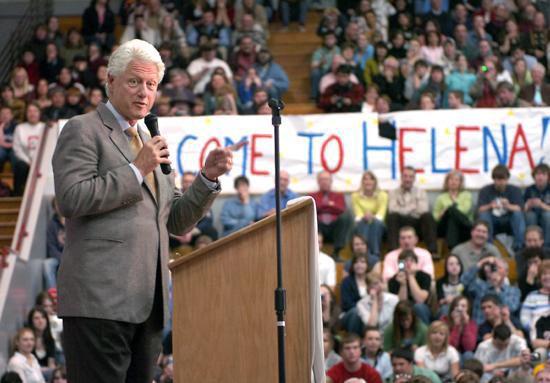 All eyes on the Big Sky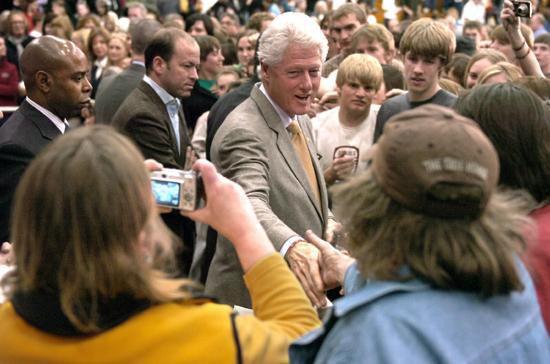 Bill Clinton in Helena
Obama addresses 7,000 in Bozeman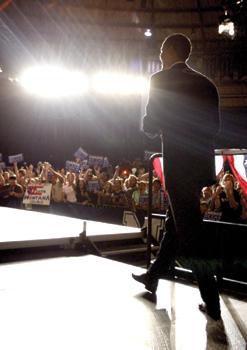 Obama spends Fourth in Butte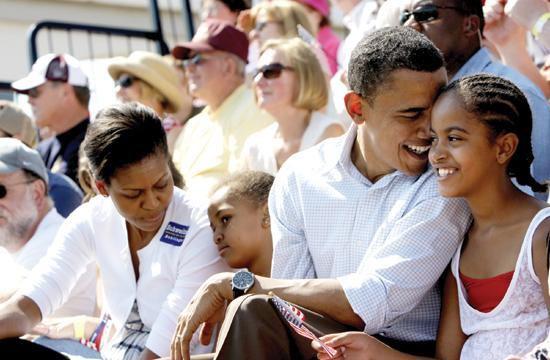 Obama spends Fourth in Butte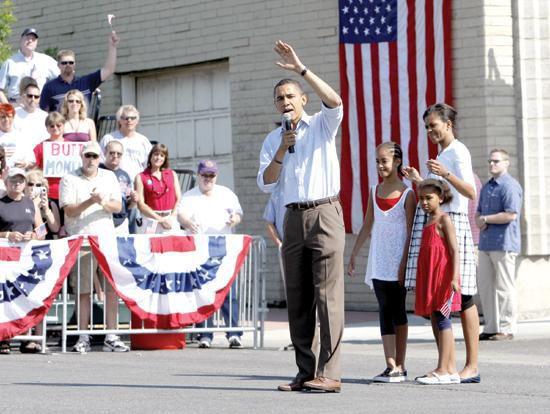 Donald Trump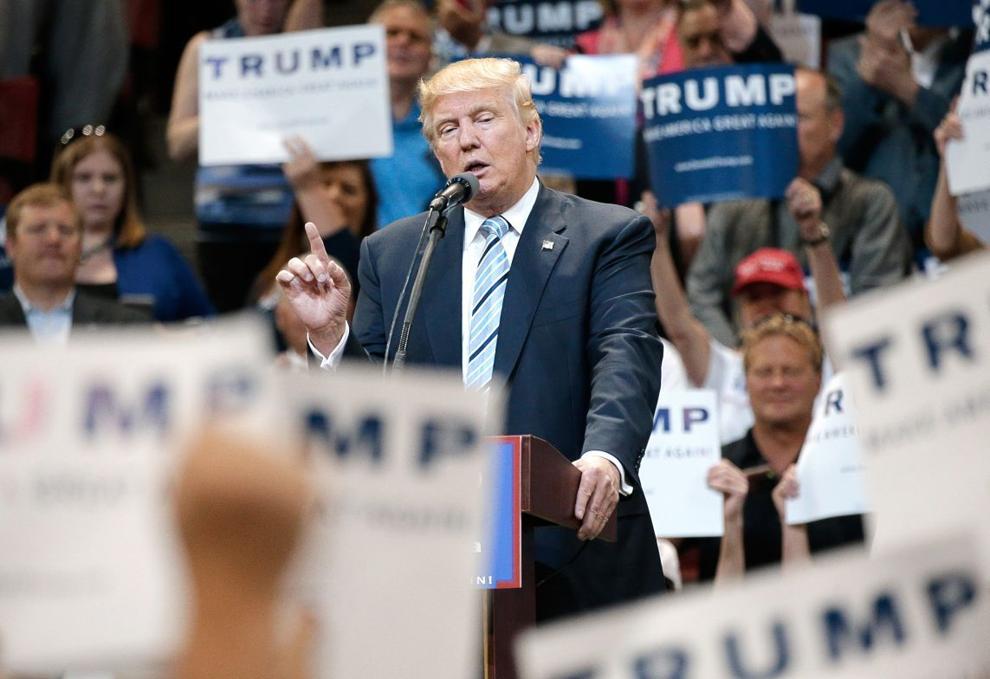 Donald Trump visits Billings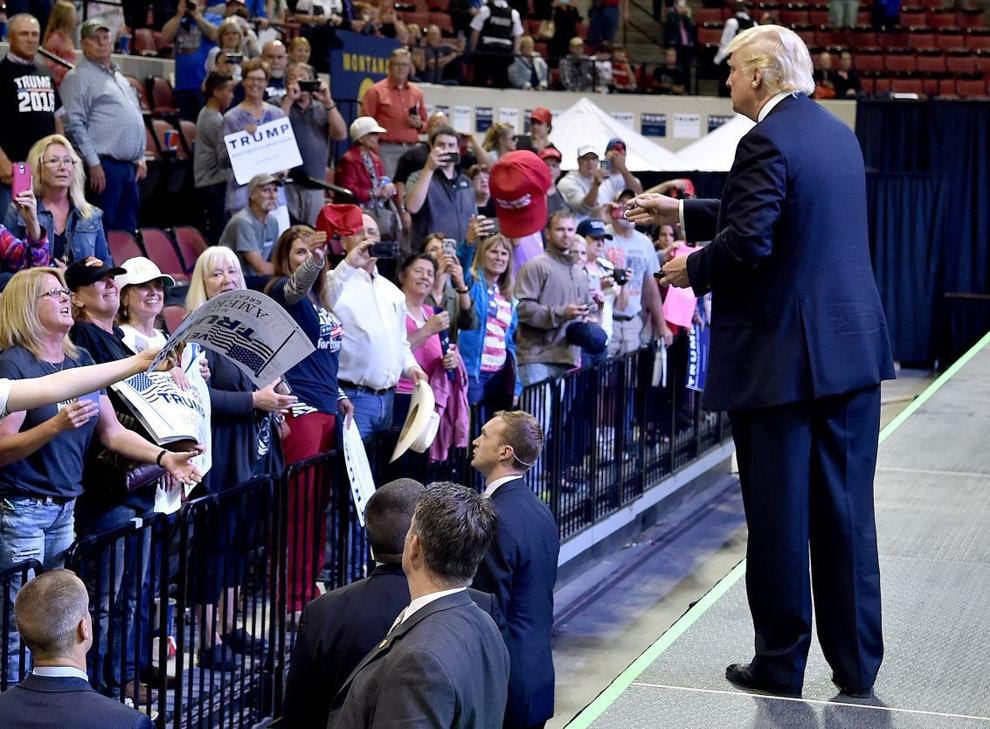 Donald Trump visits Billings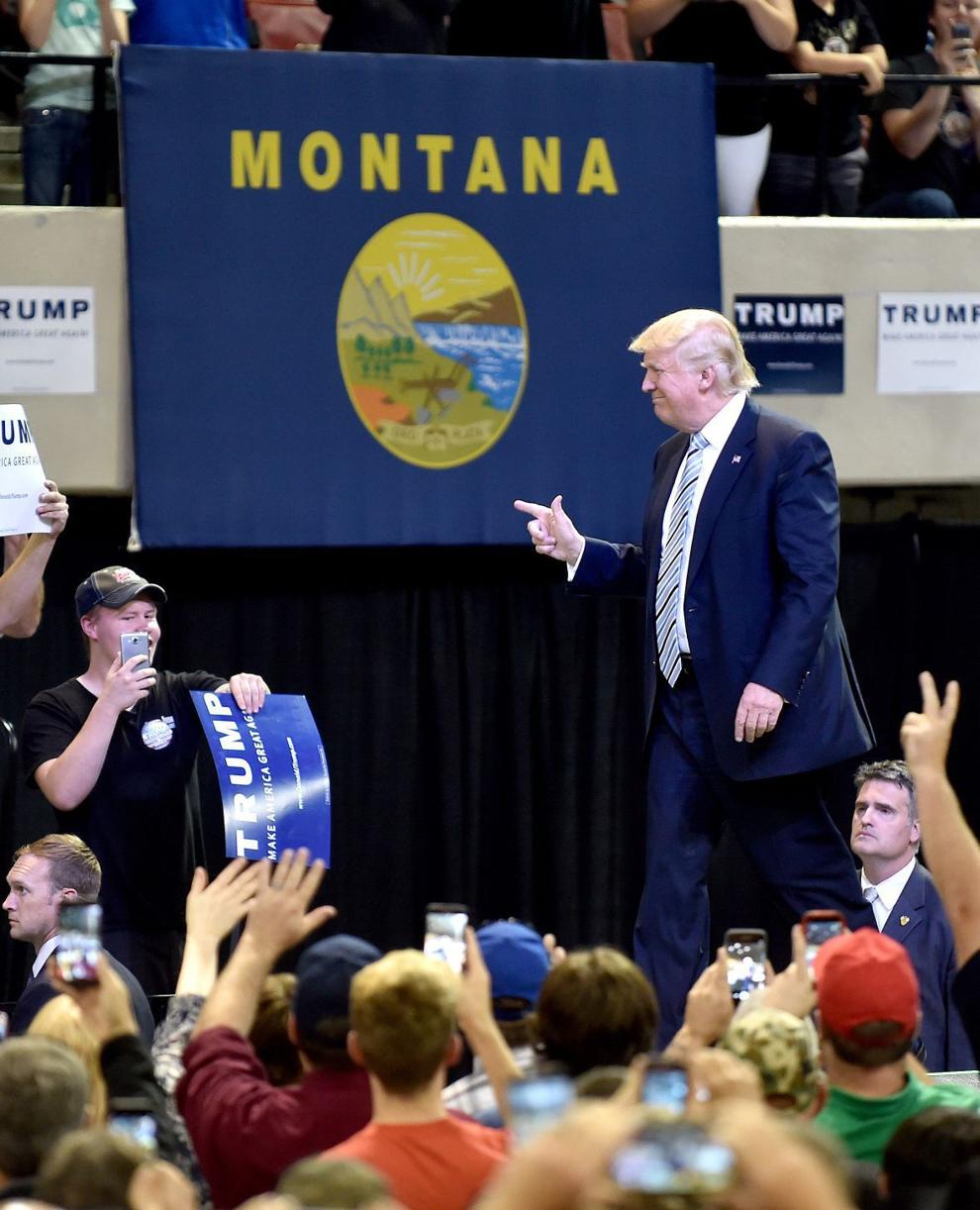 President Donald Trump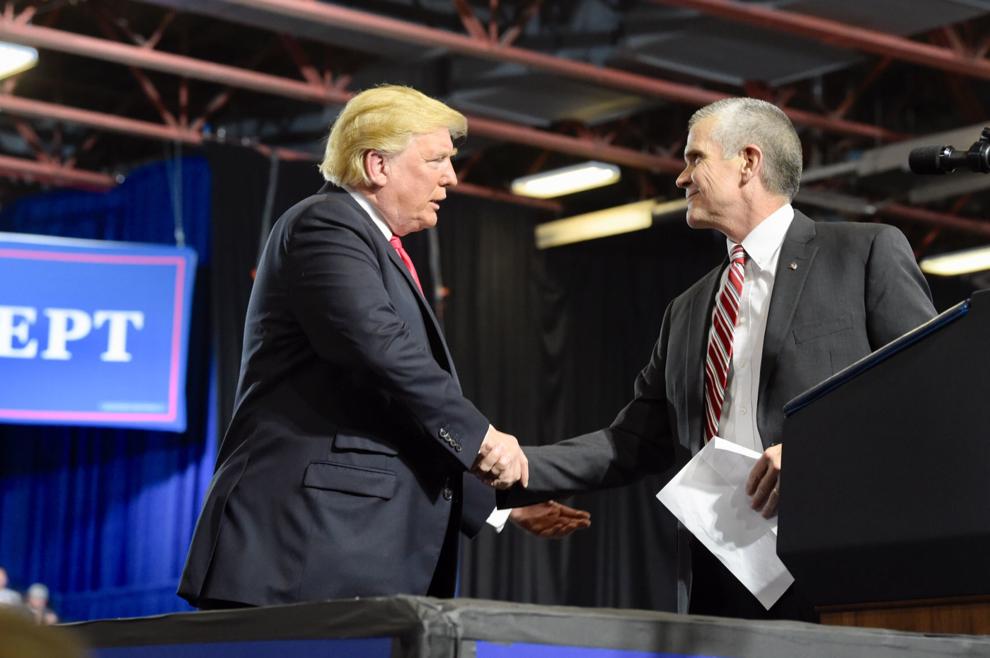 President Donald Trump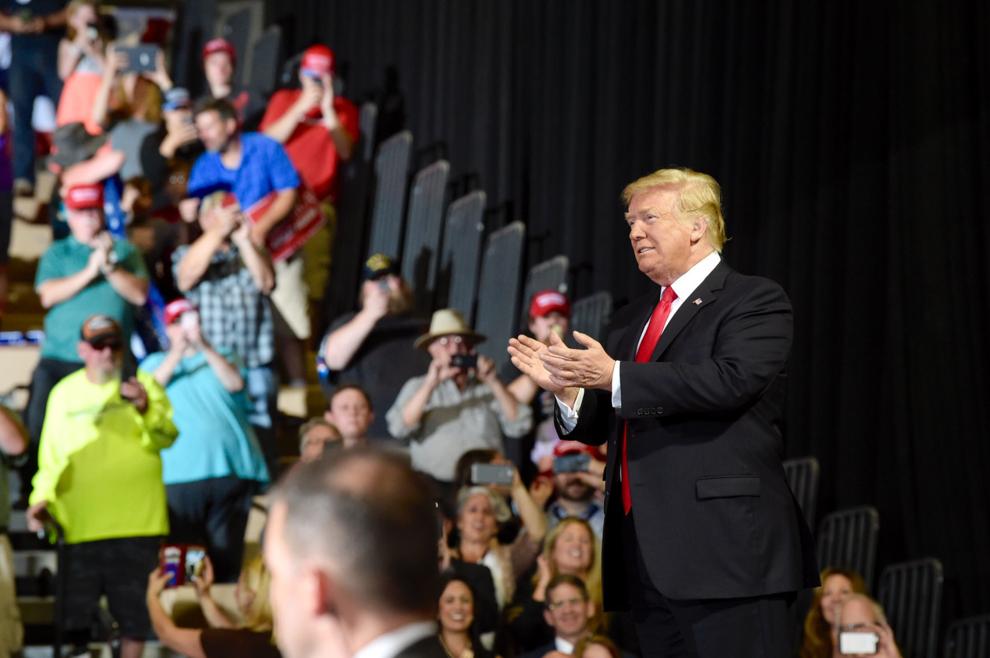 President Donald Trump speaks in Great Falls