Legislative candidate profile: Becky Beard, Republican for HD80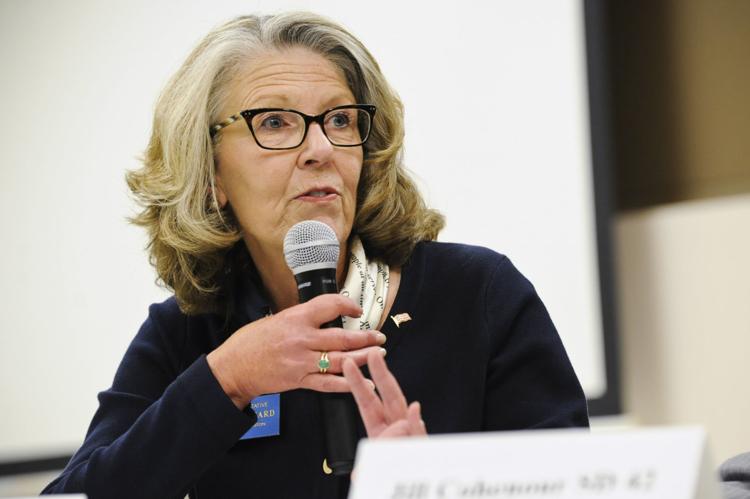 Republican Montana Rep. Becky Beard hopes to win a second term in House District 80 mainly to grow businesses, promote rural education and prioritize infrastructure projects.
Beard founded and is self-employed at Beard Environmental and Technical Assistance LLC, which assists Montana communities gain public funding for infrastructure projects.
She said the Legislature can grow business by "helping to cut regulations wherever possible, and that includes agriculture and natural resources."
"First, as an owner of a small-business, now embarking on its third decade, we experience greater self-employment costs and regulations, as do our clients," Beard wrote in an Independent Record candidate survey.
Beard said she believes state regulations and reporting requirements are also excessively burdensome to public schools, particularly in rural areas.
"It's really difficult for our rural schools, which are critically needed in our ag communities, to be able to comply or conform," she said. "So one size does not fit all in educational structures."
When it comes to infrastructure improvements, Beard said her first priority is to identify the state's most critical projects and then work with communities to ensure they get funded. Also important, she said, is to "scrutinize and try to streamline regulatory requirements to make sure that those regulations are not unfunded mandates."
"We have a lot of wish list and Christmas list items," she said. "But first and foremost, with our limited dollars, we have to take care of those things that are going to help our communities expand, grow, make more money, promote a better economic environment for our state."
Beard said she opposes Initiative 185, which would re-authorize Montana's Medicaid expansion and increase taxes on tobacco and vaping products to help support that and other health-related programs. If the initiative fails, she said, the Legislature should allow Medicaid expansion to sunset in 2019 so it can be re-evaluated and potentially re-authorized later.
In a recent legislative candidate forum, Beard said she is concerned that people are taking advantage of Medicaid expansion and have no incentive not to. She noted in a recent op-ed that 61.2 percent of Montanans enrolled in the program in December 2017 were between the ages of 19 and 39 and said some able-bodied Montanans are choosing to be unemployed. 
"More people working and more cash changing hands in our communities generates more tax revenues for government services and operations," her op-ed says. "This will promote more economic vibrancy, better job opportunities, and fewer Montanans living in poverty. We can then renew our focus on reliably assisting our neighbors who require Medicaid assistance."
Beard holds a bachelor's degree in international relations from Carroll College and is an associate member of the Rocky Mountain Stockgrowers Association.
Legislative candidate profile: Catherine Scott, Democrat for HD80
Democrat Catherine Scott said she hopes to help facilitate cooperation between political parties as a new representative in House District 80.
She also is running "to find solutions to help everyday Montanans in expanding economic opportunities, in obtaining health care, in ensuring Montanans are not being taxed out of their homes, and in protecting public lands," she wrote in an Independent Record candidate survey. "I want to make sure needed services are obtained for children, elderly, disabled and those with mental illness."
One of the most pressing issues in HD80, Scott said, is "making sure that health care and emergency services stay in place." She is "very supportive" of the the re-authorization of Montana's Medicaid expansion program that is set to sunset next year, she said.
Scott said it would be unacceptable for the state to take the program away from the more than 96,000 adults who rely on it for health insurance. Without the program, she said, hospitals, clinics and taxpayers would have to pay an even higher cost for those people to obtain emergency services.
However, Scott said she has some reservations about Ballot Initiative 185, which would increase taxes on tobacco and vaping products to help fund Medicaid expansion and other health programs. Many smokers are in poverty, she said, and she fears they will continue to feed their addiction even if that means they can no longer feed their families as a result of the higher tobacco tax.
"Tobacco is a very strong addiction," she said.
Scott also believes Initiative 185 "falls short of what's necessary." However, she said, "If that's the only initiative out there that's going to help us out, we do what we have to do."
Montana's infrastructure needs are another top priority for Scott.
"Montana really needs to look at infrastructure and really start making sure that we address infrastructure needs," she said.
Scott said investing in the economy will open up opportunities for new businesses, and that Montana needs to do more to embrace wind and solar energy. Diversifying business opportunities will "give kids the ability to see that Montana offers something that keeps them here," she said.
Scott said she is also interested in finding new revenue sources for the state, as many of the people in her district have told her they are being overburdened by property taxes.
One option she would support is targeted user fees for non-resident tourists, she said.
"One of the industries Montana excels at is tourism. A lot of people come into the state, they pay the bed tax, but that's very low," she said.
Scott is a retired law enforcement officer and now works as an investigator with the Montana Department of Justice, where she investigates cases of abuse and neglect against intellectually or developmentally disabled people. She holds a bachelor's degree in psychology and a master's degree in public administration, and is currently enrolled in a doctorate program for public health.
Scott is the president of the Big Valley Rural Improvement Division and an associate member with the Association of Certified Fraud Examiners.