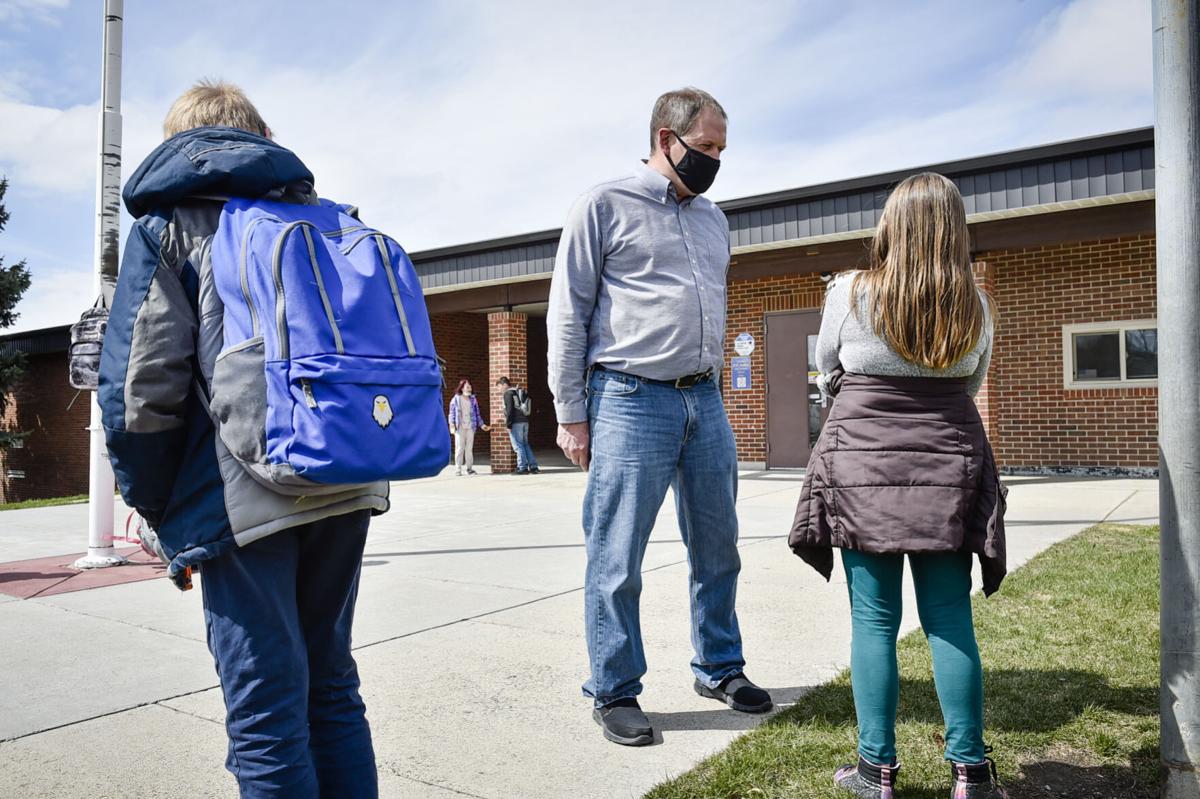 Radley Elementary School Principal Joe McMahon is set to retire this summer after a near 40-year career in education.
McMahon is a well known face in the East Helena School District. For the past 13 years, he has been the principal at Radley. During the 13 years before that, he was the principal at Eastgate Elementary School. Prior to joining the East Helena School District, he taught fourth and fifth grade for 13 years in Montana City. McMahon said 13 must be his lucky number and wondered what may happen 13 years from now.
According to McMahon, it was time for him to retire after 39 years in education. His wife, who is a teacher at Helena Middle School, retired last year. McMahon said it was time for them to spend more time with their grandchildren.
"There are things we want to do," McMahon said. "I want to do more around the house. Spend more time with family."
McMahon said he wanted to work in education to be around kids. He grew up with 14 brothers and sisters so his first class at Montana City, which had nine students, had even fewer kids than his family. It's the relationships with students that McMahon said he will miss the most after retiring. He said the relationships with staff and families will also be missed, but the kids are what matter the most.
In his time at Radley, McMahon has adopted some practices that changed the face of the school. Radley was one of the first schools in the area that had a facility dog to help with the emotional needs of students. It's something that has become more prominent in other schools since then.
"Those ideas don't always come from us. This is a perfect example as that idea came from a staff member," McMahon said. "Now we'd never even consider going forward without a facility dog. We're adding a second next year."
According to McMahon listening to his staff and students is one of the most important aspects of being an administrator. He said it's important to "always keep your ears open."
Over McMahon's years in East Helena, many things have changed significantly. Two in particular stuck out to McMahon as he reflected on his time in the district.
The first is how much technology has changed. McMahon said educators barely knew how to implement technology into their classrooms at first. At this point, technology has progressed so far that they don't know how they'd do without it, according to him.
The second is a greater focus on the emotional needs of students. McMahon said he doesn't know if students these days encounter more stressful situations or if schools have just become more aware of it. However, the one thing he was able to say for certain is that the schools are doing a great job at addressing those emotional needs. Every morning before academic instruction begins at Radley, the teachers take the time to talk with students so they can identify anything that might be bothering them and address it.
"If we can get to the bottom of what is bothering a kid in the morning, they can be more successful the rest of the day," he said.
McMahon said he is confident that he is leaving the school in good hands with both his staff and incoming Principal Gus Somerfeld. What he hopes to leave behind is an overall sense that no one person can do everything alone and they all have to work together. McMahon said when he first started teachers were often viewed as "sole providers" and were somewhat isolated in their classrooms.
"We have to lean on each other and not be afraid to ask for help," McMahon said. "Working together far outweighs what we have done in the past."
McMahon said he also hopes he has instilled a sense that all staff can strive to improve every day.
"You always want to walk away and hope the train keeps going," McMahon said. "Be better tomorrow than you were today. I hold myself to that standard. I don't think you should ever stop trying to improve."