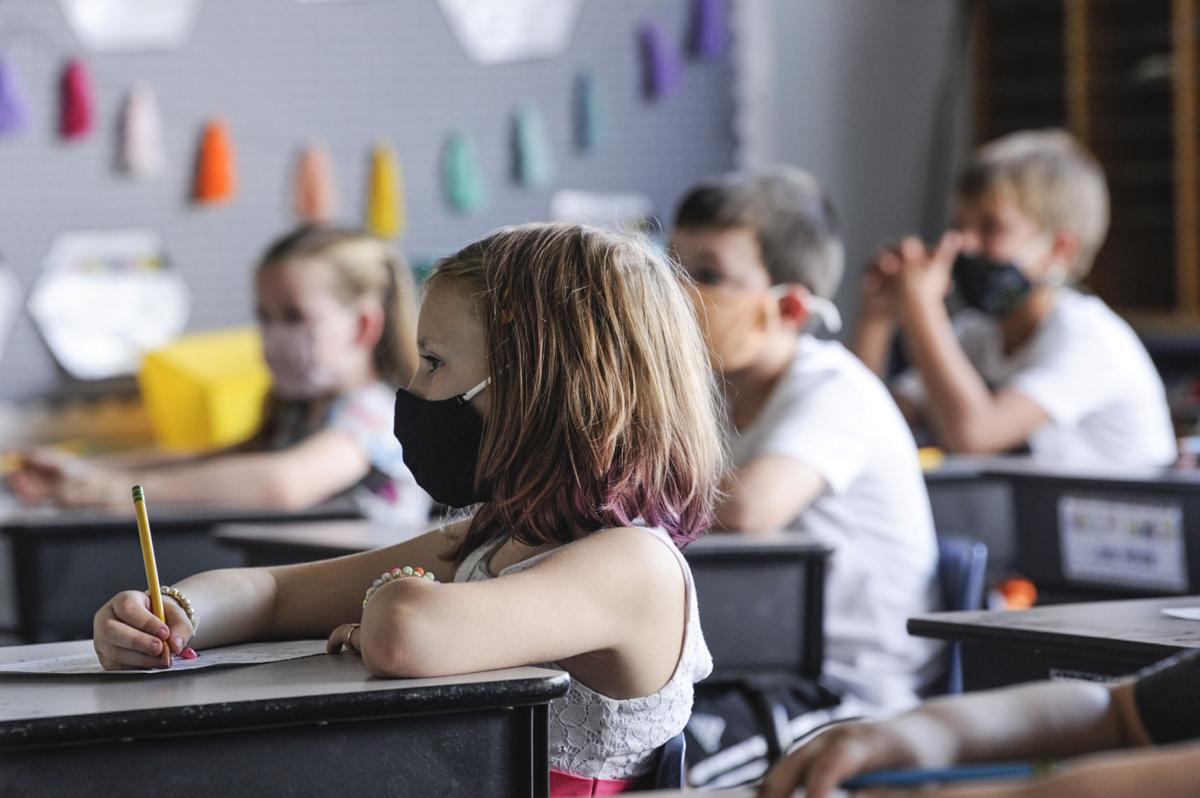 Approximately one month into the 2021-22 school year, the COVID-19 pandemic is presenting a variety of challenges for schools in Helena and East Helena.
At Helena Public Schools, which has required masks for students in grades pre-K to eight since the beginning of the school year, Superintendent Rex Weltz said the number of cases at individual schools changes on a daily basis. In the past 14 days the district's largest school with 1,500 students, Capital High School, has had around 25 new confirmed cases of COVID-19. With about 1,000 students, Helena High School has had about 13 new cases in the past 14 days. 
"We are adhering to CDC guidelines for social distancing," Weltz said. "So you can't space students as well in a school like CHS, which is about the same size (as HHS)."
In the past 14 days, the Helena school district as a whole has seen about 133 new confirmed cases among staff and students. The district's total population prior to the first official count in October is estimated to be about 7,900, Weltz said. No school in the district has managed to avoid having at least one COVID-19 case in the past 14 days, including smaller schools such as Jefferson, Kessler and Hawthorne elementary schools. 
According to Weltz, the biggest issues facing the district are restrictions due to House Bill 702, the lag time on contact tracing, and staffing shortages in schools across the district.
HB702 prevents the school district from treating students or staff differently based on their vaccination record, putting vaccine status alongside sex and race as a protected class in the state's human rights law. While the Centers for Disease Control and Prevention has recommended that close contacts who have been vaccinated do not need to be quarantined, school district officials are now facing the choice of either quarantining all close contacts or none. 
"HB702 has made this difficult for us. There is no requirement for students to tell us if they were a close contact outside of school. So we are just having to go on good faith," Weltz said. "Our community has done really well so far. We're still in school five days a week. We really appreciate the community helping us keep our schools open."
Schools nurses and other school district staff have been conducting the contact tracing for the most part, and that data is then handed over to Lewis and Clark Public Health. According to Weltz, the lag time on contact tracing has been very difficult, but every classroom has a seating chart that makes close contacts easier to identify. 
After several cases were confirmed late on a Sunday night, Weltz made the decision to shift the affected classroom to remote learning until further notice because there was no way to conduct contact tracing before students returned to school the next morning. According to Weltz, it was a safety call and one of many he has had to make regarding quarantining. 
One of the biggest issues facing the district is keeping substitutes and teachers in classrooms. Weltz said the district is trying to avoid having educators teaching on two or three different platforms. 
"They're just as susceptible as the kids are," Weltz said. "Having enough subs to backfill those positions, we have to have enough resources to fill those classes. Our staff is working hard, but this is one of the hardest years to be working in the schools. What makes up for it is having our kids in the schools." 
Weltz said the district is currently short on substitute teachers, paraprofessionals and bus drivers. The district recently increased substitute teacher pay by $40 per day to a total of $140 for certified teachers and $130 for non-certified teachers. 
"We do need to get bodies in there," he said. 
One major change coming to Helena will be the rollout of rapid testing options at every single school in the district. According to Weltz, this rollout started the last week of September with K-8 facilities and will be expanding to the high schools in the first weeks of October. These rapid tests will be available as necessary, per a parental opt-in, or can be scheduled online. 
These were funded along with additional staff via grants from the Department of Public Health and Human Services. 
"So far our families have been great about keeping kids home when they're not feeling good," Weltz said. "The big game changer on the horizon will be the ability for 5- to 11-year-olds to be vaccinated. That opportunity for elementary students will be huge."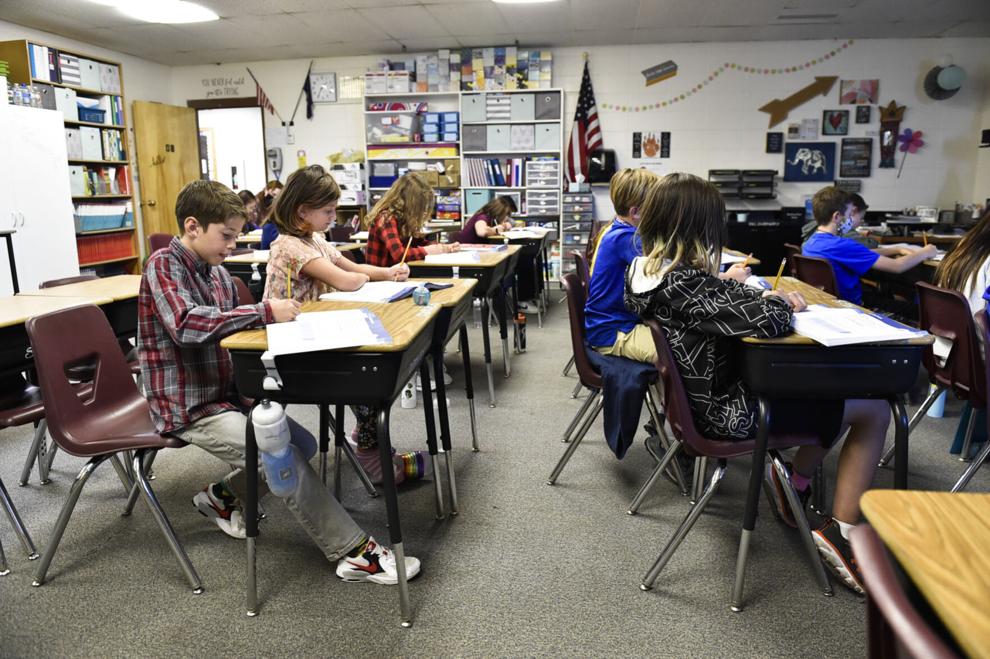 East Helena Public Schools 
In East Helena's school district, which does not require masks for any students, the story is very similar. Superintendent Dan Rispens said officials have had to rely on the good faith of parents and students to help them prevent the spread of the disease and keep schools open. 
Of the 1,739 students in the district, there have been around 40 cases so far this year in the schools, six of which were staff members. About half of all cases were East Helena High School students. Rispens said he think this is probably because high school kids are more social than elementary students. 
"Last year we had cohorts in place. It worked out pretty well but was a horrible schedule for teachers and kids. So we saw them being more socially active after school and on weekends," Rispens said. "We obviously don't control what they do 16 hours a day when they're not in school. It's why I think the high school numbers are higher. High school kids are just more mobile and elementary students are generally with their one teacher all day." 
The high school and middle school are on a block schedule where students have four periods per day. Lunchtime is a little more restrictive at the middle school, though the high school has an open campus. 
"We have seen a lot of parents being mindful of their kids' health and keeping them at home if they're sick," Rispens said. "I can count on one hand the instances where parents knowingly sent their kid to school sick." 
According to Rispens, there is no standard criteria for how to report COVID-19 cases. East Helena's approach is to report any confirmed case in a school building. 
"We aren't reporting cases where a kid stayed home for 48 hours and didn't come into class before testing positive," Rispens said. "The criteria is being in class while sick and having potential to get someone else sick." 
Rispens said those close contacts and confirmed cases are temporarily assigned to remote learning. As of the start of October, Rispens said there are about 40 kids participating in remote learning. A student with COVID-19 can be tested for the virus after five days and return to school if the results are negative. 
At the request of Lewis and Clark Public Health, East Helena Public Schools is doing its own contact tracing.
East Helena will also soon be offering rapid testing, which Rispens said can help get kids back into class faster. DPHHS has provided the district with rapid-response tests, which can be scheduled for students currently participating in remote learning. It will also help the district more quickly identify confirmed cases. These can be scheduled for Tuesday or Thursday mornings. 
"Most of our close contacts are negative after day five," Rispens said. "And they aren't getting sick afterwards, so I think this test will help."
The district accepts negative test results from a physician and even from a home test in one case. 
"There have been a lot of limitations in law since last year. So we've really pushed the concept of personal responsibility," Rispens said. "I know that makes a lot of people uneasy. It can at times make me uneasy, but I think most are being forthright and honest with us. We really appreciate our community, because we've had our fair share of scares. We are not immune to rapid spread." 
Rispens said all future changes in policy in the district will be based on what is happening in the greater community. It's something Rispens and his team are monitoring very closely on a daily basis. In the meantime, they are emphasizing the importance of vaccines. 
"It helps keep schools open. The fewer adults that get it, the less likely it is to spread to our kids and into our schools," Rispens said. "We are taking it one day at a time. I know there is frustration in the community that things keep changing, but we are trying to keep things consistent."