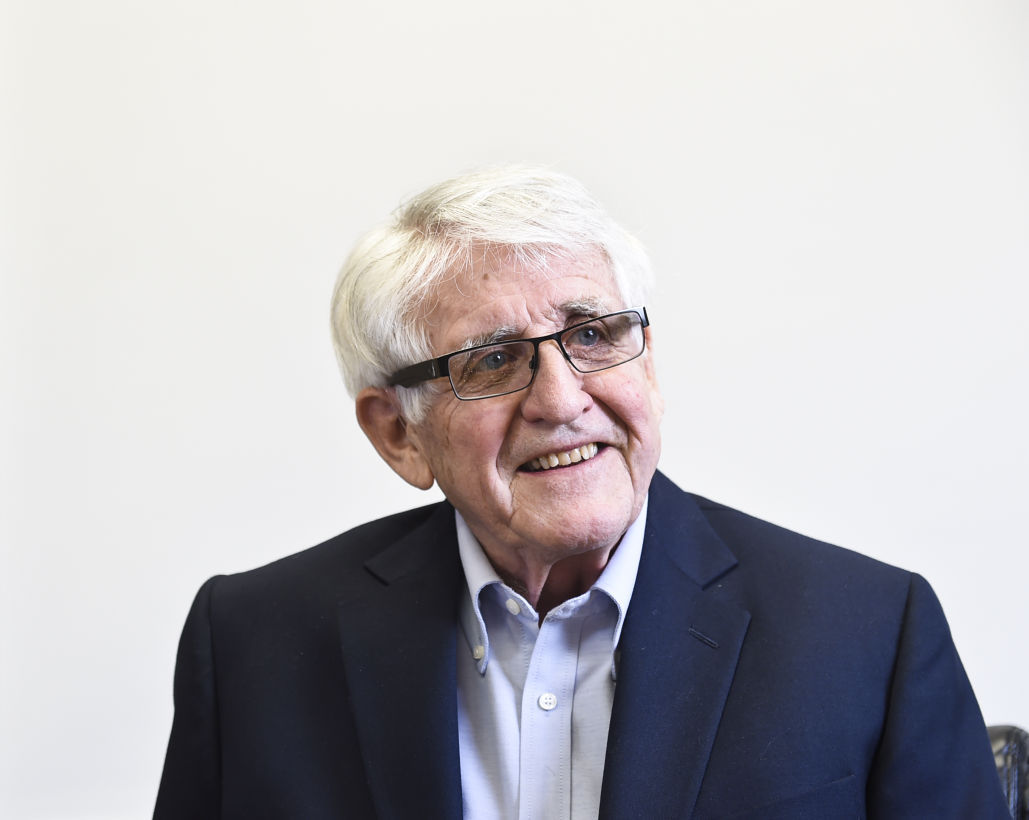 Helena High School could be facing loss of accreditation, interim superintendent Jack Copps told the Helena Public School Board of Trustees Tuesday night at its work session at Warren Elementary School.
Copps and Helena School Board chairman Aidan Myhre are to appear before the Montana Board of Public Education Nov. 17-18 to present a plan to address "repeated class oversize" at Helena High School, according to a Sept. 22 Board of Education letter.
The district has been placed in "Step 2 of the Intensive Assistance process," Copps said.
This is a very serious matter and could affect the high school's accreditation, he told the board. "It's a severe status to be put in."
Copps met with the Board of Education Sept. 16, he said, and requested to see what data the Montana Office of Public Instruction and the Board of Education are using to determine class oversize.
"Our data is different," Copps said. The school district's data indicates that as of last year's reporting deadline Nov. 1, 2015, the district had "zero deviations" on class size.
However, "OPI said we had 18 overloaded classes," he said. "One overload is serious."
The letter regarding the oversize classes issue regards the 2015-2016 school year, he said.
"We are the people who put in the data," Copps said. When the district rechecked its data, it still did not have a class oversize problem for that time period.
The Board of Education had expected him to have come up with a plan to present at the Sept. 16 meeting, Copps said. "We went into that ...meeting and we didn't know if their figures were correct. They were not at all happy."
"I'm just gathering information," he said following Tuesday night's meeting. "We need to get the parties together to find out where they got their data. We have reached out to OPI and requested assistance."
Copps is scheduled for a 2 p.m. phone conversation Thursday with Linda Vrooman Peterson, administrator of the Accreditation and Educator Preparation Division.
Copps said he has also been in communication with former district superintendent Kent Kultgen, former executive assistant Diane Neff, HHS principal Steve Thennis and assistant superintendent Greg Upham.
None of them reports having received correspondence regarding a class oversize problem, he said, adding, "Steve Thennis was shocked."
Copps has requested to see any spreadsheets OPI is using to see if some numbers have transferred incorrectly, but said that so far he hasn't been provided any.
"This defies what should be happening," Copps said, adding that if the district is in "Intensive Assistance Category" that "means we have to have assistance."
In other matters
In other matters, Copps told the board that the school district will be advertising a Request for Qualifications to hire a communications strategy group to help the district with a facilities bond issue that would go to voters this spring.
The RFQ will be legally advertised by this weekend, he said, with a deadline for proposals by Oct. 23.
On Nov. 8, Copps plans to bring to the school board a contractor recommendation for approval.
The communications firm that is hired would review and assess the school district's current communications system, identify communication gaps, conduct a public opinion survey and conduct community forums to reach consensus for a Helena School District bond campaign.
The board also heard a presentation by Warren Elementary School principal Tim McMahon on the school's academic and behavioral progress.
In recent years, the school has improved the percent of students reading at grade level from 53 percent in Fall of 2014 to 72 percent by Spring of 2016, according to the district's STAR assessment test.
And math scores climbed from 68 percent at grade level or benchmark in Fall 2014 to 83 percent in Spring 2016 also using the STAR assessment.
However, the school's students have performed at about the state average on the state's Smarter Balanced tests on reading and math, McMahon said.
The Smarter Balanced assessment uses different ways of testing than the students are used to, he said. "The kids are not used to the format."
While STAR measures reading and comprehension skills, the Smarter Balanced assessment requires some different test skills such as using computer technology to cut, paste and highlight text, he said. It also uses multiple choice questions that have several right answers, not just one.
To improve academics, the school switched to block scheduling about two years ago, so staff can be better distributed to provide intensive work time with students.
The schedule allows McMahon to break up grade levels into multiple small groups, so students can work with staff on the specific reading and math skills they most need.
The school has come a long way in the 15 years, he's been principal, said McMahon after the meeting.
In the first reading benchmark assessment test done after his arrival as principal, less than 30 percent of the Warren students tested proficient in reading.
The three major concerns McMahon reported to the board were:
70 some neighborhood students are being bused into town to attend other schools because Warren's enrollment of 330 is at its maximum;
28 percent of the school's students have absences exceeding the district's benchmark of less than six absences per semester (creating concerns about these students' academic achievement); and
school safety concerns, particularly the need for a controlled entrance into the building.
McMahon also told the board the school now has four carts of Chromebooks and one cart of iPads, providing a total of about 130 computers for classroom use.