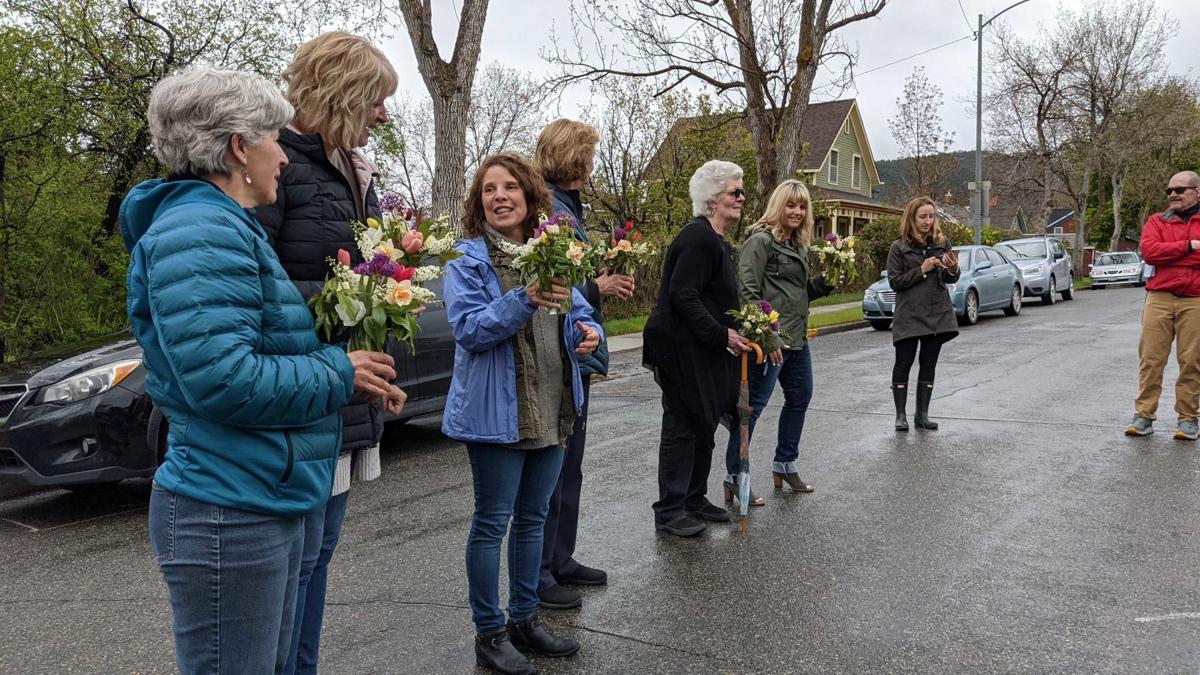 Hawthorne Elementary School on Wednesday unveiled several new trees planted in honor of seven recently retired educators with more than 150 years of collective experience at the school.
The trees are planted in front of the newly finished retaining wall outside the Westside Helena school. After becoming structurally compromised, the wall had to be rebuilt. In that process, the old trees along Madison Avenue were removed. 
Hawthorne students and staff wanted to add greenery back to the avenue and do something to honor the longtime educators who had retired the year prior.
Principal Justine Alberts said they wanted to do something for these educators the year before, but were unable to because of the ongoing COVID-19 pandemic. 
"It's time we give them a proper send-off and thank them for their many years of service to our community," Alberts said. 
The honored educators were former principal Deb Jacobsen, librarian Andree Anderberg, secretary Barbara Broderick, and teachers Anne Bartsch, LeeAnn Berry, Jenny Moore and Kendra Screnar. Each of these educators spent more than 25 years at Hawthorne and are well-loved in the neighborhood community.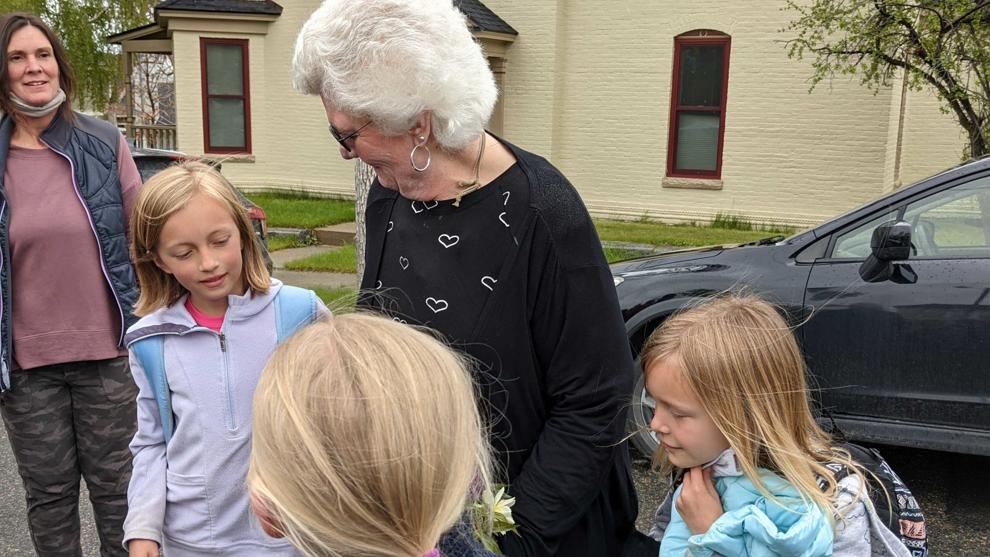 Retired District Judge Jeff Sherlock, a student of Hawthorne in the 1950s, said a few words to the educators. Sherlock joked that Hawthorne asked him to speak because he was the oldest living person they could find who attended the school. 
"I think these educators show the strong attachment people have to Hawthorne," Sherlock said. 
Sherlock shared his favorite fact about Hawthorne: Two U.S. senators, Max Baucus and William Roth (who is the namesake of the Roth IRA), both attended school there. 
The trees planted along the avenue are Green Lindens that were donated by Growing Friends of Helena. Covered handmade signs expressing thanks to the educators are only temporary. Alberts said there will be permanent plaques installed by the end of the week. 
"Thank you for the love, compassion and energy you put out," Alberts said to the educators. "We feel it here still. Hawthorne is home."
Jacobsen, former principal of 28 years, said she was overjoyed to be visiting the school again after retiring last year.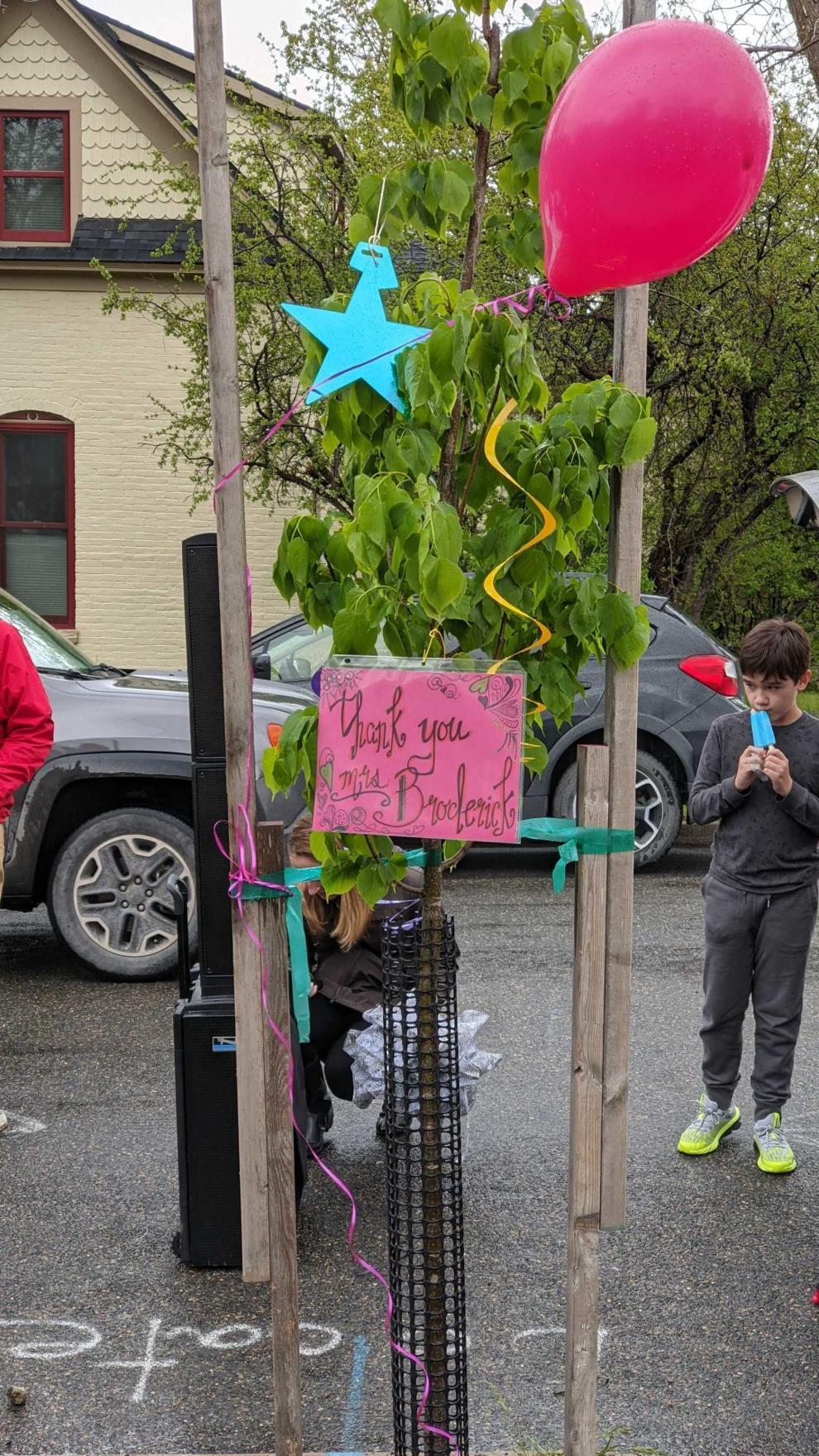 "You know this is my home, so it's wonderful to be here," Jacobsen said. "Hawthorne is just such a wonderful neighborhood school."
Jacobsen said she hasn't been back to Hawthorne since retiring. She had been by the building, but hadn't been inside. Jacobsen said she regularly calls Alberts, but hadn't even been back to see the finished remodel project that she oversaw. 
But Jacobsen said that is fine because the school is in good hands.