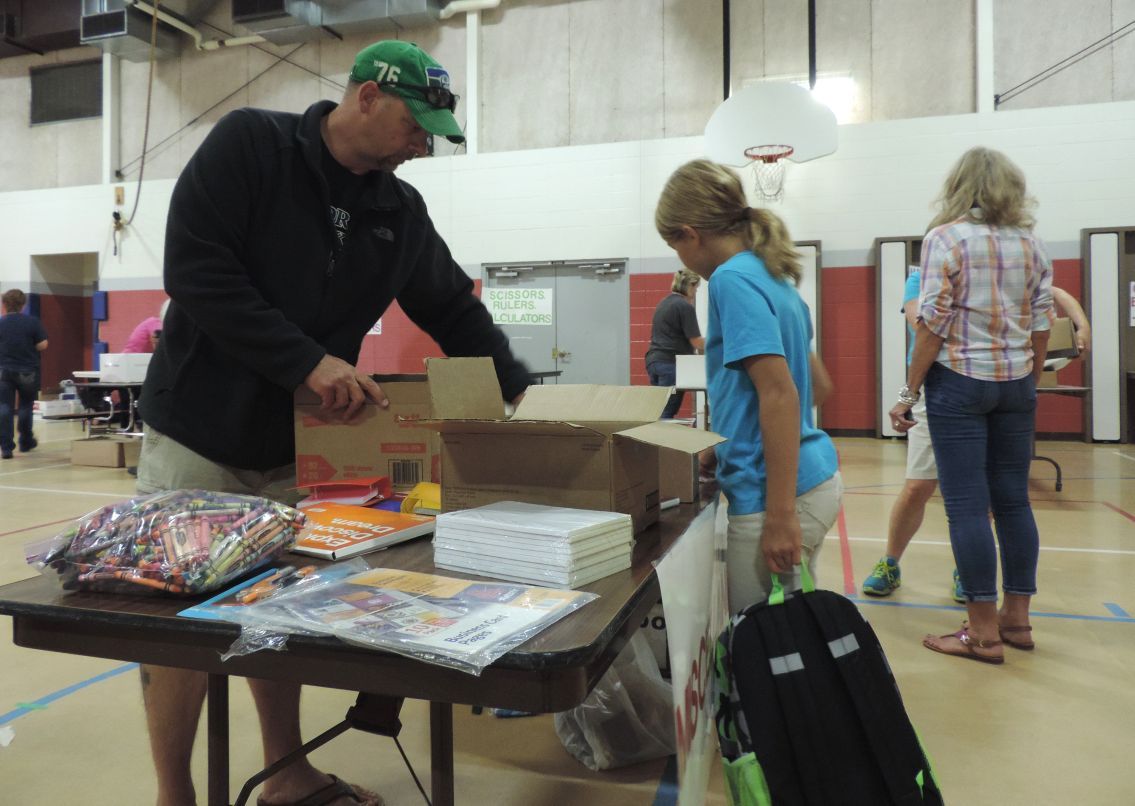 Over 1,000 students in the Helena area will be provided with school supplies this year thanks to donations to the Stuff the Bus program.
Sixty churches, businesses, agencies and service groups collected the backpacks, pencils, binders and other supplies throughout the summer. On Saturday, all the supplies were organized in the Smith Elementary School gymnasium and representatives from most schools in the area swept up the goods in a matter of minutes.
Each school will then make the items available for students in need to collect before the start of the school year.
"It means that everybody gets an equal start," Helena Assistant Superintendent Greg Upham said.
Students won't be left at the sitting at their desk looking around at other kids with folders, colored pencils and trendy backpacks starting off the school year feeling left out, Upham said. It's another building block that helps all students learn, this one made possible by the generosity and volunteering of locals.
"This is the definition of community," he said while looking at the bustle of collection Saturday morning.
Angel Fund, a nonprofit that helps provide clothing, field trip fees and other necessities to underprivileged children in the Helena area, was founded by Marcia Wall 25 years ago. Wall and leaders at Good Samaritan launched Stuff the Bus nine years ago when they saw students lacking school supplies at the beginning of the year.
Wall figures that the Stuff the Bus donations save families about $100 at the beginning of each year and help Angel Fund invest in other needs for students.
"These are all Earth angels," Wall said about all the volunteers.
Bryant Elementary teachers Abby Kohl and Riley Austin have been gathering supplies for their students from Stuff the Bus for years.
Kohl said nearly all the students in her first grade classroom get their supplies from Stuff the Bus. There's normally enough major items for all the students, but some commodities like paint run out. When students don't have the supplies, teachers end up paying out of pocket to ensure all kids can participate.
"It'd be tough if this wasn't available," Kohl said.
Starting next Thursday, Bryant will make the supplies available in its front office for students to walk through and choose what they want. The teachers said that setting it up almost like a store means the kids still get to choose the items they want and enjoy the experience of picking out their school supplies.
Valley Bank is holding a collection on Aug. 21 during which all monetary and supply donations will be matched. Wall said people can also send monetary donations to Angel Fund, and she'll provide teachers with gift cards to buy items throughout the year.
Donations can be made online at angelfundhelena.org or sent to Angel Fund at P.O. Box 7436 Helena, Montana 59604.
Residents can contact their nearest school for scheduled times to pick up Stuff the Bus school supplies.
'It means that everybody gets an equal start.'

Helena Assistant Superintendent Greg Upham