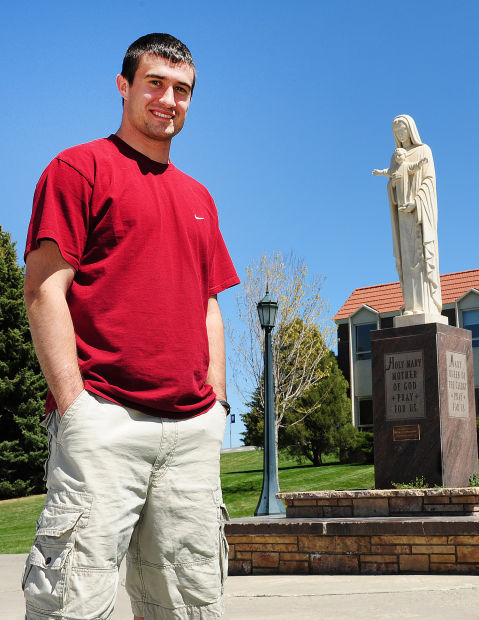 Helena's Carroll College holds its 2013 commencement ceremony today at 2 p.m. at the college's PE Center. With 288 students graduating, this will be the largest Carroll graduating class in the last six years. The commencement guest speaker will be Dr. Carolyn Woo, the CEO and president of Catholic Relief Services. Check helenair.com for photos during the day and Sunday's paper for complete coverage.
For Galen Mills, who is graduating from Carroll College today with a bachelor's degree in biology, life is all about faith, family and focusing on others.
"There's a reason to life and that's Jesus Christ and the salvation that he gives us," he said earlier this week. "It is the passion of my life to be able to live a life glorifying to God in such a way that others can see that love that I've felt from God."
Mills, who has played as safety for the Saints football team, has been accepted to medical school at the University of Washington. But he's putting that off for a year. He plans to stay in Helena through the rest of 2013 and then return to an orphanage called Casa Bernabe just outside Guatemala City, Guatemala, where he'll live and work for six months.
He's spent his last two spring breaks at the orphanage. In the mornings, he would sometimes work in the garden or do handyman work. In the afternoons, he would work with the kids after they got out of school and practice his Spanish.
"I try to speak Spanish," he said. "They'd make a fool of me pretty quick."
Mills says his ultimate goal is to be a pediatrician and continue serving kids in Latin America and underprivileged Hispanic youth here in the U.S.
Mills said his college career has at times been overwhelming, and he went through a steep learning curve figuring out how to balance everything he's been involved in. The theme, though, of the whole experience is that he has been "blessed."
"Between biology and football, I've been pretty busy the past four years," he said. "I've really had to prioritize and be efficient with my time."
Mills, who is from Powell, Wyo., says as a student at Carroll he would get the most stressed when he found himself chasing after his own success.
"I really felt that God was trying to let me know that if you just focus on yourself, you're going to be empty," he said.
He's matter-of-fact as he talks about his beliefs and the things he's been involved in, and he says several times that he's not trying to be cheesy.
"You run after success as hard as you want in whatever area in life, but if you don't make time for the people in your life that are important to you, it's pretty empty," he said. "That was a huge lesson in my college career, just how to be busy and efficient and successful while maintaining those relationships and your faith, which is a tough lesson to learn."
Through the church he attends, Helena First Assembly of God, he's taught Sunday school classes and helped out with the College Christian Fellowship ministry on campus.
For his service and academic and athletic achievements, he's earned a number of awards.
He has also been honored by the Montana chapter of the National Football Foundation and College Hall of Fame, and a number of other organizations.
But it all comes back to his faith. He says that Christianity is a relationship, not a religion and that if your actions don't reflect your faith that the Bible says "you're gone in the wind."
"My parents have been models of that my whole life," he said. "And so I just try through church or volunteering or helping out with CCF (College Christian Fellowship) or ministry trips to Guatemala to try to do something for somebody else.
"My faith and my family have gotten me to where I'm at," he said. "Without them I would be nothing."