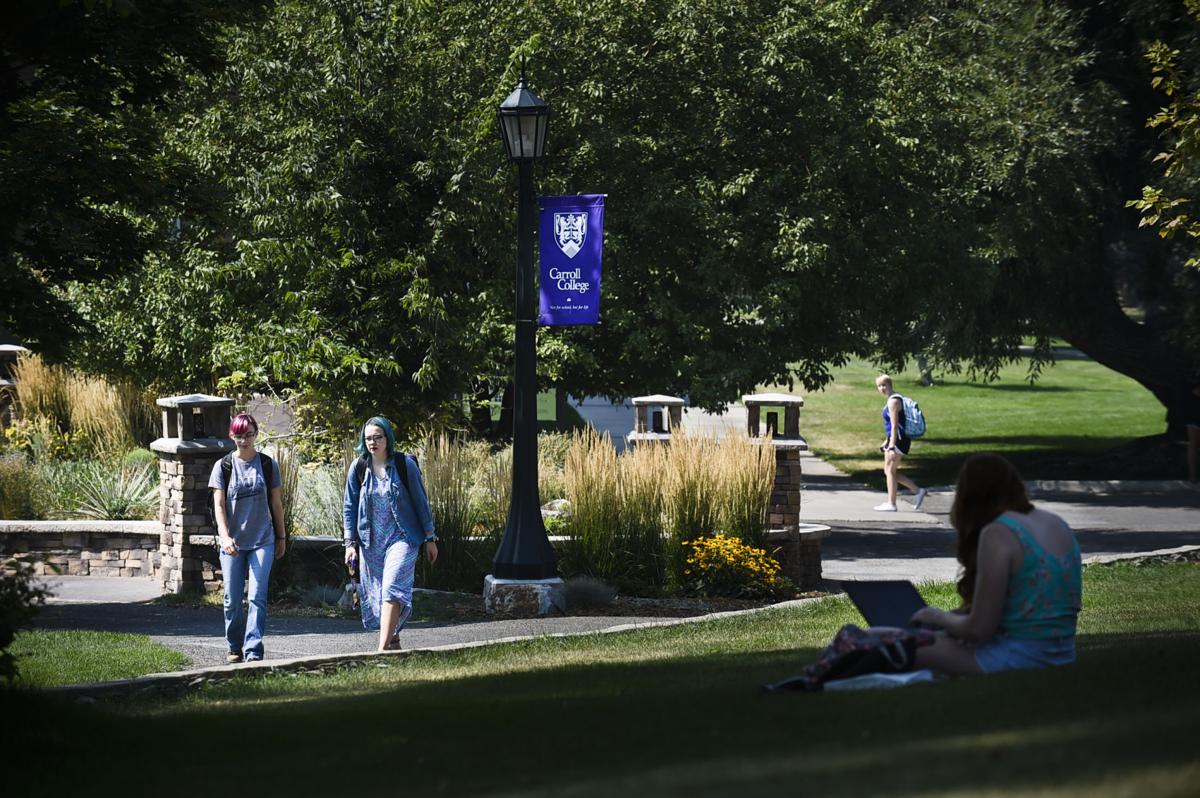 Carroll College will work with the U.S. Department of Education's Office of Civil Rights to assess and correct accessibility issues across campus following a disability discrimination complaint against the college filed last year. 
The first date of compliance in an agreement between Carroll and OCR will come soon on July 1. According to the signed agreement, on this date the college will, in consultation with OCR, assess its processes for notifying interested people, including students, employees and visitors, of its program accessibility processes and accessible elements to determine whether more actions need be taken to ensure that people with disabilities can get current and accurate information about the college's program accessibility processes, how to notify the college of barriers and the existence and location of accessible parking, exterior routes, building entrances and accessible routes, including, but not limited to, publishing maps or other notices in the college's documents or on the college's website, or the installation of signage. 
This is something that greatly interests Disability Rights Montana, the group that filed the initial complaint, according to its attorney, Beth Brenneman. 
"We would love it if current and former students and staff as well as members of the public that use any part of campus (including the stadium) would inform Carroll College as well as DRM as to whether they believe the college sufficiently notifies people of the accessible routes on campus, locations of accessible bathrooms, as well as how students, faculty and members of the public with disabilities can effectively notify the college of barriers and learn how to get access to the college's accessibility processes," Brenneman said. "We feel it is necessary to have greater input from the community for the college's self-assessment to be accurate and informed." 
According to the initial complaint, Carroll fails in multiple ways to comply with Section 504 of the Rehabilitation Act of 1973. This applies to Carroll through its acceptance of the federal student loan program. According to Brenneman, this is sufficient enough to bring about the requirements to comply with this federal law despite Carroll's private school status. 
Following the complaint, the OCR began an investigation into Carroll. When Carroll was informed of the complaint, they complied and assisted OCR in their investigation. In light of Carroll's cooperation, OCR gave the college the opportunity to resolve the complaint. That voluntary resolution would be signed, with Carroll admitting no wrongdoing or fault as per the agreement. OCR never issued a letter of their findings nor did they cite any specific civil rights violations.
Carroll president John Cech said the OCR did not notify the college of any violations and the investigation has been closed.
"As per the agreement, Carroll College will, in consultation with OCR, assess the areas of concern, plan to address any deficiencies, implement our plan to remediate issues and report our work to the Office of Civil Rights," said Cech. "Prior to being made aware of the OCR complaint, Carroll had already created an internal accessibility team consisting of leaders who oversee facilities, academics, planning and student services that was taking steps to improve accessibility on campus." 
College officials said they are always looking for ways to make buildings even more accessible.
According to Cech, this team will be responsible for executing the provisions in the voluntary resolution agreement within the timeline outlined. 
Brenneman said the complaint was filed on behalf of Carroll Professor Emeritus Lois Fitzpatrick and students Taylor Tyson and Sarah Swingley, all who had issues with various points of accessibility around campus. Primary points of contention include St. Charles Hall and Guadalupe Hall, both of which were built prior to 1973 and have yet to be updated. St. Charles had no accessible entrance for disabled people being of primary concern. Tyson and Swingley said they wouldn't take a class that was in St. Charles because of how difficult it is to get inside.
The complainants also called out specific points where bathrooms were simply not made accessible such as Nelson Stadium and the PE Center. They state Nelson has no accessible bathrooms at all. The PE Center, which was remodeled in 2019, allegedly did not bring its bathrooms into compliance. 
But Carroll officials said the remodeling in 2019 was to bring them into compliance with the Americans With Disabilities Act standards. They also said St. Charles, which was built in 1909, had an accessible entrance at the entryway that faces the parking lot. Guadalupe Hall has an acceptable entrance as well.
These are just some of the issues laid out in the near 40-page complaint. Others include lack of signage noting accessible routes and inadequate removal of snow and ice during the winter months. The complaint never sought any monetary gain but rather for Carroll to correct these issues. When asked what DRM seeks via the complaint, Brenneman said, "An inclusive campus for students, staff, faculty and members of the public who have disabilities." 
"During our investigation, we learned that students did not know how to ask for reasonable accommodations so they could fully participate in classes and other programs provided by the college," Brenneman said. "Some dropped classes that were in inaccessible buildings, others had to miss class when accessible parking spots were not cleared for snow and they couldn't physically get to class. Others had issues where classes included mandatory field trips to locations where people with mobility impairments could not go." 
Erik Rose, director of institutional and integration with Carroll, who works as liaison with the OCR, said he was not aware of students who were asked or forced to drop classes because of accessibility.
Cech said the college will accommodate students with accessibility issues.
Cech said he believes that the age of a building is the primary factor for what standards are used to evaluate the accessibility of a facility. Cech cited Guadalupe Hall as an example, which hasn't had its primary function changed since inception. Cech said Carroll is required to make any programs or services in that building accessible, but Guadalupe Hall itself does not fall under any building standards. Cech said that all new construction on the campus has been required to comply with 2010 American's With Disabilities Act standards for accessibility. 
Full review and compliance with the OCR agreement stretches out several years, with compliance dates in 2022. However, the full length of the process will not be known until assessments of all the noted problem areas is completed. Cech said it is unclear what cost the potential changes and improvements will cost and noted they expect many issues will be lower in cost to address. 
However, Cech did say that some projects, like those that involve routes, parking or construction, could come at more significant costs.
"Carroll College is committed to improving accessibility and will make the necessary investments to ensure compliance with our agreement and Section 504," Cech said. "In our strategic planning efforts, we are placing a strong emphasis on improving diversity, including individuals with disabilities. Carroll appreciates the opportunity to improve accessibility in consultation with OCR."
This story has been updated to include more comment from Carroll College officials.