TOWNSEND — Lloyd Barrus pleaded not guilty Friday to all 25 charges filed in connection with the May 16 slaying of Broadwater County sheriff's deputy Mason Moore.
The suspect also apologized to Moore's wife and three children during the District Court proceeding in Broadwater County.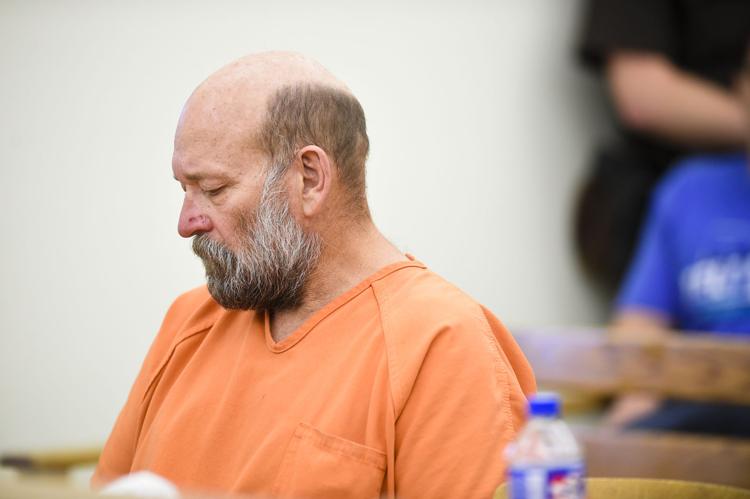 A Nov. 13 trial date was set for Barrus, 61, who was ordered to be held on $4 million bond by District Court Judge James Reynolds.
Barrus is being held in Missoula County, where he was taken into custody with his son, Marshall Barrus, 38, after a high-speed chase through several counties before a gunfight that left his son mortally wounded.
Among the charges is one count of accountability for deliberate homicide in connection with Moore's death, two counts of accountability for attempted deliberate homicide involving two Butte-Silver Bow police officers and five counts of attempted deliberate homicide involving a Montana Highway Patrol officer and law officers from four jurisdictions.
All of these charges carry a possible death penalty. 
Broadwater County Attorney Cory Swanson could not be reached Friday afternoon to learn if the death penalty will be sought for any of these charges. Jason Marks, the chief deputy Missoula County Attorney, is also participating in the prosecution.
Helena attorney Greg Jackson is representing Barrus along with co-counsel Craig Shannon of Missoula, who said after the hearing that he hoped the death penalty would not be sought.
"It's a long process. It is very possibly a death penalty case and so we're looking probably at a lot of time in order to learn what the case is about, develop it, and investigate, so we're probably in this for many, many months," Jackson said.
"And it's awful early to say," Shannon noted.
"There's no doubt that it is probably one of the most difficult cases that an attorney could have," Jackson said.
Publicity has been an issue, and whether that will impair the ability for Barrus to obtain a fair trial is yet to be determined, he noted.
Barrus, whose hands were manacled in front of him and attached to a chain he wore around his waist, spoke in a clear and strong voice when responding to Reynolds.
He corrected his name and said he wanted it to include his middle name, Mortier. He also mentioned aliases he's used.
Reynolds advised him of his right to remain silent and said if he spoke to anyone other than his attorneys about the case and the prosecution became aware of what was said, it could be used against him.
Camera shutters crackled as Reynolds read Barrus the charges and the possible penalties they carried.
Jackson confirmed for Reynolds that not guilty pleas were to be entered for all charges. Judge Kathy Seeley, Reynolds noted, will be presiding over the case.
While the court papers that detail the charges and possible penalties were made public, other information was ordered sealed by Reynolds without objection by the defense to protect the rights of the victim and "to preserve the fairness of the trial process which may be harmed by extensive pre-trial publicity."
Barrus asked to address the court, and Reynolds cautioned him against speaking to preserve his right to remain silent.
"Your honor, I understand it and I appreciate what you have to say, but I still do want to say please tell officer Moore's wife and kids I'm sorry for their loss," Barrus said. 
According to court papers, Moore, 42, died from gunshot wounds after his patrol car was passed by a white Suburban while driving southbound on Highway 287 just off Montana Highway 2 in Broadwater County.
Moore followed the vehicle for about a minute before activating his emergency lights and siren. The vehicle he was pursuing did not stop, and he advised dispatch of the pursuit. The California license plate number he provided came back as belonging to a 1998 Chevrolet belonging to Lloyd Barrus.
Another call to dispatch at about 2:32 a.m. reported reaching speeds of 100 mph.
The patrol car video that recorded the pursuit and ensuing gunfire showed that after six minutes, Moore appeared to have been struck by gunfire. The camera was knocked from its mount and the patrol car came to a stop off the side of the road.
Moore was silent and did not move for about three minutes after the initial gunfire, according to the video, before he seemed to regain consciousness and could be heard moaning faintly before he opened the door to his vehicle.
About a minute later Moore and his vehicle were struck by additional gunfire.
Backup officers arrived about eight minutes later and found Moore dead just north of Three Forks.
The vehicle Moore was pursuing was spotted by a Butte-Silver Bow County sheriff's deputy near Anaconda around 3:30 a.m., spurring a chase that led to the Rock Creek area on Interstate 90.
Lloyd Barrus and his son, Marshall Barrus, allegedly fired at officers at the end of the chase. Lloyd Barrus was taken into custody, and Marshall Barrus was shot in the head and died the next day.