Broadwater County sheriff's deputy Mason Moore wrote his wife a letter in case he died in the line of duty.
"Don't let hate take over your life," Jodi Moore read from the letter at her husband's funeral Tuesday morning.
"I've enjoyed every moment of my life with you," the letter continued. "Enjoy life."
Jodi Moore pleaded with those in attendance and watching the live stream of the memorial to not be sad when they see her and her three children.
"Look at us and be glad that we are loved and will continue to be loved by this wonderful man," she said.
Mason Moore, 42, died outside of Three Forks after being shot several times during an early morning chase May 16. 
"At that moment, when evil thought it had won -- love had the victory," said Pastor Curtis Crow, a friend of Mason Moore who officiated the service. "Love wins, guys."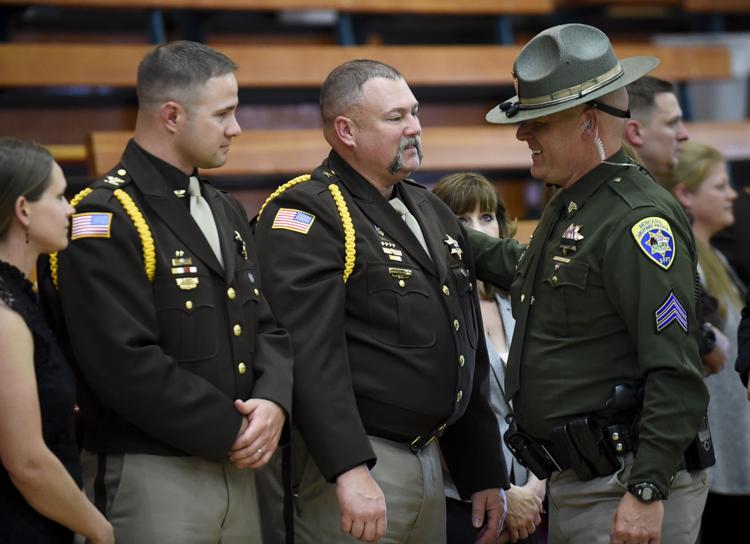 Broadwater County Sheriff Wynn Meehan considered Mason Moore to be one of his most loyal deputies.
After receiving the call around 3 a.m. that his deputy was in pursuit, the sheriff said, he rolled over and tried to go back to sleep. He wasn't concerned until dispatchers called about two minutes later to say they had lost contact with the deputy.
Meehan was about 15 minutes away from the scene when a call for the coroner came through.
"My heart sunk. My heart broke," he said.
Although he was sobbing, Meehan told the crowd this day was not about tears, but a celebration of Mason Moore. He told his fellow officers to honor the fallen deputy by continuing to do their job.
"We put that shiny star on our chest," Meehan said.
If you see a law enforcement officer, the deputy's wife said, tell them they're loved and supported.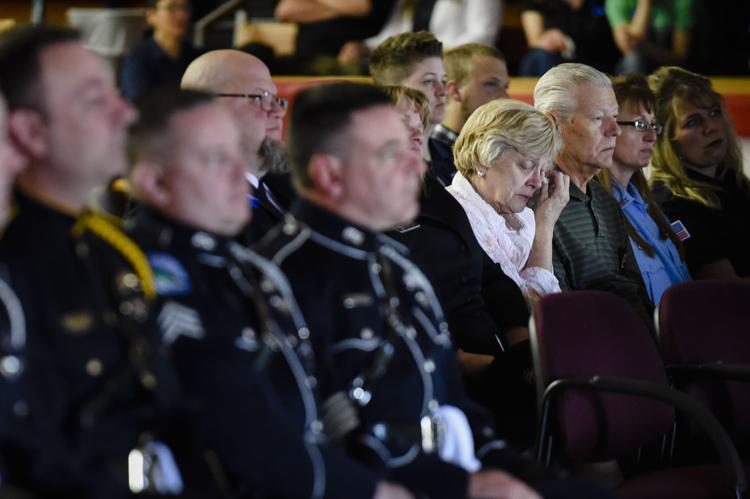 Many at the Three Forks High School gym watching the live stream broke into tears as Jodi Moore spoke.
"I love Mason more today than I did 18 years ago when I married him," she added. "He was and will continue to be my steady rock."
Mason Moore's funeral highlighted the key aspects of his life: family, faith and service. His casket bearers included his cohorts from his day job as a deputy and his volunteer service after hours with the Three Forks Fire Department.
"When others would run away, he would run to," Crow said.
Mason Moore will be remembered as a respectful and quiet man. Though when he wanted to, he could really land a zinger.
"He was able to throw out the one-liners with perfect timing," said Capt. Rich Whittaker with Central Valley Fire.
While many public servants choose either law enforcement or firefighting, Mason Moore opted for both. Whittaker said this showed his dedication to serving the public.
"We're better places because Mason was part of us," he said.
Charles Eastty, a battalion chief with Three Forks Fire Department, recalled how Mason Moore received his nickname "Superman."
After responding to a crash as a volunteer firefighter just before his shift with the sheriff's office started, Eastty said, he disappeared for a few minutes before returning to the scene clean-shaven, showered and wearing his deputy uniform. 
"It was just like he stepped out of a phone booth," he said.
Following the service, a several-miles-long procession of public safety vehicles representing agencies from across the country made its way from Belgrade to Three Forks, where the Mason family lives. Mason Moore's final resting place will be in South Carolina, where he began his law enforcement career.
Representatives from South Carolina departments attended the services Tuesday. They joined other officers from across the state and the nation in paying tribute. Gov. Steve Bullock and Montana Attorney General Tim Fox also attended.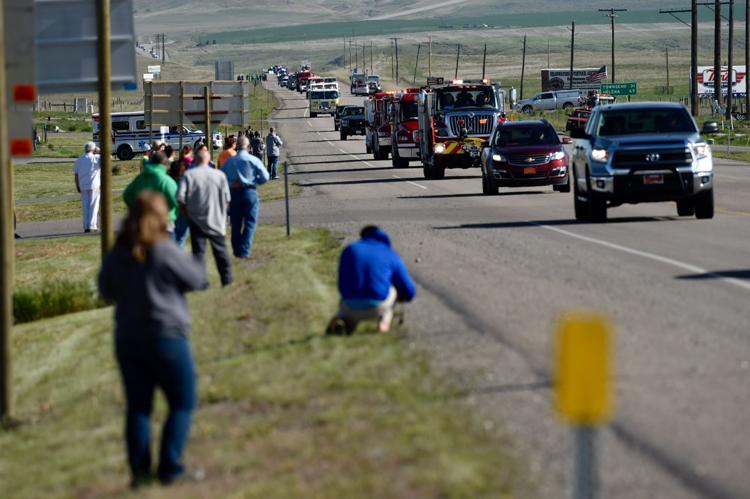 Community members lined the streets from the beginning of the procession in Townsend, where the Broadwater County Sheriff's Office is headquartered, to the Belgrade church where the memorial was held and back to Three Forks. 
Lloyd Barrus, 61, has been charged with 14 counts of attempted deliberate homicide and two of accountability for attempted deliberate homicide in connection with the death of Mason Moore and the resulting police chase and shootout that ensued. His son Marshall Barrus, 38, was shot in the head at the conclusion of the chase and died the next day.