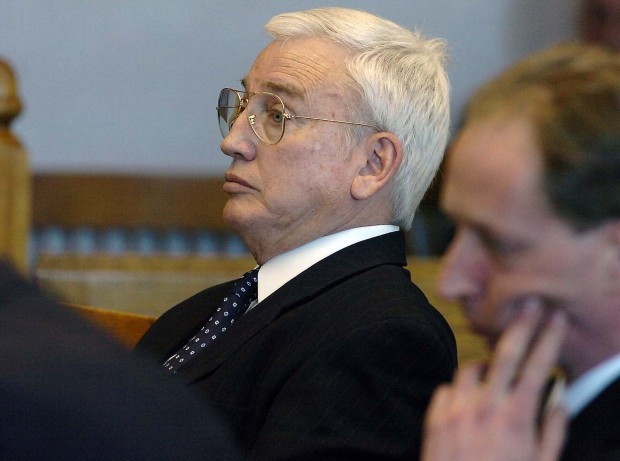 A Helena judge on Tuesday sentenced a former broker who operated a $2.02 million Ponzi scheme to 10 years in prison.
Judge Kathy Seeley sentenced Arthur L. Heffelfinger to 10 years in prison for felony operating a pyramid promotional scheme and another 10 years for felony exploitation of an elder person, to run concurrently.
Heffelfinger, 64, who operated a Ponzi scheme involving at least 20 investment clients in eight Montana counties, also was sentenced to a 10-year suspended sentence for felony theft by common scheme to run consecutively to the other sentences.
If Heffelfinger behaves while serving the time, he could be released on parole after 2 ½ years, Seeley said.
"I do believe you're very remorseful," Seeley said to Heffelfinger as she read his sentence, adding that she found arrogance in his demeanor.
"I don't think you're necessarily an evil person, but I think you're able to convince yourself it's all right," she said.
Seeley also ordered him to pay nearly $1 million in restitution.
According to his attorneys, Heffelfinger is the first person to be sentenced under the Ponzi scheme statute in state District Court.
Much of the discussion during the three-hour-long sentencing hearing revolved around whether Heffelfinger's time would be better served in prison or in the community where he could work to pay off any restitution that the judge may order.
Seeley said justice demanded that he serve time behind bars.
"I find you are a serious repeat offender," she said.
Katharine Brown, 68, said she agreed that her former broker should serve time in prison.
"I think he has done such damage to so many people," she testified. "I had trusted him and I'm very disappointed at what it turned out to be."
One victim, who could never testify, was a woman who was living in a Helena nursing home and suffering from declining health and cognitive impairment when Heffelfinger took about $390,000 from her.
The woman died in 2009 from dementia.
You have free articles remaining.
Seeley found him guilty of exploitation of an elderly person after a two-day bench trial in October. Although Heffelfinger had admitted to the scheme, he vehemently denied taking advantage of the elderly.
Heffelfinger pleaded guilty to the charges of operating a pyramid promotional scheme and theft by common scheme in July 2010. He admitted he operated the scheme from February 2001 to September 2009 in Lewis and Clark, Jefferson, Broadwater, Missoula, Lake, Judith Basin, Gallatin and Ravalli counties. He also used $739,724 of his clients' investment money for his personal use.
Seeley went along with the recommendation of Lori Moore, a state probation and parole officer who conducted the presentence investigation for both the prison sentence and the restitution of $156,586 to KMS Financial Services Inc, a Seattle-based securities firm for which Heffelfinger was a broker, and $838,550 to their insurance company.
"When this crime came to light it created a lot of shock and fear," Moore said. "He hurt a lot of people. He created a problem for the industry in which he worked."
Eric Westberg, part owner of KMS, asked the judge to sentence Heffelfinger to time in prison to send a signal to others that they cannot steal without consequences.
"I'm personally a victim and my firm is a victim," he testified. "We're cleaning up the mess he created."
While handing down Heffelfinger's sentence, Seeley ordered Heffelfinger to repay KMS the money it had paid to his victims. In a settlement agreement, KMS agreed to pay about $975,000 in restitution to Heffelfinger's victims. The firm also agreed to pay a total of $50,000 in fines and investigative costs to the state.
Heffelfinger's attorneys called many character witnesses who spoke on their client's behalf saying he is a kind man who has punished himself with remorse.
His defense said Heffelfinger confessed to his crimes without provocation.
"He gave the state auditor's office the case against him on a platter," Brendan McQuillan said.
Jesse Laslovich, chief legal counsel for the state Commissioner of Securities and Insurance, said that description was a stretch.
"He surrendered because he had nowhere else to go. It's that simple. There was no money left," he said.
According to his attorneys, Heffelfinger was driven to commit the crimes by post-traumatic stress disorder he suffers after serving during the Vietnam War.
"There can be no excuse for my conduct," Heffelfinger read in a prepared statement to the court. "I understand the severity of my crimes. I stress that I am deeply sorry and woefully ashamed."
Heffelfinger stood in silence after the sentence was read, waiting for a detention officer to escort him to the county jail. Loved ones sobbed as he was led out.