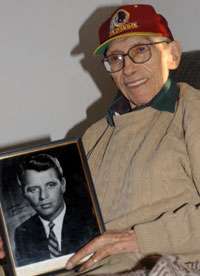 Walter "Blackie" Wetzel learned early on that in order to achieve the success he wanted for his people, he would need to use every bit of political power he had -- at home and in Washington, D.C.
In the 1950s and '60s, Wetzel, at the height of his political career, was the chairman of the Blackfeet Nation and president of the National Congress of American Indians.
Born in 1915, Wetzel grew up on the Blackfeet Reservation.
Early on, Chief White Calf gave Wetzel a right of passage of the chieftainship of the Blackfeet Nation.
"I am still a chief today," Wetzel said Friday afternoon from his Helena home.
White Calf, who was over 100 years old at the time, conducted a special ceremony and gave Wetzel his Indian name -- Six-o-num, meaning Blackie.
Throughout Wetzel's lifetime, he has served on the Blackfeet council, Montana Intertribal Council, National Congress of American Indians, and worked with Presidents Lyndon B. Johnson and John F. Kennedy and numerous congressmen.
In September of 1990, Wetzel, among others, was honored as a distinguished alumnus of the University of Montana for attending nearly four years at the school back in the 1930s, although he didn't graduate for personal reasons.
Sen. Mike Mansfield once wrote Wetzel a letter that he keeps framed in his living room.
"As a friend of many years, decades really, we both have great appreciation, admiration, and respect for your many accomplishments during your lifetime," wrote Mansfield.
During his time in office, Wetzel said, he fought hard against policies that would terminate tribal governments and reservations.
At the same time, he fought for employment, aid, the development of the tribes' land and minerals and other issues on his own reservation as well as for hundreds of other tribes throughout the country.
"I think President Kennedy would sometimes order the (federal) government to send food," said Wetzel.
Nearly 40 years after Kennedy's assassination, Wetzel said he still remembers his most beloved president.
Just months prior to the assassination on Nov. 22, 1963, the president had visited Great Falls on a nationwide tour.
As decided by Kennedy, Wetzel was to introduce the president at an event in Great Falls on Sept. 26, 1963. However, Wetzel said, at the last minute, Stuart Udall, U.S. secretary of state, changed the course of events.
"The president was there for business, and I was considered too political," said Wetzel.
However, he said, the president insisted that he come into an area blocked off for security reasons.
"Blackie, what do you have there?" Kennedy asked Wetzel as he held an object in his hands.
Wetzel, who named Kennedy High Eagle, presented the president with a carved gavel by Albert Racine, a Blackfeet artist.
In addition to the American politicians, Winston Churchill requested from Wetzel a complete Blackfeet regalia after Churchill found out his mother was half Indian.
"A Royal Guard showed up to collect the regalia, but Churchill didn't come," said Wetzel.
Another eye-opening Wetzel accomplishment was his idea to put the head of an Indian chief on the helmets of the Washington Redskins.
"Back then, (in the 1960s) there was only the letter "R" on the helmet, so I requested a few pictures to be sent down from my reservation of Indian chiefs," Wetzel explained.
Wetzel said he walked into the office of the Washington Redskins and said, "I came here to see you guys about seeing a real Indian on the helmets."
He said a person told him that they would look over his proposal and consider it.
After the team finally picked his idea, he said, he felt really proud -- and has ever since -- seeing the Indian chief on the helmet.
Since then, numerous groups and American Indian leaders throughout the country have fought against Indian mascots.
Wetzel said that people from the Washington Redskins send him tickets and other types of memorabilia.
A Washington Post reporter has even contacted him about the Redskin logo for a story that ran in January of 2002.
Two weeks ago, he said, he saw it on the news that the team was keeping the name and logo.
"I felt good about that, and they are proud to wear it," he said.
Today, Wetzel said he has retired to his quiet home in Helena after a busy political career and then several years in the U.S. Department of Labor and Montana Department of Labor.
"I am just playing her cool now," Wetzel said while leaning back in his recliner.