Take a drive around the Helena area and you're bound to see several "open house" signs leaning out from street corners with colorful balloons fluttering above them. With interest rates remaining low and sales prices on the rise, local experts agree that the Helena housing market continues to show signs of strength and stability.
Approximately 26 percent of the 268 single family homes listed as of Jan. 29 through the Helena Multiple Listing Service (MLS) are under contract, according to Shaun Moore, an appraiser with the Moore Appraisal Firm in Helena.
Moore Appraisal was founded by Jack B. Moore in 1965 and today two of his sons, including Shaun, as well as a daughter and a grandson, continue the family business that serves area communities. Moore Appraisal Firm's data come from an area extending from the base of MacDonald Pass on the west to Canyon Ferry Lake on the east. The North Hills and Clancy on the south complete the boundary. An abundance of information that builds on 10 years of sales statistics, according to the 2017 market report, can be found on the company's website at www.mooreappraisalfirm.com/market-statistics.
While the number of sales is holding solid, the available inventory in Helena continues to be on the low end. When the 71 homes currently under contract are removed, only 197 remain for buyers to choose from.
"2017 was a very busy year -- busier than we've seen in a long time," said Moore. "It would have been even busier though if we'd had a larger inventory."
Moore explained that one of the reasons for low inventory is the delay of investors unloading their inventory on the market. During the fall of the housing market in 2008 and 2009, investors swooped in to obtain properties for well below market value. But many continue to hold onto those properties.
According to Mark Simonich, executive director for the Helena Association of Realtors, this low inventory trend is not just effecting Helena, however.
"Inventory is low in Helena right now, but that's a phenomenon taking place across Montana and nationally," said Simonich.
According to Zillow, the leading online real estate marketplace, housing inventory nationwide has declined 10.5 percent in the 12 months ending in November 2017.
In addition to an overall lack of inventory, there is also a lack of building sites within Helena city limits. And Moore stated that there is a large demand right now for homes or building sites in town.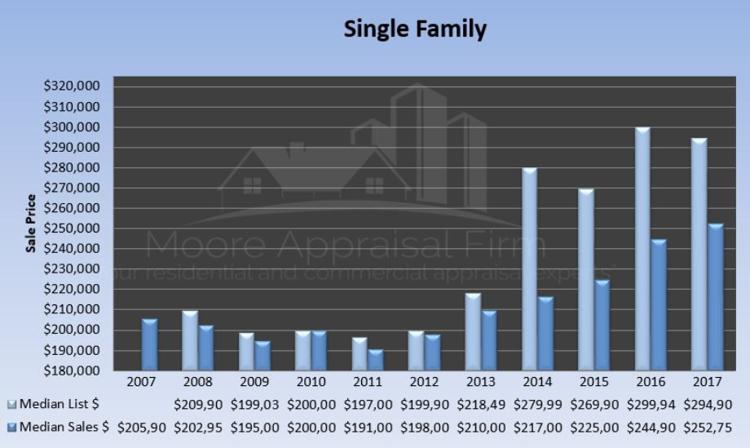 Low inventory numbers aside, Simonich shared that sales prices were generally higher in 2017. Helena's annual median sales price on single family homes was $252,750 in 2017, up from $239,900 in 2016. Of the 34 homes sold so far in 2018, the median sales price remains close to last year's figures at $248,500.
Moore explained that the most active price range in 2017 was $200,000 to $260,000, making up 230 sales, or one quarter of the inventory. The majority of these homes ranged in size from 1,800 to 2,200 square feet with three bedrooms and two bathrooms. He predicts this price range and size will continue to be big sellers in 2018.
Sellers wondering how long they'll have to wait to come under contract can plan on an average of 65 days, according to Moore. As of Jan. 29, the homes sold in the past 12 months were on the market for an average of 107 days.
When it comes to buyers perusing the Helena market, increased technology is also transforming the process. From virtual tours and drone videos to websites with high quality images, buyers are able to house shop in new and more detailed ways than ever before.
"Growing technology is changing how buyers learn about homes," said Simonich.
While some people have expressed concerns that this new technology will deplete the role of the real-estate agent or broker, Simonich says the truth is more to the contrary.
"People still value the knowledge and professionalism of Realtors that help them navigate through the transaction process," he said.
Only being one month into 2018, it is still hard to make predictions for what the housing market will hold this year. But where things stand now, it is very much a seller's market.
"Helena is an affordable place to live and buy a home in," said Simonich. "With the number of listings down right now, it's a good time to list your home."
The somewhat weak spot in the Helena housing market continues to be the sale of more expensive properties. Those homes priced at $400,000 and above tend to sit on the market longer.
One interesting trend that Moore noted was the increased value of condominiums on the market. In 2017 the median sales price was $207,450, which was a 12 percent jump from the 2016 price of $185,000. There were also 92 condos sold in 2017, which was a slight increase from the 77 sold in 2016.