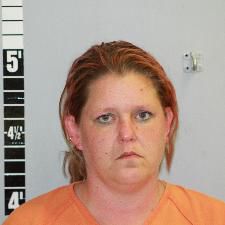 A 37-year-old Lincoln woman is accused of methamphetamine and marijuana posession.
Michelle Candice King is being charged with one felony and one misdemeanor count of criminal possession of dangerous drugs, along with one misdemeanor count of criminal possession of drug paraphernalia.
On Thursday, a deputy saw two vehicles on the side of the road with their hazard lights on. One vehicle drove away while the deputy was speaking with King, who was wanted on a warrant for mail theft.
King was placed under arrest. While seated in the back of the deputy's vehicle, she threw a glass pipe containing methamphetamine residue out of the car and into a field.
King's vehicle was searched, and officers found two bags of meth, another glass pipe and a metal grinder. At the Lewis and Clark County Detention Center, a baggie of marijuana was found in King's possession. King admitted to having marijuana, but denied owning the meth.
All suspects are presumed innocent until proven guilty.