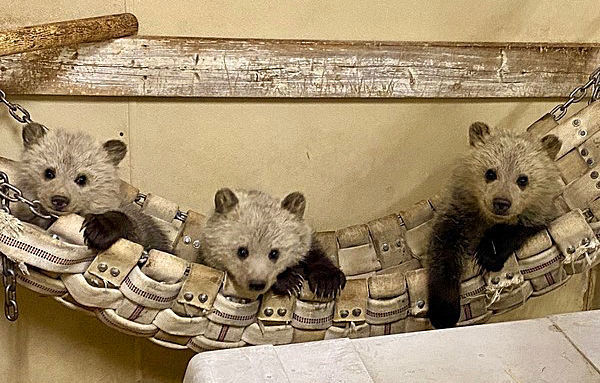 Three Montana grizzly bear cubs that were orphaned in April have found a new home.
Working jointly, staff from Montana Fish Wildlife and Parks and the U.S. Fish and Wildlife Service will relocate the cubs to Bearizona Wildlife Park, located in Williams, Arizona. The 158-acre facility is accredited by the Zoological Association of America and is home to 39 black bears and many other species of North American wildlife.
The cubs came from a female that was shot following a surprise encounter with a hiker near Dupuyer. The female was euthanized on April 9 by FWP staff. At the time, it wasn't clear how many cubs she had, though it was thought she had at least one.
Three days later a ranching family spotted three cubs huddled together in a field. The family called FWP, but while waiting the family grew concerned for the cubs' safety because of a male grizzly that lives in the area and an impending snowstorm. The ranching family were able to gently rope the cubs. A neighboring rancher offered a barrel in which they placed the cubs. When FWP staff arrived shortly afterward they took possession of the cubs and transported them to the wildlife center.
The cubs have been at the Wildlife Center at Montana WILD for a little over six weeks while FWP staff have been searching for a zoo.
During the search for a zoo FWP and USFWS staff faced many challenges. It is becoming increasingly more difficult to find permanent placement for orphaned grizzly bear cubs. 
Fewer than 10% (240) of the approximately 2,800 animal exhibitors licensed by the USDA are accredited. Of AZA accredited zoos, 45 have bear exhibits.
COVID-19 also had a huge financial impact on zoos because they rely heavily on visitors and have had to close their doors. It is costly to build and maintain animal enclosures, feed animals and provide the staff to care for animals daily.
The public should be aware that these challenges may impact finding placement in the future for orphaned grizzly bear cubs, and FWP staff may either need to leave orphaned cubs in the wild or humanely euthanize them. People can play their part in reducing the number of orphaned bear cubs by managing any potential bear attractants on private property, recreating safely and carrying bear spray and knowing how to use it. 
There will be an FWP Live Facebook Event on the cubs on Thursday, May 28, at 11 a.m.
Be the first to know
Get local news delivered to your inbox!