Jim Emanuel has 2,500 miles of river in front of him.
The East Helenan plans to embark this week on the journey of a lifetime, starting on the Big Hole River in a raft before switching downstream to a hybrid canoe-kayak and paddling all the way to St. Louis. And he is raising money to fight childhood cancer in the process.
"I don't have a background in canoeing, I've got a lot of background in rafting but this is my first big trip in a canoe so I'm a little bit nervous," he said.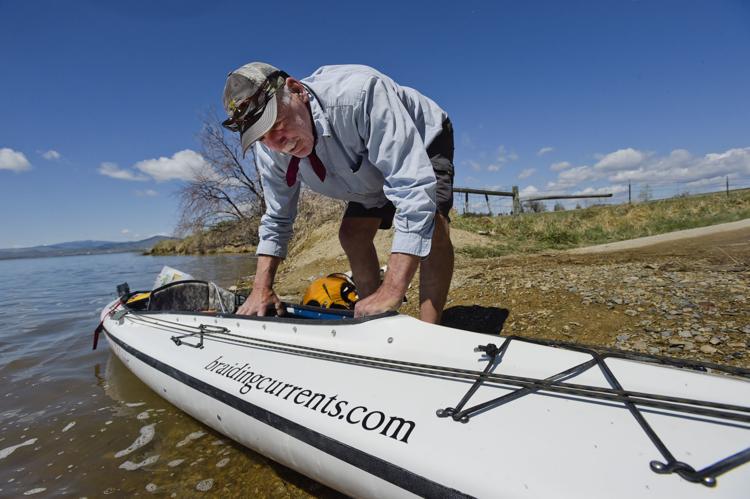 Emanuel is a retired firefighter and has always wanted to do a long river trip. His lengthiest floats have been in the 300-mile range, including the Grand Canyon and Green River in Colorado that took about 30 days.
He kept hearing about the trip from the Missouri headwaters to St. Louis and decided it was the adventure he should take on. The Facebook group Missouri River Paddlers linked him with others who have completed the journey, coming with useful tips and the names of so-called "river angels" – residents along the river who willingly offer help.
The trip comes with a number of anticipated challenges.
"My main concern right now is the runoff, and I'm going up … to scout some diversion dams and make sure I don't come around the bend of a river and can't fit under a bridge," he said. "If there's no good way to do it, I'll just have to wait."
The trip includes a number of large reservoirs where winds or storms could pin Emanuel down. Traveling from Fort Benton through the Missouri River Breaks could take up to three weeks in remote country while carrying all the supplies he needs.
"It's an adventure and meeting river people and seeing some country at 3 miles per hour instead of 60. I mean, what better way to see eastern Montana than in a canoe," he said.
In all, Emanuel estimates the trip will take about 100 days. He will have four designated drop points for his wife to send him supplies, along with towns along the way to get what he needs.
Emanuel never thought about charity when he started planning the trip, but then he heard from a friend that raised nearly $60,000 while hiking the Appalachian Trail.
"I thought maybe I could raise money for charity, and then I thought about children's cancer," he said. "I've been lucky with my kids, but some people aren't so lucky."
After doing some research, Emanuel decided on Alex's Lemonade Stand Foundation. The organization raises funds for research, awareness and supporting families struggling with the disease. They launched a fundraising page braidingcurrents.com to take donations and chronicle Emanuel's journey.
"Alex's Lemonade Stand Foundation is grateful for Jim's support, and we wish him the best of luck as he embarks on his canoe trip," said Annie Korp, communications and public relations specialist. "With each mile he travels, he is helping us move closer to cures of all kids with cancer!"
Emanuel says he has been impressed working with the foundation so far.
"We really hit it off," he said. "It's a small foundation and I'm glad I found them."
Emanuel hopes to launch on the Big Hole at the end of this week, but that could change if high water becomes too dangerous.