16 inducted to Montana Outdoor Hall of Fame for lasting contributions to restoration and conservation
Montana's third class of inductees into the Montana Outdoor Hall of Fame will soon take their place alongside many of the state's conservation giants.
From anglers and backcountry outfitters to Native American and environmental advocates to authors and academics, Montana would surely not be the place it is today without the 16 men and women to be inducted Dec. 1.
The Montana Outdoor Hall of Fame began in 2014. It was created to honor individuals who made lasting contributions to the restoration and conservation of Montana. The awards also seek to capture the stories of those enshrined to enhance public awareness of Montana's conservation history.
"I think the enthusiasm for the effort that started several years ago has only grown," said Bruce Whittenberg, director of the Montana Historical Society, where the hall of fame is archived. "It's a highly energized night because these folks are celebrating their heroes, their sacrifices and hard work that give us the culture and the scenery that we have."
For more information and to purchase tickets for the Dec. 1 hall of fame banquet, visit www.montanaoutdoorhalloffame.org.
Stan Meyer, (1935-)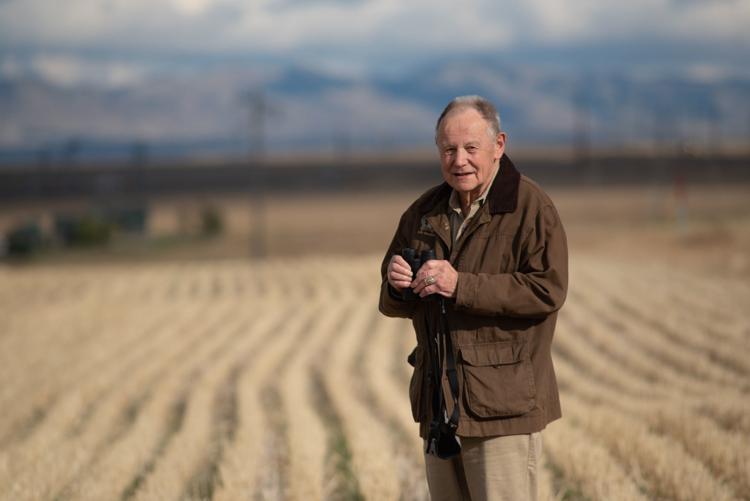 Stan Meyer and his late wife, Jane, first came to Montana in 1957.
The Iowa State graduate was starting a new job as a radio and TV farm broadcaster. But the seed was planted years earlier, hunting rabbits and squirrels in his native state and understanding the importance of habitat.
"I fell in love with the whole idea," he said of moving to the West.
Once in Great Falls, Meyer hunted and fished, filling the freezer over the years with nearly every wild game animal in the state. He also took an interest in Lewis and Clark and the Corps of Discovery, directing the educational film "In Lewis and Clark's Footsteps" in 1966.
He took to politics as well when he assisted with a Great Falls mayoral race in 1963.
"I fell in love with the whole idea of it and some would say I was made for politics," Meyer said.
By 1987, Meyer's prominence in Montana conservation truly began to blossom. He became board chairman of the Nature Conservancy in Montana as the organization moved to preserve millions of acres of grasslands, timberlands, wetlands and wildlife habitat. He is credited with being one of the conservancy's public faces as he touted its mission and philosophy.
Meyer's work and ability to collaborate attracted the attention of newly elected Republican Gov. Marc Racicot, who appointed him as chairman of the Montana Fish, Wildlife and Parks Commission – a position he held from 1993 to 2001.
"I worked on the commission and I'm happy to say that I came off it with no enemies," he said. "Those were the happiest and most worthwhile times of my life."
During Meyer's time on the commission conservation easements began to gain popularity. The easements, which typically secured public access and preserved habitat, needed explaining to the public, lawmakers and interest groups. Meyer lobbied for reauthorization of the Habitat Montana program, which takes a portion of license sales for access, whether through easements or land purchases.
With Meyer's help, FWP secured more than 250,000 acres of easements with 25 landowners.
The controversies during his tenure were much the same as today with access to elk and fishing regulations some of the highlights.
"I really enjoyed meeting with opposing sides on things like whitetail deer hunting near Kalispell," Meyer said. "The resources we have are loved by so many people that they're bound to be under pressure."
Meyer also saw demand for access to natural resources from the family cabin he built along the Blackfoot River near Lincoln, but steps to conserve those resources as well. He recalls visiting the river one day to find a bulldozer parked in the middle, but over the last half century he saw angling improve with advancements in Montana's stream protection laws.
Later in his career, Meyer pushed for eight years to resurrect interest in Ulm Pishkun south of Great Falls. Today, the site has been renamed First People's Buffalo Jump State Park – a 2,000-acre historic landmark and among the last intact buffalo jumps in North America.
Meyer remains optimistic about the future of conservation. He also appreciates the increasing role of women, particularly as advocates for hunting as a principle of conservation.
"A lot of people worry about what's going to happen with conservation as our population expands and us old folks retire," the 83-year-old said. "I think conservation and wildlife habitat are in strong hands."
Meyer was unfamiliar with the Montana Outdoor Hall of Fame until he was nominated. After hearing about his induction and fellow and previous inductees, he said, "It's a nice opportunity to be associated with these guys."
Michel Pablo (1844-1914) and Charles A. Allard (1852-1896)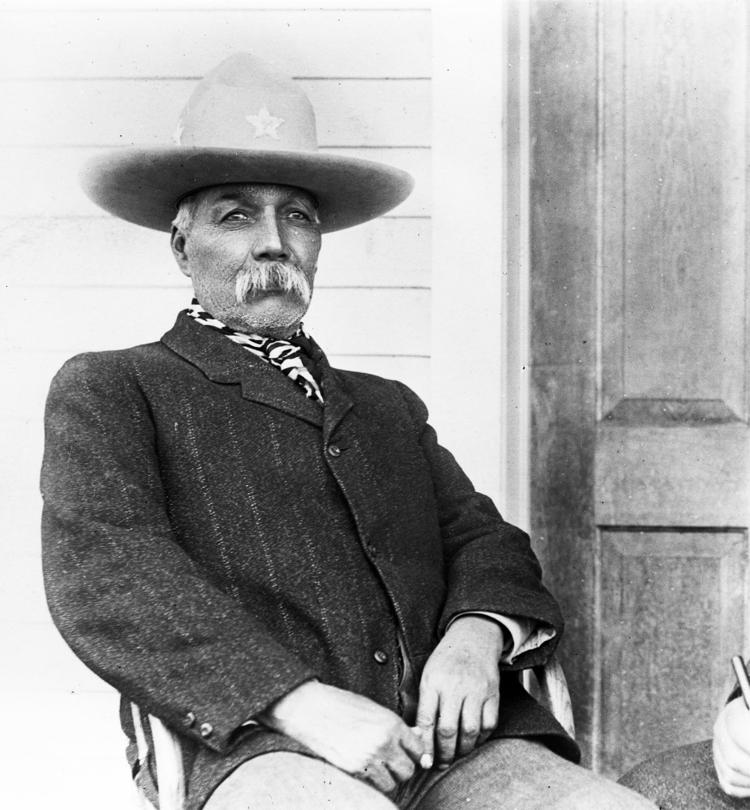 Perhaps no animal is as synonymous with the American West as bison, and two Montanans played an essential role in the preservation of this iconic species.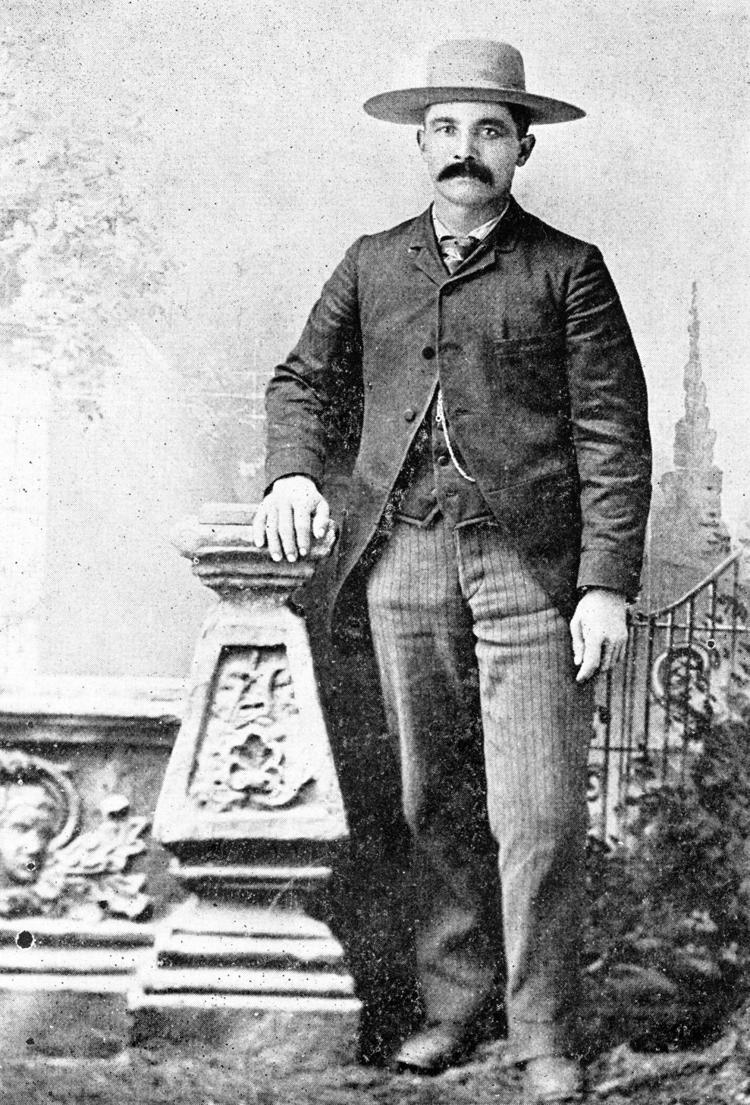 Michel Pablo and Charles Allard lived during the 19th century decimation of North America's bison herds. Once numbering more than 30 million, the mass slaughter sent populations plummeting by the 1870s.
In 1873, Indian Sam Walking Coyote of Pend d'Oreille returned to the Flathead Valley with a handful of orphaned buffalo calves and sold them to reservation ranchers Allard and Pablo. Both born to Native American mothers, the duo cultivated a herd both as a business venture and to replenish a wild bison population.
While their intent was entrepreneurial, the cultural significance of bison likely inspired them as well, researchers believe. For example, Allard and Pablo presented the gift of buffalo meat to the reservations' chiefs one Christmas. Reports suggest such a feast hadn't been experienced by tribes there in more than a generation.
Allard's death in 1896 put his half share of the herd at 300 animals. Those were sold off, including about 100 to Charles Conrad of Kalispell.
By the early 20th century Pablo's herd had grown to 700 strong, but the Flathead Valley's population was growing as well. As open range dwindled, he offered the animals the U.S. government, but they refused. Instead, he shipped 500 bison to Canada's Alberta's Buffalo Park.
Americans who heard of the U.S.'s refusal pushed back, lobbying President Theodore Roosevelt through William Hornaday's American Bison Society to provide land for a wild bison herd. That land is now the National Bison Range near Charlo.
Nearly a century and a half after Walking Coyote sold those calves to Allard and Pablo, President Barack Obama signed the National Bison Legacy Act of 2016, elevating bison as the official mammal of the United States.
While bison are revered, they have stirred controversy as well with ongoing debate about populations, hunting near Yellowstone National Park and conflicts with livestock producers. Proposals to establish wild populations in other parts of the state have largely failed to gain traction, although advocates continue to push.
Arnold Bolle, (1912-1994) and Helen Bolle, (1916-2016)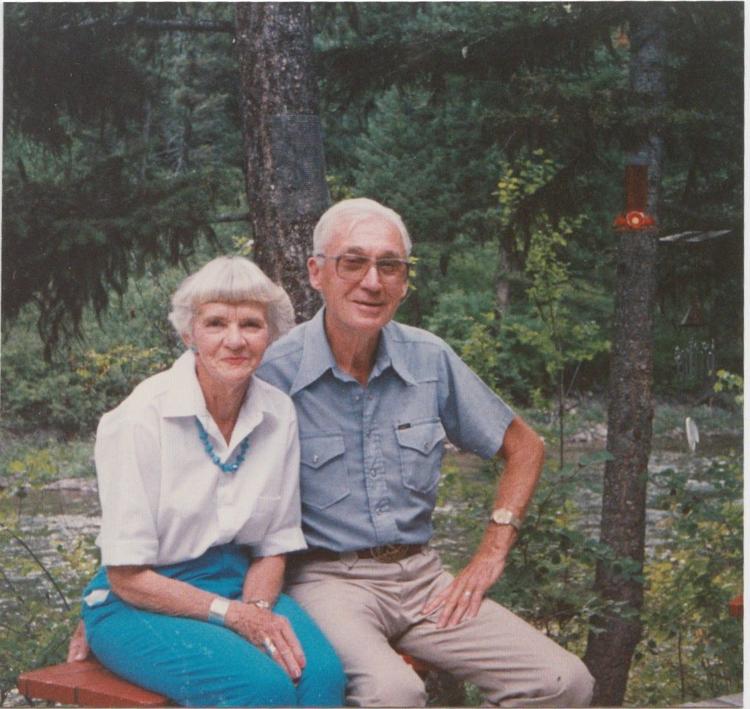 It is fitting that it was a paycheck from the Sunnyside Forest Service Ranger Station in Jefferson County that helped bring Arnold and Helen Bolle together in marriage in the late 1930s, as the life they spent as husband wife was centered on their connection to the public lands of Montana.
For Helen, that connection began at birth, in 1912, in Missoula, where her father, K.D. Swan, had arrived a year before to work for the U.S. Forest Service after earning a master's degree in forestry from Harvard University.
During a childhood spent in a house in the Lower Rattlesnake, exploring nearby Greenough Park and even adopting an orphaned fawn, Helen earned a deep appreciation of Missoula's relatively untrammeled natural beauty that led her across town, to the University of Montana, for college.
There, she met Arnold, who she knew as Arnie.
A native of Watertown, Wisconsin, where he was born in 1912, Arnold Bolle had begun his studies at Northwestern College in his hometown before heading west to Missoula to pursue a degree and forestry.
After graduation—and after earning that paycheck from the Sunnyside Ranger Station—the two married in 1937 and left Missoula for nearly two decades as Arnold moved between jobs in the public and private spheres, including a stint managing a Wyoming dude ranch and periods with the Forest Service and the Soil Conservation Service.
Eventually, though, Arnold found his way to Harvard University, where he did what Helen's father had done before him: earned a master's degree in forestry.
Then, in 1954, the Bolles returned to Missoula so Arnold could take a position at his alma mater.
While simultaneously pursuing a Ph.D. in public administration from Harvard, which he earned in 1960, Bolle taught in the School of Forestry in Missoula, where he became an expert on the regional wood products industry and a pioneer in the integration of public administration and multiple-use forest management.
In 1962, Arnie was appointed dean. During his tenure, which lasted until 1972, he boosted the profile of the school as well as its enrollment.
In 1970, at the request of Montana's U.S. Senator Lee Metcalf, Bolle and six of his UM colleagues documented a clearcutting fiasco on the Bitterroot National Forest. A University View of the Forest Service, as it was officially titled, almost immediately became known as the "Bolle Report."
When Senator Lee Metcalf published the Bolle Report as a U.S. Senate document, thousands of copies were distributed, triggering a bellicose national forest land management struggle among an old guard that placed timber-sale goals first and changed American values farther down the line.
The battle also led to significant changes to national forest policy and to the passage of the National Forest Management Act of 1976.
As Arnold pursued his career, he and Helen also raised three children in a home they built right behind the one where Helen had grown up, in the Lower Rattlesnake. The Bolle home was a hub of environmental discussion for students, politicians, and activists. And Helen welcomed them all. Together the Bolles embraced local conservation concerns, and Helen's huckleberry pies became legendary at fundraising events.
During his retirement years, Bolle remained engaged in forest-management issues, serving on the governing council of The Wilderness Society, the Montana Wilderness Association and the Forever Wild Endowment. He was honored with the Bolle Center for Ecosystem Management, a segment of The Wilderness Society in Washington, D.C. He also received The Wilderness Society's highest honor, the Robert Marshall Award.
Bolle transformed UM's forestry program from one that focused almost solely on timber harvesting to one that addressed holistic management.
In 1994, the year Arnold died, Liz Claiborne and Art Ortenberg donated a significant gift to the UM Foundation to enable the formation of the Bolle Center for People and Forests. And shortly before her death in 2016, Helen confirmed a gift to fund scholarships for veterans and donated some of her husband's papers to the center named in his honor.
"If we can credit one person with changing what students learn and what foresters do on the ground," said Dick Behan, dean of the Northern Arizona University School of Forestry, "then that person has to be Arnold Bolle."
Dale Burk, (1936-)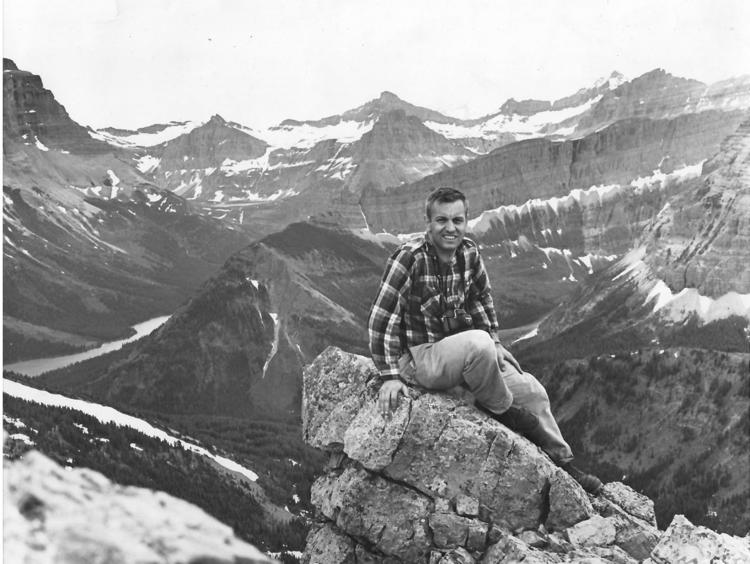 Writing tends to be an indoor job, but Dale Burk made sure to spend enough time outdoors to get the story.
Burk started as early as they come in journalism, delivering Missoulian newspapers as a teenager. In 1953, he got his first writing job, stringing stories for the Daily Interlake from his family home near Eureka. He freelanced for a while in the 1960s, and then joined the Missoulian as a full-time staffer in 1968.
There he progressed from reporter to columnist, to editor, to editorial-page writer. But an unexpected assignment going undercover as a horse packer helped him break open a story that rearranged Montana's landscape and timber industry. In 1969, Missoulian publisher Lloyd Schermer attended a backcountry gathering along the Middle Fork of the Flathead River where he learned of plans to build roads into the remote spine of the Rocky Mountains south of Glacier National Park. Schermer got to a pay phone in Essex and called the newsdesk.
"He told me tomorrow morning a man named Smoke Elser is going to pick you up, and you're going to spend a week with him," Burk recalled. "He said go undercover and report on it. Tell Ed (Coyle, Burk's supervisor) you'll be leaving tomorrow. I said shouldn't you tell Ed that?"
Burk spent a week as a packer, taking guests fishing and listening as Forest Service officials presented maps of their plans to log the mountainsides next to the Bob Marshall Wilderness. When he got out, the agency denied the maps existed.
"Two phone calls later, we knew who made the map," Burk said. The Flathead National Forest destroyed their credibility by denying the map existed."
That led to eight more years covering public lands and forest policy. It included sending Burk around the country reporting congressional efforts to draft the National Forest Management Act, which remains the foundational policy governing national forests today. He worked with former Bitterroot National Forest Supervisor Guy Brandborg to reveal the Forest Service's misguided attempts to regrow forests plantation-style around the Bitterroot Valley, which triggered national outrage.
"Burk's work was indeed controversial but stood the test of time," Montana Outdoor Legacy Foundation spokesman Tom Palmer said. "He displayed professional courage, and weathered aggressive criticism, to ensure Montanans, Americans, and the Congress learned the truth to provide a better future for our forests."
Burk earned a prestigious Neiman Fellowship for Professional Journalists at Harvard University in 1975. In 1978, his newspaper reporting and a book he wrote, Great Bear, Wild River, helped build public support for creation of the Great Bear Wilderness surrounding the Middle Fork of the Flathead.
He left newspapering to run the Stoneydale Press in the Bitterroot Valley, publishing books on outdoor policy, adventure and history. His own autobiography, A Brush With a Wild Thing or Two, came out earlier this year.
Of the numerous accolades came Burk's way, Palmer said the most fitting came from Burk's local associations. The Ravalli County Fish & Wildlife Association awarded him its Lifetime Achievement Award, and the Missoula Conservation Community names its annual award for most outstanding citizen advocate after Burk.
Unlike most of the rest of the United States, Burk said Montana still has choices to make about wild places to preserve or exploit. After spending decades chronicling how people have confronted those choices, he said future Montanans will face even tougher decisions.
"The various voices clamoring for their perspective are much more vehement and vigorous than they were 20 years ago," Burk said. "I hope people still fight for a retention of the very things that motivate them, to appreciate the wildness in Montana, the opportunity of making a living and enjoying it as a way of life. We need to be appreciating it for what it gives us naturally, not turning any natural resource into money."
Gail Small, (1956-)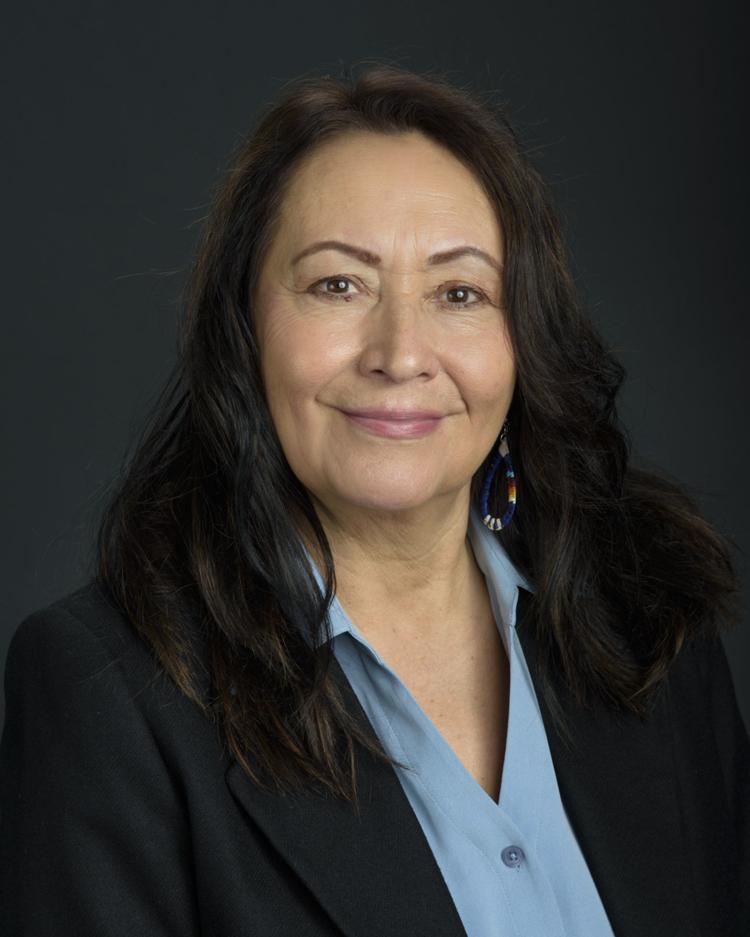 When the federal government sold the Northern Cheyenne Tribe's coal leases at bargain basement prices to international mining companies in the 1960s and '70s, tribal member Gail Small got mad and then she got busy.
Raised in Lame Deer, Small's family was always politically active. So at the age of 21 she began helping to negotiate a cancellation of the coal leases, and the tribe eventually won a settlement for damages.
"It was a huge victory," Small told the Missoulian in a 2001 article. "It set a major national precedent."
Buoyed by the work, Small – who had graduated from the University of Montana with a sociology degree in 1978 – went back to college. She enrolled in the Oregon School of Law and earned her Juris Doctorate in 1982.
Two years later she returned to Lame Deer and was part of a team of Cheyenne leaders who helped form Native Action, one of the first nonprofit organizations based on an Indian reservation. For Small, Native Action's goal is to create information people can grasp in a manner that would allow them to speak out.
"I never set out to be a tribal leader or any other kind of leader," Small told the Missoulian. "I think that's the way it is for most Indian women. We don't want to lead, necessarily. We just want to help out, raise our kids."
Now 62 and an assistant professor in the Department of Native American Studies at Montana State University, Small has racked up a number of honors.
In 1995 the Ms. Foundation, created by feminist Gloria Steinem, honored Small for her community work. In 1997 she won the Jeanette Rankin Award, in 2001-2003 Small was awarded the Rockefeller Foundation Next Generation Fellowship, and in 2015 Small was given the Leopold Leadership Fellow. Based at the Stanford's Woods Institute for the Environment, the program honors 20 leaders in environmental research.
"… She is an outstanding role model for future leaders in American Indian communities," said Walt Fleming, chair of MSU's Department of Native American Studies, in an MSU press release announcing the Leopold award.
Small's Cheyenne name is Head Chief Woman.
"We grew up knowing the land intimately," she said.
She still lives on the family ranch near Lame Deer, and said her culture and extended family have enabled her to pursue her dreams.
"You grow up in a culture where everything is inter-related and there is little hierarchy."
George Grant, (1906-2008)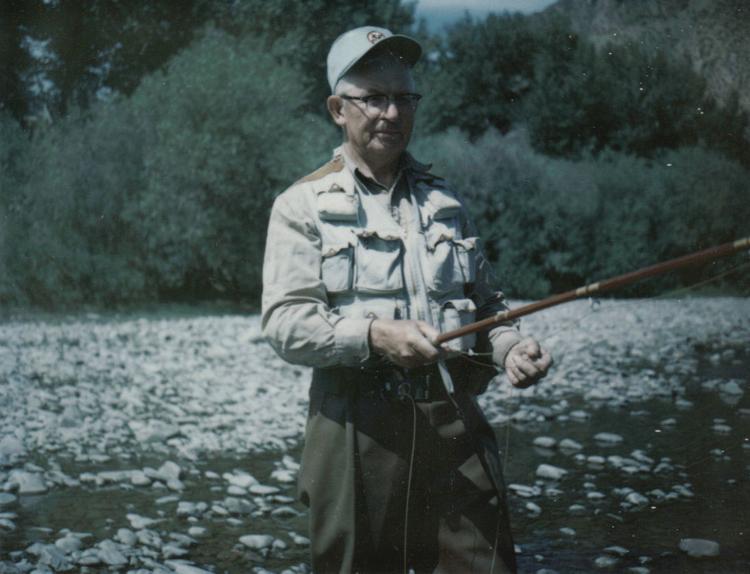 It's been said that the Big Hole River is a cathedral of fly-fishing. If so, George Grant was both bishop and lord protector.
Grant grew up in Butte, surrounded by waste-choked creeks and a mine-ravaged landscape. His refuge and his passion was the Big Hole, and he would become its most famous, and revered, angler – because of his skill as a fly-tier and because of his doggedness as a conservationist.
As the Great Depression raged across America, young Grant was perfecting his angling skills. By 1939, his method for weaving hackles was patented. Livingston's Dan Bailey, himself a giant of Montana's fishing heritage, said Grant's were "the most beautifully tied" flies he ever saw.
"He was probably the most creative fly tier the world has ever seen," said his friend Bob LeFever at the time of Grant's death in 2008 at the age of 102. "He was just way ahead of his time and truly meticulous."
He invented the "black creeper," a spectacularly effective hand-woven nymph. He wrote many books on fly-tying, including the much-sought-after "Montana Trout Flies" and "The Master Fly Weaver."
Grant became world-renowned for his fly-tying – but his fierce, and successful, efforts to protect the Big Hole were what endeared him most to Montana fishermen.
Grant, along with Butte's Tony Schoonen, led the way in the1960s, gathering landowners to aid them in opposing the Raichle Dam at Notch Bottom on the lower Big Hole. The dam would have flooded much of the valley and its precious river. Ron Marcoux, a retired Montana Department of Fish, Wildlife and Parks biologist, called Grant a "guiding force" to ensure the dam didn't get built.
It was a fight that gained national publicity and prominence as the nascent Trout Unlimited began to take action to protect fisheries across the country. The 150-mile-long river remains wild and free-flowing today, in no small measure because of Grant's efforts.
He and Schoonen would later fight the practice of moving gravel with heavy equipment to divert Big Hole River water, and succeeded in getting a law passed to ban it. And they again mobilized to fight for the state's stream access law, a nationwide model for public access to wild lands and waters.
Bruce Farling, a former state Trout Unlimited executive, said that Grant's "legacy is more than just what he contributed to the sport of fly-fishing. It's about what he contributed to trout conservation."
Both the Butte chapter of TU and a fishing access on the upper Big Hole are named for Grant.
Grant's many newspaper columns and the clarion call of his newsletter, "The River Rat," spread the word far and wide about the importance of conserving the Big Hole and other Montana trout waters.
At age 92, in 1998, Grant sold his bamboo fly-rod and angling book collections to fund the startup of the Big Hole River Foundation – an incredibly selfless act that typified him.
On his 100th birthday, he looked back at his early years, when fly-fishing was not a widespread sport, and the Big Hole was gloriously uncrowded.
"It was like I was a millionaire and had my own trout stream," he said.
Jack Atcheson Sr., (1932-2018)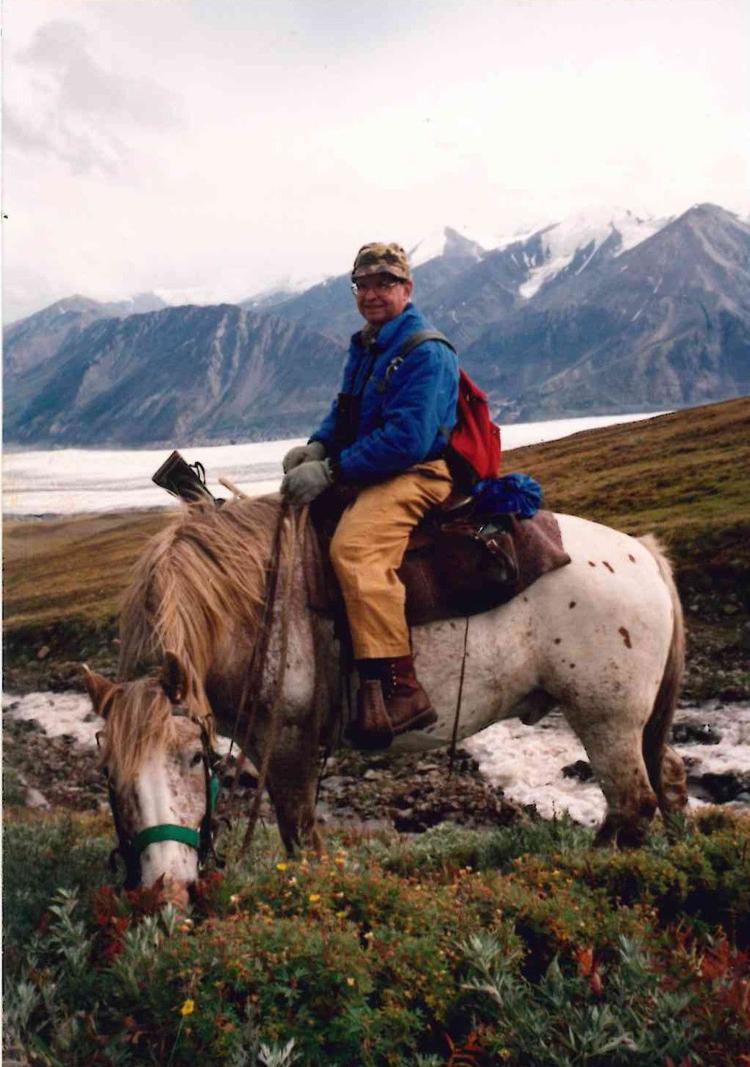 Jack Atcheson Sr. hunted around the world. But in Montana, the state he called home, Atcheson was widely known and admired not just for his hunting prowess but for his unflagging advocacy for public lands, and for the conservation of wildlife.
Atcheson arrived in Butte from his native Punxsutawney, Pennsylvania as an adolescent. A few years later, still in his teens, he joined the Army and volunteered for combat duty in Korea.
When he came home to Butte from the war, he and his wife Mary Claire built a modest taxidermy business into a worldwide hunting enterprise. He was the first to use "hunting consultant" to describe the services he offered – a phrase that his competitors and successors in the field adopted.
It was in 1978, during a hunting trip to the Hi-Line, that Atcheson's passion for public lands was kindled.
Atcheson was hunting on what he thought was state-owned public lands when a rancher, who was leasing the land for grazing, drove up in his pickup and shouted, "You guys get the hell off my land now!"
It turned out he was hunting on school trust lands. Atcheson went home and thought about it. He figured if the lands were in trust for the schools, they were also public lands, and so he began to research the point.
Across Montana, school trust lands, traditionally marked in blue on plat maps, are sections 16 and 36 of each township. In some places, trust lands have been consolidated into larger blocks.
With Jack Jones and Tony Schoonen, Atcheson formed and funded what became the Montana Coalition for Appropriate Management of State Lands. The group ultimately fought through a thicket of legal barriers, eventually winning the right for the public to pay a small fee to use school trust lands for recreation.
The effort opened up as many as 5.2 million acres of Montana to hunters, anglers, bird watchers and others.
Atcheson also was an early member of the Montana Coalition for Stream Access, a group that led the fight that ended with the state's Stream Access Law, allowing people to use most Montana waterways between the high-water marks for fishing and floating.
Atcheson also documented flaws in BLM and U.S. Forest Service fencing rules, ultimately winning changes that benefited wildlife. His work also spurred the Montana Fish, Wildlife and Parks to launch a wildlife-friendly fencing program.
Atcheson, who died at age 85 in December 2017, won Outdoor Life Magazine's Conservation Award in 2000. The award cited "a lifetime of achievement in the conservation of wildlife and wildlife habitat, and tireless efforts on behalf of hunting and fishing access for American sportsmen."
On his passing, Public Land and Water Access Association Vice President John Gibson said, "Jack was very instrumental in the fight for public access … I don't think he got the credit he deserved in the eyes of the public. We have lost too many of our founders recently. For access' sake, I hope that we can replace some of these old warriors."
Jack Ward Thomas, (1934-2016)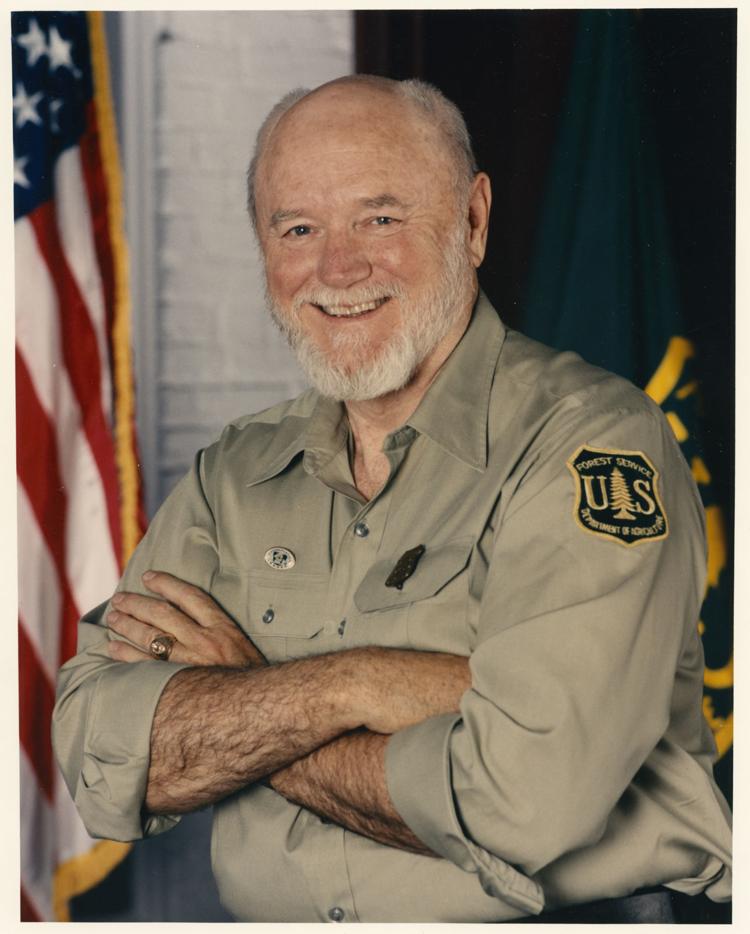 Wildlife biologist Jack Ward Thomas rose to the top of the U.S. Forest Service at a time when agency brass was dominated by foresters and engineers.
The Texas native joined the Forest Service in 1966, working as a research wildlife biologist in Morgantown, West Virginia. He published more than 600 articles and books, including the frequently reprinted "Invite Wildlife to Your Backyard" in 1973 and "Elk of North America" and "Invite Wildlife to Your Backyard."
Thomas began to rise among the agency ranks and became its chief from 1993 to 1996. It was in that role and with lawsuits looming over spotted owls in Pacific Coast forest that he pushed for balance between logging and wildlife. A science panel he put together explored the effects of cutting old growth forests on watersheds and wildlife in what is known today as ecosystem management.
"We don't just manage land," he said at the time. "We're supposed to be leaders. Conservation leaders. Leaders in protecting and improving the lands."
Jim Lyons, former deputy assistant secretary for land and mineral management at the Department of the Interior, told the Missoulian following Thomas' death that President Bill Clinton's nomination of Thomas to lead the Forest Service was controversial internally.
"We were making political decisions to keep cutting, cutting, cutting –regardless of the biological consequences, and that led to court decisions enjoining timber sales. Instead of this one-dimensional view of success in timber harvest, Jack saw the forest in the context of multiple use," he said.
After retiring from the Forest Service in 1996, Thomas became the Boone and Crockett Club professor of wildlife conservation at the University of Montana. There he continued expanding his concept of melding strong research with landscape management – something he called "bio-politics" rather than political science.
"Jack was somebody who was so good listening to all sides, and coming up with solutions that bridged what often was a wide divide between the science of conservation and public policy," Dan Pletcher, retired director of UM's wildlife biology program and colleague of Thomas' for a decade, told the Missoulian in 2016.
Leonard "Len" Sargent, (1912 -1997) and Merriam "Sandy" Sargent, (1921-1997)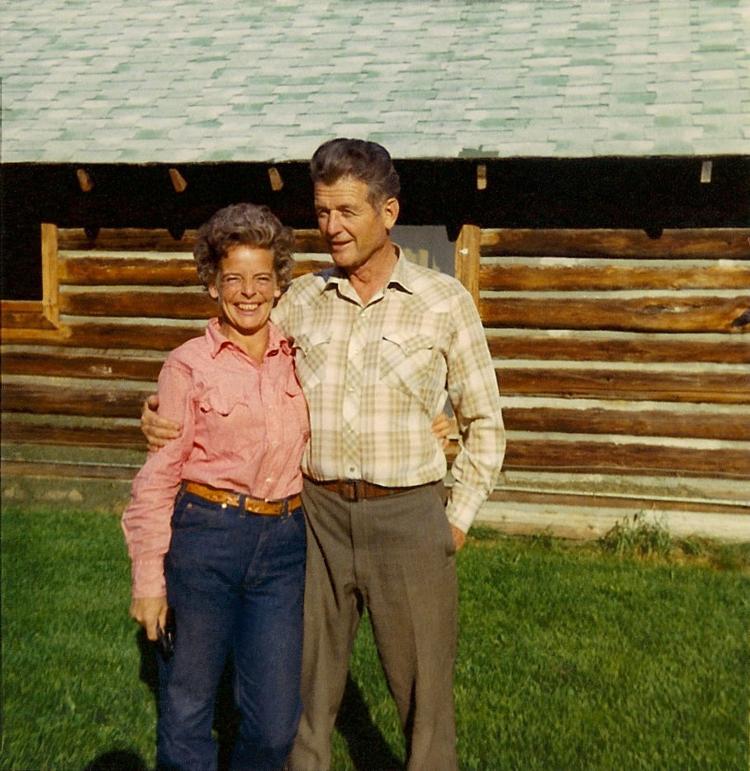 It was headline news in Montana when Len and Sandy Sargent died only months apart in 1997. In their 28 years together, much of it on their Cinnabar Basin ranch, they had become a high-profile environmental duo.
Len bought the ranch on the northern doorstep of Yellowstone National Park in 1962. Educated in geology at Princeton, he had served in the Navy during World War II before teaching math and coaching football, hockey and baseball at Taft School in Connecticut.
The same year he retired – 1969 – Len married Miriam "Sandy" Hubbard. Sandy had attended Sweet Briar College and graduated from the Kathrine Gibbs School in New York. She migrated with her children, Rick and Kerri, to Denver in 1962 where she taught at Denver Country Day School.
It was during their life at the Cinnabar Basin ranch that the Sargents became well-known for their environmental advocacy, joining the seven-year fight to halt the creation of Allenspur Dam on the Yellowstone River, just south of Livingston, and promoting the creation of the Absaroka-Beartooth Wilderness.
"Sandy and I spend more time fighting so our granddaughters when they grow up may be able to see wild habitat the way it is now and is supposed to be, with elk, deer, moose, sheep, coyotes and bear and all that goes to make up a true ecosystem," Len is quoted saying in the Princeton Alumni Weekly.
In 1983 the couple founded the Cinnabar Foundation, which provides grants for environmental protection and wildlife conservation. The foundation has awarded nearly $8 million to more than 1,860 successful grant applicants.
The Sargents were also among the founders of the Montana Environmental Information Center and the Greater Yellowstone Coalition and supported the Northern Plains Resource Council and the Rocky Mountain Elk Foundation.
Finally retiring in 1994, the couple sold their ranch after putting it under a conservation easement and moved to Bozeman.
Len, 84, died of a heart attack on Feb. 16, 1997. Sandy died of leukemia at age 75 on July 22, 1997.
"Just after the service for Len, Sandy – who was suffering from cancer at the time – picketed on the street in front of the Forest Service against the Hyalite timber sale," Jim Jensen, then-executive director of the MEIC, told the Associated Press in 1997. "Right down to the wire, Sandy Sargent stood as a leader to the conservation movement."
P.D. Skaar, (1923-1983)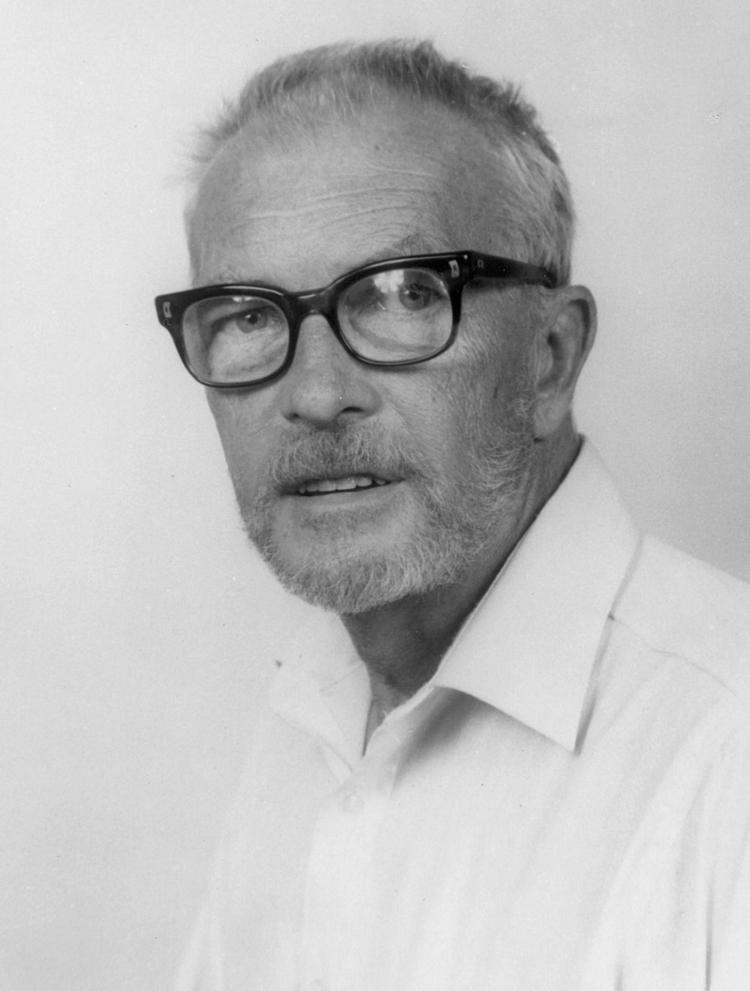 Documenting bird sightings in an orderly, replicable fashion for 25 years has made former Montana State College geneticist Palmer David Skaar a household name in the state's birdwatching circles.
His second birding book, "Montana Bird Distribution," is in its seventh edition. Skaar died of a heart attack in 1983 while working on the third edition.
"(Yellowstone Valley Audubon Society) and many/most Montana and other birders are really indebted to him for the utility of that work," wrote Steve Regele, YVAS president, in an email.
Skaar was born in Mishiwaka, Indiana, on March 14, 1923. He served in the South Pacific during World War II and then graduated from Indiana University in 1952. In 1957 he was hired to found Montana State College's Genetics Institute, where he taught and studied microbial genetics and also taught field ornithology. The college became Montana State University in 1965.
Although his work studying microscopic organisms was his day job, he's now more well-known for his bird observations that he meticulously recorded.
"He was pretty concerned about the legacy aspect of that," said one of his three sons, Don Skaar, of Helena. "Being a scientist he recognized the value of having information that was reliable."
Skaar's extensive collection of birdwatching documents are housed in what is now Montana State University's archives collection.
Skaar adapted a bookkeeping methodology for bird sightings known as latilongs, noting the bird's location by the closest longitude and latitude – a geographical coordinate system. Montana has 49 latilongs.
"If there's one thing birders like to do it's keep a list," Don Skaar said. "The whole latilong thing was intoxicating for birders."
Skaar also persuaded other birders that it was vital to classify birds observed between spring and fall as showing "direct," "indirect," or "no evidence" of breeding. Further, birds seen in winter must be classified as either "overwintering," with regular wintertime observations; or "observed during winter season," but not confirmed overwintering.
Don Skaar said his father could be suspect about anyone else's bird sightings, including his own son.
"He was a pretty tough judge."
Records show that by 1977 Skaar had documented 300 of Montana's 345 bird species, more than any other known bird watcher at the time.
Skaar's "Montana Bird Distribution" book – he also published one just on the Bozeman area – is still used by government agencies, NGOs, and private consultants to understand the effects of mining, timber sales, subdivisions, utility and pipeline corridors, oil and gas developments, highway construction projects, land purchases, and conservation easements.
Skaar's birders have tallied more than 1.1 million individual records since 1975. His revolutionary system is still used today – and maintained as a public resource in the Montana Natural Heritage Program's database.
Robin Tawney Nichols, (1949-) and Phil Tawney, (1949-1994)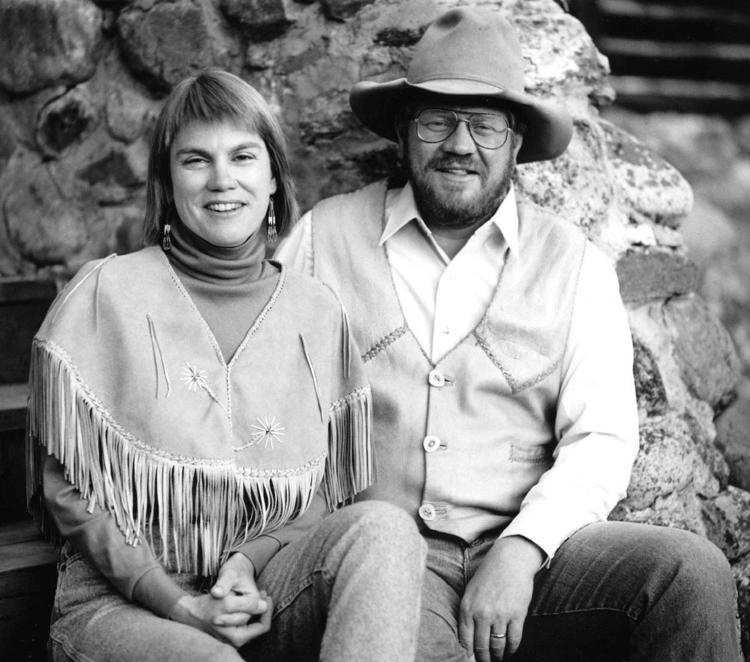 It was 1971 when University of Montana students Robin and Phil Tawney came to Helena as interns for the legislative session.
Two years later they returned at the encouragement of long-time conservation activist Don Aldrich, combing forces for what they called the "Environmental Lobby" and pushing lawmakers to pass some of the state's bedrock natural resource laws. Between 1971 and 1975, Montana passed legislation addressing air and water quality, mining reclamation, standards for energy production, subdivisions and in-stream flows.
"We got to be around some really wonderful people," Robin said. "For both of us, we just wanted to help and get something done."
It was also in 1973 that the Tawneys and others founded the Montana Environmental Information Center, one of the first organizations in the state to focus directly on environmental concerns and credited as a watchdog.
"At that time we were kind of with others like us, inventing the environmental nonprofit thing, so it was really a trial by fire," she said. "Every penny was accounted for and used to fuel it."
Fundraising was an early challenge as other organizations began to form. Lobbyists were young, averaging about 24, Robin said, and certain lawmakers were able to open doors for them.
"It was a time that we had a great coalition, just a euphoric time of progressive groups of social services and low-income groups," she said. "We were just young pups but there was a lot of good energy."
The Tawneys would leave MEIC as their family expanded. Upon their exit, they penned a paper on building an organization to last.
"We wanted to see organizations that could provide careers, and that's what's happened," Robin said. "I'm really pleased to have seen things professionalize but stay true to their grass roots beginning."
In the 1980s Phil would play a central role in the early days of the Rocky Mountain Elk Foundation as its first legal counsel. One of the biggest projects he worked on was the $1.7 million acquisition of the Robb Creek Grazing Association – 32,000 acres in the Ruby Mountains.
In 1988, Phil's legal expertise again proved critical when the late Otto Teller, a long-time Bitterroot Valley farmer, came to him concerned about habitat fragmentation. They worked to place conservation easements on more than 1,200 acres of what is now the Teller Wildlife Refuge.
Robin specialized in writing, penning magazine articles about Montana conservation issues as well as publishing a children's guide to Yellowstone National Park. After Phil's death from leukemia in 1994, Robin has continued to write about Montana's early environmental history.
"I think he would be really pleased," Robin said of Phil's reaction to their hall of fame induction. "It blew me away when I heard, it really did. It's such an amazing group of people and leaders and I'm totally humbled and honored to be a part of that."
Smoke Elser, (1934-)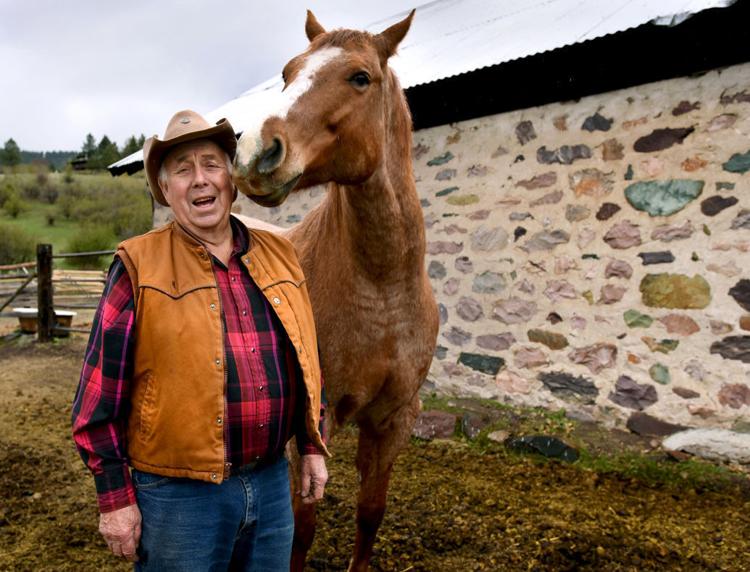 Stretch out all the loops Arnold "Smoke" Elser made through the Bob Marshall Wilderness Complex, and the line would take him from the Arctic Circle to Tierra del Fuego.
Along the way, he helped change the way we see and experience wild places. He helped save the Middle Fork of the Flathead River and its surrounding wild country from dams and logging. He also taught a new generation of backcountry visitors to be lighter on the land they loved.
"I got started with Tom Edwards, who owned the Whitetail Ranch (near Ovando)," Elser said. "Tom taught me to enjoy the hush of the land. I want to travel at 3 miles per hour, so I can enjoy every step to the way. To really enjoy the wilderness, you have to travel slow and see as much as you can."
When Elser got started in the horse-packing business in 1964, outfitters typically sent large parties of dudes backed up with even larger trains of mules carrying gear. The practice was over-grazing mountain pastures and wearing out campsites.
Elser became an early advocate of lightweight gear that shrank the number of pack animals needed per party. He brought in scrim netting to protect the grass under tents and cooking areas. He encouraged the use of highlines to secure the saddle horses instead of tying them to trees (which damages the bark and compacts root soil).
"He taught more than 3,000 people these conservation techniques in a horse-packing class at the University of Montana," Montana Outdoor Legacy Foundation spokesman Tom Palmer said. "Yet, it was his and wife Thelma's campfire stories that captured the imagination of the guests who became new advocates for protecting Montana's wild country."
In 1969, one of those guests was Missoulian publisher Lloyd Schermer. The party encountered a surprise on their way to Shaffer Meadows in the heart of the Middle Fork Flathead River country: a Forest Service bulldozer engaged in unpublicized road construction. Schermer arranged for Missoulian copy editor Dale Burk to travel with Elser's pack crew and ferret out the Forest Service's development plans.
Burk's reporting, coupled with Elser's support for wilderness, in part led to the federal designation of the 286,700-acre Great Bear Wilderness and later the 240,000-acre Scapegoat Wilderness, along the southern border of "The Bob."
"Nothing makes you any madder than when you're telling your guests you're in a really pristine area and all of a sudden you run into a bulldozer," recalled Elser in "3 Miles an Hour," a 2011 Montana PBS documentary that celebrated his legacy.
Elser's recognitions include the Distinguished Alumnus Award from the University of Montana Forestry Alumni Association, Missoula's Conservation Roundtable's Lifetime Conservation Achievement Award (for Elser and Thelma), and the Backcountry Horsemen of America's Legacy Award. In 2016, Elser was inducted into the Montana Cowboy Hall of Fame.
Although mostly retired from guiding, Elser still leads classes in horse-packing and wilderness camping methods. He also remains active in fighting to protect his favorite places. A current battle pits him against proposals by Montana Republican Sen. Steve Daines and Rep. Greg Gianforte to return longstanding wilderness study areas to motorized access.
"When I got started, there wasn't such a thing as a mountain bike or an all-terrain vehicle that could travel in rough country," Elser said. "As technology took over, now there are more and more people using them all the time. They don't have space to own a horse or mules anymore, and they want to do what they want.
"What I've done in most of my career as an outfitter is try to interpret the country," he continued. "I can teach them something about the wilderness by interpreting what they're seeing. That's the value of those WSAs. I try to show why it's important to not just wiz by it, and not see everything they should see on the way."