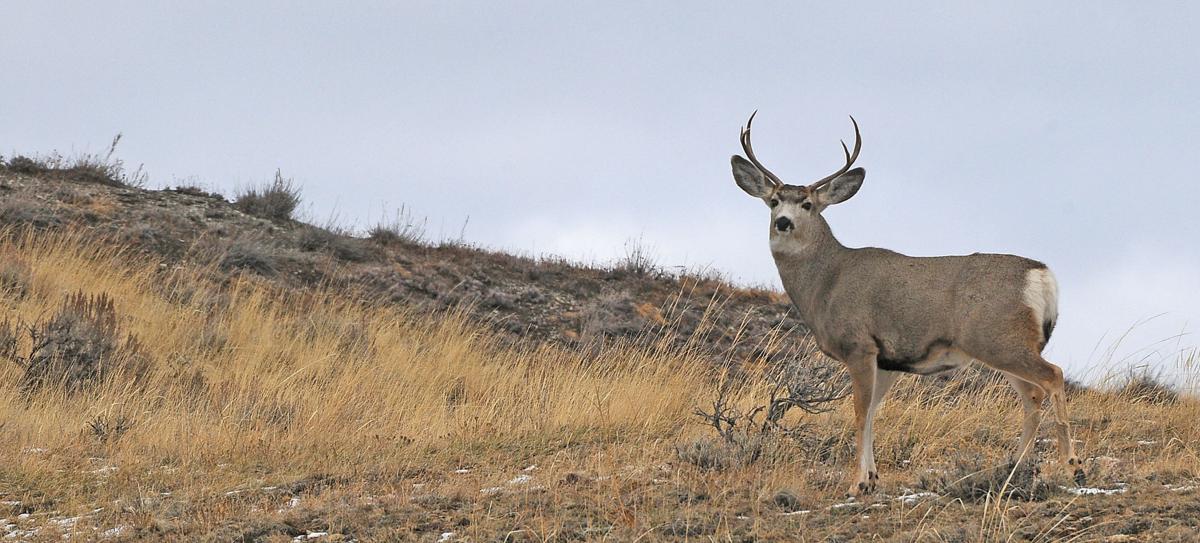 A hand-picked team of Fish, Wildlife and Parks officials are quickly working to try and design a first-of-its-kind special hunt to determine how widely chronic wasting disease has spread among deer in south-central Montana.
Details about how many deer need to be shot for a statistically valid sample and the boundaries of that hunt are still being worked out, but the goal is to have a proposal before the Fish and Wildlife Commission at its next meeting Dec. 7.
"It's a tight window," said Barb Beck, supervisor for FWP's Region 5, based in Billings, and the leader of the incident command team.
"But things are coming together," she added. "It will be a milestone for how the commission handles this issue."
Draft plan
Guiding the team's decision-making is a yet-to-be-approved CWD management plan for the state that was released in draft form only earlier this month. In short, FWP is working off a plan that has not yet been approved.
"With the commission's blessing we are largely following the plan, even though it's a draft," Beck said. "We're trying to keep track of anything we think may need to be improved."
The incident team is still awaiting more test results from hunter-harvested deer taken in the Bridger area south to the Wyoming border in Hunting District 510 before outlining the hunt area. So far, two mule deer bucks have been killed south of Bridger tested positive for CWD, even though they both appeared to be healthy animals.
"It's not safe for people to assume that because my mule deer buck looks healthy, it is," Beck said.
The disease has an incubation period of about 16 months to two years, said Jennifer Ramsey, FWP veterinarian. It's not known within that time span when the deer start showing symptoms, which can include weight loss, listlessness, drooling and lowering of the head. The disease is always fatal.
Identifying CWD requires tissue samples from dead animals. Lab tests can take a week-and-a-half to three weeks to confirm infection.
Hunt questions
Mike Birrer, a deer hunter who lives in the Bridger area, said a Belfry-area landowner told him about seeing a deer that acted strange this fall, with its head laying over. Now that CWD has been confirmed, he thinks that animal may have been infected. Birrer isn't surprised deer have tested positive near his home and where he hunts, considering the disease surrounds Montana on three of its four borders.
"It's probably been here a while," he said, but stepped-up testing by FWP this fall turned up the sick animals.
If, or when, FWP offers a hunt to remove deer for sampling, Birrer said he's not sure if he'll take part. The tags must be purchased, although several can be bought, instead of using unfilled tags from the general season. Some bucks, proportionate to the overall number of bucks in the herd, could be shot.
"One hunter could potentially harvest a number of deer," Beck said, to determine the disease's presence with a "high level of confidence."
All animals would have to be tested, and hunters would then have to make the choice of whether to consume the meat. Although no case of CWD transference to humans has been confirmed, the Centers for Disease Control and Prevention advises against consumption of meat that has tested positive.
"It doesn't make sense to hunt them if the hunters can't keep the meat," Birrer said, although he praised FWP for using a hunt as a way to figure out how far the disease has spread.
Yet Beck said FWP has already received calls from Montana hunters, as well as from out of state hunters, seeking information about a possible hunt.
With two deer already in the freezer from this season's hunting that his children shot, Birrer is less inclined to buy another tag. Looking ahead, he's also a bit hesitant about how CWD may affect his hunting in the future.
"I told my wife, 'Maybe we need to start hunting whitetails,'" he said, which are less likely to contract CWD.
Mobile disease
Ramsey said the disease likely moved north from infected animals in Wyoming, where CWD has been confirmed in deer, elk and moose. In that state, the infections are believed to have come from Colorado and slowly marched north.
"We've seen it showing up all around our borders," Ramsey said. "Those animals don't see our borders like we do."
That's likely the same way that brucellosis-infected elk came to south-central Montana, from animals migrating north from Wyoming along the Beartooth Front. That disease, which can be spread to cattle, is also being monitored by FWP and the Department of Livestock around the edges of Yellowstone National Park.
Upon hearing about the two deer testing positive, Beck said Crow tribal members have also been trained on how to take tissue samples from deer for testing, since the infected animals lived close to the reservation. The states of Washington and North Dakota have also taken action, implementing bans on the importation of certain deer body parts, like heads and spines, from animals that were shot in Montana. The concern is that the disease could spread in those states if infected Montana carcasses are dumped.
It's not understood how animals contract CWD. It could be from contact with an infected animal's feces, saliva or urine, but the infectious agent seems capable of living in the soil for an extended period. It's also not known when the animals shed the disease, but it seems to be more prevalent in animals that are crowded closer together, like on a winter range.
Unlike brucellosis, cattle appear to be resistant to CWD infections, but FWP is still encouraging landowners in the region to attend two meetings this week to discuss the outbreak. The meetings are scheduled on Wednesday, Nov. 29, at 5 p.m. at the Bridger Civic Center and at 7:30 p.m. at Mountain View Elementary School in Red Lodge.
"We really need landowners at the table with us for this to be successful," Beck said.