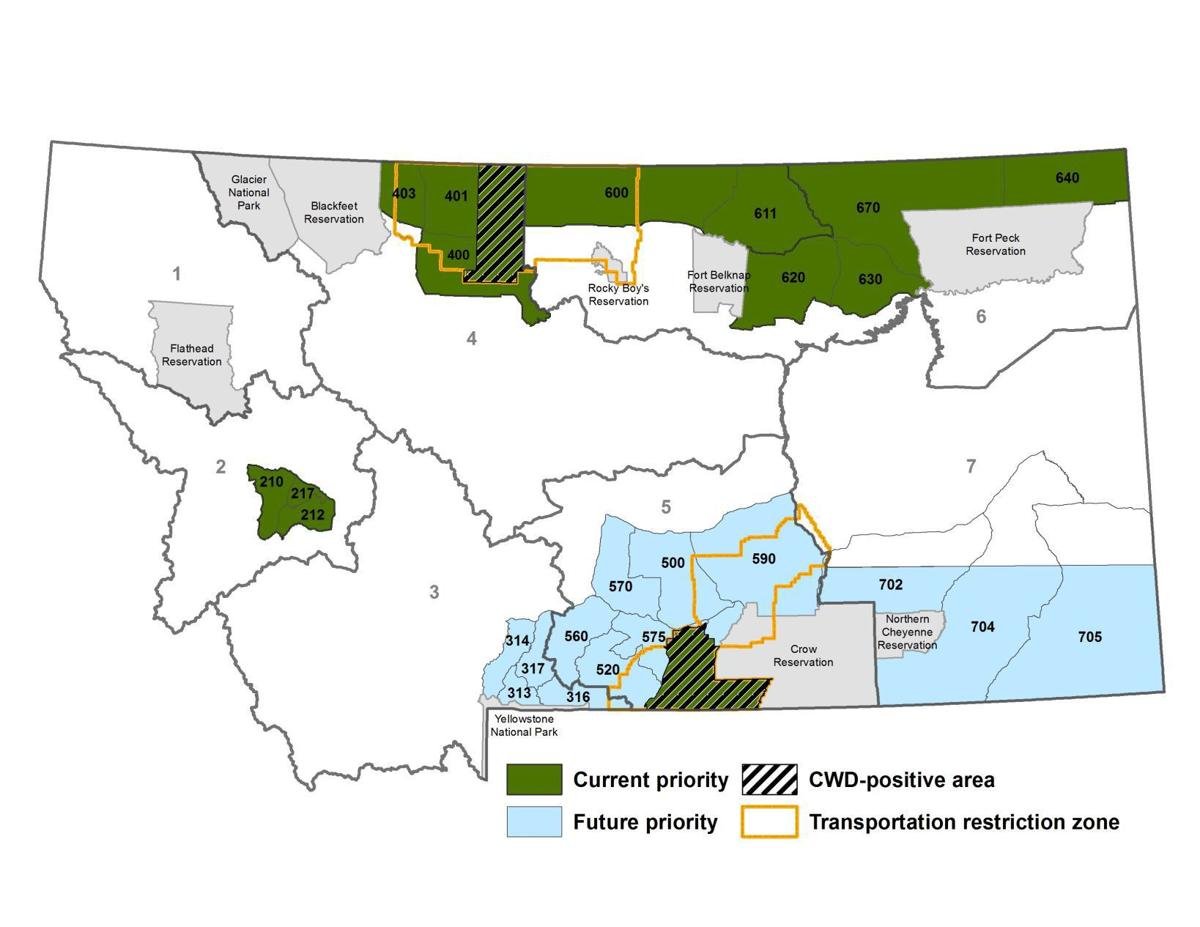 Lab tests have confirmed the presence of chronic wasting disease in a whitetail deer buck shot in Liberty County as well as a mule deer doe taken in Carbon County, according to Montana Fish, Wildlife & Parks biologists.
The Liberty County deer was killed in Hunting District 400, which stretches between Shelby and Fort Benton. It was outside a zone FWP set up this fall to monitor for the disease, which is fatal to deer and elk. Previous detections of deer with CWD prompted the department to test all deer shot in Liberty County Hunting Districts 400 and 401, as well as Hi-Line Region 6 Hunting Districts 600, 611, 620, 630, 640 and 670.
CWD appears to be spread by contact with brain or spinal tissue. To prevent further cases, FWP has prohibited hunters from transporting heads or backbones of game animals killed in Liberty, Hill and Toole counties outside that travel restriction zone.
Biologists are also watching for signs of CWD in Hunting Districts 210, 212 and 217 between Philipsburg and Drummond; and in Carbon County in southeast Montana. The suspect mule deer there was killed in Hunting District 575 northeast of Joliet.
"There currently is no convincing evidence that the agent of CWD affects humans," FWP spokeswoman Joleen Tadej said in an email. "However, public health officials recommend that human exposure to the CWD agent be avoided as they continue to evaluate any potential risk. Research indicates that it is unlikely that direct transmission of CWD from infected animals to humans occurs."
CWD appears related to mad cow disease and Creutzfeldt-Jakob Disease, which is fatal to humans. Tadej said hunters should not harvest animals that appear sick, nor should they eat meat from suspect animals. Biologists at game-check stations in the surveillance areas will take samples of deer and elk for disease testing.
Anyone who's killed a game animal outside the surveillance areas and is unsure whether it is safe to eat can contact the local FWP staff for guidance soon after the animal is harvested. If hunters would like to submit a sample for CWD testing that was harvested outside of the priority surveillance area, they may do so on their own. Instructions are available on the website at fwp.mt.gov/cwd, and there is a fee of $18 to Colorado State University for the test in addition to shipping costs.
The two Region 4 districts are unusual in that they traditionally have a three-week hunting season instead of the five weeks commonly allowed statewide. The early closure on Nov. 11 applies to HD 400, 401, 403 and 406. Elsewhere, big game season remains active until Nov. 25.
Be the first to know
Get local news delivered to your inbox!