Think of Stephan Morris as your well-to-do uncle who has some really nice outdoor gear that you covet — a sweet four-wheel drive vehicle, camping equipment and, if you like to float, a raft with a rowing frame, oars and cooler.
The difference is that your uncle, if you're on good terms, may loan you the gear. Morris, on the other hand, is willing to rent you his equipment through a newly minted Bozeman-based business called Hatch Adventures.
"People sometimes think it's pretty expensive to rent one of these vehicles, but when you look at the cost of a rental car, hotel or camping — or maybe no hotels or campsites are available — it all ends up being" a wise purchase, Morris said.
Fully stocked
The vehicles come with a full kit for those wanting to camp — including a table, chairs, cooler, cookstove and cooking gear (sleeping bags cost $10 a day extra) — all the renter has to pick up is food and water. Prices start at $200 to $225 a day and drop with multiple days. Rates also fall in the winter to $100 to $110 a day, when most folks aren't going to camp, and the vehicles are fitted with ski racks and winter tires. The raft, which comes on a trailer ready to launch, costs $100 to $165 a day. The frame is customizable for different-sized rowers and is fitted with a casting platform. Rates don't fluctuate day to day, whether you book the vehicles in advance or the day of your excursion.
"We had no raft growing up," Morris said, so the family was always renting them and blowing them up at the river. He appreciates having his company's three NRS boats blown up and ready to launch from the trailer, all set up for fly fishing.
Backroads
An all-around outdoorsy guy, the 27-year-old fabricated the idea for his business in a very Montana way — over beers at a Livingston brewery. His concept was to help tourists and local weekend warriors live the Montana backroad dream. It is, after all, why many of us live or visit here.
"They are finding us to get off the beaten path," Morris said of his customers that so far have hailed from as far away as Israel and Pennsylvania.
The added benefit of renting a Tacoma crew cab pickup or Jeep Wrangler from Hatch Adventures is that the vehicles include a pop-up tent built into the rigs' roofs — cartop camping with very little fuss. That enables travelers to pull over anywhere along their route and catch some Zs on a comfy 3-inch thick mattress.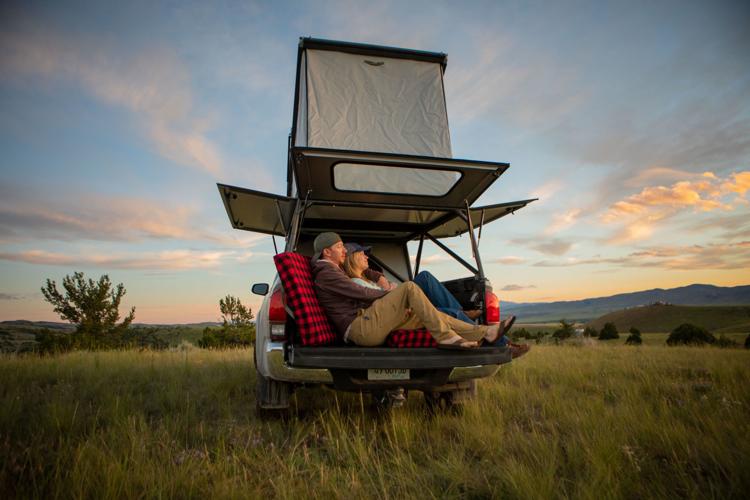 "Our goal is to augment or facilitate any adventure you can think of," Morris said.
Locals can take one of the rigs out just for a day, or overnight.
In the blood
Morris comes from a three-deep lineup of entrepreneurs. His father and grandfather created their own businesses and even worked together, first making custom takedown recurve bows, then western hats. Hatch Adventures is based out of John Morris III's Four Corners-area shop, Rocky Mountain Hat Co. That's enabled young Morris to learn some of the ins and outs of starting and running a business from his father.
"I'll definitely take the advice," Morris said.
It also gives Hatch a ready-built storefront for the company's rental operations not far from the nearby airport, Bozeman, the Madison River, Big Sky and the Custer Gallatin National Forest.
Accordingly, John Morris is a business partner with his son, as is Jake McGlothlin who provides the social media savvy to get the word out about the new business. All three still work their day jobs: Morris is an engineer and McGlothlin works for a marketing firm. And John Morris still makes custom hats at a place his son refers to as "about the most western place you can walk into."
Growing
Adding to the local flavor of the business, the tent on Hatch Adventure's Tacoma pickup is built in Belgrade by Go Fast Campers manufacturing company.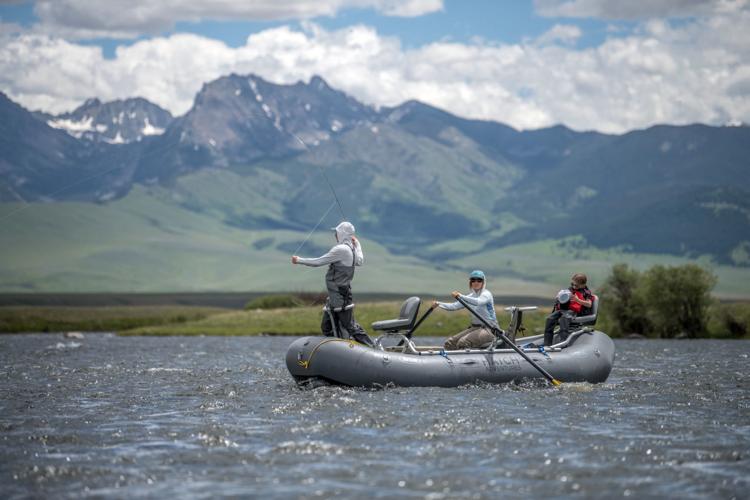 "We had a pretty good first summer," Morris said. "We're looking to expand next year to another two vehicles and a few boats. We may try to do boats in Livingston, as well, since it seemed like this year most folks were headed to the Yellowstone. More and more the Madison is too crowded."
As more folks want to take part in outdoor adventures but aren't willing to acquire and store all of the gear — or maybe can't afford to — such rental businesses may be more common, Morris speculated.
"I see that as the future," he said. "If you live in the city but don't have room to store all of the stuff, this is the way to do it."