Considering the steep, rocky terrain they occupy, bighorn sheep seem to be a delicate species.
Before Euro-Americans pushed westward a couple of centuries ago, it's estimated 2 million bighorn sheep occupied North America. Now that figure is down to about 80,000 after dipping to a low of about 15,000 in the early 1900s.
The key to bringing the species back was concerted transplant efforts by agencies like Montana Fish, Wildlife and Parks — capturing animals from healthy herds and moving them to establish herds in new locations across the state. The result: Montana now has about 6,000 animals spread across 48 herds. The bad news is that 70 percent of those herds have populations under 100 animals.
"A lot of our populations are small and isolated; that's not a good deal," said Bob Garrott, a professor of Ecology at Montana State University in Bozeman and a member of the Fish and Wildlife Management Program. "Why are they not expanding and doing better?"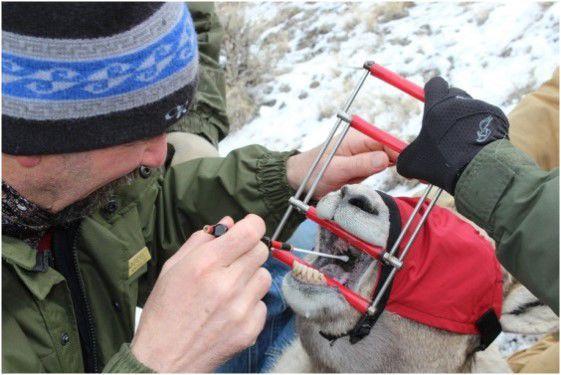 Research
Chief among them is that bighorn sheep are carriers of pathogens that, when conditions are right, can lead to significant herd die-offs from respiratory disease. The pathogens are believed to have been originally transmitted to bighorns by interactions between domestic sheep and goats. Bighorns had no immune defense against the pathogens, resulting in sharp population declines.
If the wild sheep have been exposed to the pathogens since the late 1800s, though, why have they still not developed a stronger immune response? Garrott said he thinks it's similar to the flu bug that humans fight on an annual basis. The flu bacteria is constantly changing, frustrating health officials as they try and develop vaccines to annually protect humans.
According to their sampling efforts, Garrott said about 80 percent of bighorn sheep are carriers of the pathogens, but unless the animals are stressed or suffer from poor nutrition, it's not a problem.
"The protocol right now is we can eliminate die-offs if we keep them separate from domestic sheep," Garrott said. "That's created a lot of political pressure to get domestic sheep off of public lands."
But he said the bighorns have the ability to die all on their own, without commingling.
"Perhaps we shouldn't be pointing an ugly finger at domestic producers," he said.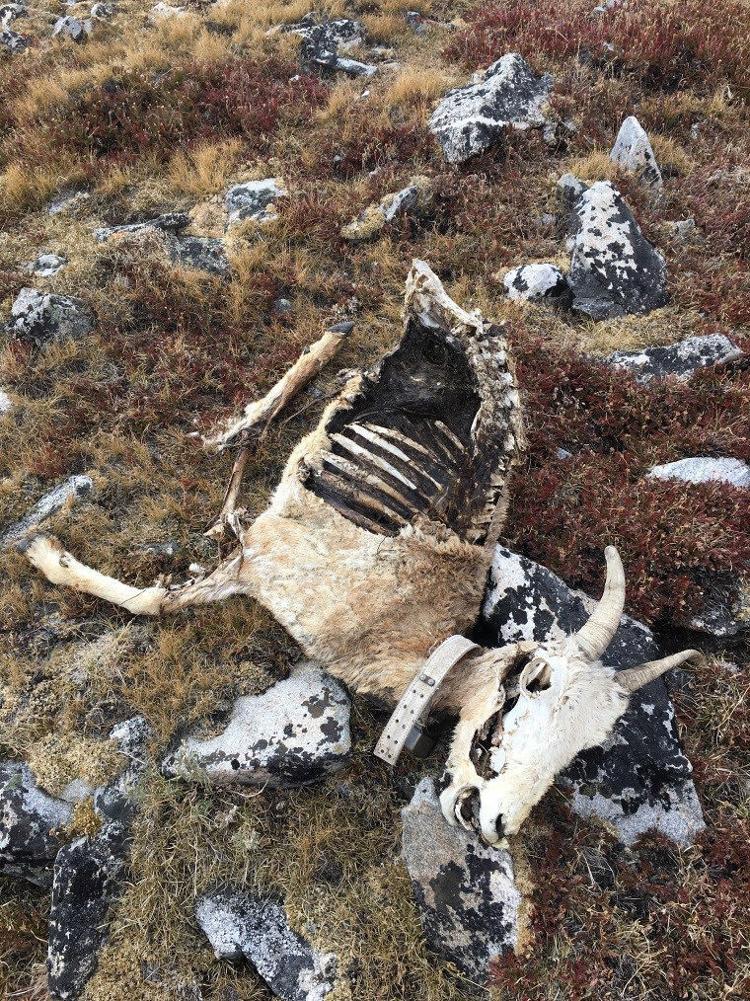 Don't blame ag
That's a message that the Montana Wild Sheep Foundation has taken to heart. The nonprofit conservation group's president, Shane Clouse, of Florence, said he agrees with Garrott's conclusion.
"I make my living through agriculture," Clouse said. "Agriculture is one reason we have a virtual cornucopia of wildlife in our state."
The bighorn chapter has been working with the Montana Wool Growers Association to moderate what had been an escalating disagreement between bighorn sheep backers and domestic sheep producers about where wild and domestic sheep should exist.
Yet Clouse also said there's great and continuing frustration within his organization that huge bighorn sheep die-offs continue to plague Montana herds. Brian Solan, executive director of the group, agreed.
"We've come a long way in recovering elk, mule deer and bears, but 6,000 bighorn sheep is not very many," he said.
You have free articles remaining.
More should be done by Montana Fish, Wildlife and Parks to help boost the state's bighorn sheep populations, Solan added.
"It's an iconic species that deserves more attention."
But FWP's game management bureau chief, John Vore, said research such as Garrott's has prompted the agency to ease up on transplanting bighorn sheep out of concern about spreading pathogens. That's one of the reasons FWP officials have advocated for moving excess bighorns to other states that are trying to establish sheep populations, a proposal that hasn't set well with Montana bighorn advocates.
"That's been a hard sell," Vore said.
Star herd
One herd outside of Montana that has done extremely well and may provide some clues about why most of Montana's herds are failing to thrive lives in the eastern Greater Yellowstone Area — a region stretching from the Beartooth Plateau across the eastern boundary of Yellowstone National Park. That Wyoming herd numbers around 4,000 animals.
"They have all of the pathogens that cause problems, yet they are doing really well," Garrott said.
That goes against most institutional knowledge that says bighorn herd numbers should be kept relatively low to avoid big die-offs that have dogged larger herds in Montana. The idea being that more animals gathered together creates a greater chance that one sick bighorn will infect many others. So why isn't that theory holding up in the Wyoming herd?
That may be because "the (GYA) animals display a tremendous amount of variability in how they use the landscape," Garrott said. Generally it's normal for other ungulate species like elk or deer to migrate from low-lying wintering grounds to the mountains in springtime and summer, yet this Wyoming bighorn herd has some animals that live at 9,000 feet year-round. Others live in low-lying areas all year. Some migrate 18 to 25 miles while others migrate to higher ground in the winter.
"They all have the same physiological constraints, but you don't see that in restored populations. Many are nonmigratory," Garrott said. "That might be why they are more susceptible to disease — they're all standing around together. One gets sick, and they all die."
He said it may take bighorns hundreds to thousands of generations to develop the collective knowledge necessary to learn how to use a landscape — a luxury not afforded to agencies like FWP or to groups that advocate for bighorn sheep.
"It's a long road for bighorns in Montana," Solan said.
Vore agreed. "It's one of the more difficult species for us to manage because of the disease."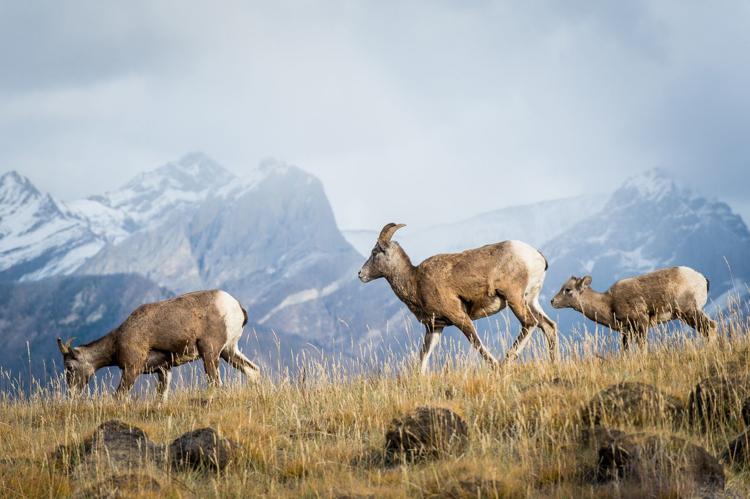 Remaining hopeful
Despite findings that may cast doubt on decades-worth of bighorn transplants, Garrott remains optimistic.
"I expect Montana's bighorn populations will continue to hold their own, but there will continue to be a lot of variability in demographic performance among the state's approximately 48 populations," he wrote in an email. "Our prairie populations are the rising stars, and I expect distribution and abundance will slowly increase. On the other hand, we have a lot of small isolated populations in the mountainous western portion of the state, and I would not expect much positive change as there are many factors that can work in tandem to keep small populations from growing."
Garrott went on to praise the investment by FWP, other agencies and conservation groups into research like that being conducted by his MSU group, which has led to "important ecological insights."
"This new knowledge is spawning ideas for new management policies and experiments that many management biologists are thinking about and discussing," he added. "I am optimistic that these professionals will combine the recent research insights with 'boots-on-the-ground' expertise to advance the conservation and restoration of bighorn sheep, and Montanans will enjoy more bighorn sheep in more places in the future."