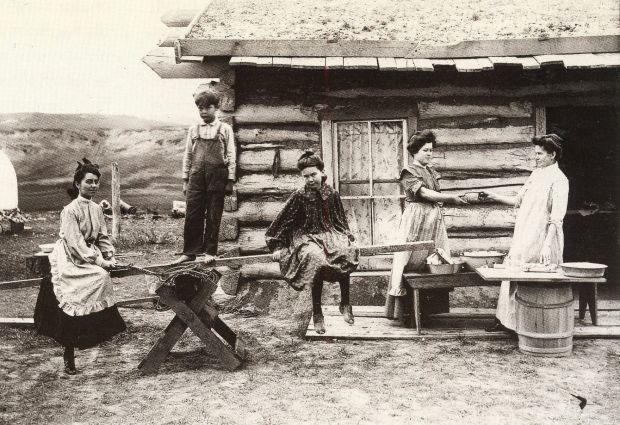 Frontier photographer Evelyn Cameron's images in the Montana Historical Society collections have long captured the life and times of Frontier Montana from a uniquely female perspective.
Now after five long years of teamwork and tedious effort the words that Cameron used to describe that frontier life in her diaries are available on the Montana Historical Society's website. MHS and State Archivist Jodie Foley says those words are powerful.
"The significance of the diaries is tremendous," Foley says. "They lay out for us the life of a homesteading woman and artist. They lay out for us a life that few of us can understand — one with extreme hardships, loneliness, and dependence on the land."
The detailed 35 individual diaries that she recorded daily extend from 1893 to 1928. "If you take the diaries with the photographs, you get this incredible in-depth view not only in the verbal sense of what she' s talking about but also in the faces of the people and places she writes about. It really brings it all home in a strikingly vivid and personal way," Foley said.
The diaries are filled with the mundane details of life as well as the extraordinary spirit of adventure Cameron had. For instance, in 1907 Cameron acquired two wolf cubs from a professional wolfer and raised them virtually as pets, much to the chagrin of her husband Ewing. When the wolves were nearly full grown and following Evelyn around like dogs, Ewing convinced her to send the wolves off to a zoo at Cooney Island in New York.
After the wolves were taken to the rail station in Terry, one of them escaped. When she learned of the escape, Evelyn undertook a search for the wolf, which she recounts with more description in her diary.
You have free articles remaining.
"We rode in the direction indicated (by rail workers) calling her by name and about 3 miles from town she came bounding out of a thick plum patch & nearly tore us to pieces with delight. Alas! She was led back & so ended her last run on her beloved prairie." Cameron writes in concluding her account.
"For historians the diaries reveal the physical culture — how homes were built, clothes were washed, meals were prepared, how weather dominated lives, and how communities were built," Foley said. Anyone with an interest in Montana history can enjoy reading the diaries.
The diaries have been in the MHS collection since 1990, but access was limited to those who came to the MHS. In addition, Cameron's writing is difficult to read and nearly illegible. She had a habit of going back and writing in red in between the lines so as not to waste space.
About five years ago Wynonna Breen, founding member of the Prairie County Museum in Terry near Cameron's original ranch organized a team of volunteers to transcribe Cameron's diaries. The project was completed just months before her passing in 2012. Breen was awarded a ServeMontana award in 2012 for her work.
Over the past two years MHS, college interns have scanned those transcriptions as well as the original diary entries and made them searchable on the MHS website. By following instructions you can call up original photos of diary entries and view them alongside the transcriptions. Over the next few months all of the diaries will be available.
If you want to learn more about Evelyn Cameron and her diaries go to www.mtmemory.org then scroll down to Evelyn Cameron diaries, The Montana Historical Society Museum Store has a great collection of Cameron books and images for sale as well.
"Once Upon a Time …" is a biweekly column provided by the Montana Historical Society.
Be the first to know
Get local news delivered to your inbox!