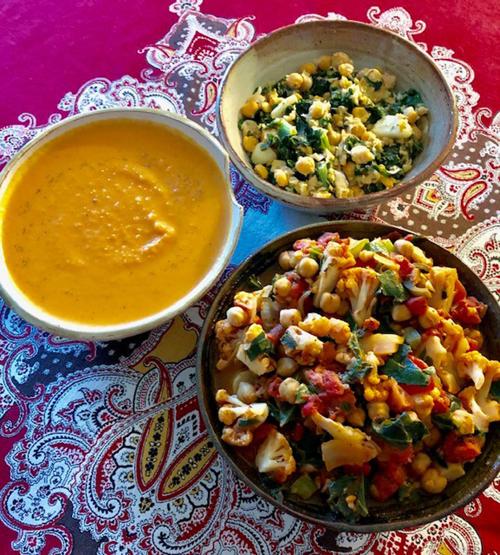 In these sheltered-in-place days of having to figure out how to make our groceries last nicely for two or three weeks at a time, the very food in our own pantries begs the question: What's for dinner?
My son and I had a discussion about how to make the produce in our respective kitchens last as long as possible, and here are some ideas that we came up with for those last few days when you think you don't have ingredients for anything tempting. Think again. If you've saved your heartiest produce for last, you've got some fabulous options.
Carrot Soup
3 cups chicken broth, or water with 3 bouillon cubes
Slice the carrots up and bring them to a boil in the chicken broth. Reduce heat to simmer and cook until the carrots are tender, about 10 minutes. Remove from heat and using either a blender or a food processor, puree the soup. Add the dill, and salt & pepper to taste. Let cool for about five minutes. Blend in the yogurt. It's important to let the soup rest and cool down slightly, about 10 minutes or so, before adding the yogurt so that it doesn't curdle when you add it. This soup is lovely in its simplicity and can be served hot or chilled.
You can certainly dress this soup up with any number of things: add an onion and/or some celery along with the carrots. Add some fresh herbs at the last moment. Get crazy and toss some croutons or toasted spiced pumpkin seeds on top.
By now you may very well be the master of cooking with dried beans, but dried or canned, this is a sure-fire winner for a satisfying vegetarian stew made from whatever beans you have on hand. I used chickpeas, but pinto, black beans, or navy beans all work nicely as well.
Bean & Cauliflower Stew
4 cloves garlic, peeled, sliced
1 Poblano or bell pepper, seeded and diced
1 28 oz. can diced tomatoes with juice
1 15 oz. can chickpeas, drained
1 head cauliflower, cut into bite-sized pieces
1 bunch spinach or other chopped greens such as collard or kale
1 bunch cilantro, chopped
In a heavy pot with a lid, sauté the onion, garlic, and peppers in the olive oil over medium heat until just tender, about 7 minutes. Add the cauliflower, the cumin, a pinch of salt, and sauté for a couple more minutes. Add a splash of water, stir, and cover the pot with a lid. Turn heat down to a high simmer and let cook for about 5 minutes. Add the diced tomatoes and their juice, cover and cook an additional 5 minutes. Add the spinach or other greens and sauté until they wilt. Stir in the lemon juice, cilantro, and add salt & pepper to taste. Put the lid on, remove from heat, and let rest for five minutes before serving.
This stew is a whole meal by itself, but is also nice served over rice or other grain (quinoa, barley, farro).
Smashed Garbanzo Beans
Only have five minutes to throw together something splendid and totally satisfying? Crisp up some sliced garlic in olive oil, add a can of drained chick peas that you've half-smashed with a fork or a potato masher, sauté in a bunch of fresh chopped kale or other greens, season with lemon juice, salt, pepper, and you've got a great meal. As always, the options for additions are endless: Stir in a can of anchovies when you add the garlic, toss in ½ cup of crumbled feta, and a tablespoon of capers and some hot pepper flakes. Also nice served on rice.
Since so many of you have asked, please know that Helena Food Share is definitely open to serve the needs of our community. We appreciate the very generous support from everyone who has pitched in to make sure that our doors stay open to put food on every table that needs it.
If you are in need of food and would like more information, or if you would like to make a donation, contact Helena Food Share at: 406-443-3663, or visit our website at www.helenafoodshare.org.
Stay healthy, and hope to see you on the other side!
Sally Beck is the resident chef at Helena Food Share. 
Sally Beck works at Helena Food Share where she regularly demonstrates new recipes on the Charlie Cart mobile kitchen. She is a food enthusiast, professional baker and has owned her own restaurant.