Which candies pack the most sugar?
While it's unlikely that candy will ever be classified as healthy fare, some confections have a lot more sugar jam-packed into their bright-colored packaging than others. Here are the top 30.
Candies that pile on the sugar
All candies are not created equal. If you're chasing a sugar high — or trying to avoid one — you need to know which package to reach for on the shelf, and the answer isn't always as obvious as you might think.
That's why the data experts at the health data site HealthGrove compiled a list of candies with the most sugar per serving. The research team gathered nutrition information from manufacturers' websites; therefore, some serving sizes are reported in units, grams or ounces. When available, single-serving packages were considered.
The candies are ordered from least to most sugar, with the sweetest offender taking the No. 1 spot. Ties in sugar content were broken first by the number of calories per serving, and subsequent ties were broken based on fat content. Only candies currently available for purchase made the list.
Note: Not all images depict the exact serving sizes. Serving sizes vary.
#30. Woodstock Dark Chocolate Covered Ginger Candy

Serving size: 1/3 cup (40g)
Sugar (g): 23
Total calories: 180
Fat (g): 9
#29. Whoppers
Serving size: 18 pieces
Sugar (g): 24
Total calories: 190
Fat (g): 7
#28. Junior Mints
Serving size: 12 pieces (30g)
Sugar (g): 25
Total calories: 130
Fat (g): 2.5
#27. M&M's Peanut Candy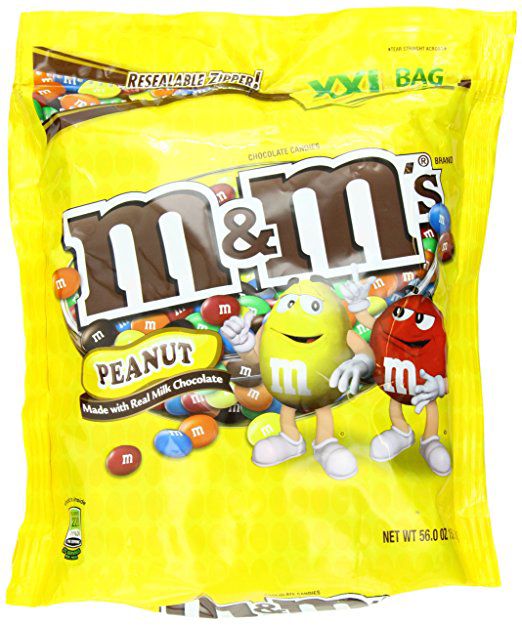 Serving size: 1 unit (49.3g)
Sugar (g): 25
Total calories: 250
Fat (g): 13
#26. Jolly Rancher Jelly Beans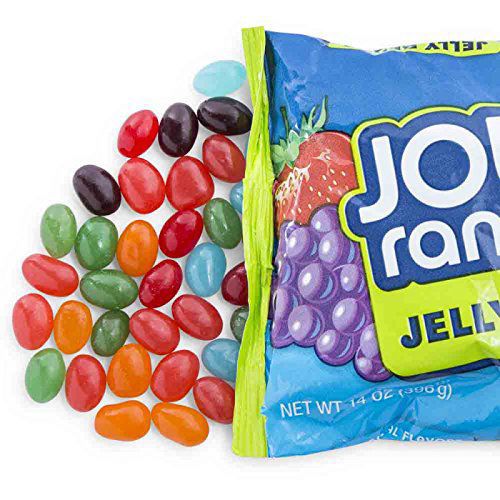 Serving size: 30 pieces
Sugar (g): 26
Total calories: 140
Fat (g): 0
#25. York Peppermint Pattie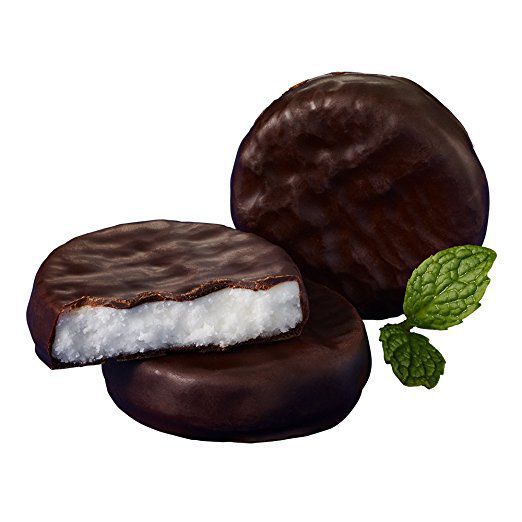 Serving size: 1 package (39g)
Sugar (g): 26
Total calories: 150
Fat (g): 2.5
#24. Cadbury Milk Chocolate Mini Eggs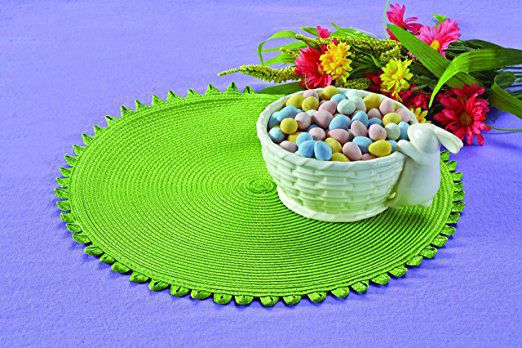 Serving size: 12 pieces (40g)
Sugar (g): 26
Total calories: 190
Fat (g): 8
#23. Jolly Rancher Fruit Chews Candy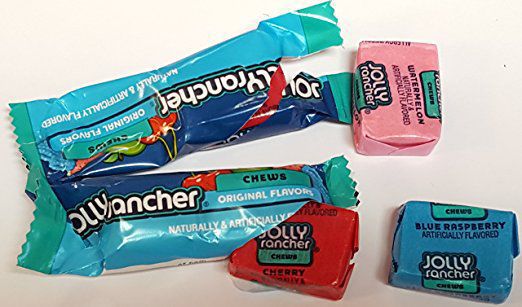 Serving size: 9 pieces
Sugar (g): 27
Total calories: 160
Fat (g): 2
#22. Snickers Almond Candy Bar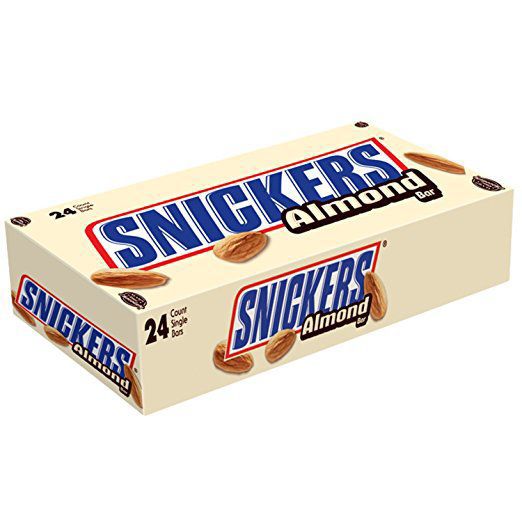 Serving size: 1 unit (49.9g)
Sugar (g): 27
Total calories: 230
Fat (g): 10
#21. Reese's Fast Break King Size Bar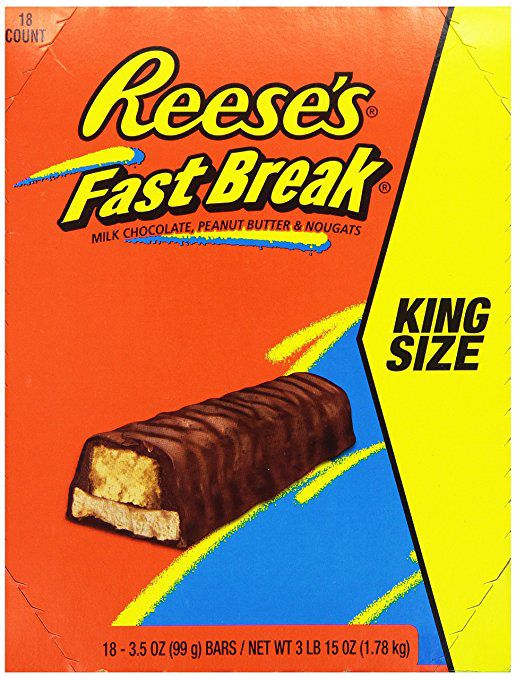 Serving size: 1/2 bar
Sugar (g): 27
Total calories: 230
Fat (g): 11
#20. M&M's Dark Chocolate Candy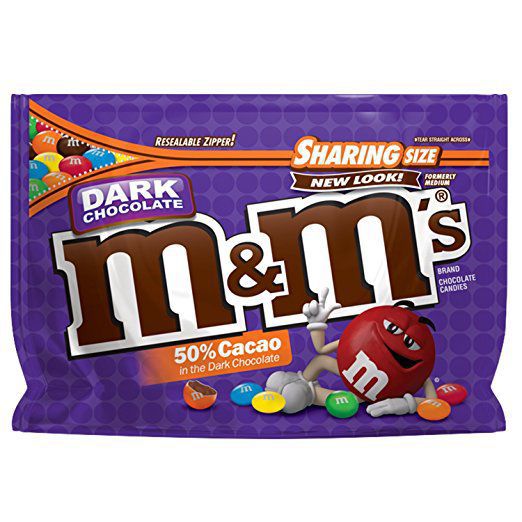 Serving size: 1 unit (47.9g)
Sugar (g): 27
Total calories: 240
Fat (g): 11
#19. Newman's Own Organics Milk Chocolate Bar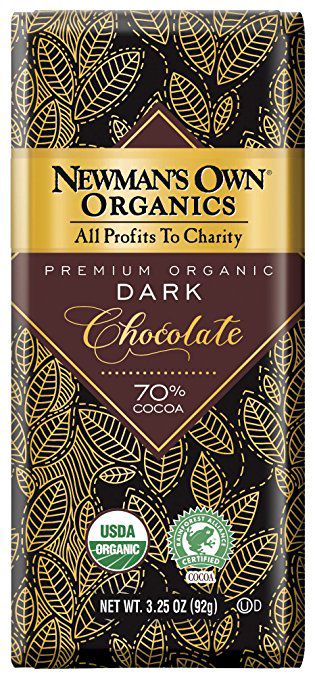 Serving size: 4 squares (46g)
Sugar (g): 27
Total calories: 250
Fat (g): 15
#18. Starburst Jellybeans

Serving size: 1/4 cup (1.5 ounces/42g)
Sugar (g): 29
Total calories: 150
Fat (g): 0
#17. Sugar Daddy Caramel Candy

Serving size: 48g
Sugar (g): 29
Total calories: 200
Fat (g): 2.5
#16. Hershey's 5th Avenue Candy Bar

Serving size: 1 bar
Sugar (g): 29
Total calories: 260
Fat (g): 12
#15. Trader Joe's Dark Chocolate Almond Toffee
Serving size: 1 bag (57g)
Sugar (g): 29
Total calories: 310
Fat (g): 19
#14. Trader Joe's Gourmet Jelly Beans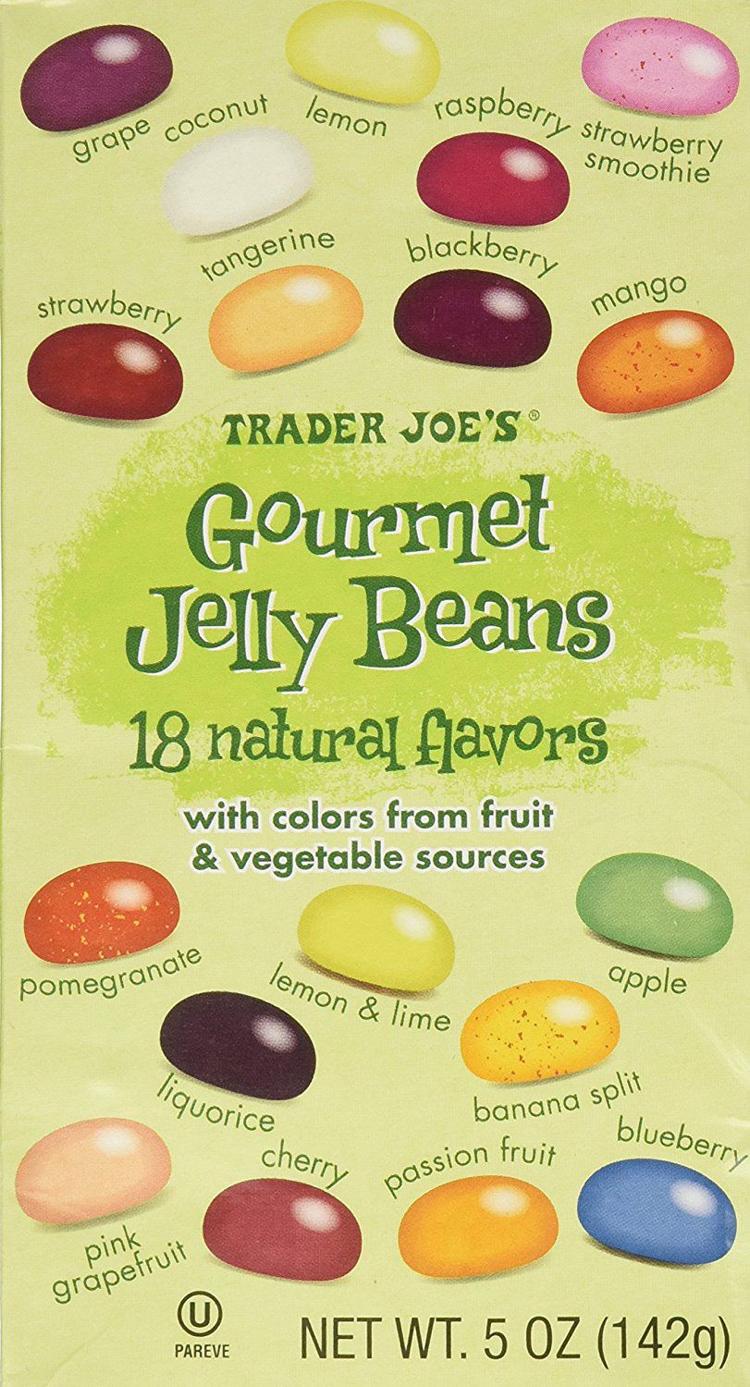 Serving size: 37 pieces
Sugar (g): 30
Total calories: 150
Fat (g): 0
#13. Trader Joe's Peppermint Cremes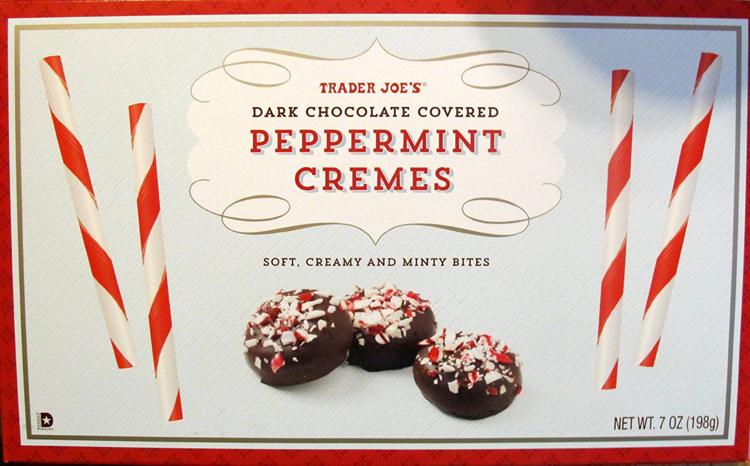 Serving size: 3 pieces (40g/1.4 ounces)
Sugar (g): 30
Total calories: 170
Fat (g): 5
#12. Rolo Chewy Caramels in Milk Chocolate Roll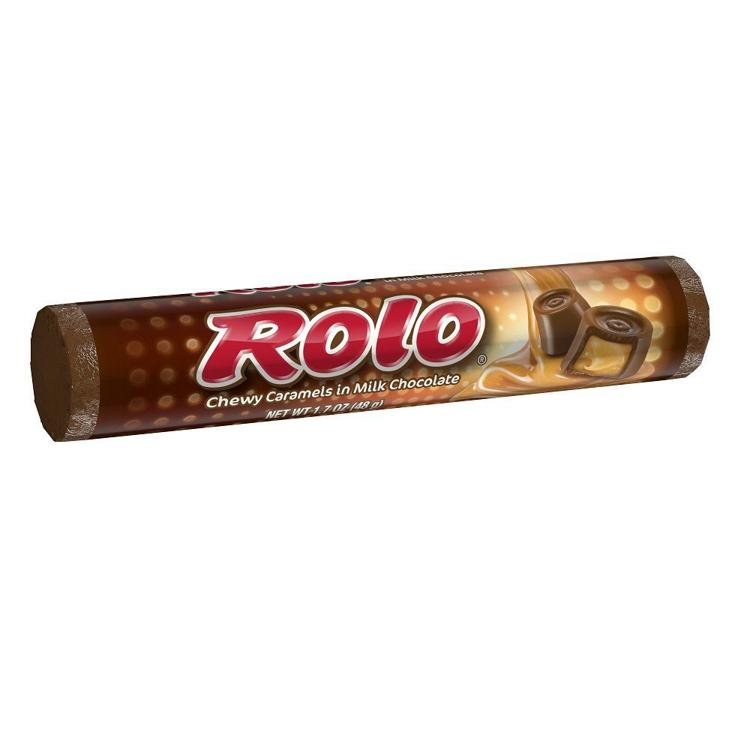 Serving size: 1 package
Sugar (g): 30
Total calories: 220
Fat (g): 10
#11. M&M's Milk Chocolate Candy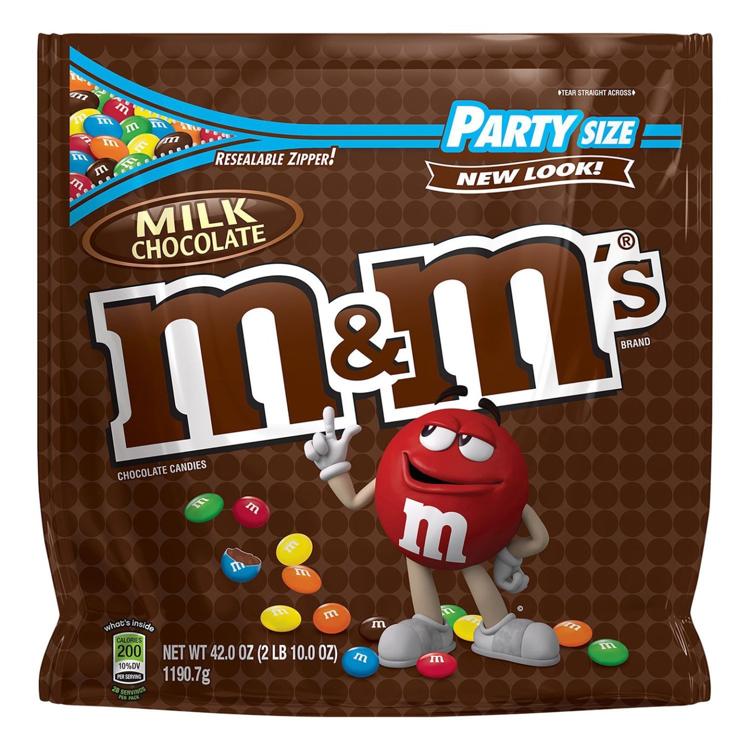 Serving size: 1 unit (47.9g)
Sugar (g): 30
Total calories: 240
Fat (g): 10
#10. Charleston Chew Strawberry Nougat Candy Bar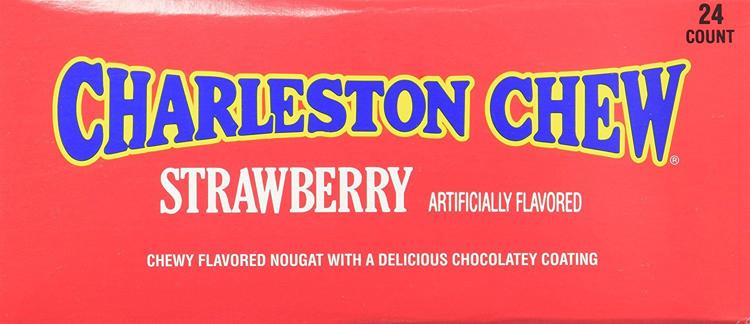 Serving size: 1 bar (53g)
Sugar (g): 31
Total calories: 230
Fat (g): 6
#9. Zero Candy Bar

Serving size: 1 bar
Sugar (g): 31
Total calories: 230
Fat (g): 8
#8. Milky Way Original 2 To Go Candy Bar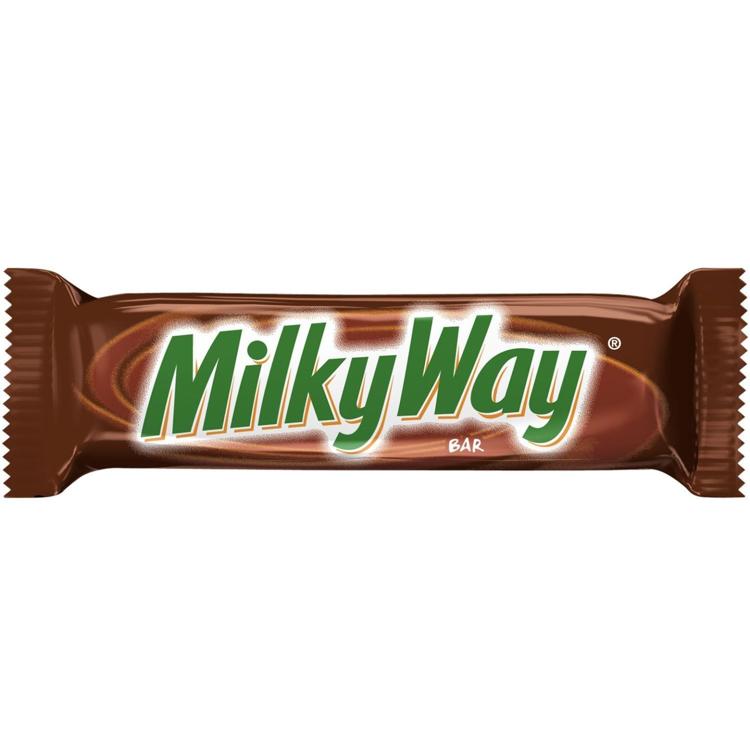 Serving size: 1 bar (51g)
Sugar (g): 31
Total calories: 230
Fat (g): 9
#7. Starburst Sweets & Sours Candy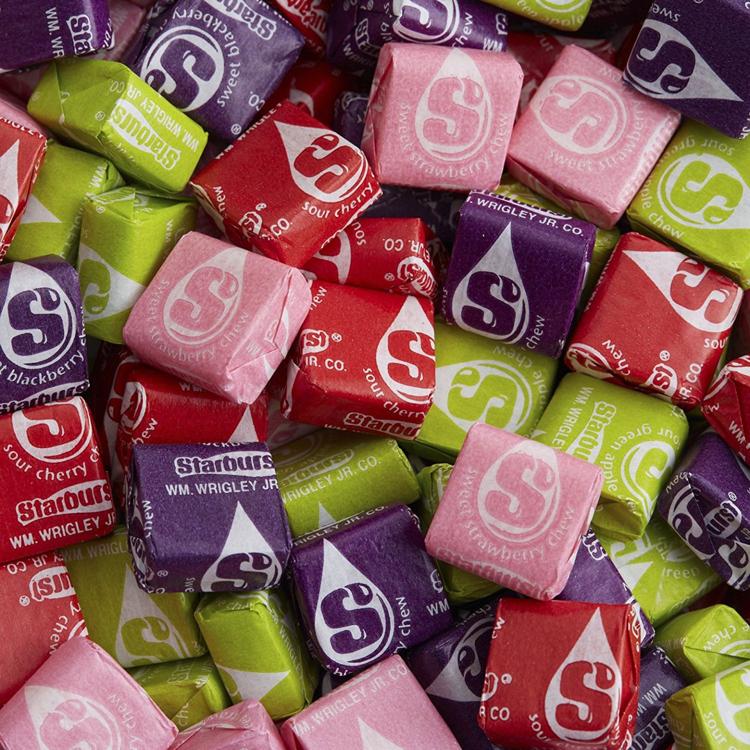 Serving size: 1 package (58.7g)
Sugar (g): 32
Total calories: 240
Fat (g): 4.5
#6. Baby Ruth Candy Bar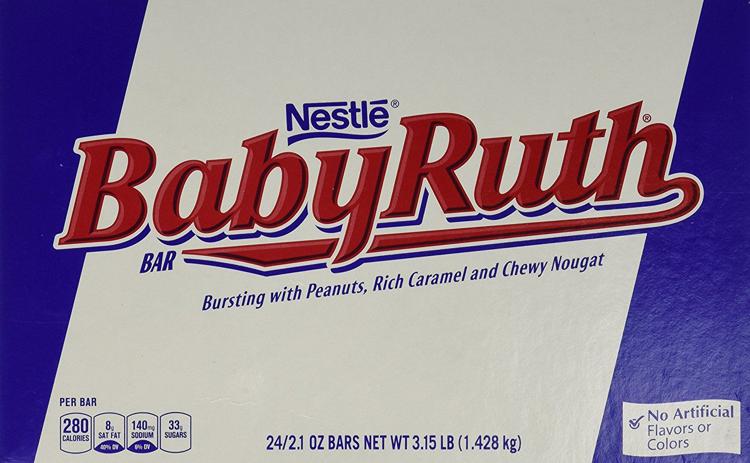 Serving size: 1 bar (60g/2.1 ounces)
Sugar (g): 32
Total calories: 275
Fat (g): 13
#5. Woodstock Yogurt Covered Raisins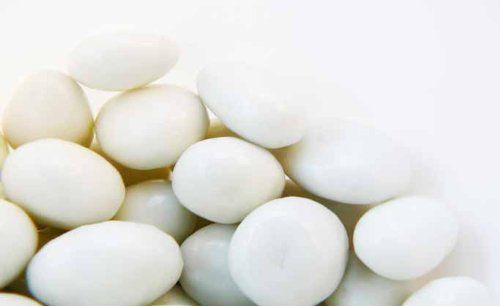 Serving size: 1/4 cup (49g)
Sugar (g): 33
Total calories: 220
Fat (g): 9
#4. Spangler Candy Corn Circus Peanuts
Serving size: 6 pieces (38g)
Sugar (g): 35
Total calories: 150
Fat (g): 0
#3. Sour Skittles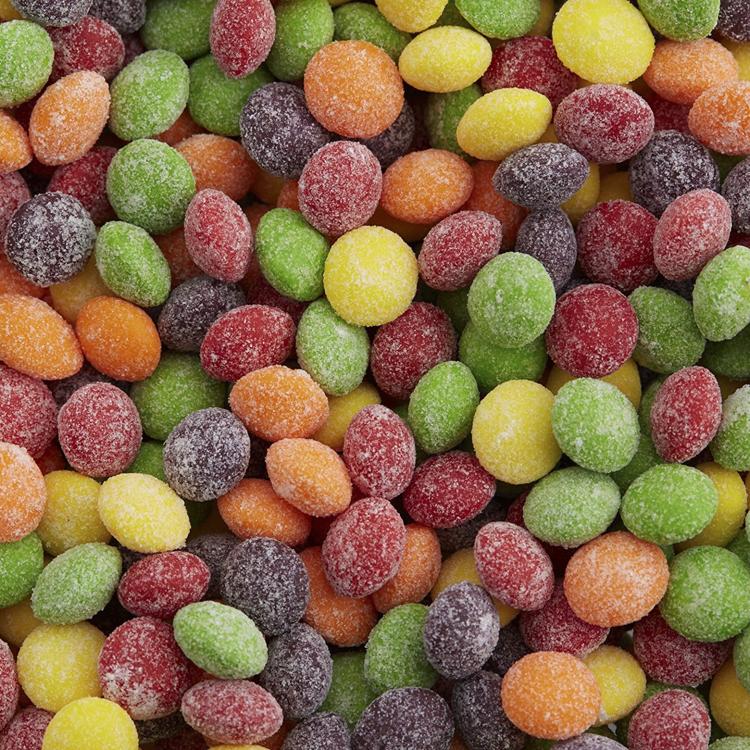 Serving size: 1 package (51g)
Sugar (g): 37
Total calories: 200
Fat (g): 2
#2. Original Skittles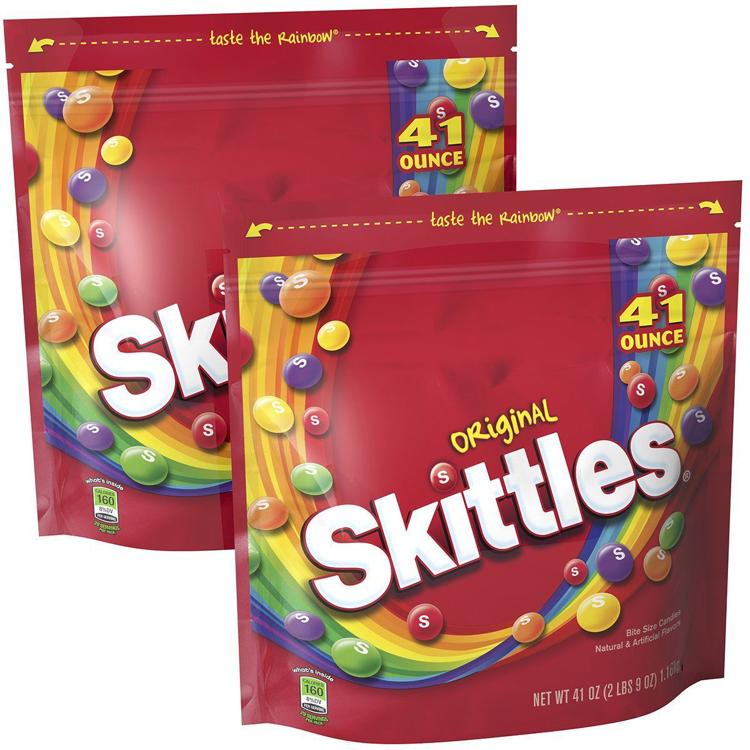 Serving size: 56.7g
Sugar (g): 42
Total calories: 230
Fat (g): 2.5
#1. Charms Fluffy Stuff Cotton Candy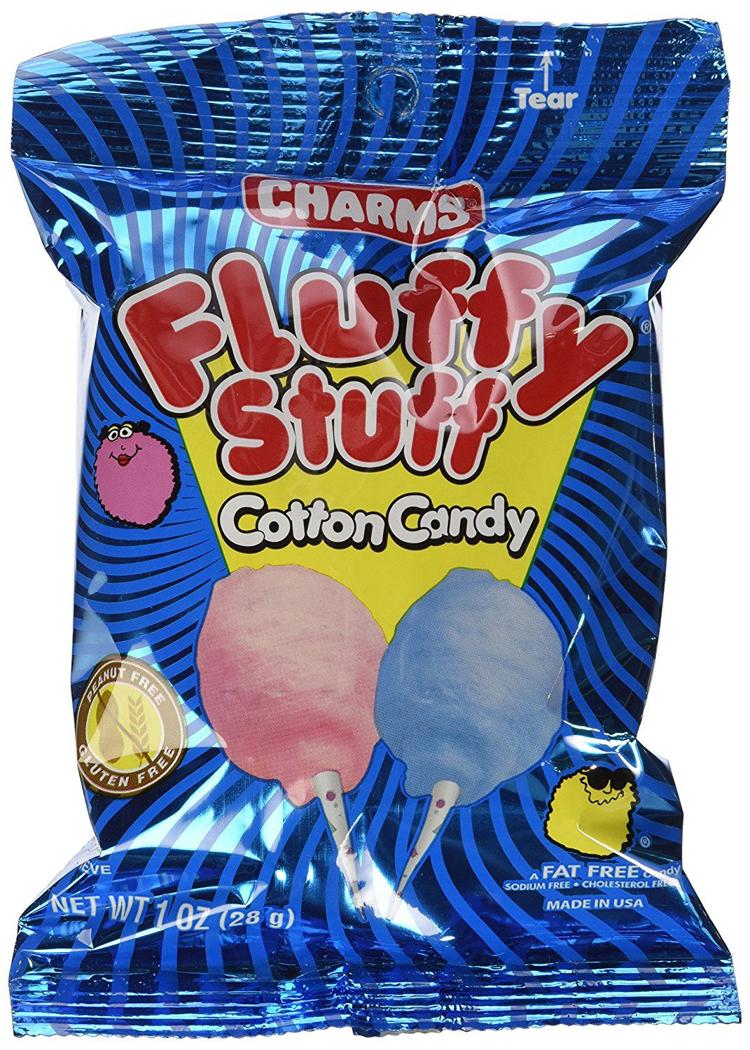 Serving size: 71g
Sugar (g): 71
Total calories: 270
Fat (g): 0