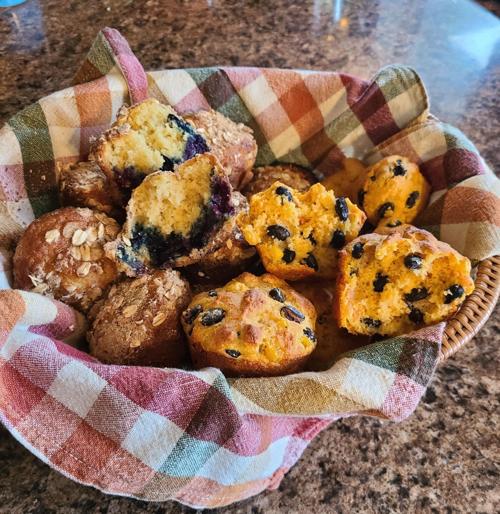 Muffins are considered to be a uniquely American food, made possible with the discovery of chemical leavening agents (baking powder and baking soda) and the development of the modern oven.
They were mostly made from whole wheat and bran, making these small breads a healthy food choice. A lot has changed since then and many of the muffins available now have high quantities of sugar and fat and can be enormous in size, hardly a health food.
However, you can make delicious muffins that can be healthy choices. Muffins are so easy to make, you just have to remember not to over mix the batter. Easy does it.
First mix the dry ingredients together. Then in a separate bowl blend the liquids — egg, milk, melted butter or oil. Make a well in the center of the dry ingredients and pour in the liquids. Gently combine the two mixtures together, stirring just enough to moisten the dry ingredients. Do not over mix!
The batter will be slightly lumpy. You can tell if you have mixed the batter correctly by looking at the tops of the finished muffins. The shape should be gently rounded and the crust should have a slightly pebbled look (the muffins should not have a peak on the top). The inside of the muffin should not have tunnels when you split it open. Muffins lend themselves well to the addition of different kinds of fruit, vegetables, or nuts, so enjoy baking and eating a variety of them, and serving them for many different occasions.
Bite into these streusel-topped muffins and you will enjoy a bite of delicious blueberries. The muffins are still moist and tender a couple of days after baking. They are great warm or at room temperature. I use 1/2 cup whole wheat pastry flour and 1 cup all-purpose flour when baking them, and you could use half whole wheat pastry flour if you desire. Whole wheat pastry flour is meant to be used when baking quick breads, pastry, cakes or cookies.
Glazed Streusel-Topped Muffins
1 1/2 cups all-purpose flour
1 1/2 teaspoons baking powder
1/2 teaspoon vanilla extract
1/3 cup all-purpose flour
1/3 cup light brown sugar
1/2 cup old-fashioned oats
3 tablespoons unsalted butter, melted
1/8 teaspoon ground cinnamon
Preheat oven to 425 degrees. Spray a 12-cup muffin pan with cooking spray. For batter: In a large bowl, whisk together flour, sugar, baking powder, baking soda and salt. In a medium bowl, whisk together buttermilk, oil, egg, orange zest and vanilla until smooth. Stir buttermilk mixture into flour mixture just until combined. Stir in blueberries. Spoon batter into prepared cups. For topping: In a small bowl, stir together all ingredients until crumbly. Sprinkle onto batter. Bake until golden brown and a wooden pick inserted into center comes out clean, 18 to 20 minutes. Let cool in pans for 10 minutes. Remove from pans, and let cool on wire rack. If you wish a glaze may be drizzled over the top of the muffins. To make glaze: In a small bowl, whisk together 1 cup confectioner's sugar and 1 tablespoon orange juice. Source: "Cooking with Paula Deen, the Ultimate Springtime Recipes", Mar/April, 2021.
Black Beans and Salsa Corn Muffins
Corn muffins can go in a sweet or savory direction. This unusual treatment goes both ways. One nice way to serve these muffins is to cut them in half and toast them. They can also be served cut in half, topped with grated cheese and heated to melt the cheese. Try serving them with chili, soup or scrambled eggs.
1 cup unbleached all-purpose flour
1 1/2 teaspoons baking powder
1/2 cup sour cream (can use low-fat)
1/2 cup tomato salsa (your favorite)
1 1/4 cup cooked black beans, thoroughly drained and rinsed
*If desired add 1/2 cup canned corn, drained, or frozen corn, thawed and reduce beans to 1 cup.
Preheat oven to 400 degrees. Lightly spray 8 to 10 standard muffin cups (2 1/2-inch diameter) with cooking spray. Combine the flour, cornmeal, salt, baking powder, baking soda and sugar in a medium-sized bowl. Measure the sour cream, then the salsa, milk and olive oil into a 2-cup liquid measuring cup. Add the egg, and beat gently with a fork or small whisk until smooth. Slowly pour this mixture into the dry ingredients, along with the beans and corn, if using. Using a spoon or rubber spatula, stir from the bottom of the bowl until the dry ingredients are all moistened. Don't over mix; a few lumps are okay. Spoon the batter into the prepared muffin cups. For smaller muffins, fill the cups about four-fifths full. For larger muffins, fill them to the top. You may have extra batter for additional cups. Bake in the middle of the oven for about 30 minutes, or until a toothpick inserted into the center comes out clean. (Be sure they're really baked through since these muffins do not taste as good if underdone.) Remove the pan from the oven and remove the muffins to a rack to cool. Wait at least 30 minutes before serving. Source: "Mollie Katzen's Sunlight Café", by Mollie Katzen.
Honey Bran Muffins 
Bran muffins are a popular breakfast bread and they are also a healthy choice. These honey-flavored ones contain raisins as well. The recipe becomes more versatile with the additional variations. Take your choice and change it up to make oatmeal spice ones, which taste like a big oatmeal cookie, or try the banana version instead. All versions are lower in sugar and fat than many purchased muffins. Source for all versions: "Breads, from the Easy & Elegant Meal Series", California Culinary Academy.
1/4 cup butter or margarine, softened
2 1/2 teaspoons baking powder
Preheat oven to 400 degrees. Lightly coat 12 (2½-inch) muffin cups with baking spray. In a medium bowl, combine cereal, milk, and honey; let stand until most of the liquid is absorbed (about 10 minutes). Beat in egg and butter, then mix in raisins. In a large bowl, combine flour, baking powder, and salt. Add cereal mixture, mixing just until dry ingredients are moistened. Fill muffin cups about two-thirds full. Bake until well browned and toothpick inserted in center comes out clean, about 20 to 25 minutes. Serve warm.
Oatmeal-Spice Muffins: Substitute 1 cup rolled oats for the bran cereal. Increase milk to ¾ cup; omit honey. To flour mixture add 1/3 cup light brown sugar. ¾ teaspoon ground cinnamon, ¼ teaspoon ground allspice, and ¼ cup finely chopped walnuts. Prepare and bake as for Honey Bran Muffins.
Banana Bran Muffins: Omit honey and raisins. Combine bran cereal with ½ cup milk and 1 soft ripe medium banana (mashed to a puree). To flour mixture add 1/3 cup granulated sugar and 1/3 cup finely chopped walnuts. Prepare as for Honey Bran Muffins. Bake for 25 to 30 minutes.
Bernie Mason writes the Local Flavor column for Lee Montana Newspapers. She was a Yellowstone County extension agent for 24 years. Mason grew up in Sidney in a family of German and Danish ancestry.