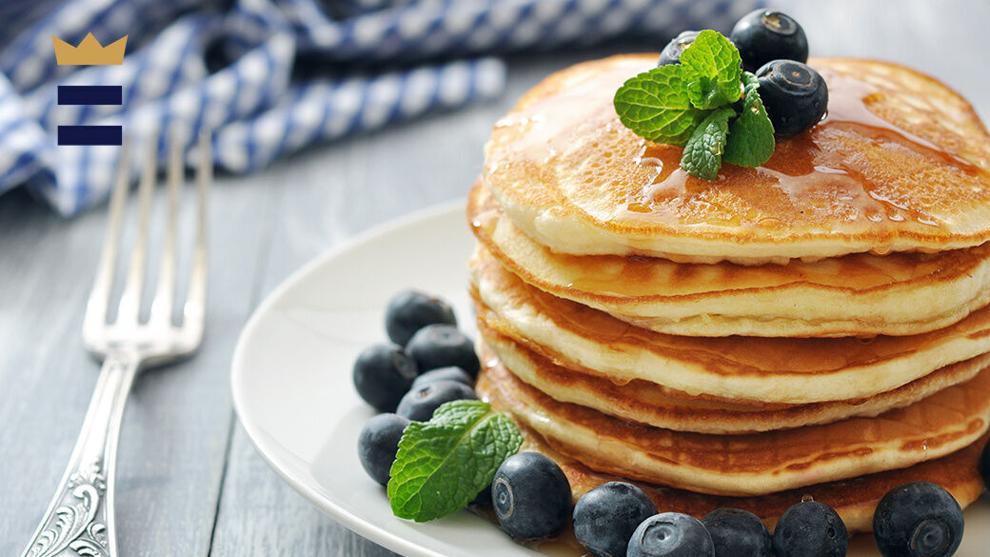 Best way to make pancakes
Pancakes, a staple breakfast food in cultures around the world are all a little different, depending on where they're from — from French crepes to potato latkes to American-style flapjacks. And the best pancakes are those that come fresh off the griddle. While it might be tempting to go for a box mix, making homemade pancakes from scratch is easier than you might expect, even in a pinch.
Keep reading for a basic buttermilk pancake recipe and a few tips and tricks for perfectly light and fluffy pancakes every time — plus some seasonal additions and variations.
What are pancakes made from?
A basic pancake or flapjack recipe includes just a few simple pantry ingredients you probably have lying around — flour, baking powder and salt — plus eggs and buttermilk or milk. And there are all sorts of variations and substitutions available to adjust the recipe to fit what you might already have. If you don't have buttermilk, for example, you can easily substitute whole or nut milk — or make homemade buttermilk by adding 1 tablespoon of white vinegar to enough milk to measure one cup.
Basic buttermilk pancake recipe
There are a huge number of recipes for American-style pancakes out there, each of which will produce a delicious batch. This recipe is one of the simplest recipes you can make because all of the ingredients are combined in a single bowl and the simple flavor profile and technique make it prime for flavorful varieties.
1 cup flour
1 cup buttermilk or milk
1 egg, whisked
1 tsp. baking powder
1/2 tsp. baking soda
Pinch of salt
Butter (for cooking the pancakes)
 
Combine the flour, baking powder, baking soda, salt in a medium-sized bowl, whisking well to remove any clumps.
Add the milk and egg to the dry ingredients and gently whisk to combine, careful not to overmix.
Let the batter rest for at least 10 minutes but no longer than 45 minutes.
Preheat your pan, skillet or griddle so the pan is hot but not smoking. When hot, add a tablespoon or so of butter and let it melt.
Using a ¼ cup or ladle, scoop the pancake mix onto the hot pan.
Let sear until bubbles begin to form on the surface (1-3 minutes depending on the heat of your pan).
Flip the pancakes using a heat-resistant spatula or fish spatula and continue cooking for 1-3 minutes on the other side until they appear fluffy and golden brown.
Pancake-making tips
Whisk dry ingredients well
Whisking the dry ingredients before adding the wet ingredients will help limit future lumps. You can also use a flour sifter or fine mesh sieve to more finely sift the ingredients, which makes for a smoother batter. It's best to get any lumps out before adding the wet ingredients to avoid overmixing.
Avoid overmixing the batter
For light and fluffy pancakes, you want to avoid overmixing the batter, which can lead to a stiff and chewy texture. In general, it's better to have a few lumps than to spend too much time mixing.
Let the batter sit before cooking
For best results, let the batter sit for at least 10 minutes and up to 45 minutes before cooking, which gives the baking powder time to activate and helps the gluten in the flour to relax. You can just leave the batter in a bowl covered with plastic wrap or a kitchen towel on the counter.
Let the pancakes bubble before flipping
You'll know your pancakes are ready to flip when small bubbles on the surface form and begin to pop. Use a spatula to lift underneath the cake and gently flip it over to cook on the other side.
Wipe the pan between each batch
Each time you make a pancake, wipe the pan to clean off any burnt butter and residue. Then add some fresh butter or oil for each batch. This makes for cleaner-tasting pancakes that won't burn as easily.
Adjust the heat as needed
Pay close attention to the pancakes as they're cooking to see if they are browning too quickly and adjust the heat accordingly. Then cool the pan for 30 seconds or so before adding your next batch.
Take the maple syrup out of the refrigerator so it will be room temperature before serving or heat the maple syrup in the microwave and serve it warm in a carafe.
What pan should I use for cooking pancakes?
Choose a heavy-bottomed pan like a cast-iron skillet, which cooks pancakes evenly and keeps them from burning, and also has a pre-seasoned natural coating that keeps them from sticking. We particularly love using a cast-iron griddle (like this one from Lodge) which fits over two burners on the stove and has low sides that makes pancakes easier to flip. You might also consider a plug-in electric griddle, which heats more quickly and evenly than a stovetop griddle.
What should I add to pancakes?
Here are some of our favorite additions and variations:
Lemon-ricotta pancakes: Fold in about ¼ cup fresh ricotta cheese and the zest of one lemon (we suggest using a zester-grater combo) for each batch. You can also try using orange zest in lieu of lemon.
Seasonal berry pancakes: Add about ½ cup seasonal berries, fresh or frozen, to your pancake mix. You can also add berries while the pancakes are cooking. Ladle the plain batter into the pan, then dot a few fresh berries into the cakes and cook.
Chocolate chip pancakes: Add ¼ cup chocolate chips to your pancake mix. Chocolate chip pancakes are especially delicious with chocolate sauce and whipped cream.
Granola pancakes: Add 1 cup of fruit and nut granola or muesli to your pancake mix for a heartier pancake with added protein and fiber.
How to keep, store and reheat pancakes
If you're making a big batch of pancakes, place them in the oven at 250 degrees to keep them warm while cooking the rest of your batch. You can also keep cooked pancakes in a resealable bag in the freezer and then easily reheat them by placing them in your toaster or laid flat on a cookie sheet in a convection oven set to 400 degrees.
Can you make gluten-free pancakes?
You can easily make gluten-free pancakes by substituting a gluten-free flour blend (we love this blend from Cup 4 Cup) for the wheat flour. Prepare the pancake recipe as you normally would, substituting equal parts gluten-free flour for wheat flour. The texture will be a bit flakier and less fluffy but will still be delicious.
Katy Severson is a writer for BestReviews. BestReviews is a product review company with a singular mission: to help simplify your purchasing decisions and save you time and money.
BestReviews spends thousands of hours researching, analyzing and testing products to recommend the best picks for most consumers. BestReviews and its newspaper partners may earn a commission if you purchase a product through one of our links.
Distributed by Tribune Content Agency, LLC.