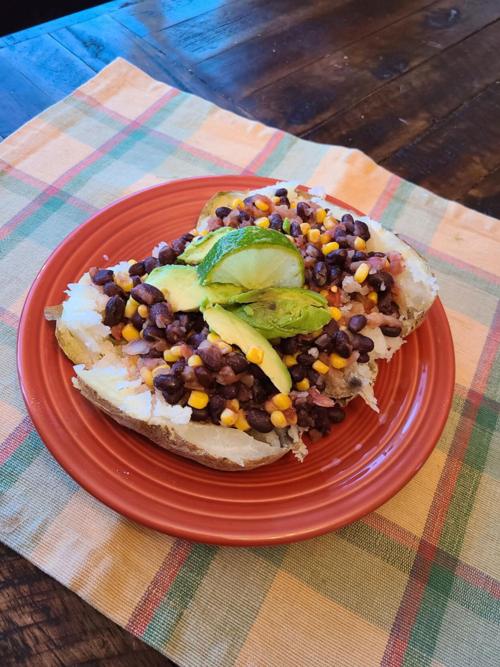 The inexpensive and humble potato frequently gets a bad rap for not being very healthy, but that is not the case. It is usually the things we add to our potatoes that adds the fat calories, such as butter, gravy, sour cream, etc. Two-thirds cup of boiled potatoes, cooked with the skins on and no salt, provides just 87 calories and 0.1 grams of fat. It also provides 1.8 grams of fiber, 20 grams of carbohydrates, and is a good source of potassium, vitamin C, folate, and vitamin B6. Leaving the skins on during cooking will increase the nutritional value of the potato, since many of the micronutrients are close to the skin. The dried skins alone are about 50% fiber. The most popular ways to enjoy potatoes are boiled, baked and fried, but there are so many creative ways they can be prepared. Try these recipes to enjoy this versatile vegetable.
Who needs tortillas for a burrito when you can use potatoes? These super easy flavorful baked potatoes are built to satisfy, and are gluten free and vegetarian as well.
Burrito Baked Potatoes
2 large russet potatoes, scrubbed
1 (15 oz.) can black beans, rinsed and drained (1½ cups)
Sea salt and freshly ground black pepper, to taste
1 avocado, peeled and sliced
Preheat oven to 450 degrees. Using a fork, poke potatoes in several places. Bake potatoes about 45 minutes or until tender when pierced with a fork. As an alternate method, cook potatoes on High in the microwave until tender. In a skillet, cook corn and onion over medium heat 2–3 minutes or until crisp and tender, stirring occasionally and adding water, 1 to 2 tablespoons at a time, as needed to prevent sticking. Stir in black beans and salsa; cook until mixture is heated through. Season with salt and pepper. Split baked potatoes and mash flesh lightly with a fork. Top with black bean mixture, avocado and if desired, crushed red pepper. Serve with lime wedges. Source: "Forks Over Knives", Healthy Comfort Food, Fall 2020.
Lighter Potato and Cauliflower Soup
Potato soup is one of those comfort foods that brings a sense of contentment, but is not always the healthiest if it is made with a lot of heavy cream. Try this version that has been lightened up but is definitely not short on flavor. Adding cauliflower also boosts the nutritional value of the soup. If you wish to make it totally vegetarian, switch out the chicken broth for vegetable broth.
2 (32 oz.) cartons chicken broth
2 heads cauliflower, cut into florets
1½ pounds Yukon gold potatoes, peeled and cut into ½-inch pieces
½ cup finely grated Parmesan cheese
½ teaspoon ground black pepper
Garnish: fresh thyme leaves
In a large saucepan, combine chicken broth, potatoes, onions and cauliflower over medium-high heat. Bring to a boil, reduce heat, and simmer for 10 minutes or until cauliflower is tender. In the container of a blender, pour half of the soup. Secure lid on blender, removing center piece on lid to allow steam to escape. Place a towel on opening on lid to avoid splatters. Process soup until smooth. Repeat with remaining soup. As an alternate method, process soup in the saucepan using an immersion blender. Return blended soup to saucepan and add milk and remaining ingredients, whisking until smooth. Cook for 5 minutes or until heated through. Serve with thyme garnish. Source: "Family Favorites, 151 Best Ever Recipes and Tips", 2014.
Hasselback Stuffed Potatoes
For a gourmet taste to dinner, and a special way to fix potatoes, serve these hasselback potatoes that everyone will love. If you prefer not to use the salmon between the potato slices, it can be omitted.
4 medium russet or Yukon Gold potatoes
4 tablespoons melted butter or olive oil
1 tablespoon bread crumbs
1 tablespoon grated Parmesan cheese
4 ounces smoked salmon, broken into small pieces
Preheat oven to 425 degrees. Peel the potatoes or leave the skins on and scrub with a brush. With sharp knife slice each potato crosswise about every 1/4 to 1/2 inch, but not quite all the way through the potato. You want the potato slices to be still attached together at the bottom. Place the potatoes in a buttered pie plate or baking sheet. Drizzle with 2 tablespoons melted butter or olive oil; sprinkle with salt. Bake for 30 minutes. Sprinkle bread crumbs over potatoes which should be starting to open up a bit by now. Drizzle with remaining butter or oil. Bake for an additional 20 minutes. Sprinkle with Parmesan cheese; baste with butter from baking dish. Bake 10 minutes more or until tender when pierced with a fork. Insert pieces of salmon in slits of the potatoes. If desired, serve with dollop of Greek yogurt on top. Source: "Applehood & Mother Pie, Handpicked Recipes from Upstate New York", The Junior League of Rochester, New York.
Hidden-Veggies Scalloped Potatoes
(Makes 12 servings, 1/2 cup each)
Scalloped potatoes have been a staple for years and are frequently made with rich, heavy cream. This new version gets its silky sauce from cannellini beans that are pureed in chicken broth. Carrots and onions are also added for additional nutrition and flavor.
1 (15 oz.) cannellini beans, rinsed and drained
1 Instant Bouillon chicken-flavored cube
¼ teaspoon dried thyme leaves
1 tub (8 oz.) Philadelphia Garden Vegetable 1/3 less fat cream cheese
2 pounds Yukon Gold potatoes, (about 6) thinly sliced
1 cup shredded sharp cheddar cheese
Heat oven to 400 degrees. Bring water, beans, carrots, bouillon cube and thyme to boil in saucepan; simmer over medium-low heat 10 minutes or until carrots area tender. Pour hot vegetable mixture in a blender; cover with a kitchen towel. Blend on Low speed 2 minutes. Add cream cheese; blend until smooth. Place half the potatoes in 8-inch square baking dish sprayed with cooking spray; cover with half the hot vegetables sauce. Repeat layers. Top with cheddar cheese; cover with foil. Place on baking sheet to catch any boil-over. Bake 1 hour and 5 minutes or until potatoes are tender, uncovering after 45 minutes. Source: "Kraft My Food & Family", 2020.
Bernie Mason writes the Local Flavor column for Lee Montana Newspapers. She was a Yellowstone County extension agent for 24 years. Mason grew up in Sidney in a family of German and Danish ancestry.