I'm reasonably sure that if I lived in Great Falls, Saibeen Acord and I would become great friends. She is delightful to be around with her radiant smile and calm and collected demeanor.
I'm naturally curious how she, who was born in Tanzania to Indian parents, made her way to Great Falls and has become the queen of East Indian and East African cuisine. She is an open book as she tells me how her family migrated from Tanzania to Toronto, Canada, when she was five. Later, her family would settle in Calgary.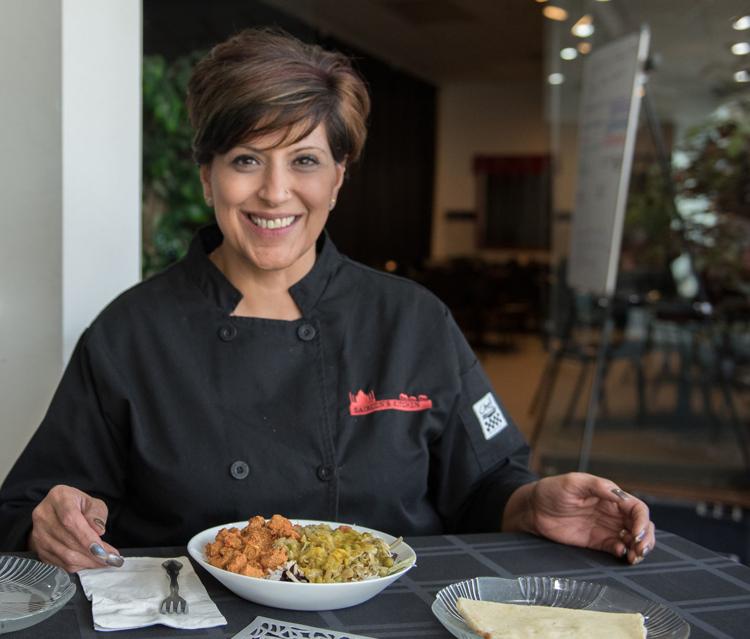 Saibeen would get her start in preparing food for others when she helped fix meals for an 86-year-old man in Calgary who was longing for tiffens from his native India. A tiffin box, frequently carried by Indian workers, equates to a metal lunch box with three compartments, one containing rice, one for vegetables, spicy meats or chicken, and the third for naan or flatbread. Word spread quickly of her skills in the kitchen (learned from her mother), which would lead to catering local events. Saibeen would open a restaurant in Calgary in 2004 that focused on Indian and East African food. She sold the restaurant in 2007 to focus on her family.
Divorced with three kids, Saibeen is one of those success stories with online dating, although she is quick to say it took a lot of urging from a friend to try it. She met and married Great falls native Nathan Acord and moved to the Electric City in 2016. Her passion for cooking led her to open Saibeen's Kitchen in 2017, which has recently relocated to the second floor of the Times Square Building on Central Avenue.
I've been fortunate to travel to India a few times as a photographer, so I never paid much attention to what I was eating. I ate most of my meals at hotel buffets where it was easy to select food that was very recognizable, like rice, bread, vegetable soup or stewed chicken. Honestly, I'm a meat-and-potatoes kind of girl, so Saibeen's creations are new territory for my palate.
I step into Saibeen's commercial kitchen, and the smells are both exotic and tantalizing. Simmering on the stove is a giant pot of Coconut Cabbage Pootu, featuring peas, cabbage, onions, coconut, green chilies, and curry.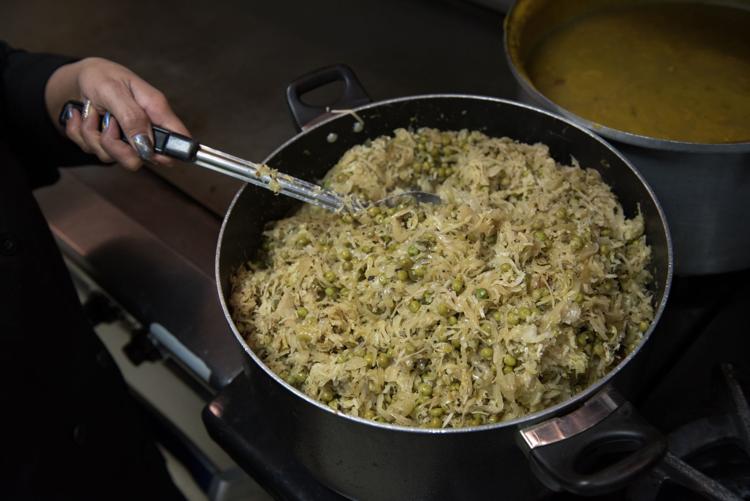 I can attest that it tastes as good as it looks.
Also bubbling on the stove is Assam Pork Curry, made with pork cubes, simmered in a tomato and onion gravy infused with spices and finished with a tamarind sauce. It's spicy!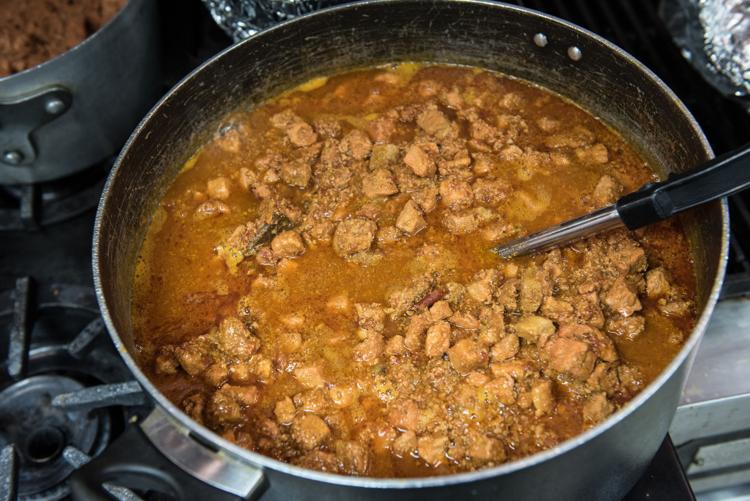 A selection of homemade sauces is available if customers want to turn up the heat on their entree, including coconut yogurt sauce, cilantro green chili sauce, and red chili with garlic sauce.
There is a certain air of mystery to Saibeen's cuisine, just in the names alone — Keema Muttar, South Indian Sambhar, Bhindi Masala, Coconut Rajma, Aloo Gobi.
It's a bit of a puzzle to figure out what is in each dish, but customers can count on two things: a rich infusion of spices and colorful presentations.
One of the regulars, Shawn Belk, has an interesting take on the cuisine.
"The food is fresh," he said. "Not just in the sense of the ingredients, but it's authentic, not cliche. It transports you to where the dishes come from."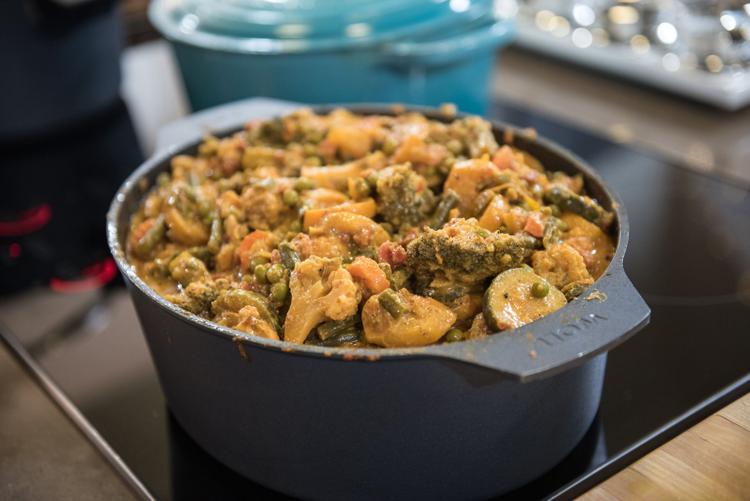 Saibeen posts her menu, which changes weekly, on her Facebook page. There's always a vegetarian and vegan option, making it a popular choice for Great Falls locals. Most of her dishes are gluten-free.
Her lunches are served in a bowl, layered with basmati rice or greens, then topped with the entrees of the week. Add in naan, dessert and infused water, and the cost is $13.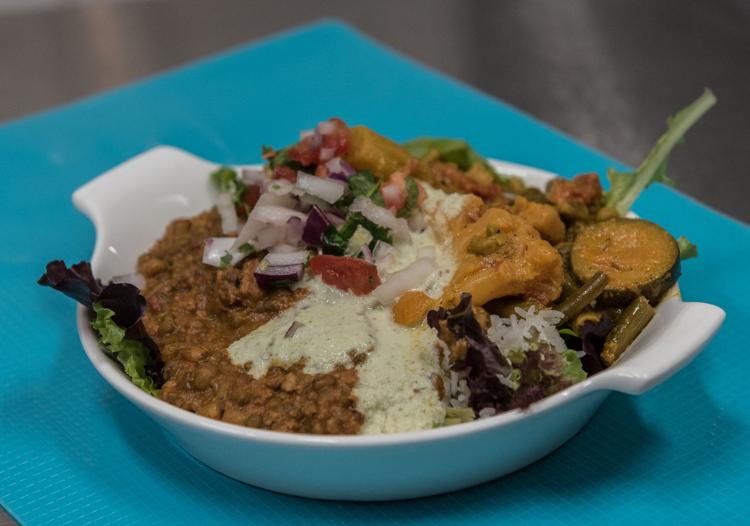 Current hours are 11 a.m. to 2 p.m. on Tuesdays, Wednesdays, and Thursdays. Saibeen also caters for local events. Future expansion is on her mind, including adding days for lunches, possibly even dinners. Offering cooking classes is also a possibility.
For now, it takes the help of a mother-in-law and sister-in-law and a few others to serve the 80-90 people who stop by during the lunch hour, either for takeout or to sit and enjoy the bowls.
It's a long and expensive plane ride to India or Tanzania. But if you want a taste of either country through their cuisine, look no further than Saibeen's Kitchen in downtown Great Falls.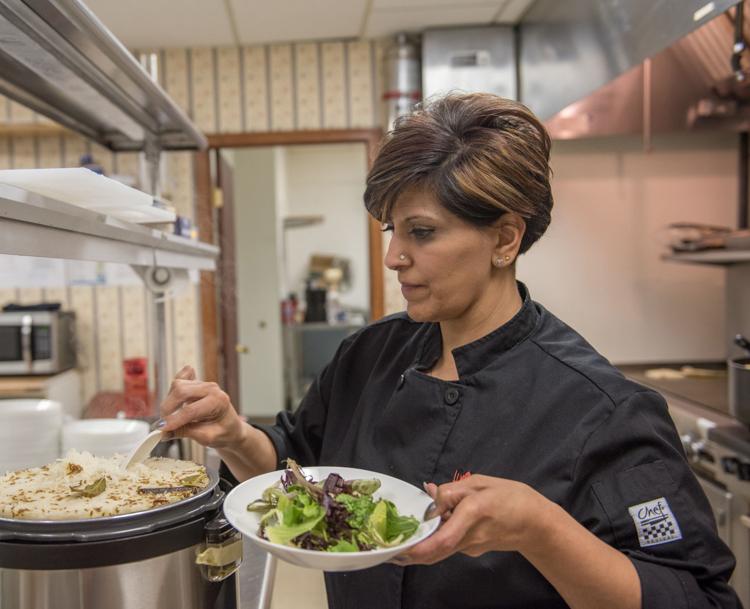 Butter chicken
Ginger, minced to a paste
Garlic, minced to a paste
Cayenne, for heat to taste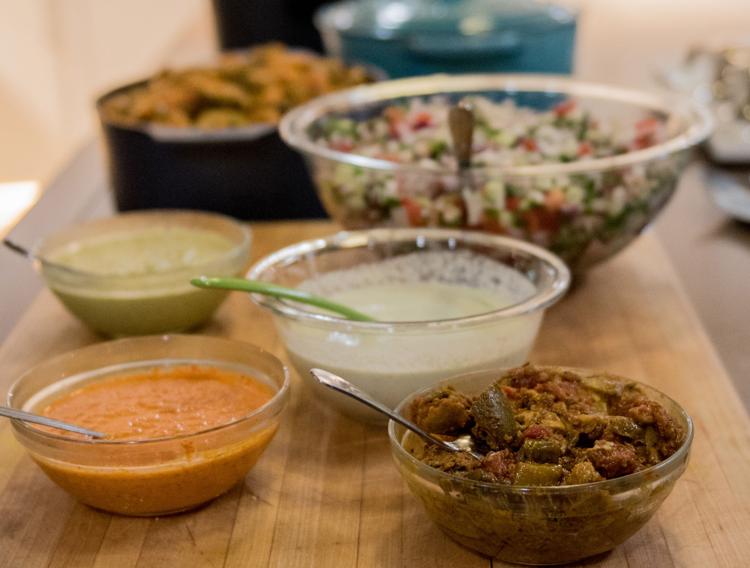 Sauce
1 large can of crushed tomatoes
Fenu Greek leaves, a handful crushed
Cut chicken into bite-sized pieces. Marinate meat in spice and oil mixture for an hour or overnight.
Bake at 375 degrees for about 30 minutes, then check for doneness.
Combine all the sauce ingredients, except the sugar, and heat to a rolling boil for about an hour. Once the mixture has reduced to desired consistency, remove from the heat and add a tablespoon or so of sugar.
Add chicken, including chicken juices, to the sauce and simmer for another 20 to 30 minutes. If sauce becomes too thick, add more milk.
Add saffron or natural red food coloring to get the traditional vibrant red color.