UPCOMING EVENTS
Speakers from hospice featured at Bridges program 
Helena Community Connections' Bridges program will present, "End of Life Conversations and Issues," on Wednesday, April 4, at noon, at 2330 E. Broadway. The speakers will be Melanie Trost and Karissa Bennett from St. Peter's Hospice. AARP Montana will cover one half of the cost of the lunch. Participant cost is $5. Donations of non-perishables for Helena Food Share are suggested. Registration for the event must occur no later than noon on Monday, April 2. Phone 877-926-8300 to register for lunch providing event name, city and event date. Minimum personal information will also need to be provided. For greater detail or to register online visit www.bridgeshcc.org. Bridges Buffet events are education and information for those over 50. All facilities are handicapped accessible.
ANNOUNCEMENTS 
ICCW seeks nominations for excellence awards
The Montana Interagency Committee for Change by Women (ICCW) seeks nominations for the 2018 Excellence in Leadership Award.
The Excellence in Leadership awards, once known as the "Breaking the Glass Ceiling Awards" are given each year in three categories:
State government (service in executive, legislative or judicial branches)
Public sector (local, nonprofit, tribal or federal governments)
Private sector (business, entrepreneur, executive management or other areas)
The ICCW seeks to honor individuals for exemplary leadership or for outstanding efforts to assist women to excel in the workplace.
To nominate someone, fill out the nomination packet on our Facebook page at: https://www.facebook.com/montanaICCW and the linked "group" Montana ICCW 2018 Excellence in Leadership Awards nomination page. The nominations must include a completed nomination form, a nominee description (outlined in the packet,) a biography and resume of the nominee, a letter of endorsement and any supporting materials to enhance the nomination.
Postmark deadline for submissions is April 6, and the electronic submission (email or fax) deadline is April 11.
The award recipients will be chosen by a selection panel. Winners will be recognized at a ceremony at the Capitol on May 17 at 2:30 p.m.
Public input sought for housing task force
New housing construction in the Helena area is not keeping up with projected population growth. Vacancy rates are at record lows resulting in rent increases and as a result, many renters cannot find an affordable place to live. Due to the lack of affordable housing in the area, more households are commuting from Jefferson and Broadwater counties and businesses are having trouble recruiting employees. Moreover, within Lewis and Clark County, the waiting list for subsidized housing is growing longer. These are just some of the issues facing the community.
The Tri-County Housing Task Force is asking community members to go online and take the Housing Needs Survey. The Housing Task Force is comprised of representatives from the city of Helena, Lewis and Clark County, Jefferson County, Broadwater County, Rocky Mountain Development Council Inc., United Way, Helena Building and Industry Association, Helena Association of Realtors, Helena Housing Authority, and Helena Chamber of Commerce. The Task Force began work on a "Housing Needs Assessment" in January 2018 to document housing issues in the region and to identify strategies to meet future housing needs.
The housing needs assessment will include information on housing costs, housing condition, socio-economic data, consumer demand, and housing supply. Additionally, the assessment will identify challenges and opportunities, identify future needs and include policy recommendations and strategies to meet these needs. In order for the needs assessment to reflect the community's vision, public input is critical. The survey is available online at: https://www.surveymonkey.com/r/tricountyhousing.
The survey is mobile-friendly and can be taken with a smartphone. A print version of the survey is available at the following locations: City of Helena and Lewis and Clark County administrative offices, Helena Housing Authority, Helena Board of Realtors, county libraries, Broadwater and Jefferson county courthouses and Rocky Mountain Development Council Inc.
Wednesdays with Wilmot at LaPa
Join Mayor Wilmot Collins at the LaPa Grill on the first Wednesday of each month for laid-back, informal sharing sessions with Helena's mayor. Collins wants to meet residents and hear their concerns, ideas and opinions, as well as answer questions from community members. Join us on Wednesday, April 4, and then on every first Wednesday, at approximately 6 p.m. 
LaPa Grill is located at 32 W. Sixth Ave. in downtown Helena.
MCA scholarship deadline approaching
The Montana Contractors' Association (MCA) offers $1,000 scholarships to students whose parents or guardians are employed by MCA member companies.
Available scholarships include:
MCA Associates' Division Presidential Scholarships (high school, undergraduate)
MCA Concrete Division Scholarships (high school, undergraduate)
To qualify for the Presidential Scholarships, applicants must:
Have parents or guardians employed by MCA member companies. Find a complete list of MCA member companies in the Business Directory at www.mtagc.org under the "Resources" tab.
Be attending any accredited postsecondary school (in-state applicants); an accredited Montana postsecondary school (out-of-state applicants)
Provide a completed application that demonstrates dedication to scholastic record and ability, involvement in extracurricular activities, and desire to work hard to succeed.
To qualify for the MCA Concrete Division Scholarships, applicants must meet the qualifications mentioned above and be the child or dependent of a member of the MCA's Concrete Division.
Applications are available at mtagc.org. The application deadline is Monday, April 16. For more information, call the MCA at 442-4162.
STUDENT NEWS
Helena student wins at MATHCOUNTS competition
Teams of sixth-, seventh- and eighth-grade student Mathletes from Montana middle schools competed in the state MATHCOUNTS competition on March 9 at Montana Tech in Butte. The top 103 math students in Montana from 30 middle schools participated. The highest four individual scorers, and the coach of the winning team, won an all-expense paid trip to the National MATHCOUNTS Competition to be held in Orlando on May 13.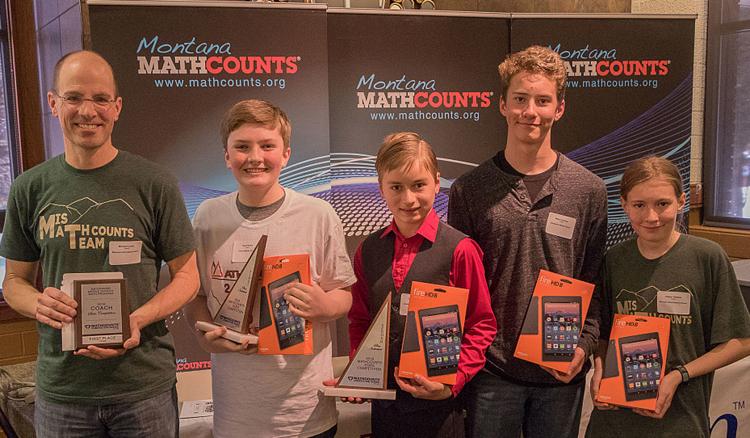 Ryan Burke from Helena Middle School, Edward Guthrie from Gallatin Valley Homeschool, Miles Fastnow from Sacajawea Middle School-Bozeman, and Jasper Thomas from Missoula International School won the top honors at the State Competition this year. These four students, along with Missoula International School's math coach Michael Curtis will represent Montana as our official state team at the National MATHCOUNTS Competition in Washington D.C. in May.
The top teams this year were Missoula International School, Missoula Washington Middle School, Sussex (Missoula), Gallatin Valley Homeschool, and Sacajawea Middle School (Bozeman).
MATHCOUNTS is a combination math coaching and competition program. Students are tested on such topics as probability, statistics, linear algebra, and polynomials. The competition consists of written tests and a fast-paced oral match.
Helena students National Merit finalists
The National Merit Scholarship Program honors individual students who show exceptional academic ability and potential for success in rigorous college studies. Approximately 1.6 million juniors in more than 22,000 high schools entered the competition by taking the PSAT/NMSQT last year. The finalist pool represents less than 1 percent of the U.S. high school seniors.
Students from Helena High School: Adam Hagengruber, Devin Seyler and Sean Tuttle
Student from Capital High: Jaskrit Singh and Jacob Michaletz
Area students inducted into honor society
Montana State University students Sara Forbes of Avon; Jordan Jakovac, ChorWan Kong and Joshua Steiner, all of Helena; and Brandt Seitz of Clancy, were recently initiated into the honor society of Phi Kappa Phi, the nation's oldest and most selective collegiate honor society for all academic disciplines.