Upcoming events   
CHS grad, NASA administrator to speak   
Deputy administrator of the National Aeronautics and Space Administration and Helena native, Dr. Dava Newman, will be speaking to Capital High School students on Monday, March 7, between 9 and 10 a.m. in the CHS auditorium.
Newman, who graduated from Capital High School in 1982, earned her Bachelor of Science degree in aerospace engineering from the University of Notre Dame in 1986. She went on to earn her Master of Science degrees in aerospace engineering and technology and policy in 1989 and a Ph.D. in aerospace biomedical engineering in 1992, both from MIT.
Free pancakes at IHOP supports Shodair
On Tuesday, March 8, from 7 a.m.-10 p.m. the Helena IHOP, 2960 N. Washington Ave., will offer each guest a free short stack of buttermilk pancakes on National Pancake Day. This tradition aims to raise funds and awareness for Shodair Children's Hospital, the only Children's Miracle Network Hospital in Montana. For every short stack of buttermilk pancakes served on National Pancake Day, IHOP guests may make a voluntary donation to Shodair Children's Hospital.
Donated funds help cover the cost of treatment for Montana children whose families cannot afford it, and would otherwise go untreated.
HBID meeting rescheduled
The Helena Business Improvement District Board of Trustees' regularly scheduled March 8, meeting has been postponed to March 22 at 3:30 pm.
The HBID Board of Trustees will hold a work session on March 8th; work sessions are not decision-making meetings and no public comment is scheduled.
If you have any questions please contact HBID at 447-1535.
Doorsteps to Backpacks Food Drive
Helena Food Share, the Governor's Office of Community Service and AmeriCorps State and VISTA members are partnering to bring the second annual Doorsteps to Backpacks Food Drive to Helena on Wednesday, March 9.
AmeriCorps members from across Montana will work with Helena Food Share to collect kid-friendly foods such as peanut butter, oatmeal, pudding and fruit cups, granola bars and juice boxes from doorsteps of Helena residents. AmeriCorps members will also be collecting foods in local grocery stores. All foods collected will go to Helena Food Share to be used in its Kid Packs program. Helena residents are encouraged to leave food on their doorsteps or visit their local grocery store to donate on March 9.
Kid Packs are distributed in collaboration with all elementary schools in Helena and East Helena as well as Head Start. Each week, nearly 1,100 Kid Packs go home with local students to eliminate childhood hunger over the weekend.
AARP driver safety classes
AARP driver safety will hold two Helena classes in March. The course was developed for participants age 50-plus, but is open to all ages. The course fee is $20 or $15 with AARP membership card. Auto insurance companies in Montana provide a multi-year discount to participants 55 years of age and older. To register for the class, call 457-4712.
March 14 at Hunter's Pointe Retirement Residences, 2801 Colonial Drive from noon to about 4:30 p.m.
March 19 at St. Peter's Hospital conference rooms 2 and 3, 2475 Broadway from 9 a.m. to about 1:30 p.m.
Announcements  
Volunteers needed to gather signatures
Be part of the transition to green energy in Montana, our country and the world. On Wednesday, March 9, from 7-8 p.m. Initiative I-180 volunteers will meet in the small meeting room at the Lewis & Clark Library, 120 S. Last Chance Gulch, to recruit signature gatherers to get I-180 on the November ballot. The initiative promotes renewable energy development.
For more information about I-180 and climate change visit the MTCARES website www.mtcares.org or contact John at 406-475-0079.
Montana Community Foundation offers STEM scholarships
The Montana Community Foundation announced the offering of 20 scholarships of $2,500 each for students pursuing degrees in STEM (science, technology, engineering and math) fields. Preference will be given for those pursuing degrees or certificates in engineering, computer science, bioscience and healthcare-related fields.
Students can apply online beginning March 4, by visiting www.mtcf.org/applications and clicking on the "Apply Online" link. The closing date for the T. Eugene Young Montana's Promise Scholarship is May 13. MCF also has more than 50 other scholarships available totaling more than $350,000 for the 2016-17 academic year. Applications for most of these scholarships close on March 18.
Only online applications will be accepted. For questions, please contact MCF Grants and Scholarships Program Officer Jenny Lou Stark at 443-8313 or jstark@mtcf.org.
Buddy Poppy Coloring Contest winners
The VFW #10010 Auxiliary awarded prizes to the Buddy Poppy Coloring Contest winners at a ceremony at Eastgate School on Feb. 5, and at Radley School on Feb. 12. The room winners are as follows:
Kindergarten: Navaeh Anderson, Luke Hurley, Tavarus Fleming. Mia Smith, Nalyssa Jerome, Caeddyn Kralicek, Mariah Roger and Kaleb Price.

First grade: Ben Smith, Avery Peterson, Ellie Silvonen, Isaiah Kalous, Mabel Bruno, Jaiden Rothenbuhler and Abby Bishop.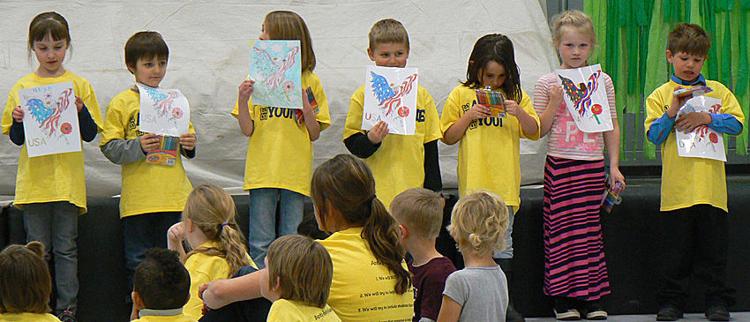 Second grade: Damien Roberts, Brayden Morrison, Caleb Baker, Peyton Lorenz, Charleigh Keeland, Zyan Phillips and Elliot Ophus.
Elliot Ophus also won second place at VFW Department of Montana and was presented with his artwork framed and additional prizes for his achievement.
HHS students to participate in science bowl
A team of students from Helena High School is participating in an upcoming competition on March 12 at Montana State University-Billings to determine the team to represent Montana in the high school National Finals of the U.S. Department of Energy Office of Science's National Science Bowl®.
The winner of the regional competition will receive an all-expenses-paid trip to Washington, D.C., to compete in the Office of Science's National Science Bowl from April 28 to May 2 and the winner of the national competition will win prizes for the team members and their schools.
Student news 
Montana State University has announced its undergraduate honor rolls for fall semester 2015.
Students with a perfect 4.0 grade point average for the semester were named to the president's honor roll. An asterisk follows the names. The dean's list students earned a GPA of 3.5 or above for the semester.
Avon: Sara Forbes*, Jacob Senecal*, Will Seneca
Boulder: Mariah Carey, Cody Rapley, Cheyenne Shultz*, Jacob Smith, Sarah Strausser
Canyon Creek: Jeremy Rich
Clancy: Sarah Bryson, Abigail Caldwell, Nathan Caldwell, Maria Carparelli*, Lindsey Dowling, Morgan Estberg, Peri Gilliland, Colin Harris, Jean Heetderks*, Megan Houdeshell*, Bridger Howell, Jenna Joki, Keaton Kurokawa, Kylie MacDonald, Caitlyn Murphy, Ashley Nash*, Rylie Peccia*, Brandt Seitz*, Ryan Seyler, Zachary Spencer, Rebecca Wacker, Mason Ward, Trevor Weaver, Taylor Wilkerson, Logan Williams
East Helena: Hayden Binde, Duncan Cordell, Brian Dahl*, Siobhan Gibson*, Shana Kerttula, Jenna Krum, Emily Lindner, Stephanie Listoe, Thomas Lund, Isaac Miller, Lindsey Redmond, Jennifer Sroczyk, Jorin Vavruska, Kinsey Vavruska*, Haley Walter, Bailey Wood
Helena: Kevin Abrahamson, Delaney Anderson, Sarah Ansel, Jessie Apple, Emily Armstrong*, Travis Ball, Keinan Balsam*, Colton Bauer, Zachary Begler, Emily Bergum, Mary Bischoff, Jenna Blair, Autumn Boutin*, Ryan Burger, Brice Burton, Benjamin Bushnell, Thomas Bushnell, Shannon Byrne, Nathaniel Camaret*, Sean Capdeville, Cathleen Carson, Logan Colegrove, Jeremiah Coon, Taylor Dagenais, Shelbi Darlington*, Tylynn Davis, Elizabeth Desch, Tember Dykgreve, Kevin Ebert*, Mykaela Edwards*, Duncan Ellis*, Nathan Ellis, Glenn Falcon, Emily Felde, Ian Fitzgerald, Rae Fitzpatrick, Hannah Frawley*, Samantha Garcia, Jocelyn Gates*, Michael Gengler*, Eric George, Aaron Gilman, Christian Guenthner, Olivia Haider, Dava Harvey, Ashley Hicks*, Dylan Hills, Kasey Hoerning, Rikki Hoerning, Miranda Hoffman, Jerad Hoy, Kelsey Huffsmith, Deanne Hunthausen, Casey Jacobson, Jordan Jakovac*, Teagan Jendro, Gavin Johnson, Justin Johnson, Olivia Johnson, Samuel Johnson, Grace Kimball, Dominique Kintzing, Tyler Krushensky, Michal Kunnary, Keely Larson, Tevin Lewis, Jaden Maharg, Brian Marsh, Rylee Mathews, Marcus Mattioli, Victoria McHugh*, Kaitlin McMahon, Levi Merkel*, Sean Miller*, Sean Mulcahy, Ella Mullen*, Andrew Murphy, Kaela Murphy, Dylan Nisbet, Bailly Noble*, Kira Nuebel*, Heather Olson, Allison Pardis, Ethan Peterson, Katya Peterson*, Nicolaus Peterson, Julia Platt, Kayla Pocha, Danielle Prebil, Sean Rillahan*, Kelsey Robertson, Sean Rogers, Julia Rowlan, Mark Sargent, Ally Sather, Audrey Schadt, Lauren Schadt, Brooklyn Skinner, Abigale Snortland, Casey Spawn, James Stangeland, Alyssa Stewart, Alessandra Stutz, Irene Thamke*, Shannon Thennis, Scott Tilton, Cal Treadway, Andrew Turner, Jordan Umsted, Kylee VanHemelryck, Matthew Vukonich, Aidan Wade, Kelsey Wadsworth, Benjamin Walborn, Stephanie Wodnik*, Erica Zarling
Jefferson City: Dylan Wiebe
Montana City: Hannele Ballantyne, Shelby Bellander, Katherine Chamberlain, Julie Street*
Townsend: Steven Adams, Jeremy Belleville*, Melanie Booth*, Kaleb Crook, Joshua Mostad, Morgan Obert, Mariah Saltzman
Thank yous
Purse returned
Thank you to the mother and daughter who found my purse in a shopping cart in the Walmart parking lot on Friday, Feb. 19, around 4-4:30 p.m. and turned it in to the customer service counter. I cannot begin to tell you how much relief I felt when I found that it had been turned in. Our community is so fortunate to have caring, honest people like you. Thank you, thank you, thank you.
Lost license found
A week ago I lost my driver's license while running. The Hanson family found it and brought it to my home for me. It was such a lovely thing to do, and I am so appreciative of their kindness, thank you!