LWVHA holds monthly meeting
The League of Women Voters Helena Area will hold its monthly meeting at noon on Tuesday, March 21, at the Lewis and Clark Library, 120 S. Last Chance Gulch. Discussion will focus on the final plans for the state convention to be held on March 31 and April 1. 
Lewis and Clark County board openings
Augusta Solid Waste Management District: The board generally oversees the management and operation of the Augusta Solid Waste Management District; 3 year terms. Applicants must reside within the boundaries of the Augusta Solid Waste Management District.
Fair Board: The Fair Board consists of seven members appointed by the Board of County Commissioners serving staggered terms beginning and ending Dec. 31. The Commission generally oversees the overall management and operation of the fairgrounds for Lewis and Clark County.
Forestvale Historic Preservation Committee: The board reviews and approves development proposals related to the Forestvale Cemetery and is responsible for assuring compliance will all relevant local, state and federal regulations and requirements pertaining to the Cemetery's designation on the Federal Register or History Sites. Members must reside within Forestvale Cemetery District; generally described as School Dist. No 1; 3 year terms.
Human Services Task Force: The Task Force was organized to serve people who were left without assistance when the General Assistance program was abolished. The Task Force provides burial for indigent persons, food and shelter for persons waiting for SSI assistance and emergency medical care to individuals without Medicaid. The Task Force consists of nine Board members.
Lincoln Solid Waste District Board: The board generally oversees the management and operation of the Lincoln Solid Waste Management District. Seeking one citizen who lives in the Lincoln Solid Waste District; 3 year terms.
Mosquito District – Craig: Two citizens to serve on the Craig Mosquito District Board who reside in the district limits. This board develops and administers a program for abatement and alleviation on mosquito pest conditions within the district and makes recommendations on appropriations and expenditure of funds to be levied on residents in the district; 4 year terms.
Transportation Coordinating Committee: The Committee shall work closely with the City, County, and State to develop and keep current urban transportation planning, design and construction in the Helena area. The committee shall adopt and recommend implementation of long and short-range transportation programs for the Helena urban area. The citizen members of the TCC shall be appointed for terms of two-years. Meetings are the second Tuesday, every other month at 3 p.m. in the Commission Chambers, City-County Building.
Applications are available at www.lccountymt.gov/bocc/boards.html or by calling 447-8304 and can be submitted to the Lewis and Clark County Commissioner's Office, 316 N. Park Ave., Room 345, Helena, MT 59623.
MCA scholarship applications available
The Montana Contractors' Association (MCA) — through its Associates' and Concrete divisions — is offering $1,000 scholarships to students whose parents or guardians are employed by MCA member companies.
Available scholarships include MCA Associates' Division Presidential Scholarships (High School), MCA Associates' Division Presidential Scholarships (Undergraduate), and MCA Concrete Division Scholarships (High School, Undergraduate).
To qualify for the Presidential Scholarships, applicants must: Have parents or guardians employed by MCA member companies. Be attending any accredited post-secondary school (in-state applicants), an accredited Montana post-secondary school (out-of-state applicants). Provide a completed application that demonstrates dedication to scholastic record and ability, involvement in extra-curricular activities, and desire to work hard to succeed.
To qualify for the MCA Concrete Division Scholarships, applicants must: Meet the qualifications mentioned above and be the child or dependent of a member of the MCA's Concrete Division.
The number of scholarships distributed annually depends on funds raised throughout the year and the quality of applicant pools for the scholarships.
Scholarship applications are available at www.mtagc.org and the scholarship deadline is Monday, April 3.
Leadership Montana accepting applications
Leadership Montana, the state's leadership development organization, has opened the application process for the Class of 2018. The class will meet in communities across the state during the months of September 2017 to May 2018. Applications are accepted until April 15.
The Class of 2018 will visit Big Sky, Whitefish, Bozeman, Helena, Great Falls, Havre, Sidney and Billings. During visits, participants will learn about challenges and opportunities facing Montana through conversations with community leaders and tours of emerging and traditional businesses.
Leadership Montana is a collaboration of leaders from business, labor, health care, higher education, nonprofit organizations and government coming together to form a strong partnership for the betterment of our state.
Montana Cowboy Hall of Fame seeks nominations
The Montana Cowboy Hall of Fame & Western Heritage Center (MCHF&WHC) is seeking nominations for the 2017 Montana Cowboy Hall of Fame induction round.
Nominees can be men, women, ranches, stage coach lines, animals, hotels, etc.—anyone or anything that has made a notable contribution to our Montana western heritage. A full listing of inductees from 2011-2016, the 2017 nomination instructions, and more about the Hall of Fame induction process can be found online at www.montanacowboyfame.org.
If you would like to make a nomination, you must contact the MCHF&WHC at Christy@montanacowboyfame.org; or by calling 406-932-5444 prior to the submission deadline to express your intent to nominate. Nominations must include a cover page, a two-page biography, and a high-quality photograph. All nomination documents must be in electronic format and emailed by April 30.
The 2017 Class of the Montana Cowboy Hall of Fame will be announced by July 30.
NILE offers 2017 internship program
October 12-22, the Northern International Livestock Exposition (NILE) in Billings is looking for college students who are willing and able to work all day and into the night, eat and sleep minimally, handle high pressure situations, work in the extreme weather elements Oct. 12-22. We want those who eat, breathe, and sleep stock shows and rodeos. 
The internship is 10 days of early mornings and late nights. Some interns work the livestock show ring checking in exhibitors, lining up steers, shuffling sheep and recording results. Other interns set up horse awards, buck bales, and scorekeep the ranch rodeo. All interns laugh, goof around and get stuff done.
Want more information on how to apply, visit www.thenile.org. All applications must be in the NILE office by Sept. 1, and interns will be announced shortly thereafter. For more information, call the NILE Office at 406-256-2495 or email Shelby at shelby@thenile.org.
U.S. Air Force Airman Whitney G. Laine graduated from basic military training at Joint Base San Antonio-Lackland, San Antonio, Texas.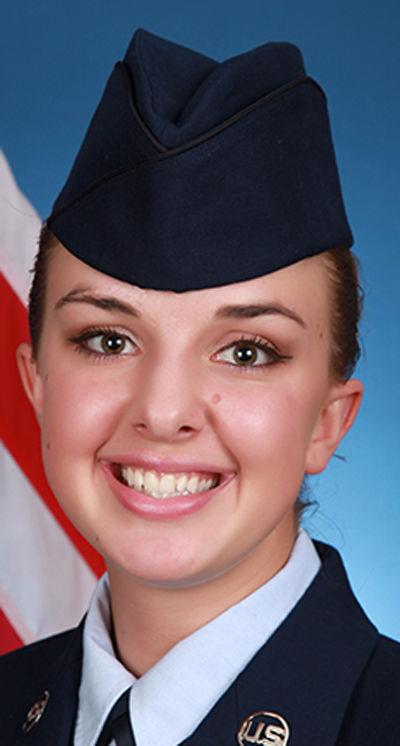 The airman completed an intensive, eight-week program that included training in military discipline and studies, Air Force core values, physical fitness, and basic warfare principles and skills.
Airmen who complete basic training also earn four credits toward an associate in applied science degree through the Community College of the Air Force.
Laine is the daughter of Erika Love of San Diego, Calif., and Jordan W. Laine of Helena, and former ward of Jay Sherley of Helena.
She is a 2016 graduate of Helena High School.