EVENTS
Visit with the owner of Golden Girls Antiques
Carroll Day, the owner of Golden Girls Antique Mall, has been diagnosed with brain cancer and would like to thank friends for their love and support. She will be at the store at 505 N. Last Chance Gulch on Saturday, Feb. 9, from noon-2 p.m., and at Miller's Crossing, 52 S. Park Ave., on Sunday, Feb. 10, from noon-2 p.m. Everyone is invited to stop by and visit with Day.
Library events planned for February
February is Love Your Library month and Your Lewis & Clark Library has an array of special story times planned to celebrate.
On Saturday, Feb. 9, Cate Nelson with the Montana Hope Project will lead a special Family Story Time at 10:30 a.m. on the Story Steps.
Each week on Wednesday and Thursday at 10:30 a.m. the library hosts Story Time for preschool age children and their adults. During February, Story Time will be hosted by some special guests from the community.
Wednesday, Feb. 13, Sgt. Jay Nelson with the Montana Highway Patrol will host story time.
Thursday, Feb. 14, the voice of Montana Radio Company's KCAP News Radio, Troy Shockley, will be the featured guest on Valentine's Day for a special heart-themed story time.
Wednesday, Feb. 20, Mayor Wilmot Collins will join us.
Thursday, Feb. 21, former Grandstreet Theatre director and Helena Food Share volunteer extraordinaire, Tom Cordingley, will be the story time guest.
Wednesday, Feb. 27, Myrna Loy Executive Director, Krys Holmes joins us for story time.
Thursday, Feb. 28, half of the KMTX Morning Show duo, Whitney Fisher will entertain the kiddos.
City commission to hold strategic retreat Feb. 16
The Helena City Commission will meet from 9 a.m. to 1:15 p.m. on Saturday, Feb. 16, in the Tower Room at Muni's Sports Grill located, Bill Roberts Golf Course, 2201 N. Benton Ave.
The purpose of the meetings is a strategic retreat with the city commission and city manager.
There will be an opportunity for public comment. For more information, contact the City Clerk's Office, 406-447-8410 or dhavens@helenamt.gov.
ANNOUNCEMENTS
Carroll's Talking Saints capture share of regional championship
The Carroll College Talking Saints forensics team won more than 40 awards and swept to a decisive sweepstakes victory over more than 20 colleges from five states at the Western Washington Viking Invitational, Jan. 25-27, in Bellingham, Washington. With the win, Carroll captured a share of the regional championship, the 29th straight year the Talking Saints have won or shared the crown, a string dating back to 1991. At Western, Carroll finished with 201 points, to 141 for runner-up Lewis & Clark College.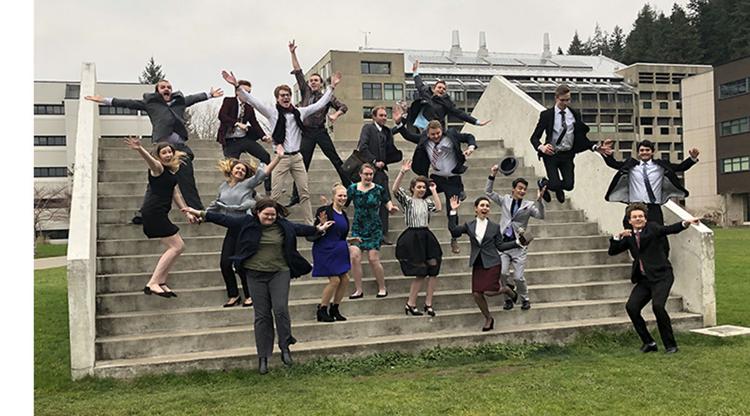 Leading the way were the first-year team members who won 20 awards, led by Eleanor Ferrone of Hastings, Nebraska, who won the Orv Iverson Eagle given to the most outstanding new competitor in the Northwest region. Ferrone won five awards, including first place in novice impromptu.
The first-years won five of the six speaker awards in junior debate and swept the top four places in novice impromptu and three of the top four in novice extemp. First-year David Lange of Ferndale, Washington, Ferrone's debate partner, was recognized as top junior speaker.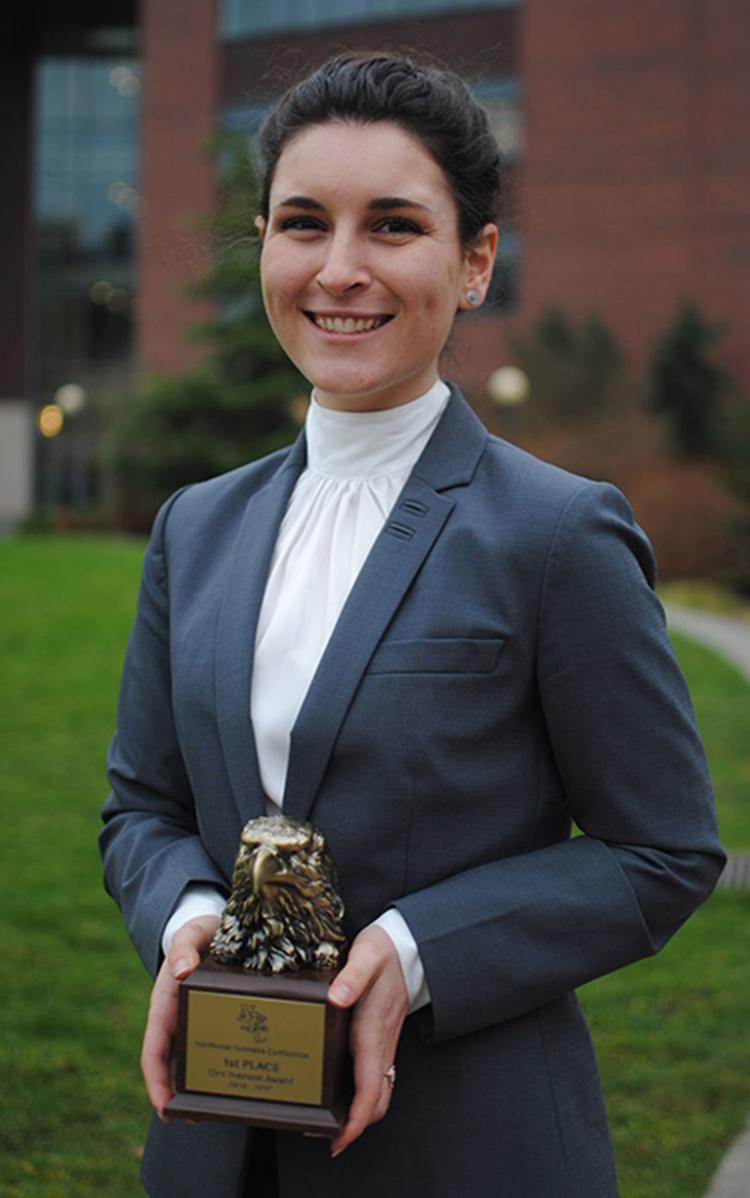 Other first-year winners were Taylor Potts of Great Falls, who won four awards, including first place in novice extemp; Kristian Bartel of Federal Way, Washington, won three awards, including second in debate with partner Ollie Robson, a sophomore from Billings; and Tom Trangmoe of Stevensville, who won four awards across three different genres – debate, impromptu and prose.
The upper class also shined, led by senior Frank Stumbo of Shelley, Idaho, and his partner Josh Mansfield of Pocatello, Idaho. They combined for nine awards. Stumbo won impromptu, Mansfield was second in extemp and won top speaker in debate, just ahead of Stumbo, who was second. Michael Fuller, a junior from Helena, won four awards, including first place in dramatic interpretation. Parker Gunderson, a sophomore from Billings, placed in both extemp and impromptu.
Sophomore Teigen Tremper of Whitefish won junior impromptu, receiving first place on every ballot in the tournament.
Sixteen of the 20 team members won awards in one of the strongest showings in recent years.
Bookmobile announces writing contest
What's your favorite Bookmobile experience? Share your story and you could win a prize during the Bookmobile Writing Contest.
Writing prompt exercise kits are available at all Bookmobile stops. The kit includes the writing prompts and creative writing tips to help you get started in the process.
Submissions will be accepted through April 5. All entries must be given to Bookmobile staff at any of the Bookmobile stops. The Bookmobile staff will select three entries to receive Kindle Fires. For a complete schedule of Bookmobile stops visit: www.lclibrary.org/188/Bookmobile.
Hel'z Belles seeks skaters, officials, refs, volunteers
Join the Hel'z Belles league for its recruitment and sign-up event at 2 p.m. Sunday, Feb. 10, at Ten Mile Brewery. There will be experienced skaters present to answer questions. The Hel'z Belles Roller Derby League is an 18 and older women's league. They are looking for new skaters, referees, non-skating officials and volunteers. Men are welcome to come skate. We don't currently have a co-ed team, but there are opportunities to referee and learn the game. Skating boot camp begins Feb. 21 and training will run from 5:30 to 7:30 p.m. every Thursday through April 25.
Transform your whiskers into wishes for kids
Join Montana Beardies and help grant wishes for Montana kids with critical illnesses. World-renowned outdoorsman Tom Oar supports Make-A-Wish Montana and encourages all "beardies" -- real and creative -- to join in the fun.
Enter your beard in the Montana Beardies contest and be sure to share the link with your friends, family and co-workers where they'll "vote" for your beard by donating to your page. Raise money and grant a wish for a Montana wish kid.
To register your beard, go to www.montanabeardies.com, click on "Register." After you complete the registration, you'll be able to start a team, join a current team or participate as an individual. You also can just click "Join the Campaign" to join a team or create your own team. You can add a picture of your beard and share with your family and friends.
Applications sought for 2020 Teacher of the Year nominations
The Office of Public Instruction announced that nomination and application forms are available for the 2020 Montana Teacher of the Year Program. Members of the public can fill out a simple form to nominate a teacher. Teachers can self-nominate by filling out an application. All current and active teaching Montanans are encouraged to apply. If nominated, the OPI will reach out to the nominated teacher and ask them to fill out an application.
Nomination forms are due back to the OPI by May 3 and completed applications are due by June 14. They can be emailed to MTTOY@mt.gov. Applications, nomination forms, and additional information can be found on the OPI's website.
The 2020 Montana Teacher of the Year will go on to represent Montana in the national program.
The Montana Teacher of the Year is selected by a statewide committee of diverse education, business, government, tribal, and community stakeholders. Dylan Huisken from Bonner is currently representing Montana as the 2019 Montana Teacher of the Year.
Capital music students selected for All-Northwest performing group
Capital High students Ali McAllister, junior-bass; Fisher Friend, sophomore-bass; Celia Quintana, senior-viola; Sonja Severtson, senior-violin; and Joseph "Lenny" Triem, sophomore-cello have received top honors by being selected to participate in one of the 2019 NAfME All-Northwest performing groups.
The students will join more than 1,000 other high school student musicians in Portland, Oregon, Feb. 14-17 to rehearse and perform a concert under the direction of world-renowned conductors. These All-Northest musicians were selected from more than 4,370 students who auditioned to participate in this event.
STUDENT NEWS
Carroll College student Heidi Hohmann was awarded the George M. Dennison Civic Engagement Scholarship by the Montana Campus Compact for her investment in community service through her work with Special Olympics, animal welfare and children. She was one of 10 Montana college students to receive this scholarship.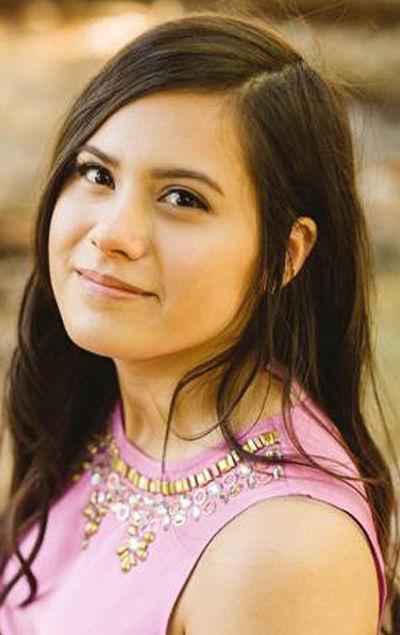 A junior health science and public health major from Spokane Valley, Washington, Hohmann has volunteered the past three years as a health educator for the annual Special Olympics Montana Health Clinic, for five years with the Spokane County Regional Animal Protection Service, and she volunteers weekly at Bryant Elementary in the Sixth Ward in Helena. In addition to being an Asian-American immigrant, she will be the first in her family to graduate from a four-year college. 
Audrey R. Bell, of Helena, had been named to the dean's list at Colby College in Waterville, Maine, for outstanding academic achievement during the fall semester of the 2018-19 academic year. Bell, a member of the Class of 2021, attended Saint Andrew School and is the daughter of Nicholas and Heather Bell of Helena. Students must earn a semester grade point average of 3.77 or higher to be included on the dean's list.
Canarissia Cline, of Helena, has been placed as a student teacher for the University of Findlay's spring semester. Cline is in a student teaching position at Van Buren Middle School in Van Buren, Ohio. Cline is pursuing a degree in intervention specialist education.
Megan Fandrich, daughter of Ryan Fandrich of Montana City, has been named to the dean's list at the University of Montana in Missoula for the fall 2018 semester and received a letter of congratulations from Andrea Lawrence, professor and interim dean, recognizing her as a scholar of the Phyllis J. Washington College of Education and Human Sciences.
Bella Melton, a student at Capital High School, has been awarded a Pacific Lutheran University President's Scholarship worth $26,000 a year — along with the opportunity to earn more. The President's Scholarship is one of the top academic and leadership scholarships offered by PLU.
Chelsey Davis, of Helena, has been initiated into The Honor Society of Phi Kappa Phi, the nation's oldest and most selective all-discipline collegiate honor society. Davis was initiated at Montana State University.