EVENTS
Ride to Remember to honor Montana POW/MIA veterans
The 6th annual Ride to Remember will bring approximately 200 to 250 motorcycles to Memorial Park on Friday, Aug. 16 from 4 to 6 p.m. for a BBQ, and then on Saturday, Aug. 17, from 7:00 a.m. to when we pull out to begin our ride at 10:15 a.m. We will have a ceremony at 9:30 a.m. to read each of the names of the POWs and MIAs from Montana.
This event is organized by the Montana POW/MIA Awareness Association and follows highway 287 from Helena to West Yellowstone. The ride is made in memory of the more than 82,000 POW/MIA personnel from across the country, with a special focus on the 53 POW/MIA service members that have not yet returned home after leaving Montana to serve their country; eight still missing from WWII, 27 from the Korean War, 16 still missing from the Vietnam War, and two are still missing from the Cold War.
The purpose of our organization is to never allow the memory of these heroic Montana boys' sacrifices to be forgotten.
Hikes, Bikes and Trails Brews and Blues Festival
The second annual Hikes, Bikes and Trails Brews and Blues Festival kicks off this Friday at 3 p.m. at Memorial Park.
The festival melds the classic parts of Helena's best offerings: trails, beer and camaraderie. Free shuttles will be running during the festival, bringing hikers and bikers to Helena's trail system.
RV camping spots are available this year and can be reserved online.
The festival will benefit the Prickly Pear Land Trust, a nonprofit organization devoted to conserving public lands in the Helena area.
Bannack State Park hosting annual kids' day event Saturday
Bannack State Park will host its annual kids' day event on Saturday, Aug. 17, from 1 to 4 p.m. The event is open to kids big and small as well as those who are still kids at heart.
Participants will be able to explore a range of fun and educational offerings including doll making, gold panning, traditional native games, fur and skull identification, pioneer clothes washing, and a display of tools used by Lewis and Clark on their expedition.
The event is free with the cost of admission to the park. The park is located at 4200 Bannack Road in Dillon. There is no need to pre-register for this event.
For more information, call William Whearty at 406-834-3413.
Augusta holds event to mark Meriwether Lewis' visit to area
Capt. Meriwether Lewis and his men will revisit the Augusta on Aug. 17-18, one day before Lewis' 245th birthday. An event commemorating Lewis' visit to the area will be held in the Augusta American Legion Park, beginning at 11 a.m. and will be followed by a special presentation at the Augusta Museum at 4 p.m.
The Augusta Area Historical Society, a nonprofit organization, is sponsoring the event along with the Lewis & Clark Honor Guard and the Portage Route Chapter of the Lewis & Clark Trail Heritage Foundation.
The event is free and family friendly. There will be a barbecue in the park starting at 1 p.m. by the Western Bar, with part of the proceeds going to the Augusta Area Historical Society.
The Honor Guard will have displays set up in the grassy, shaded area of the Legion Park. You will be able to scope out the navigational instruments used by the corps. Find out what they ate and how they cooked it. Learn what medicines the men used when they got sick. There will be skinning and tanning demonstrations and more.
For more information, call Kerry Bouchard at 406-562-3520.
Public invited to voting system certification event
The Montana Secretary of State's office will be holding a certification event for updated election systems equipment and a new voter assistance terminal on Monday and Tuesday, Aug. 26-27, in Room 303 of the state Capitol building. The certification event is for software and equipment made by Elections System and Software LLC.
ES&S will have demonstration units of ExpressVote available for the public to inspect and use from 3 to 5 p.m. Monday and again from 8 to 9 a.m. Tuesday. The formal certification event will start at 9 a.m. Tuesday. Public comment will be taken at the end of the event.
Bridges Buffet program kicks off fall season
Helena Community Connections' Bridges Buffet program kicks off its fall season on Wednesday, Sept. 4, at noon with Avalanche Country, 1880-1910.
Diana DiStefano, Ph.D., editor of Montana: The Magazine of Western History and publications manager at the Montana Historical Society, discusses surprising ways 19th-century miners and railway workers adapted to challenging mountain environments in the American West. Who do you think they blamed when disaster struck?
A $5 program donation is suggested along with non-perishables for Helena Food Share. Bridges events occur at 2330 E. Broadway, unless otherwise noted. Register at www.bridgeshcc.org or phone AARP at 877-926-8300 no later than Monday, Sept. 2, at noon. Call Alyce Brutosky, Bridges Buffet program coordinator, at 406-458-8144 for more information. All Bridges programs occur in handicapped accessible facilities. All Bridges programs are life enrichment for those over the age of 50.
ANNOUNCEMENTS
Honor Guard seeks veteran members for burial services
The Lewis and Clark Veteran Council Honor Guard provides military honors for departed veterans in Lewis and Clark County.
Our honor guard includes a uniformed firing squad, a commander and a bugler at the graveside service.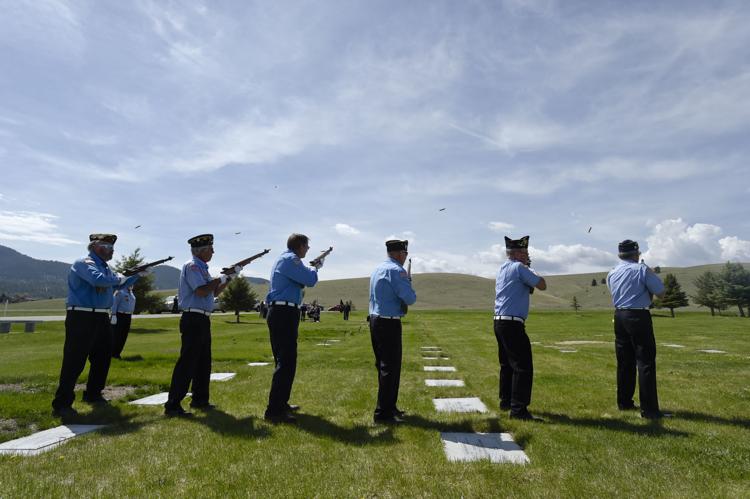 We are all veterans ourselves who volunteer our time to make sure our comrades receive a proper military burial service. The ceremony is relatively short: we march in, watch any service, fire three volleys, watch while the flag is folded, taps is played and march out.
We need new members. If you are a veteran looking for a way to continue your service in a very meaningful way, please call Larry Westfall 459-4838 or Howard Davis 443-0230.
ExplorationWorks opens new outdoor garden classroom
ExplorationWorks has announced the opening of their new garden classroom. The project, made possible with help from the greater Helena community, began in October 2018 and is now complete.
The outdoor expansion adds additional space for ExplorationWorks camps, classes and events, and allows for children to learn about gardening and the science behind it. The garden classroom, which is open to the public, features a covered structure with traditional classroom whiteboards, storage, a large garden and Paige's Playground -- an outdoor play space for children.
ExplorationWorks is located at 995 Carousel Way. Call 406-457-1800 or visit explorationworks.org to learn more.