EVENTS
Helena College autism conference is tonight
Helena College Professor, Nathan Munn, and the Helena College Social and Psychological Science Club are hosting an informative conference on Autism Spectrum Disorder. The conference will be held at 5 p.m. on Friday, April 5, in the Student Center at Helena College. 
The conference will focus on how individuals with ASD experience difficulty transitioning from the child and adolescent system of care to the adult system. 
Keynote speaker, Carolyn Long, founder and president of Common Goals Consulting LLC, will start the conference at 5:30 p.m. Long brings 20 years of experience as a speech-language pathologist and communication specialist to the world of employment for individuals with communication challenges.
Light refreshments and food will be provided. 
Fair to connect youth with groups
Youth Connections is hosting the Take REAL Action Volunteer Fair to help both community members and organizations make a difference in the Helena area.
Community members of all ages and interests are invited to come between 10 a.m. and 2 p.m. Saturday, April 6, to St. Paul's United Methodist Church, 80 E. Lawrence St. There will be opportunities to connect with organizations and sign up to volunteer. There will also be some on-site service projects that both kids and adults can participate in.
Gardening with kids workshop
Bring the kids 2 to 3 p.m. Sunday, April 7, to Mae & June Vintage Market, 1238 Bozeman St., for a free gardening with kids workshop. Learn what to plant when and how to get your kids involved. There will be gardening kits and child-sized tools available for purchase to help you get started with your seeds. Limited space so RSVP, 406-461-8253, or on Facebook.
Learn the latest in bear awareness at Montana Wild
Do you trail run or mountain bike? Hike or backpack? Camp, hunt or fish? Float or trail ride?
Join Bill and Marti Cook, Montana Fish, Wildlife & Parks volunteers, from 6 to 7:30 p.m. on Thursday, April 11, at Montana Wild for an update on the latest in bear awareness. You'll learn new information about grizzly presence in our region, new state-of-the-art bear safety products and the latest research on defense against bear attacks.
Hands-on instruction on how to use bear spray will be offered the last half hour of program.
Montana Wild is located at 2668 Broadwater Ave. The program is free, and no registration is required. To learn more, call 406-444-9944.
Drift boat clinic, fundraiser planned in Craig
Adipose Boatworks, Wolf Creek Angler and Headhunters Flyshop will be hosting a Drift Boat 101 Clinic and fundraiser for Mending Waters Montana on Saturday, April 13. The morning will start at 10 a.m. at Headhunters Flyshop in Craig. There will be instruction on drift boat transport, launching/loading the drift boat, rowing, anchoring, how to fish from the boat and general river etiquette. There will be off and on-the-water instruction during the clinic with the opportunity to row a drift boat. The clinic will end at 6 p.m.
A barbecue lunch will be provided by Headhunters. While there is no charge for the clinic or lunch, it is strongly encouraged that participants donate to Mending Waters Montana (formerly MT Project Healing Waters). Raffle tickets will be sold at the event for a chance to win rod and reel combos, Yeti products, free drift boat rentals and other fishing related goodies.
Mending Waters Montana is a nonprofit, volunteer group here in Helena that is dedicated to the physical and emotional rehabilitation of active military personnel and veterans through fly fishing. This includes fly tying classes and fly fishing trips.
AARP driver safety classes upcoming 
AARP driver safety has two driver safety classes scheduled in Helena during April. Participants receive updates on the rules of the road and learn driving strategies to adapt to the effects of aging and to reduce chances of having a crash. The course was developed for participants age 50-plus, but is open to all ages. The course fee is $20 ($15 with AARP membership card). Auto insurance companies in Montana provide a multi-year discount to participants 55 years of age and older.
Friday, April 12, at First Interstate Bank, 2021 N. Montana Ave.; from noon until about 4:30 p.m.
Thursday, April 25, at First Interstate Bank-East, 2728 Colonial Drive; from 5:30 until about 10 p.m.
Bridges program hosting estate planning workshop 
Helena Community Connections' Bridges program will host Marsha A. Goetting, Ph.D., CFP®, CFCS, professor and extension family economics specialist at Montana State University. Goettings will present estate planning information in three different sessions on Thursday, April 18. All sessions will be held at 2330 E. Broadway. The facility is handicapped accessible. Here is how the sessions will be presented:
The basics all Montanans should know: 9 a.m.-noon: Learn who will receive your property if you pass away without a written will. Discover how you can avoid probate with the Montana estate planning tools of payable upon death designations, transfer upon death designations, and beneficiary deeds. 
Wills, Trusts, Probate, Personal Representative 1-4 p.m.: Goetting will explore when a will or a trust has control over your property and when neither one does. Testamentary trusts will be discussed as well as when probate is required. The duties of a personal representative will be outlined. 
Married/Common Law estate planning tips 5:30-7:30 p.m.: Goetting explores estate planning aspects for married and common law couples. She will show how a Montana Medical Care Savings can become a legacy. The difference between carry-over basis and stepped-up basis in property after death will be explained. 
Bridges programs are life enrichment for those over 50. There is no fee to participate. Pre-registration at www.bridgeshcc.org is required.
ANNOUNCEMENTS
Deadline nearing for Spirit of Service Day applications
June 5, is the 20th Annual "Spirit of Service" Day and the Rocky Mountain Development Council is seeking homeowners who need assistance with basic yard cleanup, trash hauling, window washing and small painting projects outside of their home.
Spirit of Service is for seniors, veterans, or individuals with disabilities living in owner-occupied homes who are unable to do the work themselves because of age or other limitations. The homes must be located in Helena, East Helena or the Helena Valley. There are no income requirements for services. Priority will be given to folks who have not received assistance in the last three years. SOS volunteers and partners provide the tools, labor and materials required to do the work and will only perform exterior work to houses.
Deadline to apply is April 12. Visit www.rmdc.net/spirit-of-service-program.html or call the Rocky Neighborhood Center at 406-447-1680 for an application. Applications are available at all partner agencies, as well as other local nonprofits including Helena Food Share, Good Samaritan Ministries, Salvation Army, the Veterans Administration and United Way. Applications can be mailed upon request. Family members and neighbors are encouraged to apply for their loved ones to receive these services.
Save the date for annual Great Helena Gives
Helena Area Community Foundation and their nonprofit partners hope to raise more than $100,000 for the fifth annual Greater Helena Gives campaign from May 2 at 5 p.m. through May 3 at 5 p.m.
The event helps nonprofits in the community provide goods and services to those in need.
HACF also coordinates the underwriting of hourly prizes that the participating nonprofits can win as incentives. Prizes are awarded in various categories such as most new donors, most gifts, first gift in any given hour and other categories that participating nonprofits compete against each other to win.
Area nonprofits that want to participate, or potential prize sponsors who would like to offer underwriting to support the event, contact the HACF offices at ed@helenaareacommunityfoundation.org or call 406-441-4955.
HHS sends teams to Boise for mock trial competition
The Helena High School Mock Trial program sent two teams to the National High School Mock Trial state competition in Boise, Idaho, on March 13-14. The HHS team is the only high school mock trial team in the state. The Montana contingent placed eighth and ninth at the competition. 
Preparation for the high school competition starts each year at the end of November when coaches and students are presented with materials regarding a fictionalized court case. Students learn the details of the case and assume roles of defending and prosecuting attorneys, as well as the roles of key witnesses, during the courtroom battles. Judges award points for the strength of the attorney and witness roles in court. Individual performances are also recognized.
The HHS teams consist of A Team:  Aurora Boutin, Nicole Stine, Morgan Hill, Dakota Franklin, Ivan Kloberdanz and Grace Johnson. B Team: Welma Mansfield, Sage Eck-Miller, Kumi Rose, Kendall Schlosser, Lauren Irwin, Hailey Brewer and Isaac Nehring.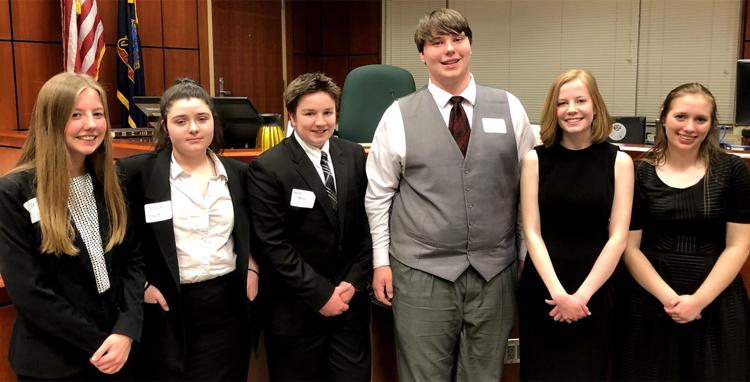 Individual honors included Outstanding Attorney Awards: Aurora Boutin, Sage Eck-Miller and Grace Johnson. Outstanding Witness Awards: were garnered by Morgan Hill, Dakota Franklin, Grace Johnson and Isaac Nehring.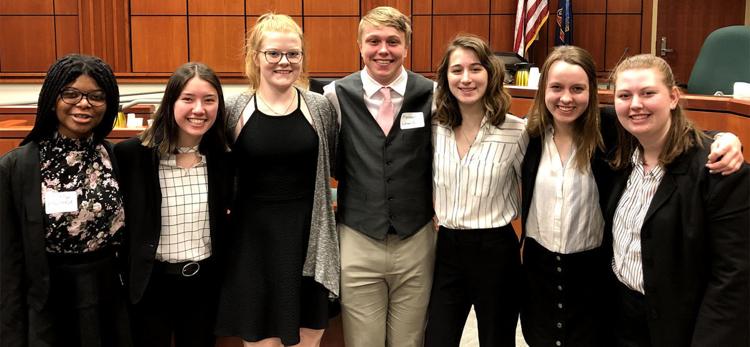 The Helena High Mock Trial program is coached by local attorneys Kayleigh Morine, David Morine and Brian Miller. Helena High School business law instructor Kacey Askin also coaches the team. 
United Way partner agency applications available
United Way of the Lewis and Clark Area has released the application for new nonprofit partnerships. The application offers nonprofits in health and human services fields the opportunity to establish a formal partnership with the local United Way office that support efforts in health, education, financial stability, and meeting basic needs of area residents.
Applications are due back to UWLCA on April 30 by 5 p.m. They can be found online by visiting www.unitedwaylca.org or by calling the UWLCA staff at 406-442-4360.