EVENTS
Easter Cantata set for Palm Sunday
Clancy United Methodist Church Choir will present "What Love is This?" an Easter Cantata directed by Mary Bair, at 6:30 p.m. Sunday at 6 N. Main St. in Clancy, with solos by Mike Benson as Judas and Rick Wine as Jesus. The musical was created by Lloyd Larson and published by Lorenz Music.
A reception for the community will follow. For more information, visit www.clancyumc.org or call 406-933-8504.
LWVHA to hold annual business meeting
The League of Women Voters Helena Area will hold their annual business meeting at noon on Tuesday at the Lewis & Clark Library, 120 S. Last Chance Gulch. Members are reminded to register to attend the state convention to be held in Bozeman on April 27-28. 
ANNOUNCEMENTS
Construction to start on I-15 between Wolf Creek, Gates of Mountains
The Montana Department of Transportation announced improvements to select bridge decks on Interstate 15 between Gates of the Mountains and Wolf Creek will be starting in the coming weeks. Weather permitting, crews are planning to begin the resurfacing process in mid-April, though commuters and travelers may see signage on the roads prior to that time. Construction will continue through the summer months and into September as deck improvements are made on the following bridges: Gates of the Mountains Interchange, Sieben Interchange, Spring Creek Interchange, Little Prickly Pear Bridge and Lyons Bridge.
For ease and safety, drivers familiar with the Interstate 15 canyon south of Wolf Creek will see changes to the existing traffic configuration. During construction, this will include narrowed lanes at Gates of the Mountains (Exit 209), Seiben (Exit 216) and Spring Creek (Exit 219). Little Prickly Pear Bridge (before Spring Creek) and Lyons Bridge (after Spring Creek) will have a crossover traffic pattern, meaning that travelers may be directed to the other side of the road. Travelers can expect to see traffic reduced to one lane in each direction with reduced speeds at these bridges.
The traveling public may experience delays when wide loads enter and exit the project limits. Planning for additional travel time is advised.
Montana History Foundation awards $134,451 in grants
Since 2012, the Montana History Foundation has awarded annual grants to projects and organizations that work to preserve and protect the historic legacy of Montana. This year, the Foundation reached a new record, giving away the largest amount ever at $134,451 and bringing all-time grant awards to $843,985.
This year, grants will support projects from Libby to Sidney and 27 other communities throughout the state. In St. Ignatius, funds will be used to reroof Montana's oldest standing building.
The 2019 grant winners reflect the high quality of preservation work being accomplished across the state. For a full list of grantees, visit www.mthistory.org/grants.
For additional information about specific projects, please contact the History Foundation grants manager, Carissa Beckwith, at carissa@mthistory.org or 406-449-3770.
Nominations sought for Crime Victim Advocate Award
Montana Attorney General Tim Fox is seeking nominations for his agency's annual Matthew Dale Outstanding Advocate of the Year Award. Any Montanan working with crime victims is eligible, including law enforcement personnel, domestic violence advocates, shelter staff, probation and parole officers, first responders, SANE nurses, judges, attorneys and volunteers.
The call for nominations coincides with National Crime Victims' Rights Week, April 7-13, which celebrates the progress made by survivors of crime and highlights the efforts of individuals across the country who work toward making victim services accessible for all. 
Since 1993, the Outstanding Crime Victim Advocate Award has been coordinated by the Attorney General's Office of Victim Services. The award is named in memory of Matt Dale, who directed the Montana Department of Justice's Office of Consumer Protection and Victim Services for 17 years. 
Nominations are due by April 26. Applications are available at https://dojmt.gov/victims/forms/. For more information about the nomination process, contact Joan Eliel, director of the Office of Consumer Protection and Victim Services, at 406-444-1907 or jeliel@mt.gov.
Carroll students are finalists in national media competition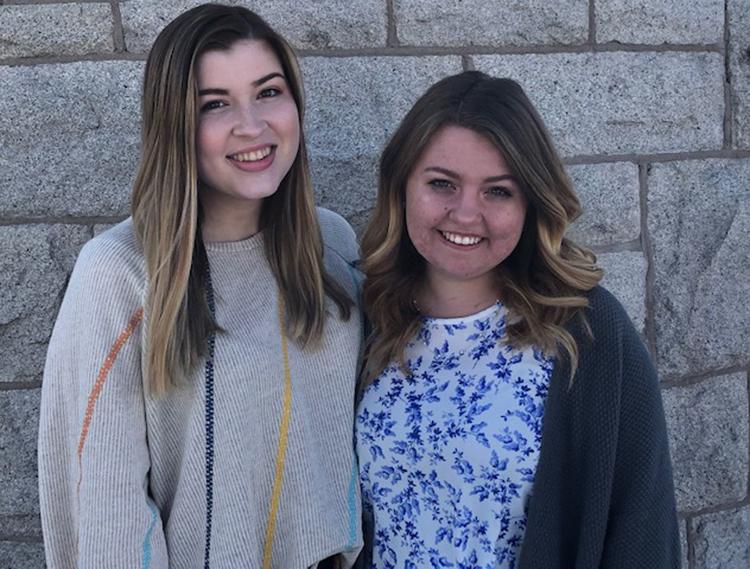 Two Carroll College public relations majors have defeated nearly 100 teams from universities throughout the country to advance to the national finals in the Washington Media Scholars Foundation's Media Plan Case Competition. Other finalists include Temple University, Ithaca College, Iowa State, BYU-Idaho, Anderson University and the University of South Carolina.
Junior Peri Dropping of Redmond, Washington, and junior Kelsie Watkins, from Snohomish, Washington, both public relations and communication majors, received word on March 29 that they had reached the finals.
All six final teams receive all-expense paid trips to a seven-day media educational workshop and competition in the D.C. area in June.
The finals are held at the Newseum, a museum of journalism in Washington, D.C., located on Pennsylvania Avenue between the Capitol and the White House.
The winning team will receive $10,000 in scholarship funds, with $6,000 for the runner up. The foundation has awarded more than $500,000 in funds in the 10 years since it began in 2009.
The competition required teams to develop a media plan and marketing strategy for the fictional opening of a new baseball park, including a campaign to win community support in an election to support the new ballpark.
Scholarships available from Benefis Health System Foundation
Scholarship applications are now available for college students working toward degrees in health care through the Benefis Health System Foundation's Healthcare Scholarship Program.
The deadline to apply for both fall 2019 and spring 2020 is June 1. The award maximum is $2,500 per semester or $5,000 per year and is based on funds available.
The Healthcare Scholarship Program offers a general Medical Education Scholarship, more than a dozen named scholarships funded by longtime donors and several other scholarships that are all eligible for renewal. All scholarships and application forms are listed on the Benefis Foundation website at www.benefis.org/foundation-scholarships.
Criteria vary for each scholarship. Some require a Work Commitment Agreement with Benefis, while others do not. All applicants must have a GPA of 2.75 or higher and full-time students must be taking nine or more credits. Along with scholastic achievement, awardees are selected based on community involvement, strong career motivation and personal recommendations. The Healthcare Scholarship Program Committee determines which scholarship(s) each applicant is eligible for based on criteria, and then the selection process begins.
All complete application packets must be postmarked or delivered to the Benefis Foundation office by June 1.
Talking Saints perform well at Western Championships
The Carroll College Talking Saints made a deep run at the Western United States debate championships held March 23-25, sending Carroll teams to the championship final rounds in both open debate and novice debate. A third Carroll team advanced to the semifinals. The Western Championships, held at Pacific Lutheran University in Tacoma, Washington, drew more than 60 teams from 11 states and Canada.
Senior Frank Stumbo from Shelley, Idaho, and sophomore Josh Mansfield, a sophomore from Pocatello, Idaho, reached the championship round, losing to Regis University of Denver. Juniors Kelsie Watkins of Snohomish, Washington, and Peri Dropping of Redmond, Washington, reached the semifinals.
First-year students Eleanor Ferrone of Hastings, Nebraska, and David Lange of Ferndale, Washington, reached the novice finals, losing to Vanderbilt University from Nashville, Tennessee. Ferrone was honored as the "Rookie of the Year" in the Northwest in January, given to the top novice in the region.
Carroll assistant coach Mark Schmutzler of Helena and his partner Ryden Meyer from Portland, Oregon, won the Western championships in 2015.
iGraduate Montana Challenge fund grants awarded
The Office of the Commissioner of Higher Education and the Dennis and Phyllis Washington Foundation announced that 21 Montana communities have been selected for iGraduate Montana Challenge Fund grants in the second year of the program. 
Successful Helena-area applicants include:
Helena WINS
Jefferson High School
Whitehall Public Schools
Grants ranged from $3,250 to $10,000, and many focused on bringing relevant career and college skills to students through strategies such as apprenticeship activities, work-based learning, mentoring, dual enrollment, career fairs and college visits.
The grant awardees will be partnering with Montana businesses and nonprofits to create opportunities for students to explore in-demand careers and gain real world experience.
High school women recognized for computing achievements
As part of an effort to encourage more young women to choose careers in technology, the National Center for Women & Information Technology, NorthWestern Energy and Carroll College recognized 20 Montana high school women from 12 high schools for their accomplishments and aspirations in computing and technology. 
The NCWIT Award for Aspirations in Computing was created to promote the computing aspirations of young women, introduce them to leadership opportunities in the field and generate visibility for women's participation in technology fields. Winners are acknowledged for their outstanding aptitude and interest in technology and computing, leadership ability, academic history and plans for postsecondary education.
National judges pick the Montana winners.
Helena-area winners include:
Isabelle Melton, senior, Capital High (2018 winner also)
Lauren Helbling, senior, Capital High
Jenna Bingham, senior, Helena High
Alyson Rake, junior, Helena High
Audrey Senecal, senior, Helena High
Laurel Maronick, first year, Helena High
National certificate of distinction:
Sonja Severtson, senior, Helena High
Helena High teacher Buffy Smith (Carroll class of 1993) received the 2019 NCWIT Aspirations in Computing National Educator Award. She has received the Montana Educator Award three times and this is her first national recognition.
Area students honored at MSU
Four Helena students who excel in community service and leadership were honored April 11 during Montana State University's 96th annual Day of Student Recognition.
Taylor Blossom, Outstanding Junior Leadership Award
Jocelyn Gates, Outstanding Leader of the Year
Justin Johnson, Val G. Glynn Award
Teresa Patten, Septemviri
In addition to the honored students, Josh DeWeese, associate professor in the School of Art, was honored as Outstanding Adviser of the Year.