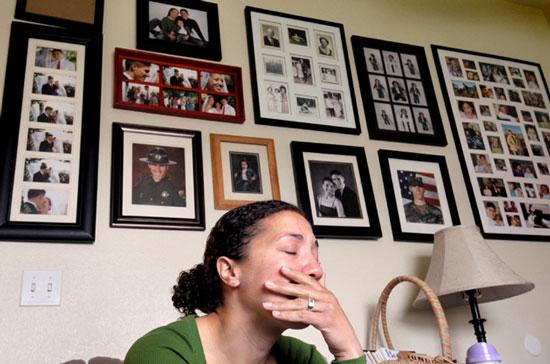 KALISPELL - Michael Haynes rolled back into his blankets that morning, pulled his pillow over his head and listened, half-asleep, as his wife and children readied for church.
"Actually, I was kind of irritated that he didn't get up to go with us," Tawny said.
But he'd been working nights, and generally didn't budge until noon.
When they returned from the morning service, everyone piled into the bed and Michael wrestled around with Elias, his 18-month-old boy. Curly-haired Taryn, nearly 4, picked out clothes for her dad.
"He'd always wear whatever she got out," Tawny said.
It was a sunny day, a rare bright spot amid a long stretch of late-winter gray, and they were happy.
Up in Columbia Falls, about 20 miles from Haynes' Kalispell home, Travis Vandersloot also woke late to that same sun shining in his window. Like Haynes, Vandersloot was working nights and sleeping in. He was 29, and Haynes was 28, but they'd never met.
Vandersloot grabbed some breakfast, flopped onto the couch and flipped on a basketball game.
"It was," said sister Christy Bridwell, "a really normal Sunday."
That would change in about 12 hours when the two men finally, fatally, crossed paths.
On a normal Sunday in America, three dozen people die in alcohol-related car crashes. Another three dozen die again on Monday, and again on Tuesday, and on Wednesday, too. By the time the week's out, more than 250 are dead. That's just short of 1,100 in a month, 13,000 in a year.
It is, by public health measures, a full-blown epidemic, with drunken drivers taking far more lives than terrorists and swine flu and most other headline grabbers combined. In all
of 2008, West Nile virus killed just 27 people, which isn't even one Sunday's worth of drunken-driving victims.
According to the National Highway Traffic Safety Administration, most drunken drivers are young, are men, are on the road at night, are not buckled in.
None of which is surprising.
What is surprising, though, is the fact that Montana has the highest alcohol-related fatality rate in the nation, and has for several years running. While the nation's rate has been falling dramatically -- proving that drunken driving is anything but inevitable -- Montana's rate has remained relatively unchanged through the last decade.
"We live with a kind of Wild West mentality," said Col. Mike Tooley of the Montana Highway Patrol. "People here seem to consider drunk driving their Montana birthright."
Back in the early 1980s, Americans died in alcohol-related crashes at a rate of about 1.25 per 100 million miles driven. By 2007, it was 0.48 deaths per 100 million miles driven.
But in Montana, it's still 25 years ago. Here, drunken drivers killed 1.12 people per 100 million miles driven in 2007, the highest rate in the nation.
"It's a cultural thing," Tooley said. "We have a Montana culture that permits drunk driving. Until we deal with that, nothing will change. We have to make the choice."
Travis Vandersloot -- the "good kid with a huge heart," as his mother said -- had a rough six months. He split with his girl, then lost his job at a local door company, one of hundreds laid off as the housing boom went bust.
Vandersloot had a new job, taking care of the odds and ends at a Bigfork bowling alley, but he knew it wasn't a career move.
"We were going to take a drive up and visit him at work that day," said mother Cindy Vandersloot. "But we didn't do it." She pauses, and her voice cracks, just a bit. "That will be the biggest regret of my life."
Travis left the house he shared with his sister about noon, dressed in jeans, his DC shoes, his green DC hat. His shift was from 1 to 9 p.m., but he picked up some overtime and stayed until 11.
"Then he sat down for a few drinks," Bridwell said. Travis, she said, preferred dark beer.
The bartender later told her he served Travis four beers and a couple of shots, "which wasn't normal for him. Travis wasn't a drinker. He didn't drink shots."
"And he definitely would not be one to drive, if he was incapacitated in any way."
"And he was a really careful slowpoke driver. He'd never speed."
Travis Vandersloot was, by all accounts, a good guy. Even Tooley, over at MHP, will grant you that.
"He wasn't a troublemaker or anything," Tooley said. "He was a nice kid. People really liked him."
People liked Michael Haynes, too.
About the time Vandersloot was pulling on his DC cap and heading to work, Michael Haynes was rolling out of bed, in clothes picked out by his 3-year-old. The family went to the bicycle shop, and bought helmets and a pull-behind trailer for the kids.
Haynes teased his wife about buying a big, cushy "granny seat," but when they took their new rig for a spin he quickly decided that maybe he needed some extra cushion, too.
By 4:30 p.m. on Sunday, March 22, Montana Highway Patrol Trooper Michael Haynes had parked the bikes and was dressing for the second time that day, pulling on his uniform for the night shift. When he walked out the door, Tawny kissed him and said the same thing she always said.
"I love you, and be careful."
On some counts, Montana has improved. Back in 1983, state highway officials reported that 22 percent of all crashes were alcohol related. In 2007, they said just 10 percent of crashes involved impaired drivers.
Still, the 2007 number was the highest since 1996, "and that tells me we're not keeping up," Tooley said. The deaths continue, as do the injuries, the emotional trauma, the medical costs, the economic losses, the legal burdens.
The state isn't ranked first in every alcohol-related category. In fact, back in 2002 it was ranked dead last, by the Insurance Institute for Highway Safety -- in terms of effective DUI and driving laws.
The schools, of course, have their DARE programs, and the courts have their treatment programs. Occasionally, someone parks a mangled car in front of a high school for the shock value, "but those are all short-term gains," Tooley said. "For a long-term gain, you need to change the way the entire culture thinks about alcohol."
Montana not only has the lead in per capita drunken-driving deaths, it also is at or near the top in terms of binge drinking, underage drinking and alcohol-related violence.
Brenda Simmons is heading up a relatively new statewide program, covering 24 towns -- the Montana Community Change Project -- that since 2008 has aimed at changing the fundamentals of how we think about alcohol.
"I think (drunk drinking) is a cultural norm," Simmons said. "Culturally, we don't see a problem with going to the bar on a Friday night, having five drinks, and driving home. I mean, how else are we going to get home?"
About a third of Montana teens say they binge drank in the past two weeks. That compares to 28 percent nationally. And the number of kids who report driving drunk, or riding in a car with a drunken driver, "is off the charts compared to national averages," Simmons said.
The project has a federal grant -- $2.3 million per year for five years, overseen by and passed through the state -- and is taking a more holistic approach than in the past.
Tooley -- who in addition to being an MHP colonel recently co-authored an article titled "Social Norms, Media and the Law" -- likes the approach, and believes cultural change is the only lasting change.
Think of it this way: For decades, the surgeon general told Americans that smoking was bad. But no one listened. Then, evidence emerged proving secondhand smoke was deadly, too.
Suddenly, a whole bunch of folks who never paid much attention -- because they didn't smoke -- started listening, and demanding. The airlines were the first to force change, snuffing cigarettes on board. A decade later, you couldn't smoke on a plane even if there was no policy against it, because a dozen passengers would tackle you and take your cigarettes.
Culture changed. What was once accepted became taboo.
Today, DUI, date rape and violence are alcohol's secondhand smoke, and Simmons hopes to engage the majority who don't drink and drive to demand basic social change.
But it won't be easy. Late in 2008, she contacted a Montana judge to see about getting an audience to talk about DUI sentencing. They had to chat in the morning, because that afternoon the judge had to appear in court on a DUI charge. It was his second such arrest.
Before he pulled away, Mike Haynes sat out front of his house in his trooper car, filling out some paperwork. The kids blew kisses from the window, and he flipped on the cruiser's flashing lights.
They cheered, and he drove away.
Over the next several hours, Haynes made some stops, handed out some tickets, prowled south of Kalispell on U.S. Highway 93.
At about 2:20 a.m., he pulled a guy over for having a headlight out. The guy later remembered Haynes was happy, chatty, even. They made small talk about cars, and Haynes let him off with a warning. They spent 10 minutes together, there on a dark stretch of highway, and when Haynes drove away he only had 30 minutes left on his shift.
"He took the job seriously, and he took drunk driving seriously," Tooley said. Last year, Mike Haynes made 74 DUI arrests, which led the MHP.
All of which explains why, with just half an hour left on shift, the trooper remained on the hunt, rather than heading home.
Travis Vandersloot, meanwhile, had left the bowling alley bar, and was driving around the north shore of Flathead Lake. His black Volkswagen Jetta blended into the night as he drove the cut-across between Bigfork and Highway 93. He was proud of the car, his first "real" car, and had showed it off at a family picnic on the day he'd bought it, his mother said. Travis loved family picnics.
On this night, before Vandersloot climbed into his Jetta, some co-workers had asked if he was OK to drive; they'd been concerned, Tooley said. "But ultimately, they didn't do anything about it."
Historically, alcohol education and prevention efforts have worked to reach individuals. Alcohol use and abuse, after all, is seen as an individual choice.
But here's the thing: Individual behavior is influenced by cultural environment. To change individual behavior, you must not only reach individuals, but also broader population, and the culture in which they live. That's the idea behind the Montana Community Change Project.
The intersection of highways 82 and 93 can be confusing even in the light of day. A new four-lane configuration and stoplight mark the spot south of Kalispell with all sorts of yellow lines and signs and flashing lights.
It was, apparently, too much for Vandersloot to reckon with. When he turned right, to head north into Kalispell, he passed straight by the northbound lanes and turned instead into the southbound lanes.
It was late, and he was drunk, and with little traffic he must have thought he was in the correct lane. As Vandersloot picked up northbound speed in the southbound lane, Trooper Haynes was driving south, looking for, among other things, drunken drivers.
"Drinking," said Jackie Jandt, "is a rite of passage in Montana. There's this independent streak, and people don't want to be told what to do and what not to do."
Jandt organizes alcohol prevention programs for the state health department, including the new Community Change Project. The idea, she said, is to provide a flexible template that can be bent to match the unique needs of individual communities.
By partnering the "environmental prevention" approach with more traditional education and prevention programs, she hopes to reach people of all ages, all walks of life, in all of Montana. Such a statewide and holistic approach, she said, has not been tried before, which means that although Montana is a leader when it comes to alcohol problems, it also is emerging as a leader in solutions.
The initiative is aimed at binge drinking and DUIs, but the approaches might be different in different towns.
It might mean tougher local enforcement, or harsher sentencing, or bartender training, or server compliance checks, or local laws targeting permissive parents and underage drinkers.
If society supports new policies, she said, then the policies can help create new standards of behavior. And if the behavior is enforced, then eventually a new cultural standard emerges.
The clock showed 4:10 a.m. when Tawny Haynes woke. The bed beside her was empty, even though her husband's shift ended at 3. Maybe he was still processing a drunken driver, she thought.
She called his cell. No answer. Called again. No answer.
"I just had this really, really bad feeling."
So she called his duty cell, and someone answered.
"This is his wife. Where is my husband?"
Travis Vandersloot was well over the alcohol limit, well over the speed limit, when he shot out of the dark heading north in the southbound lane. There was a dip, and a bit of a corner, and Michael Haynes quite likely never saw him coming.
At 2:40 a.m. on March 23, the two night-shift workers met head-on. Neither car gave, Tooley said. They just slammed to a stop.
The Volkswagen was older, and folded into itself. The MHP cruiser was newer, and the driver's compartment came through mostly intact. Vandersloot died instantly. Haynes hung on for days, then died March 27.
Tawny, who hadn't called to say goodnight, remembers that Sunday as "a great day. It was a perfect day. We had a day of sunshine amongst all those days of cold and rain." She cries a bit. "It was a perfect day."
As for Travis Vandersloot, "he was just a guy who made a bad choice," she said. "He's somebody's son. People love him. People miss him."
Cindy Vandersloot surely misses her son, the one who "seemed to be searching for something he couldn't find." He liked to dance, she said, and golf. He was a big guy, and handsome, and they had to cut his car in half to get him out.
She hasn't met Tawny and Elias and Taryn, but when she learns that young Taryn says her daddy's playing baseball with Jesus, "that just breaks my heart all over again. It's impossible to adjust."
And Tawny agrees. "Everybody else's lives go on," she said. "But we're stuck in this place."
Reporter Michael Jamison: