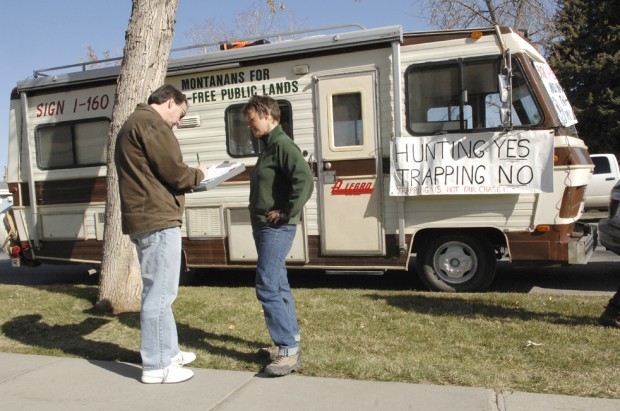 Mogley the dog watches from the window of the 1985 motor home they picked up for a pittance of $3,500.
The vehicle has 60,000 miles on the odometer, nearly 10 times the number of signatures members of Footloose Montana has gathered in its quest to put Initiative 160 on the November ballot, hoping to end trapping on the state's public lands.
Dave Taylor, one of the driving forces behind I-160, parks the motor home in front of the Capitol. He and Anja Heister get busy hanging banners from the sides of their moving billboard.
"Trap free is for me," one banner reads. "Montanans for trap free public lands," reads another.
"It's been a lot of dedication and time," says Taylor, tying the last knot on the last banner hanging from the motor home. "It's not easy work. It's confrontational. It can be physically painful standing in the cold getting signatures. But we have no choice. We're in deep."
They're in deep both financially and emotionally. Taylor took $10,000 from his small Missoula business to fund the grassroots effort. Heister is cleaning houses to make ends meet.
The grinding tour sends them from city to city in their boxy motor home. They jump from Kalispell, Whitefish and Bigfork. They ease into Helena, leave for Bozeman and start all over again.
"People don't know about our initiative and where they can sign the petition," Heister said. "We heard from many people who said they would have signed it earlier, but they didn't know where we were."
Heister was skiing with friends up a road in the Lolo National Forest when the group came across a pine marten hanging by a leg from a trap.
"It was a horrible sight — it was just hanging there in the middle of the woods," Heister said. "There was a large pile of scat under that animal and it was still alive. What do you do?"
While it's illegal, Heister and company freed the dying animal from the trap. The pine marten limped away. When it reached a certain distance, Heister said, it stopped and turned around.
It gave the group one last look.
"I've put my life on hold and I'm accumulating debt left and right to do this," Heister said. "I'm a student and I'm cleaning houses to make ends meet. But this is something I believe in. It's a true grassroots effort."
As of last week, supporters of I-160 had gathered 6,232 signatures across the state. They need 25,000 by mid-June to get the measure on November's ballot.
But the Montana Trapper's Association isn't going to roll over and play dead. The group, which is working to counter I-160, has launched a campaign of its own.
In doing so, the MTA argues that trapping is an important tool for biologists, ranchers and even homeowners when it comes to controlling pests and other wildlife.
Tom Barnes, president of the MTA and the chairman of Montanans for Effective Wildlife Management, which formed to oppose I-160, says the initiative is overly broad.
A trapper who lives near Dillon, Barnes fears the proposal will only hurt his ability to control pests and wildlife on Montana's public lands.
"Trapping is an important wildlife management tool," Barnes said. "We as an organization encourage education — the education of trappers and the education of young up-and-coming trappers — to use the most effective means of harvest."
On its Web site, the Montana Trappers Association quotes Benjamin Franklin, saying "We must all hang together or assuredly we shall all hang apart." The organization also sponsors the Miss Rodeo Montana pageant, providing red fox and white fox furs to Jordan Han and her teen-queen counterpart Libby Gurnet.
"It may be a cliché in this day and age, but the trapper and the mountain man made Montana," Barnes said in a past interview. "Our heritage needs to be preserved. Lots of us grew up trapping."
This morning, with Mogley watching from the window of the motor home, one man sees the banners hanging from the truck. He makes his way over, takes a pen and signs the petition.
Minutes later, a woman stops to sign the measure as well. One by one, Taylor and Heister inch closer to their goal. But participating in the democratic process can be a rough-and-tumble road, and it takes thick skin.
"We had a few guys drive by in their big trucks showing their fingers while yelling at us," Heister said. "The typical line is, 'Welcome to Montana, now go back to California.' It's not very original, but it's what we hear."
The miles on the motor home are adding up fast. Later today the pair plans to leave Helena for Bozeman. They'll spend a few days working voters in Gallatin County before heading back to the Capital City.
Across the state, other teams are in place, working the streets, wooing voters. Even if the teams are successful in securing 25,000 signatures, there's the vote itself — the campaign effort — that looms ahead.
"We know we have to raise a lot of money," Taylor said. "As soon as we get the signatures, then it's time to kick it in gear and get our education out there. You have to educate the people and let them know why this is important."
Starting a grassroots campaign and changing state law takes time and dedication. They give up their jobs and risk their businesses to participate in this fundamental process of American democracy.
Elected officials get their voice.
Sometimes, the people do too.
"If I'm a part of getting this accomplished, it'll be the biggest and best thing that I've ever been involved in," Taylor said. "The thought of helping thousands and thousands of animals be safe from this heinous act, to me, is very gratifying."
Reporter Martin Kidston: 447-4086 or mkidston@