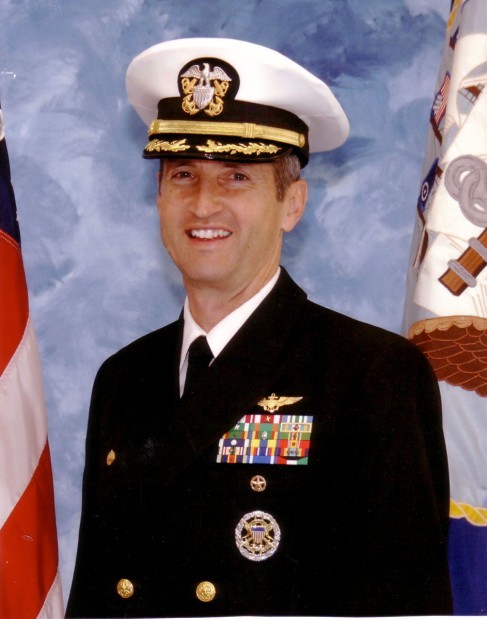 It's almost exactly a quarter-century since the Unites States' 1986 air raids on Libya and its leader, Col. Moammar Gadhafi, in retaliation for his involvement in terrorist activities, including the killing of U.S service members in a bombing at a Berlin disco.
Back in 1986, U.S. Navy Capt. James "Jimmer" Sullivan had a close-up view as a helicopter pilot, and he's in the middle of the execution of the current operations now, as the Liaison Naval Officer (LNO) between the European Command (EUCOM) and Naval Forces Europe. African Command (AFRICOM) is running the operation, and EUCOM is providing combat resources and coordinating logistics of AFRICOM's combat capability, all while working with NATO other members of the current coalition. Operations include air strikes, civilian evacuations, humanitarian missions, enforcing the current no-fly zone and more.
"I'm actually chuckling to myself; it's somewhat like my career has come full circle," said Sullivan, a Helena native and 1978 graduate of Capital High School.
In his long Navy career, Sullivan has been around the world and had roles in support of several major United States military operations.
In 1986, he was helping track Libyan ships, part of the mission to enable freedom of navigation in international waters when Gadhafi was staking his claim on the area between the Libyan mainland and what became known as the "line of death" in the Mediterranean. When the air strikes launched on the night of April 15, 1986, the SH-60B helicopters had a search-and-rescue role in the event of downed airplanes.
Now, working at an undisclosed location in Europe, he's key to making sure the resources of Naval Forces Europe are there for EUCOM and AFRICOM.
"Essentially right now, the U.S. military forces are working in conjunction with a coalition, mostly from Europe … in an attempt to try and stop Gadhafi from plowing through and essentially murdering everybody in front of him," he said in a telephone interview.
Sullivan is the oldest of the six children of Peter and Sheila Sullivan. (Sheila, former director of Carroll College's theater program and a founder of the Grandstreet Theater, died in January.) He wanted to see the world and attended Marquette University on a Navy ROTC scholarship. He received his commission in 1982, went to flight school and began piloting SH-60B helicopters, which were fairly new at the time.
Back in those Cold War days, a major mission involved the tracking of Soviet ships and submarines.
Support of the 1986 bombing meant the possibility of rescue missions in Libya itself, and with that came the threat of anti-aircraft rockets and missiles.
Sullivan saw no incoming fire on that mission, but afterward was part of the team charged with pushing the helicopters to the limits of their evasive abilities.
"We'd never done this type of stuff before, and we'd certainly never flown this type of aircraft doing this type of stuff before," he said.
He soon became an instructor in Florida, teaching evasive flying to other pilots.
After a few years of that, Sullivan flew helicopters in support of America's military efforts, including a peacekeeping mission after Operation Desert Storm in the early 1990s, and work in the Mediterranean Sea during the Bosnian crisis, namely stopping ships heading into Montenegro and checking them for arms bound for Bosnia.
He got a master's degree in National Strategic Studies at the Naval War College, served in Japan, commanded a helicopter squadron and landed as navigator of the U.S.S. Constellation, including a role in Operation Iraqi Freedom in 2003.
Aircraft on the Constellation flew from midnight to noon for about two weeks in that operation, with lead officers surviving on very little sleep, Sullivan said. Every few days, the 1,000-foot ship would have to sidle up to a refueling vessel and Sullivan, as navigator, was overseeing the precise movements; the Constellation had to stay 160 feet away from the refueling ship for two to three hours, with the danger of smashing into the ship or drifting too far away, which could mean snapped fuel lines that could fly around and kill people.
"That was one of the most physically and emotionally exhausting jobs I've ever had," he said.
It was also the last major mission for the Constellation (the third U.S. warship of that name). Three months after returning home, it was decommissioned.
He worked in Washington, D.C., on the joint staffs and for three years taught future Naval and Marine officers as a professor in the Naval ROTC program at Oregon State University.
A lot has changed in 25 years. Instead of tracking Soviet ships, EUCOM last year was helping out fighting Russian wildfires. And while Gadhafi is still in power in Libya, most everything else is different.
Back in 1986, the American F-111s couldn't even fly over France from England to reach Libya, and instead had to fly over the Strait of Gibraltar.
This time, Sullivan said, it's a coalition effort, with several countries trying to stop Gadhafi from killing civilians. In 1986, it was an American effort to retaliate against Gadhafi's role in the deaths of U.S. service members in the bombing of a Berlin disco.
"While the U.S. is helping to lead this effort we are making preparations to turn it over to NATO to run the operation," Sullivan wrote in an e-mail.
It's the latest stop in a military journey that in a sense he never planned.
"I've been very blessed," he said. "I just fell into it, into a job that I absolutely loved. And I just kept having a good time."
Sullivan is due to retire after 30 years in the service in June 2012, and is not entirely certain of his next step.
"I think I'm going to go be a high school teacher," he said.