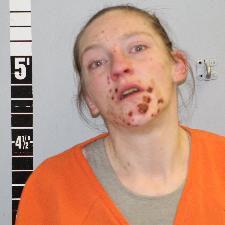 A 33-year-old Helena woman was arrested Monday for possession of methamphetamine.
Helena police responded to a call of a suicidal woman on the 500 block of Last Chance Gulch just before 6 p.m.
An officer confronted the woman, Angela Bacon. While speaking with Bacon, the officer asked her to remove her hands from her pocket.
"When she refused, I pulled her hand out of her pocket," the arresting officer reported in his affidavit.
Bacon was holding a lighter and a syringe full of a clear liquid later determined to be methamphetamine.
She claimed to not know what was in the syringe or how it got in her pocket.
Detention officers searched Bacon upon her arrival and found three more syringes, one of which contained more meth.
Bacon was arrested and booked into Lewis and Clark County Detention Center.
All charged are presumed innocent until proven guilty.