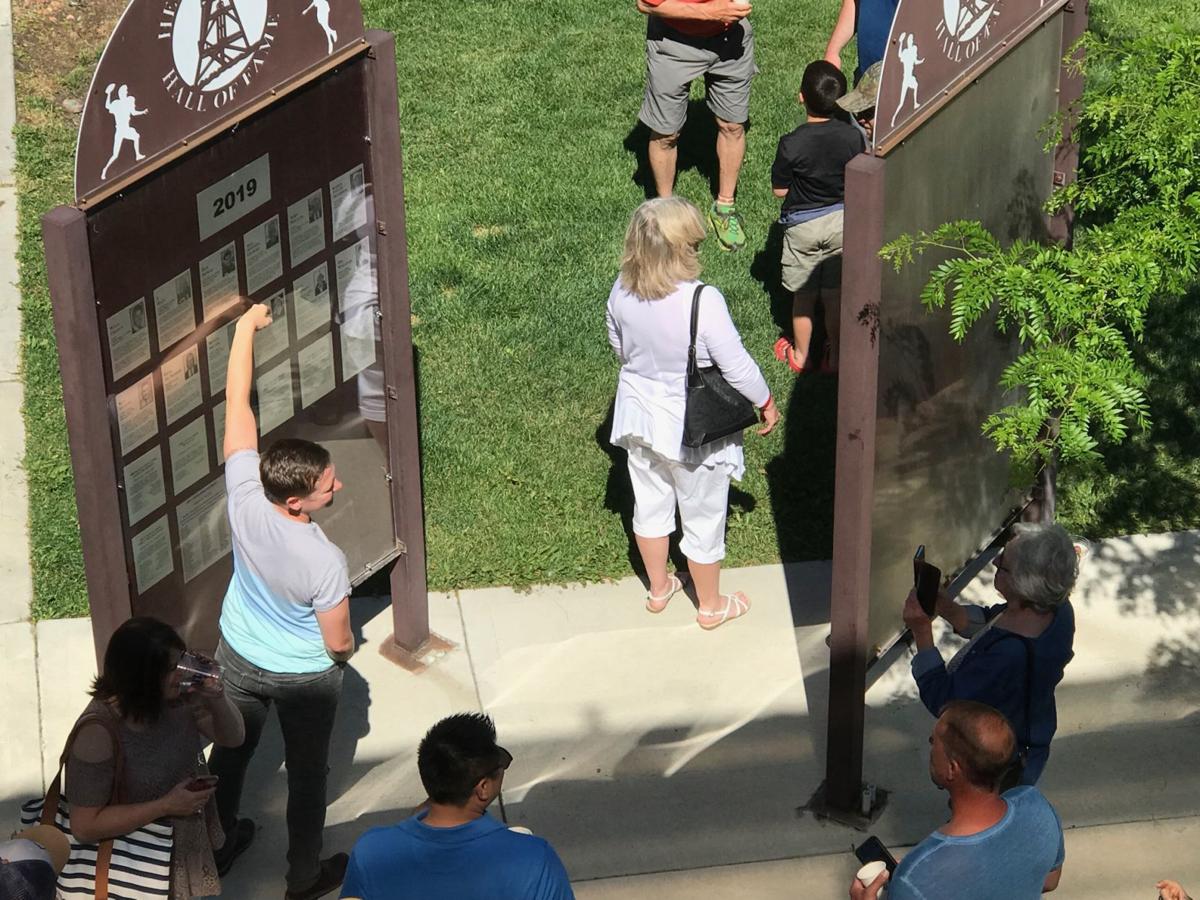 HELENA -- The Helena Sports Hall of Fame banquet and induction ceremony is renowned for bringing the sporting community together – albeit with a few crosstown and 'Cat-Griz rivalry jabs – and the 2019 version last Thursday night at the Great Northern Best Western Hotel was no different.
Among the 385 attendees was the family of inductee and former Helena High/University of Montana great Dennis Meyer. Seated on the opposite side of the banquet hall was their second cousin, J. Daly, of Capital High/Montana State renown, and his family.
Meyer, who was unable to attend from the Seattle area due to severe Parkinson's disease, was represented at the acceptance podium by his grandchildren Jacob and Taylor Meyer.
At the end of his speech, Jacob concluded with, "Go Bengals! Go Griz!" which drew a big laugh from Daly, despite the good-natured razzing from the nearby table of 1993 Bruin football players, whom he also coached.
The event was co-emceed by Hall boardmembers Kari Kockler and Carrie (Damschen) Krepps. Kockler was among several 2003 HSHOF charter members in the room, including Chris Spoja (1991 HHS basketball, 1992 HHS track), John Hollow (HHS soccer coach) and Kathie Roos (1997 CHS asst. coach).
Spoja also represented his late father, Joe, on the 1968 Helena Legion Senators.
You have free articles remaining.
The oldest inductee was basketball/football official Gene McMahon, 87, and the youngest was Capital High three-sport star Kyle Samson, at 34 years of age.
Sammi (Peterson) Livingston of the '96 CHS tracksters, journeyed the farthest, from Jacksonville, Florida – 2,400 miles away. Bruin gridders Sam Spangler of San Jose, and John Wong of San Francisco, traveled 1,131 and 1,099 miles, respectively, to join their '93 teammates with traditional championship game Mohawk haircuts.
Coach Bill Gilbert (1992 track), although unable to attend, extended his HSHOF record with his ninth induction; two individually and seven teams.
Coaches Walt Chancy (CHS football, gymnastics, track), Dick Muffick (1968 Helena Senators) and Hollow, were also among the multiple inductees on Thursday. And Lady Bruin track and field's Shirley Chesterfield-Stanton (coach), Laura (Bennett) Nelson, Suzanne (Krings) Anders and Krepps, are now enshrined in the Hall both individually and with their 1996-97 title teams.
Kyle Samson is the fourth member of his family to make the Helena Sports Hall of Fame, joining uncle Bobby Petrino (2004), grandfather Bob Petrino (2005), and father Mark Samson (2017).
This was the HSHOF's 10th class. The Hall has now inducted 121 individuals and 58 teams.