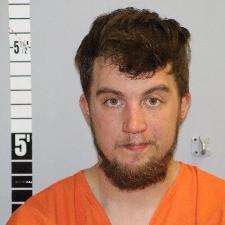 A 26-year-old Helena man is accused of leading law enforcement on a chase from Helena to York.
Tanner Taylor Bakke is charged with felony counts of criminal endangerment, theft, possession of dangerous drugs, assault on a peace officer and possession of dangerous drugs with intent to distribute and misdemeanor counts of fictitious plates and possession of drug paraphernalia.
On April 13, a Lewis and Clark County sheriff's officer attempted to stop a truck driven by Bakke because the vehicle had recently been stolen. Bakke sped up, reaching speeds of nearly 90 miles per hour, passing vehicles in no passing zones and driving the wrong way on York Road. At one point Bakke was forced off the road and drove through a field, going around several buildings and driving toward York Road. He later nearly hit a deputy who had attempted to stop Bakke again on York Road.
Later in the chase, Bakke threw a box of tools out of the truck, smashing a deputy's windshield. Deputies later deployed spike strips on York Road, knocking out the stolen truck's two front tires. Bakke then drove the vehicle into the side of a hill and tried to run from deputies before being arrested.
In the truck, deputies found marijuana in small baggies, scales, pipes and a baggie filled with psilocybin mushrooms. Bakke also had a straw containing methamphetamine, according to court documents.
Bakke was taken into custody and booked at the Lewis and Clark County Detention Center.
All charged are presumed innocent until proven guilty.