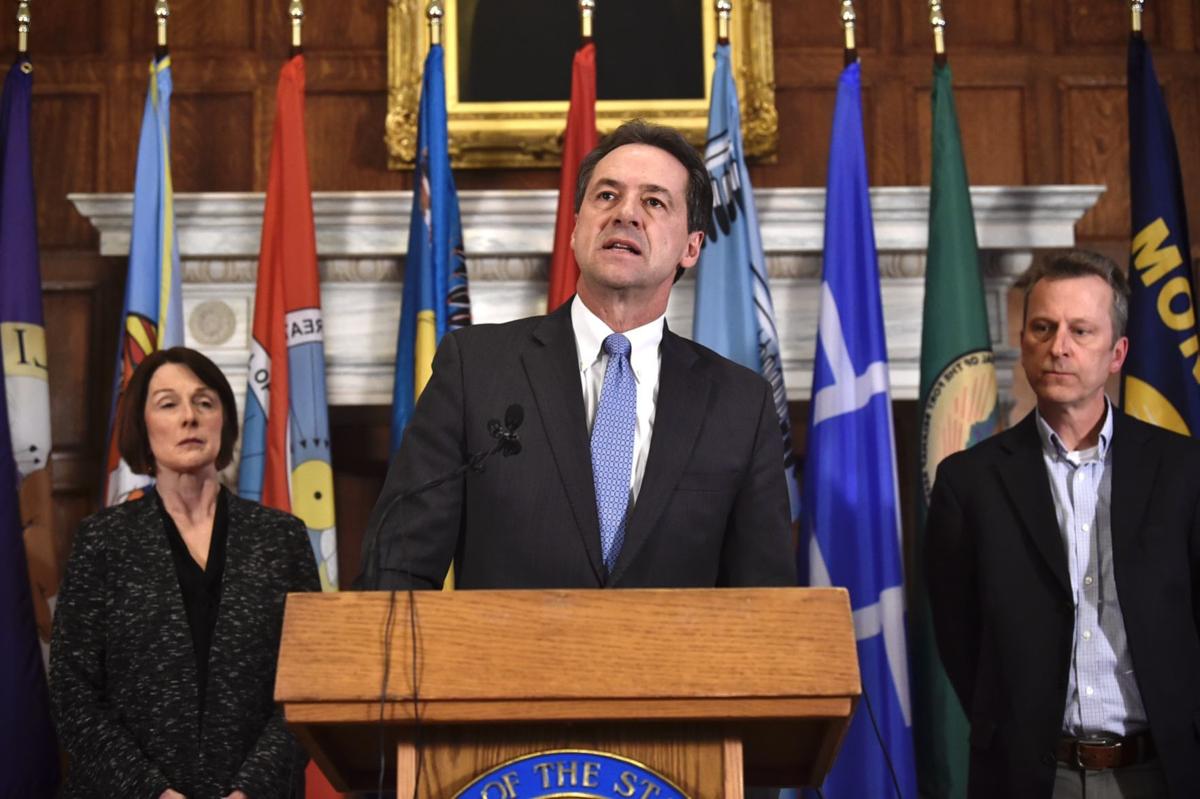 "The emergency order puts our state on the highest alert, recognizing though that now is the time to continue to plan, not panic," Bullock said.
Bullock said he anticipates the state will have its first diagnosed case for a person within Montana borders soon. Even though the woman in her 70s who lives in Lake County part-time was diagnosed in Maryland and has not been in Montana since the fall, her case was assigned to Montana, which follows common practice.
The order opens access to $16 million in emergency funding, if necessary, and also gives Bullock the ability to mobilize state resources. The emphasis is on limiting exposure and slowing the spread of the virus when it arrives in Montana.
So far 55 Montanans have been tested for the virus, and all those tests have come back negative. Bullock said Thursday the state the capacity to test 1,000 people. Todd Harwell, administrator of the Public Health and Safety Division of the state health department, said tests are administered at a heath care provider's discretion. Test results are available generally the same day the test is administered.
Harwell emphasized people should notify their health care provider if they want to be tested so they can avoid spreading an illness at a facility waiting room. For those who face cost barriers to testing, Harwell said to look to community health centers as lower-cost options with sliding-scale fees.
A task force Bullock created last week has met twice so far. In addition to conversations at the federal level about how to offset the effects that things like school closures or offices shutting down might have on people and families, the task force is also looking at ways to help, Bullock said. The state has also applied for a waiver from the USDA to allow eligible summer food programs to provide grab-and-go meals instead of what's normally required, which are meals served at a place people can gather.
Bullock emphasized the situation is dynamic and the state will constantly be re-assessing its role when it comes to things like closing schools or canceling sporting events. Generally so far in Montana, closures have been made at the local level and by event organizers. 
"There certainly could be additional things happening and closures in the future," Bullock said. "Potentially I could have roles to direct closures. Under the emergency order the authorities are there." The governor encouraged event managers to be aware of the situation and for individuals to think about what events they chose to attend.
Bullock urged Montanans to take steps to prevent the spread of the virus, such as washing their hands, staying at home if they are sick and calling ahead before going to see a doctor if a person has symptoms.
The state also opened a phone line, email address and website for the public to get more information about the virus in Montana.
The phone line is 1-888-333-0461, the email is covid19info@mt.gov and the website is covid19.mt.gov. The phone line and email will be staffed 8 a.m.-5 p.m. Monday to Friday.
Concerned about COVID-19?
Sign up now to get the most recent coronavirus headlines and other important local and national news sent to your email inbox daily.