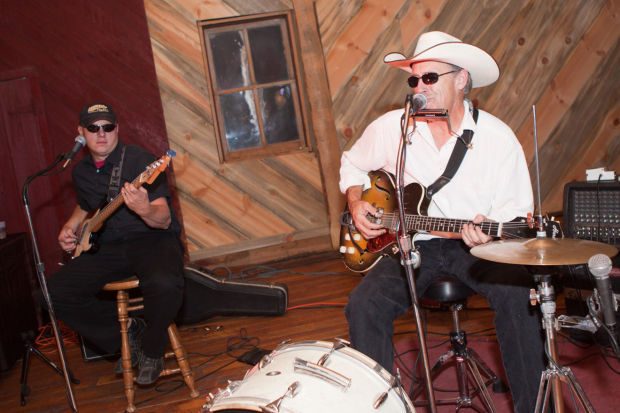 I have a confession to make: I have been Erik Gustafson's most devoted fan since New Year's Eve 1987. I remember the moment well. I had just returned from three months in Europe and headed down to Luke's, a Missoula bikers' bar no longer in existence, excited to hear him play after not hearing him for what seemed an eternity. 
While I was in college in the mid-1980s in Missoula, Erik's band, the Skates, appeared regularly at Luke's and the Top Hat, and I enjoyed the roots music his band played. So when I showed up at Luke's on that fateful New Year's Eve, I expected to see the Skates.
But as 9:30 p.m. approached, I saw no evidence of the other band members. Then, much to my dismay, Erik was getting up on stage all by himself. "Oh, no," I wailed. "My night is ruined." But after the very first song, I realized he was better than ever. I was hooked. And I've been his most devoted fan ever since.
Gustafson, who is heading to the East Coast for an extended period of time, plays a farewell concert in Helena tonight from 5:30 to 8:30, at the Lewis & Clark Brewing Company, at 1517 Dodge Ave.
Gustafson, who has used the stage name Erik "Fingers" Ray since 1983, is a musical anomaly. He plays the guitar in standard and open tunings, mandolin, harmonica, drums (kick drum and high hat), upright bass and accordion, most simultaneously. This wouldn't be particularly noteworthy if we were talking about a full band, but all this sound coming from one man is genuinely awe-inspiring.
As for his music, it's hard to label. Gustafson said he usually "advertises it as honky-tonk blues, but it really encompasses many more genres. I love Delta blues, Chicago blues, jump and swing, old country from the 1950s, '60s and '70s, 1960s rock, zydeco, a smattering of jazz and folk, polkas and anything else that moves me at the time."
Gustafson was born and raised in Conrad and comes from a musical family. His father, Rib, entertained Erik and his four siblings by sitting in the living room and playing an Epiphone guitar, singing cowboy and folk songs, inspiring Erik and his younger brother, Wylie, whose band Wylie & the Wild West, is nationally known for its blend of cowboy, traditional country, folk and yodeling.
Gustafson said that he first started playing music when his younger brother, Barr, bought him a harmonica for Christmas when he was 16. The following year, his parents got him an acoustic guitar. With the exception of one classical guitar course at the University of Idaho in the 1970s, Erik is self-taught.
Because he never learned how to read music, Gustafson said his piano-playing mother would play songs so he could learn the music.
"There's an old Nashville joke," Gustafson said, "about musicians who say they don't read music well enough to get in the way of their playing."
Gustafson had his first paying gig at a junior high dance in spring 1975, when he was a high school senior. He then went to college at the University of Montana in Missoula in 1977, where he met kids from back East.
"I didn't start studying the blues until then, when I met them," he said. Little Walter, Sony Boy Williamson, Magic Sam, Freddie King and Albert Collins all influenced his blues style. In 1978, he joined his first blues band, Mad Dog Blues Band. During that time, Gustafson said he started learning Travis picking, one of the most popular fingerstyle folk guitar techniques, which results in a driving, rhythmic feel that can be used in a variety of musical genres.
"I used to practice this style of picking three to four hours a day in the late '70s and early '80s, and then would get hired to play at a bar most nights, so I was able to practice a lot," he said.
In the early 1980s, his brother Wylie and he started a band called The Time, whose name was soon changed to The Talk after they learned that the name The Time was already the name of an existing band.
"We went on the road playing six nights a week and recorded two albums, and we won two Battle of the Bands competitions in Missoula," Gustafson said. Then, in 1983, he left the band and began his solo career as Erik "Fingers" Ray.
Since 1977, Gustafson estimates that he's played about 3,000 gigs.
When asked why he never pursued music as a living, when he was clearly incredibly talented, Gustafson said, "I had a family to raise, so I stayed home and had a regular job. So I concentrated on that, but still got to play on the weekends."
"Making a living from music is a hard path," Gustafson said, "you're not sure of an income."
Years ago, he said, every little town in Montana had four or five bands playing every weekend. Nowadays, the music scene is much different. Gustafson said small towns often don't have live music more than a couple times per year.
There is no longer a "proving ground for young musicians to learn their trade," Gustafson said. "Back then, you could earn $50 a night and make a living. That's not the case anymore."
So instead of trying to earn a living playing music, Erik taught high school math, including calculus. He just retired from 29 years of teaching, 11 in Centerville and 18 in Conrad.
Gustafson said that he enjoys teaching math because "it's the purest of all sciences, almost perfect. I really like working with young people and teaching them how math increases their logic, reasoning and communication skills. I've been very fortunate to be able to instruct college-prep math to so many motivated and gifted students. I loved going to work every day."
Besides being a gifted musician and songwriter, Gustafson is warm, engaging and quirky. His interests are many. He's an avid reader, and has a library of music history. In addition, he said he focuses intensely on a particular topic, reading much of what is in print, before turning to the next topic.
He said he spent one winter reading about the Northwest Passage, another winter reading about Antarctica expeditions and several seasons on Bigfoot.
"Did you know that I am a regional expert on Bigfoot sightings?" he asked. "In fact, Bigfoot was seen two to three years ago in Marysville, and Lewis and Clark County has had the most sightings in the state."
When he's not reading history or looking for Bigfoot, Gustafson helps his father run about 35 pair of cows and calves, one bull, and four quarter horses on their family's ranch. He said he still does much of the work, calving, irrigating, branding, fencing and feeding them during the winter.
As if that weren't enough to keep him busy, he has dabbled in ventriloquism, with his dummy Rastus Q. Shaggnasty, who prefers the term "mannequin American." Gustafson said he hasn't taken him out of in a while, saying that "he's resting quietly in his Samsonite until the next incident."
Now that he's retired from teaching in Conrad, he is pursuing new adventures in Concord, N.H. Starting this fall, he will teach math at a private prep school.
In recent years, Erik has been writing songs, and has lately written 30 new songs, saying he hopes to record them eventually.
He added that his music will take a new direction when he heads back East, concentrating more on acoustic and Delta blues. He also will be playing a different kind of drum set, called a Cajon. Gustafson said he will sit on it, and play it with a bass drum pedal.
"I'll also keep the high hat. It will be a bit mellower and more acoustic sounding drum set, which should go well with the Delta blues, folk and original music I'll be playing back East," he said.
Once he sits down behind his drum, straps on one of his electric guitars, adjusts the harmonica in its neck holder and starts to play, you'll understand why I have been his most devoted fan all these years. If you've never heard him, you will become one too.