Coming to a space near you -- a sculpture garden of the likes you haven't seen in Helena.
Artist Chip Clawson's newest creation, "Ode to Edward James," is inspired by the fantastical, surrealist works of Edward James at "Las Pozas" (the pools) in Mexico.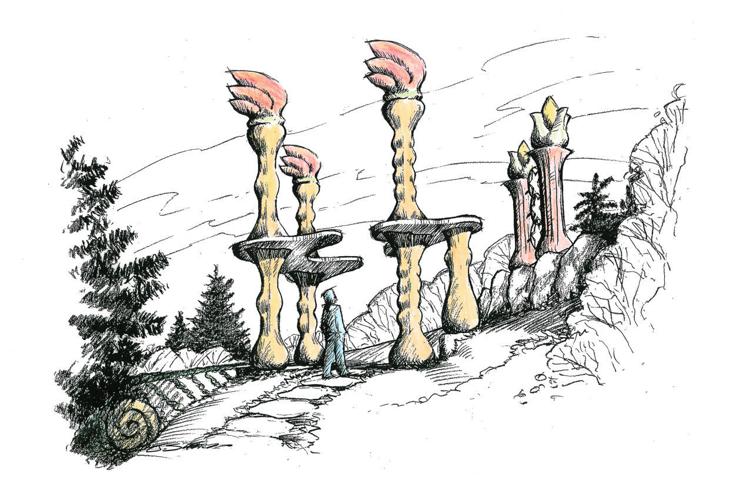 Clawson will present a slideshow of his idea, as well as some of his previous public artworks, and Jones' "Las Pozas" at a 7 p.m. Saturday, March 12, kickoff event at Free Ceramics, 650 Logan St. It launches Clawson's Indiegogo (crowdfunding) campaign.
Clawson first visited James' surrealist concrete sculpture garden this past year near Xilitla, Mexico.
He had seen a lot of pictures of "Las Pozas," "but it's never the same," Clawson said.
"I spent five days at Las Pozas," Clawson said, and he kept stumbling on new discoveries.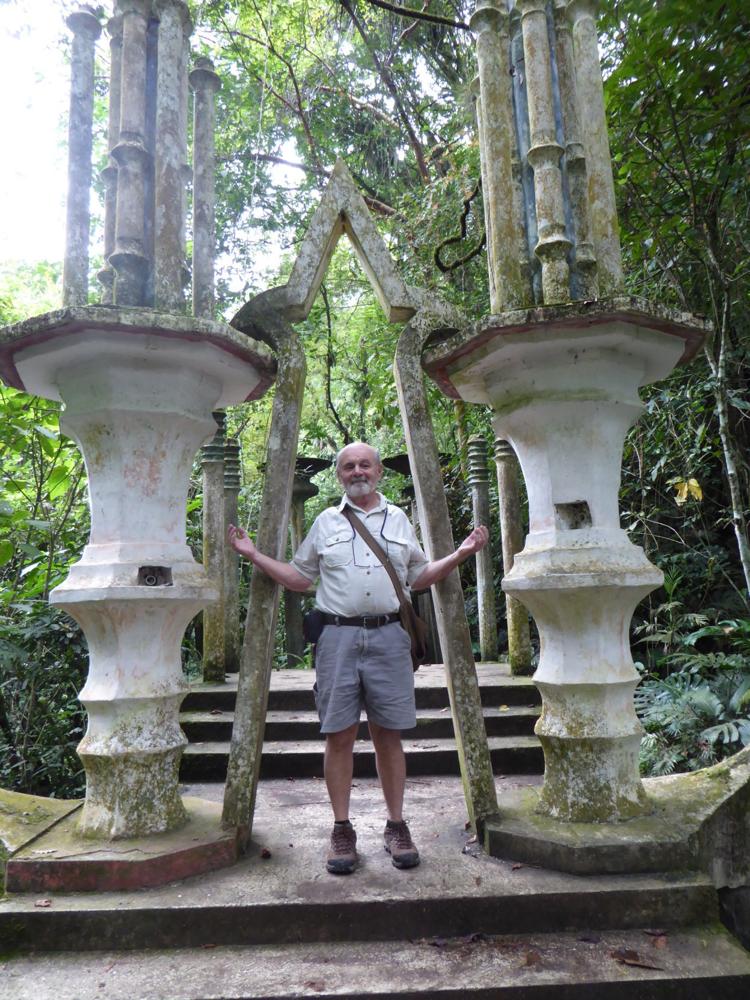 Although artist and architect Edward James may not be well known to many in Helena, he was certainly known in the art world. He was friends with such renowned surrealists as Rene Magritte and Salvador Dali, who is quoted as saying, "Edward's the real thing. We're just trying to be."
James, who was independently wealthy, hired a crew of 40 to 100 men to build his vision in the jungle from 1964 to 1984.
James designed the immense structures to resemble ruins rising out of the jungle, which has been overtaking the sculptures for decades.
He also played with metaphysical space -- designing doors to nowhere and structures with no roofs.
Inspired by James' wildly imaginative architectural sculptures, Clawson plans to create "a concrete sculptural structure of columns and platforms 20 feet tall that can be viewed as a metaphysical space or a ruins."
He projects the cost of the private-public piece of art at $75,000, which he'll build in his yard at 202 Pine St.
His lawn is already blossoming with his works -- an array of richly colored concrete and brick arches, columns, walls, benches and gates, incorporating his brightly colored ceramics and tiles. And like "Las Pozas," a profusion of plants -- in this case roses, vines and grasses climb around and over the sculptures.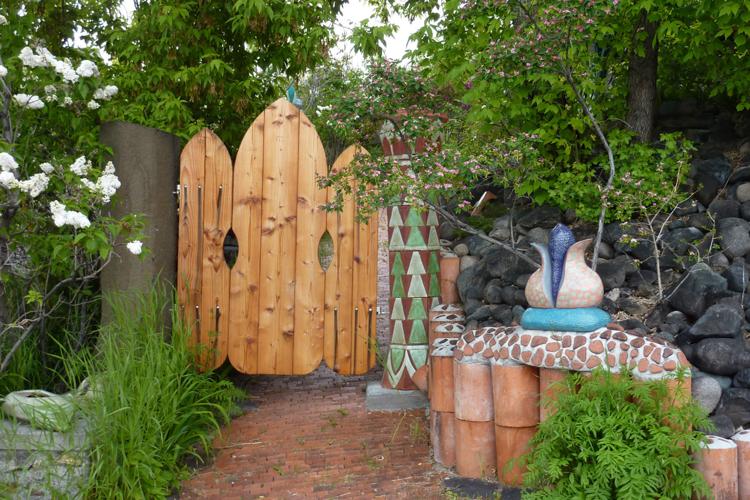 The public is welcome, Clawson said. Although he has a fence and gate, they are to keep out deer, not people.
Clawson chose his yard for the sculpture garden because he's eager to get going on it.
You have free articles remaining.
"I need to build," Clawson said. "I'm driven to build."
When he came back from Mexico, he immediately began building forms for his columns.
On his own land, he can start immediately and have artistic freedom, he said. "Every time you create a public project, there's compromise." And it typically takes years, while Clawson plans to complete this project by fall 2017.
He's already run his plans past the city planning department, after working with both an architect and engineer to ensure the sculpture will be sound in an earthquake or strong winds.
"The structural integrity is very important," he said.
"This has been a lot of work," said Clawson. "My campaign asks for $10,000," but the overall price is more than seven times that.
So far, he has more than $1,000 in in-kind donations, and will likely have a lot more, as friends help him launch his campaign and help raise the fabric-formed concrete sculptures in place.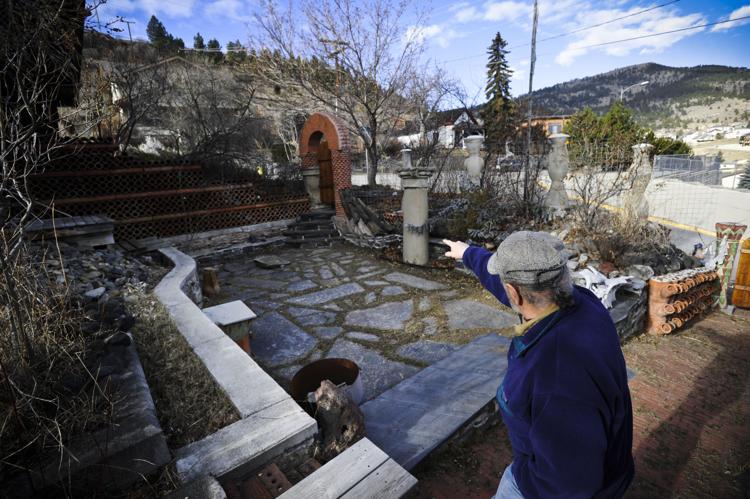 "Chip lives to make sculpture," wrote one friend. "He can't help it; enthusiasm pours cheerfully into every conversation."
Artist Emily Free Wilson said in Clawson's Indiegogo video, "The details in Chip's work are fascinating," pointing out his attention to detail -- ceramic "fossils" he created and embedded in his concrete arches.
"Chip might be a quiet guy, but his art and his impact on our community is anything but quiet," she said.
Forty years ago, Clawson started his art career making ceramic pots. At the University of Michigan, he crossed paths with Kurt Weiser, a former Archie Bray Foundation resident artist director.
As a result, Clawson came to the Bray, where he worked as the clay business manager for 27 years.
Among his public art projects are "Fish Bench" at the Great Northern Town Center; "All of the Above, None of the Above," at Pioneer Park and "All Women Are Role Models" at the Montana Women's Prison in Billings.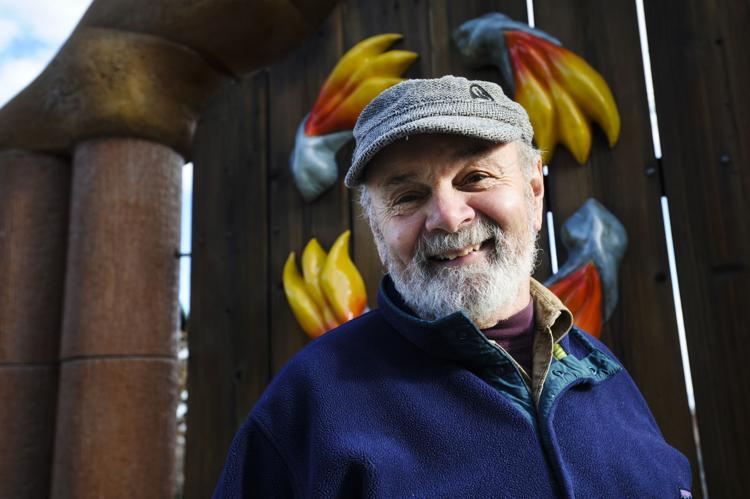 This story was updated on March 16 to replace broken links to Chip Clawson's Indiegogo pages.