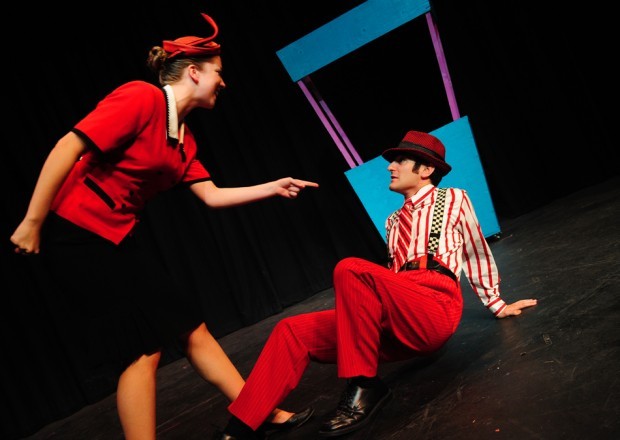 A floating craps game in search of a home launches the action of one of America's most popular musicals, "Guys and Dolls."
Opening at Grandstreet Theatre, Thursday, July 29, it showcases the talents of Grandstreet's Summer Conservatory. It also kicks off Grandstreet's 2010-2011 theater season.
Singers and actors from across the country teaching at Grandstreet's Summer Theatre Camp, join local teens and young adults in this lively production with guest director Leigh Selting.
In many ways it's a bit of a "family" affair. Selting, chair of the Theater and Dance Department at the University of Wyoming-Laramie, joins forces with his wife, choreographer Marsha Knight, a professor of dance at the UW, in this production. Their two sons, Nicholas and Gabriel, are in the cast.
The action unfolds in the bustling New York City of the late '40s, where gambler Nathan Detroit (Ross Baum) needs to find a safe place to hold his high-stakes floating craps game. He's desperate to come up with a $1,000 security deposit to secure the Biltmore Hotel Garage while some big name gamblers are in town.
An unlikely wager is struck between Detroit and slick gambler Sky Masterson (Todd Zehrer). The suave Masterson has just bragged that he could get any woman he wants to accompany him to Havana, Cuba, the next night.
The wager comes down to Masterson having to convince the beautiful Sister Sarah Brown (Lauren Shultz) of Save-a-Soul Mission to have dinner with him in Havana.
As happens in such musicals, and often in life, love is sparked.
Meanwhile, Detroit has his own love life challenges. He's been engaged to Adelaide, a dancer at the Hot Box Club, for 14 years. Adelaide is so sick of being engaged and not married she's developed a constant cold and sneezes — a lot. She's also developed a very complicated fantasy life that she's written about to her mother, claiming that she and Detroit have been married for some 12 years now and have five children.
The musical, with music and lyrics by Frank Loesser, has been cleaning up on awards ever since it premiered on Broadway in 1950 and grabbed the Tony Award for Best Musical.
The 1955 film version starred Marlon Brando, Jean Simmons, Frank Sinatra and Vivian Blaine.
Since its original Broadway and London productions, there have been six revival productions on Broadway, the most recent in 2009.
"It's just a great show," said Marianne Adams, Grandstreet's Education Director. "It's a really good story that fascinates people. The time period is great. People are fascinated with old-time gamblers."
Unlike many big book musicals from 1950, this one is still timely, said Adams.
"I know this show really well," said Selting, who's been involved in six productions of it as either an actor or director. "What I really like is it has four protagonists and two almost separate story lines."
The two quirky love stories only converge occasionally, similar to story lines in a TV episode.
For those already familiar with the play, he adds, there are reasons to see it again.
"It's like getting out your old favorite book of years ago and reading it again. You pay attention to how it comes to you, how it's put together."
As for the cast, they're loving it.
"I really like the part," said Syracuse University musical theater major Baum of his character Nathan Detroit.
"He's very high stakes. He wants the best of everything. He's fast talking, fast thinking and pretty manipulative," he said.
Despite his 14-year engagement, "at the end of the day, he really loves Adelaide."
"Sky is the highest gambler of them all," said Zehrer, who's a theater major at Millikin University in Decatur, Ill. "He's a traveling gambler. He doesn't like being tied down. He likes to jump from girl to girl and crap game to crap game.
"He's very cool, very suave. He falls in love with Sarah and he thinks this is the last thing he wanted."
University of Wyoming theater major Lauren Shultz describes Sarah Brown, as "an all or nothing girl. She's real naive and sweet and hasn't been out of the mission. She doesn't want to fall in love, but, of course, she does."
Noelia Antweiler, who's also a UW theater student, sees Adelaide as "a little over the top all the time. She's a performer at the Hot Box Club, which would be a strip club today." And although Nathan and Adelaide bicker all the time, "they're two peas in a pod."
Not only are the cast loving the play, they're loving their time in Helena doing summer theater.
"It's an interesting mix of kids," said Baum, — conservatory college-age kids and high school age — who all love theater. It works really well. It's a really good concept for a program. It's a great thing to offer to people in Helena."
If you go ...What: "Guys and Dolls"
When: 8 p.m. Wednesday through Saturday, July 29 to Aug. 14; and 2 p.m. Sundays, Aug. 1 and Aug. 8
Where: Grandstreet Theatre, 325 N. Park Ave.
Cost: $18, adult; $16, students, seniors and military; $12, those 12 and under
Grandstreet Theatre's 2010-2011 season
A Season Ticket to Grandstreet Theatre kicks off a year of fun entertainment beginning with "Guys and Dolls," July 29-Aug. 14.
Sept. 10-25. Shows Thursday-Saturday at 8 p.m. and Sunday, Sept. 12 and 19 at
2 p.m. A sting operation set up to catch the embezzling mayor leads to a lot of confusion.
Oct. 15-31. Shows Thursday-Saturday at 8 p.m. Saturday Oct. 30 at 2 and 8 p.m.and Sunday, Oct. 31 at
An adult, sexy musical extravaganza. Roxie Hart murders her unfaithful husband but avoids prison with the help of razzle-dazzle lawyer Billy Flynn. The trial publicity launches her into showbiz stardom.
Dec. 3-19. Shows Friday and Saturday at 7 p.m., Saturday and Sunday at 2 p.m.
On the run from the workhouse, Oliver finds himself on the streets and part of a band of pick pockets. You will recognize many of the songs, "Where is Love," "You've Got to Pick a Pocket or Two" and "It's a Fine Life."
 Jan. 14-30 Shows Thursday-Saturday at 8 p.m. and Sunday Jan. 23 and 30 at
It's "South Park" meets "Desperate Housewives" in the run-down trailer park of Armadillo Acres. Great music, colorful characters and some adult situations and language make this a very fun play for adults.
March 4-19. Shows Thursday-Saturday at 8 p.m. and Sunday, March 6 and 13 at
Stanley Yelnats is innocent, despite the evidence against him, but he's sentenced to camp. Although Camp Green Lake sounds inviting, the lake is dried up, nothing is green and the warden makes the boys "build character" every day by digging holes.
April 29-May 15. Shows Thursday-Saturday at 8 p.m. and Sunday May 1 and 15 at 2 p.m.
This beautiful musical, loosely taken from Genesis, recounts some of the struggles with Adam and Eve's family, as well as with Noah and his offspring. Very touching and many times humorous.
Individual ticket prices: $18, adult; $16, student, senior, or military.
Rush tickets: $10, remaining tickets go on sale 1/2 hour before show
Season pass: $110, adult; $100, student, senior, military; $90, Sunday/balcony
Grandstreet Theatre is located at 325 N. Park Ave.