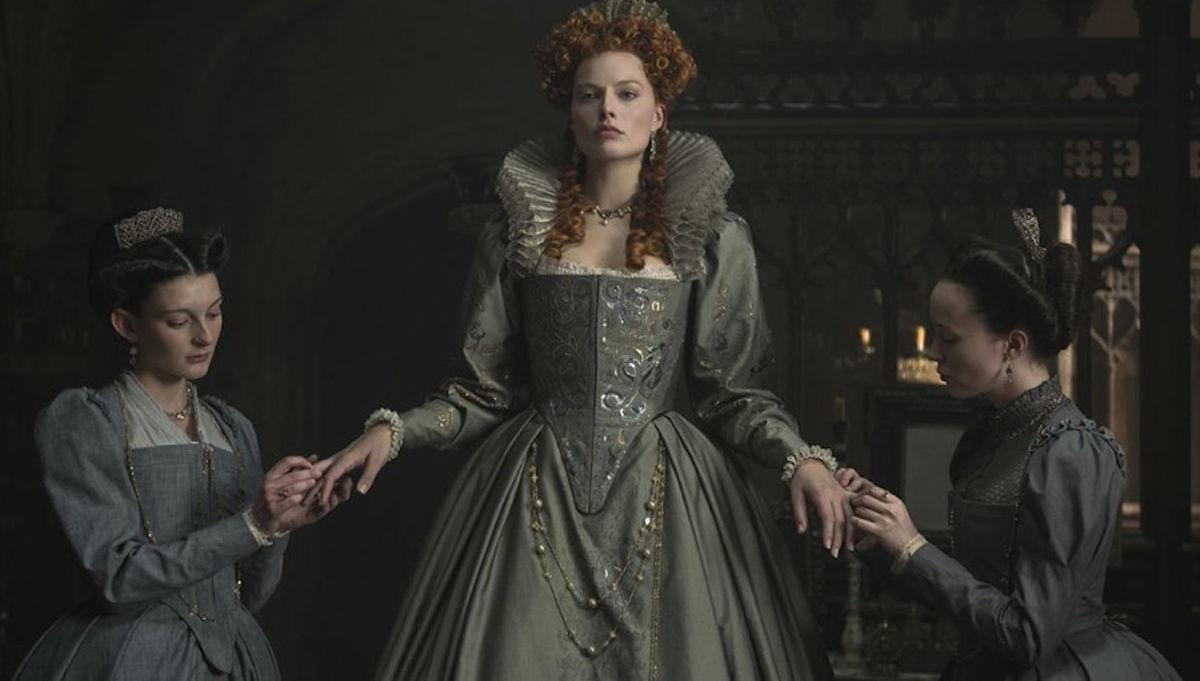 Mary Queen of Scots
(R)
My eyes delighted, but my mind took flight.
"Mary Queen of Scotts," a gorgeous production of a royal rivalry, wastes a powerful performance by Saoirse Ronan as Queen Mary (1542-1587). Josie Rourke's film frames the story as a salacious 16th century sexual drama that's overrun with misplaced 21st century sensibilities. Instead of leaving us breathless, we merely hear breathless sighs.
Might I ask politely, dear storytellers, what explicit depictions of creative sexual adventures below the equator add to our understanding of these ladies and their role in history? Not a prude here, but just wondering?
From the start, every scene depicts this period as an epic battle royal where every character lays plans for their preferred queen to prevail. Plots give way to counterplots. Moles lurk amidst the moors.
How tired I grew of seeing a most fascinating historical period -- of kings, queens, Protestants and Catholics, Scots and Brits -- reduced to femme v. femme melodrama. Let our queens remain regal!
How about some fleshed out characters? Some subtle depiction of the ebbs and flows? Perhaps some shades of gray, in place of the blacks and whites?
My disappointment was deepened by the awareness of just how wonderful this might have been.
Ronan turns in a truly regal performance as Queen Mary, rivaling the best we've seen in historical films. Her portrayal is internal, laced with keen awareness of her mixed feelings toward Elizabeth I (1533-1603).
But the script insists Ronan ultimately oversimplify Mary, undercutting her nuanced work.
Only toward the end does the film put on a crown and shine for a bit.
The path to the moment when the queen loses her head is powerful, heartfelt and very sad. A showdown conversation between the queens before the long walk to the blade is totally implausible, but undeniably powerful. Ronan and Margot Robbie finally get their chance to engage and shine.
The insertion of the gay subplots amidst the royal court seems so clearly designed to entice 21st century audiences to a 16th century story. Sure, there were gays then, as now. And historians have suggested that there may indeed have been notable gays in Mary's court.
But this script is exploitation, not illumination, of sexual identity in the 16th century.
This powerful story need not and should not have been reduced to "All My Queen's Children."
That said, the cinematography, costumes, set design and score are magnificent – the stuff of ovations and encores.
Time and again I marveled at an exquisitely staged scene – the queen's court dancing as if in a Russian ballet or the queen's ladies lounging like characters from a Renoir painting. "Mary" is a masterpiece of lighting, full of candles and silhouettes framed by castle windows
Every scene has a painter's sense of color and a choreographer's sense of space – undeniably breathtaking.
I think if the sound had failed, and I'd been forced to watch this film in silence, I might have loved it.
Jorge Luis Borges wisely advised us not to talk unless we can improve upon the silence. But time and time again in "Mary Queen of Scots" the royal mouths open and we dearly miss the quiet.
I will say again that if I could astutely select 15 minutes of unforgettable footage, I could convince anyone this was the stuff of masterpieces.
When the movie "Mary" was good, like the girl with the curl, she was very good indeed.
Stay up-to-date on what's happening
Receive the latest in local entertainment news in your inbox weekly!