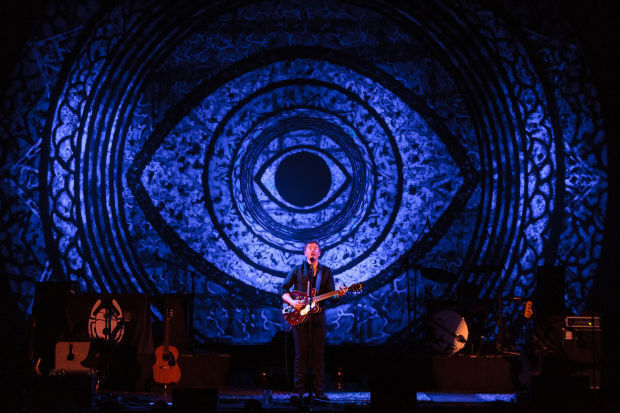 Helena audiences get two very special treats Aug. 16 and 17.
Critically acclaimed singer-songwriter Josh Ritter performs 7:30 p.m. solo shows at the Myrna Loy Center on his sole Montana stop.
He'll be performing songs from his newest album, "Gathering," due out in September.
The last two years he was here, 2009 and 2014, the Myrna sold out.
In 2014 he also gave an electrifying performance at Red Ants Pants -- so excited and energized he was just leaping through the air and beaming that million-watt joyous smile of his.
Billboard magazine describes him as having "a strong voice, a keen wit, and an evocative way with words," who is "one of the leading lights on the contemporary folk scene."
Lucky for us, he loves Helena.
He loves the Myrna Loy Center.
And, he loves Myrna Loy, too.
So much so, he wrote a song about her that he plans to perform for his Helena shows.
"The idea of playing solo shows is it's a chance before my record comes out and I get on the road with the band...to know these songs -- who they are," Ritter said in a phone interview from his home in Brooklyn.
"You never really know what it's like until you're playing it on stage...the nature of the thing is unfolding. I've learned so much being able to play these songs by myself. ...It's a really exciting experience for me."
He'll also be mixing in some music from his previous albums.
"I love playing new music. I also find if the songs are working well they should fit nicely in a set of other music. I really believe in playing stuff that I have been over the years -- through the lens of new material."
Named one of Paste Magazine's 100 Greatest Songwriters, Ritter can't really pinpoint where he's getting inspiration for a song.
"If I knew, I'd go there more often.
"Sometimes you get lucky and a song happens. It's magic," he said. "I so rarely remember writing songs because the concentration is so fully in whatever is being written about.
"I firmly believe that writing and artistic endeavors come out of a sense of dissatisfaction. They come out of your disappointment to reach your potential."
On NPR, he further shared the creative spark for "Gathering":
"I had that feeling you get when the sky is suddenly dark before a summer storm; the thunderheads looming at the edge of the fields, the birds quiet. The smell of the gathering electricity in the atmosphere, the certainty of lightning. ... I began with an exciting sense of dissatisfaction, and what emerged, as I began to find my voice, was a record full of storms. ...with 'Gathering' I feel I've found a new electric dissatisfaction, a new way to rejoice as the storm rolls in."
Ritter is one songwriter who thoroughly enjoys performing. "When I get on stage, I just love it."
He admits that being on stage two hours is about as much as he can do. He needs a reflective period afterwards. "I'm a pretty private person, pretty shy."
He's looking forward to being back in Montana -- and specifically Helena.
"Helena is a special town," he said. "I refer to it in the song and Myrna Loy herself. She's a central figure in a bunch of records and someone I use as a north star for some of the writing. ...I'm enchanted.
"It's a really special and awesome opportunity to come and play. I'm thrilled to be there for a couple days. ...I can't wait."
Tickets are $46 and are available at the Myrna Loy Center, 15 N. Ewing St., 443-0287 or online at myrnaloycenter.com.